The Natural Evolution of Architecture
Read an excerpt from the Neri Oxman Material Ecology Catalogue
EVERYTHING FLOWS, AND NOTHING STAYS THE SAME. —HERACLITUS (1)
One of the most distinctive characteristics of the human species is a fraught relationship with change. Inescapable, change touches each creature, community, and system uniquely; to each, it manifests at distinct speeds and scales and in different cycles. Most entities—glaciers, plankton, clouds, tigers, or dandelions, for instance—go with the flow, adapting and evolving over time to accommodate change and accept its aftermath, however unfortunate. Not humans. Except for the faithful or the wisest among us, most human beings either resist, pursue, seek to control, or amplify change. We take pride in our ability to interfere with and even manipulate the flow. In so doing, we create consequences—not only for us, but for all species. So much have we tinkered that we seem to have lost control of the mutation, which now ever accelerates, like a cancerous growth.
Indeed, humans themselves are like cancerous cells, so self-absorbed and single-minded about their survival and predominance that they have invaded and destroyed much of what's around them. Neri Oxman, by contrast, seems in no rush. Her practice is a powerful anticipation of a better possible future, and it is projected toward that future without apparent anxiety, patiently weaving connections between disciplines and between species, slowing down the pace of making by marrying the latest technologies with the most ancient and deliberate of tempos—those of silkworms, bees, and microbes. She engages change using change's own momentum.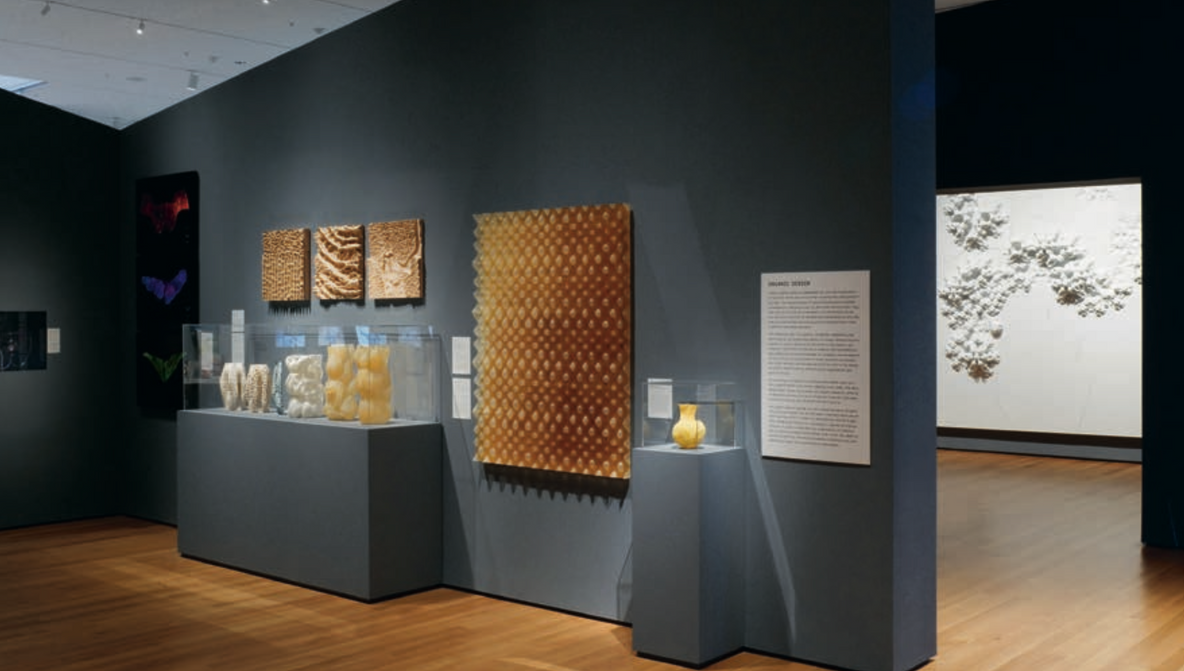 Installation view of Design and the Elastic Mind, The Museum of Modern Art, New York,
February 24–May 12, 2008
I met Oxman in 2006. We were introduced by the architect Enrique Norten, who thought she would be a great fit for an exhibition I was preparing at the time. Design and the Elastic Mind addressed the unexplored affinities between design and science and their ability to communicate with each other without relying on technology—a well-meaning but sometimes misleading interpreter. Indeed, technology was played down in the exhibition as an instrument with which scientists and designers could realize their joint visions and ventures. On display were mighty examples of scientists' and designers' unbridled collaboration, organized according to scale—albeit a new set of dimensions that took the digital universe into account, one based not only on physical size but also on complexity.
Norten was right: Oxman and her work were the embodiment of the exhibition's thesis. An architect by training, Oxman started medical school before following the family tradition (both parents are architects), attending Tel Aviv's Technion and London's Architectural Association. Her belief in science did not wane, however; she learned its language and dialects in order to be able to engage scientists in productive conversations and collaborations. She also immersed herself in technology, understanding its syntactic power to enact those collaborations. She chose the Massachusetts Institute of Technology (MIT) for her doctoral studies, but even at that forge of so many twentieth- and twenty-first-century revolutions—the wind tunnel, radar, the PET scan, and e-mail among them—Oxman tried her best to avoid being gratuitously seduced by technology, trying instead to look at it as a means she could prod and shape to her ends.
At the time of Design and the Elastic Mind, Oxman was also ambitiously contemplating working across scales. She framed the issue clearly a decade later in her tenure statement: "To date, designers invariably encountered a dimensional mismatch between the 'environment space' and the 'object space.' In principle, this mismatch entailed a loss of information when a higher dimensional environment is projected or mapped onto a lower dimensional object."(2) Her overarching goal in response was to detect and decipher nature's myriad structural and essential design lessons and render them digitally for future application at all scales, for the benefit of architects and designers.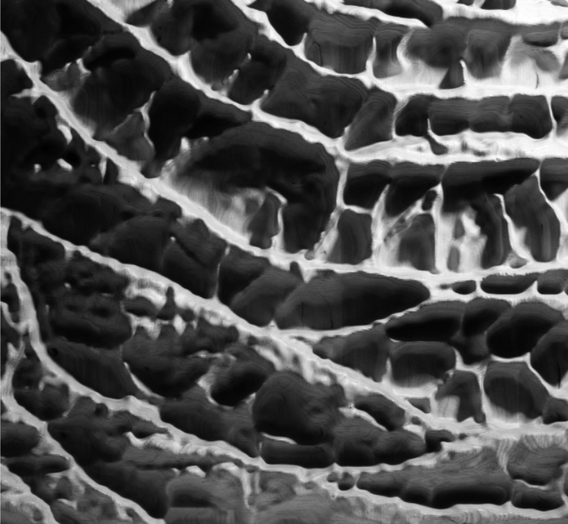 Neri Oxman in collaboration with W. Craig Carter. Subterrain. 2007. Micrograph image of scorpion-claw tissue. The image was analyzed and reconstructed in three dimensions using a CNC mill and wood composite. Courtesy Neri Oxman.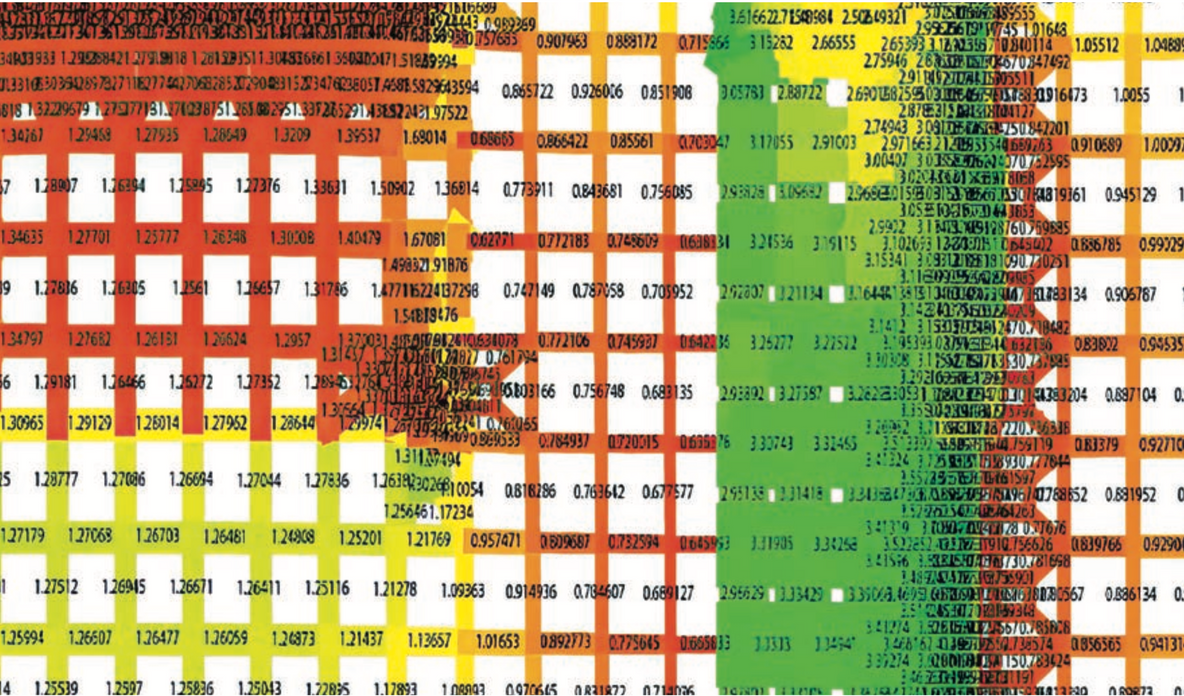 Subterrain. Diagram detail
To steer the relationship with science and modulate fluctuations in scale, she mastered the most expedient ingredient of all contemporary technologies: computation. To me, intent on finding new and innovative ways to conceive organic design, Oxman's approach seemed most timely and effective, visionary yet pragmatic, augmented by the extra gear that only digital technologies and morphologies could offer. She called it Material Ecology: "An emerging field in design denoting informed relations between products, buildings, systems, and their environment. Defined as the study and design of products and processes integrating environmentally aware computational form-generation and digital fabrication, the field operates at the intersection of biology, material science and engineering, and computer science, with emphasis on environmentally informed digital design and fabrication."(3)

Subterrain. Micrograph image of a butterfly wing (left); analysis of material behavior according to stress, strain, heat flow, stored energy, and deformation from applied loads and temperature differences (middle); reconstructed tissue (right). Courtesy Neri Oxman.
To read the introduction in its entirety, download the PDF.
You can also purchase the catalogue through MoMA's online store.
Notes
(1) "Panta chōrei kai ouden menei," attributed to Heraclitus, in Plato, Cratylus, trans. Harold N. Fowler (Cambridge, Mass.: Harvard University Press; London: William Heinemann, 1921), 402a. Translation amended by the author.
(2) Neri Oxman, statement to the tenure committee, Massachusetts Institute of Technology, 2017. "We have created such frameworks that allow all or most degrees of freedom of the natural phenomenon to be embodied by the object. This advancement and salient feature presents the opportunity to develop material engineering, computational approaches, and digital fabrication techniques that allow us to introduce property gradients with high spatial resolution and multi-functionality across scales."
(3) Neri Oxman, "Material Ecology," in Rivka Oxman and Robert Oxman, eds., Theories of the Digital in Architecture (London: Routledge, 2013), 322.