The Sculpture Garden through Time
From self-destructing art to the first live synth concert, explore key moments from this oasis in the city.
In 1939, at 11 West 53rd Street, a sculpture garden was hastily integrated into plans for the first permanent home of The Museum of Modern Art; it was designed in just a single night by Museum director Alfred H. Barr Jr. and curator of Architecture John McAndrew for the adjacent lot. Bringing nature, art, and architecture together in a then-novel way, the Abby Aldrich Rockefeller Sculpture Garden has since become a fixture in midtown Manhattan, a green oasis in a bustling but admittedly gray metropolis. The Sculpture Garden has seen many transformations, parties, concerts, installations, and even Happenings. Over the years, the Museum's outdoor gallery ended up being a space for activities that would have tested the more staid protocols of the galleries inside. We gathered a few memorable moments below on the occasion of this week's Virtual Views: Sculpture Garden. And for more on how these episodes fit into the Museum's history, be sure to check out our interactive site, MoMA through Time.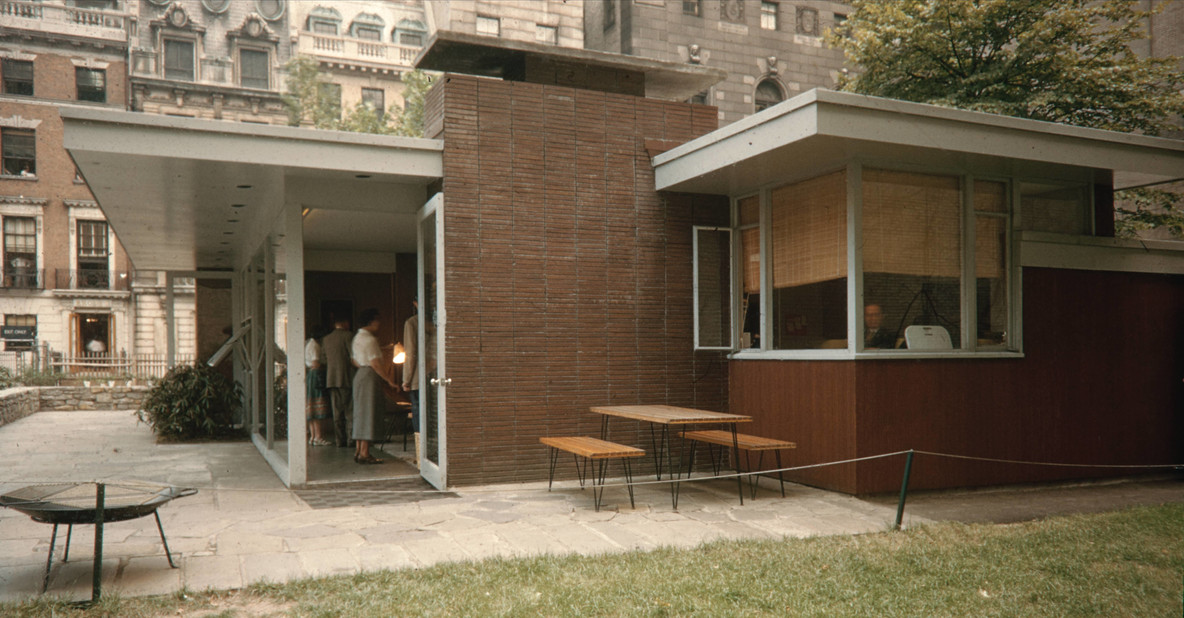 Installation view of Exhibition House by Gregory Ain, May 17–October 29, 1950
1950: Houses in the Garden
When the design for MoMA's Sculpture Garden was first conceived by Alfred Barr and John McAndrew in 1939, they envisioned the space as an outdoor gallery for changing exhibitions, a pioneering concept that established a new genre in art exhibition. Over the years, the Sculpture Garden hosted a dynamic range of shows, such as the presentation of life-size houses in the 1940s and '50s.
The first of these were two modern architects' takes on affordable-yet-stylish housing solutions responding to the demands of the postwar housing boom, which saw droves of people moving to the suburbs. In 1949, a two-bedroom domicile designed by Marcel Breuer was installed. Breuer had trained at the Bauhaus, a prewar German multidisciplinary arts school that was known for its utopian ideals and streamlined, functional designs. Slated as a "country home for the commuter," and featuring a V-shaped roof and glass walls, Breuer's design could be expanded or modified depending on the needs of its tenants. The following year, MoMA invited Gregory Ain, another socially minded modern architect, to erect a house in its garden. Ain contributed a three-bedroom house fitted with sliding walls that allowed for a flexible floor plan. The garden's third house, installed in 1954, was adaptable in a different way. As part of a series of shows celebrating Japanese design, MoMA exhibited a wooden house in the style of 17th-century Japanese temple architecture. First built in Nagoya, Japan, it was disassembled and then sent by ship to New York, where it was reconstructed under supervision of the architect Junzo Yoshimura.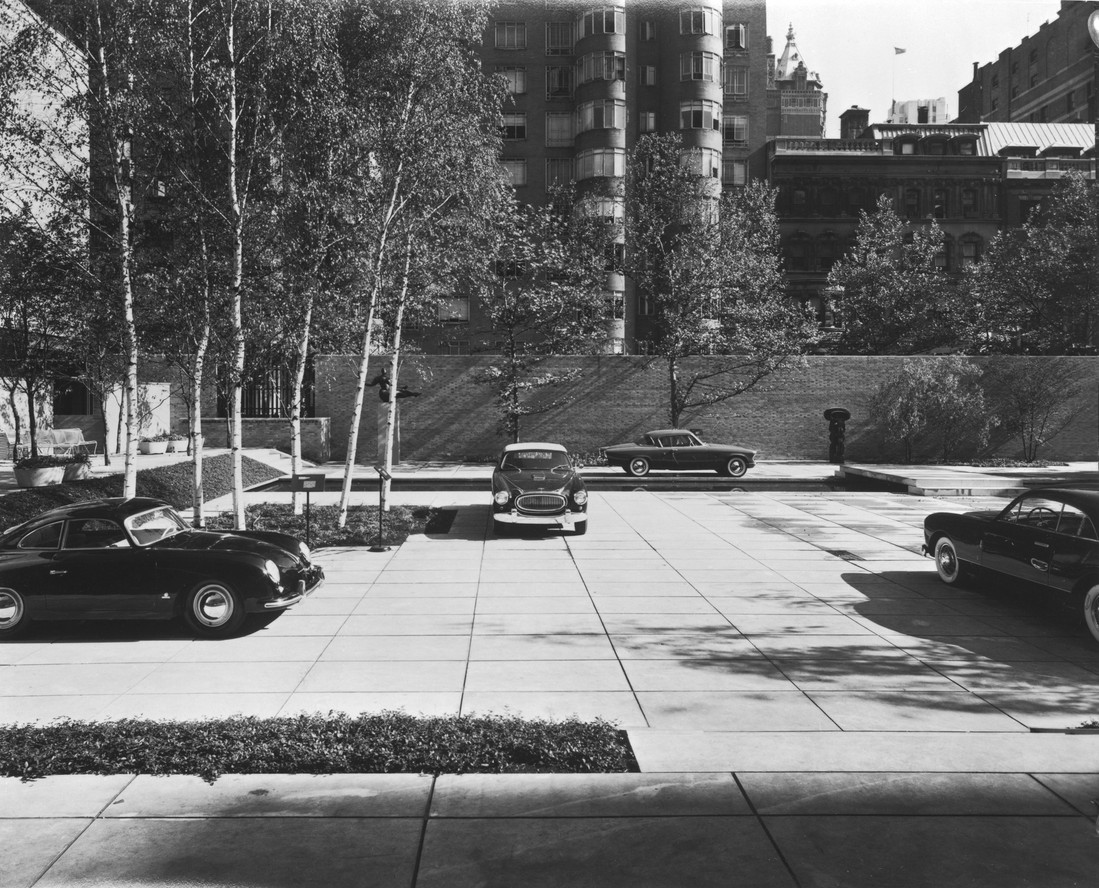 Installation view of Ten Automobiles, September 15–October 4, 1953
1951: Cars in the Garden
"Automobiles are hollow, rolling sculpture," Arthur Drexler wrote in 1951. Recently hired as a curator of architecture and design at MoMA, Drexler penned the line for his introduction to 8 Automobiles, the first exhibition dedicated to automotive design to be staged by an art museum. In 1950s America—when automania was sweeping the country in tandem with the postwar manufacturing boom—Drexler was not alone in his enthrallment. The display for 8 Automobiles featured several vehicles parked on an elevated roadway installed in the first floor galleries, with the pathway extending into the Sculpture Garden, where cars were protected from the elements by a canvas awning. Among the vehicles on display were an American military Jeep, an Italian Cisitalia sports car, and a British Bentley, all of which were selected for "their excellence as works of art and for their relevance to contemporary problems of passenger car design." While these cars were loaned, in 1972 MoMA would begin collecting "rolling sculptures" of its own with the acquisition of a 1946 Cisitalia—becoming the first art museum ever to do so. Drexler would curate two more car exhibitions during his 35-year tenure at the Museum: Ten Automobiles in 1953, and The Racing Car: Toward a Rational Automobile in 1966.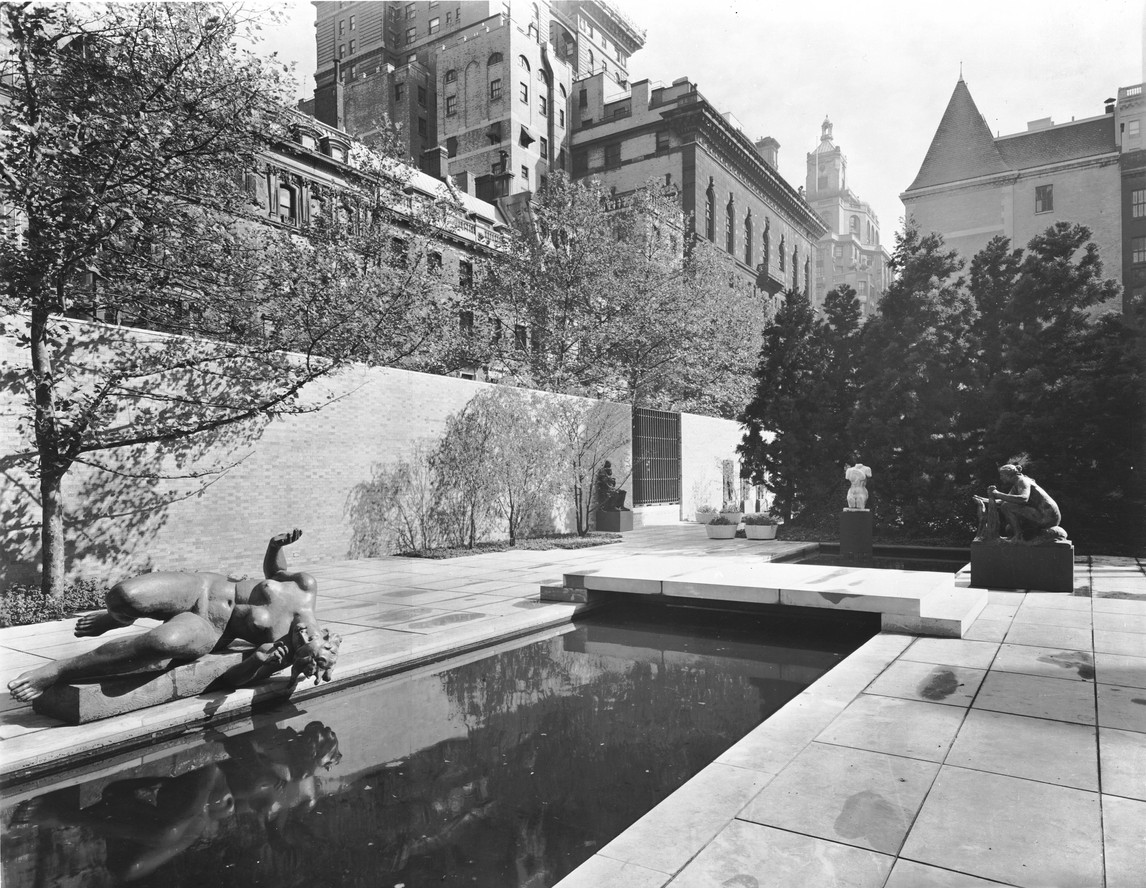 East view of the Abby Aldrich Rockefeller Sculpture Garden, 1953
1953: Oasis in the City
When the Museum's flagship building opened in 1939, its Sculpture Garden was a "happy improvisation" by John McAndrew and Alfred Barr. Although neither were experienced landscape designers, the pair hastily designed the first iteration of the Sculpture Garden when the Museum was unexpectedly given the adjoining lot to its new building. McAndrew and Barr's Sculpture Garden was conceived as an outdoor gallery for changing installations and was a largely open space defined by curvilinear gravel paths.
In 1953, the Sculpture Garden was completely redesigned by Philip Johnson, the first director of MoMA's architecture department, in honor of one of MoMA's founders, Abby Aldrich Rockefeller, who had recently passed away (and for whom the Sculpture Garden was renamed). Imagining the space as a "roofless room," Johnson created four distinct asymmetrical, marble-paved areas for displaying sculpture. The placement of steps, bridges, plantings, and pools subtly directed the flow of visitors. The revamped Sculpture Garden also featured a rich variety of trees, flowers, and shrubs, and wood-and-brass gates that opened to the street.
Johnson returned once again to the drawing board in 1964, designing a building-wide expansion that introduced a new east wing and enlarged the Sculpture Garden, adding an elevated platform that accommodated larger installations, as well as spaces for exhibitions and education classrooms underneath (this platform has since been demolished and replaced).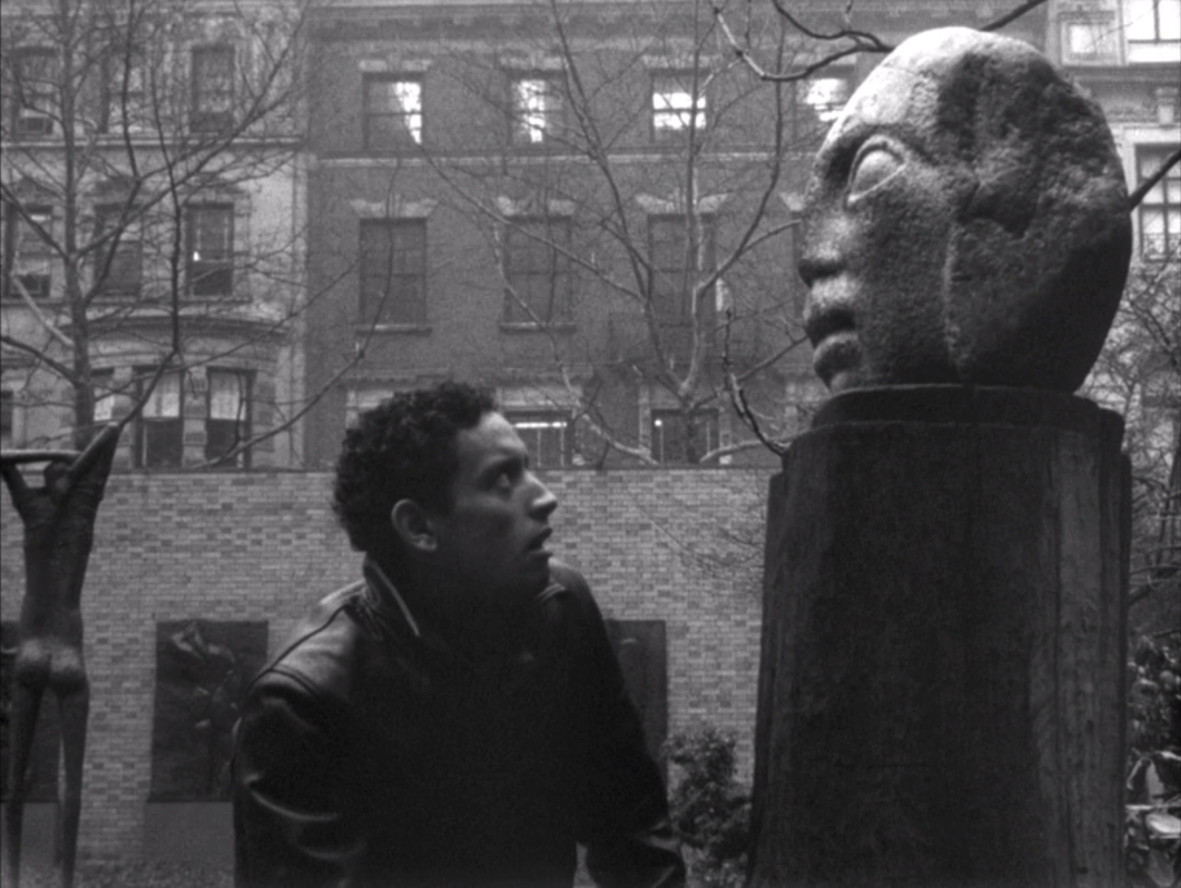 A still from John Cassavetes's Shadows (1959)
1959: Filmmakers Find a Backdrop
Shadows, John Cassavetes's directorial debut, centers on the life of three African American siblings—all musicians—in New York City. A pioneering work of American indie cinema, the film brings the Big Apple's vibrant art scenes to life, and a romantic misadventure provides a glimpse of the racial dynamics of the time. One scene brings the characters to MoMA to discuss the meaning of art and what its interpretation can offer. As Rajendra Roy, the Celeste Bartos Chief Curator of Film, recently told us, "Cassavetes did approach the Museum with his intention or desire to shoot here, and the Museum was kind of, like, go for it but don't get in the way.... It wasn't a big officially sanctioned shoot, but it also wasn't totally covert." Cassavetes would not be the last filmmaker to choose the museum as a backdrop for storytelling. More recently, films like The Adjustment Bureau and The Meyerowitz Stories have shot scenes at MoMA as well.
1960: Self-Destructing Art
"It's a machine… it's a sculpture, it's a picture… it's a song, it's an accompanist, it's a poet, it's a declaration—this machine is a situation." It was with these phrases that sculptor Jean Tinguely, standing in the Sculpture Garden before an audience of some 250 people—among them New York governor and Museum president Nelson Rockefeller, as well as reporters and television crews—introduced the kinetic work Homage to New York. Tinguely had created the sculpture with objects largely rummaged from New Jersey garbage dumps—bicycle wheels, a weather balloon, old motors, a player piano, metal drums, a label-maker, a miniature go-kart, a bathtub—all covered in a coat of white paint. The sculpture was conceived with the express purpose of self-destruction. To achieve this end, Tinguely collaborated with Billy Klüver, an engineer from Bell Labs, and a team of others including the artist Robert Rauschenberg. Homage was detonated on the night of its premiere, March 17, 1960, erupting in flames and colored smoke to a symphony of percussive noises from the piano and clanging metal. When a section broke off and crashed into a camera crew, a firefighter intervened and extinguished the flames, finishing off Homage with an axe afterward. Artist Robert Breer filmed the activation and explosion of Homage to New York, and you can watch the film online (above) from May 7 to 10 as part of this week's Virtual Views.
In an essay published in The Nation a week later, Klüver wrote, "Just as in every moment we see and experience a new and changing world, Jean's machine created and destroyed itself as a representation of a moment in our lives." Tinguely's device memorialized a moment that was already gone, as the machine age had receded into the ever-distant past and the atomic era was in full force.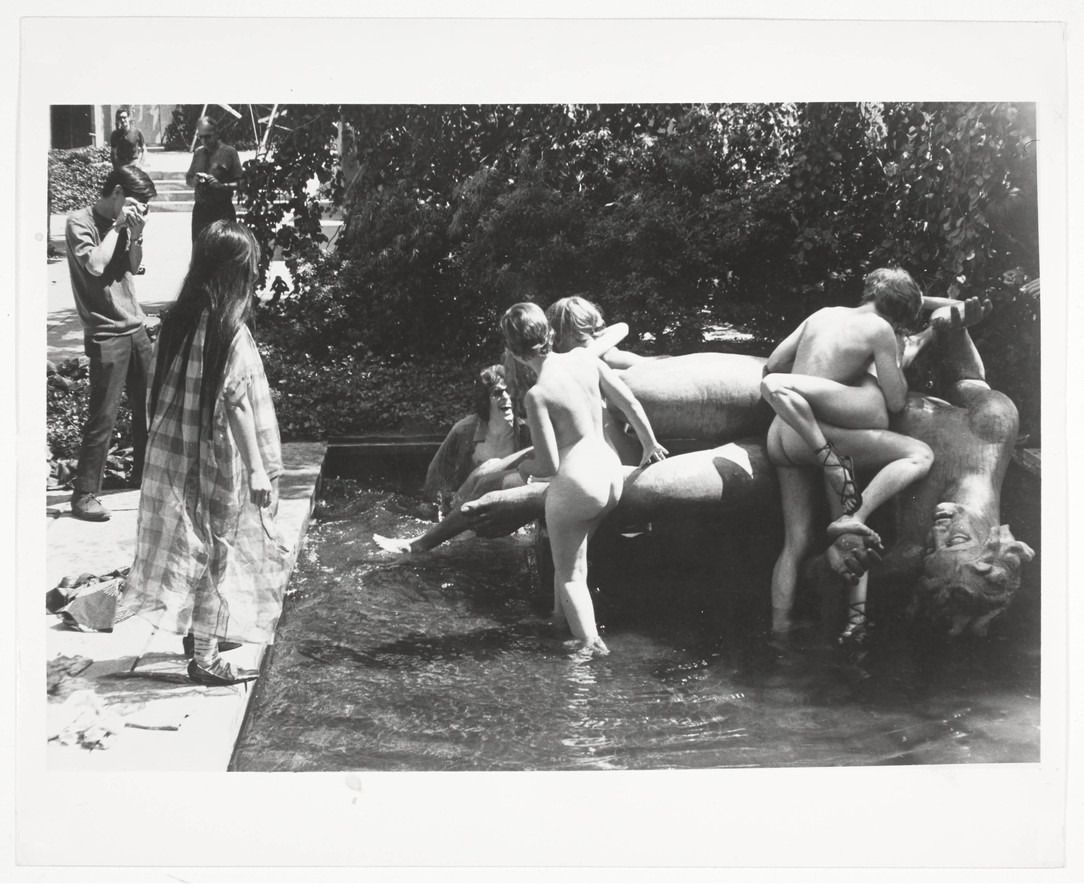 Yayoi Kusama's performance Grand Orgy to Awaken the Dead, 1969
1969: Yayoi Kusama's Grand Orgy in the Garden
"But Is It Art?" This tongue-in-cheek question attended the caption to a front-page photo of the August 25, 1969, issue of the Daily News, in which naked people stand in a fountain in the Sculpture Garden. In the photo, a crowd of visitors—and one exasperated security guard—observe the nude bathers in equal parts confusion and awe, as a lone woman faces away from the scene. This was Yayoi Kusama, the artist who orchestrated the event.
Kusama had first moved to New York in 1958, immersing herself in a range of creative production that included large-scale paintings, installations, and "Happenings." Happenings were often impromptu, theatrical in nature, and involved audience participation. For Kusama's unauthorized 1969 Happening, Grand Orgy to Awaken the Dead at MoMA, the artist instructed the stark naked performers to embrace each other while playfully engaging the sculptures around them. By staging a bacchanalian romp among live humans and static sculptural forms—many of which were nude figures by deceased artists, such as French sculptor Aristide Maillol, creator of the reclining figure *The River*—Kusama critiqued MoMA as a repository for "dead" art in need of more living artists' activations. She would again make a splash at the Museum almost three decades later with her 1998 survey Love Forever: Yayoi Kusama 1958–1968.
1969: Synth
The Sculpture Garden hosted "Robert Moog and the Moog Synthesizer Concert-Demonstration," an evening of music centered around the first-ever live performances on the Moog modular synthesizer, changing the course of music history and influencing decades of future instrument design. Described by the press as "alien" and like "a fox let loose in a chicken shack," the sounds of the Moog synthesizer filled the Sculpture Garden during the final event of the 1969 Jazz in the Garden concert series. Critic Greer Johnson wrote that "the 'demonstration' of Robert Moog's synthesizer at MoMA…had all the musical persuasiveness of lobotomized Hal in 2001: A Space Odyssey singing 'On a Bicycle Built for Two.'"
On the night of the concert, roughly 4,000 people—quadruple the attendance of previous events—jammed into the Sculpture Garden, climbing onto sculptures and into trees to get a better view. According to a review in Audio magazine, "Following a few preparatory bleeps, hoots, and grunts, the musicians swung into a pleasantly melodic four-movement suite…. At various times, sounds were reminiscent of trumpet, flute, saxophone, harpsichord, accordion and several varieties of drum, but, in general, one was content to listen to the music on its own terms, without trying to draw any comparisons with conventional instrumentation."
To read more about this event, check out our article "Sounds from Outer
Space: The Moog at MoMA."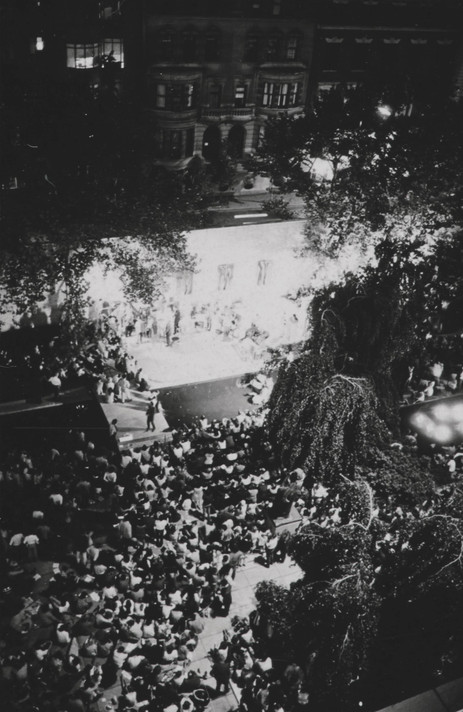 View of the concert performance Robert Moog and the Moog Synthesizer, part of the Jazz in the Garden series, August 28, 1969
1971: Dance and Jazz in the Garden
Some of the most dynamic and avant-garde works shown at MoMA were experienced outside the Museum's galleries.
During a 60-year absence of a formal department for the performing arts, from 1948 through 2008, dance and music were often ushered into the Museum by way of the Sculpture Garden. The 1960s and '70s was a particularly fertile period, with performances by experimental groups such as Judson Dance Theater and the School for Movement Research and Construction, who explored compositions from the most rigid to the most improvisational. The latter participated in a monthlong series in July 1979. Reporting on a piece choreographed by Mary Overlie, the New York Times described how "dancers made ordered chaos amid the chaotic order of Rodin, Matisse and Henry Moore [sculptures]," eliciting "the surprised stares of tourists [walking on] the street beyond."
For composer John Cage, this informal atmosphere was part of the attraction of Summergarden, a program of new music commissions that took place in the space on summer weekends: "There's something about hearing all those noises together in the environment, not in a concert hall, not in a place protected from such sounds, but together with them."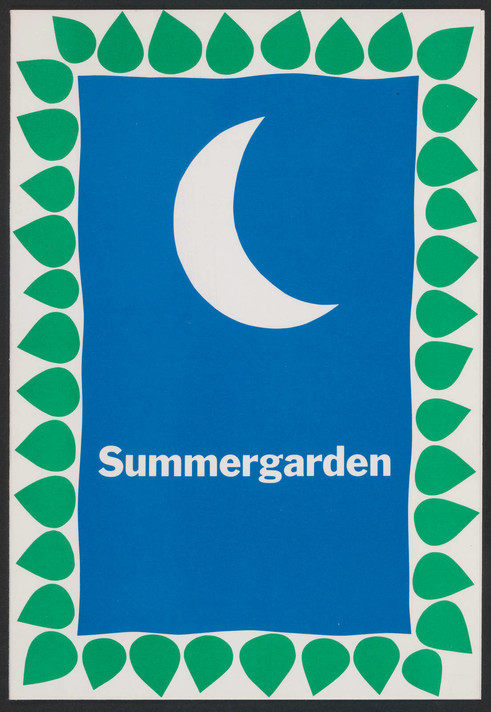 Invitation to the party celebrating Summergarden, May 10, 1971
2007: Richard Serra's Steel in the Garden
"Appropriately, perhaps, for an artist whose work forcefully engages the world, the world often rudely intrudes when it is installed." For the 2007 installation of Richard Serra Sculpture: Forty Years, MoMA's second retrospective dedicated to the artist since 1986, the New York Times reported on the complexity of the process of installation, which involved moving hundreds of tons of steel plate over several weeks.
Serra's works were installed by teams from Budco Enterprises, who usually worked on rigging and erecting the steel skeletons of New York's high rises. The first pieces to be installed were Intersection II and Total Ellipse IV, two massive curvilinear steel forms made in the 1990s, which were hoisted plate-by-plate into the Sculpture Garden using cranes and a "small corps of men," including the artist himself. The day of *Intersection II*'s installation, a city block around the Museum was closed off. In an unanticipated turn, flatbed semi trucks carrying individual plates positioned nearby had to be moved with the approach of "platoons of men in kilts and glengarries" marching down Sixth Avenue in the Tartan Day Parade.
2015: Bees in the Garden
The Sculpture Garden became home to tens of thousands of Italian honeybees as part of a sculpture by French artist Pierre Huyghe, Untilled (Liegender Frauenakt) [Reclining female nude] (2012). Huyghe substitutes a living bee colony for the head of a figure cast from a bronze sculpture—an idealized female nude by the Swiss artist Max Weber (1897–1982). For the artist, the bees' collective "hive mentality" suggests a more empathetic and harmonious relationship between living beings and the surrounding world. The first work in the MoMA collection to include living animals, its installation required extensive preparation to ready its debut as well as beekeeping care, and MoMA staff collaborated closely with Connecticut-based beekeeper Andrew Coté. Read more about Coté's efforts on Inside/Out.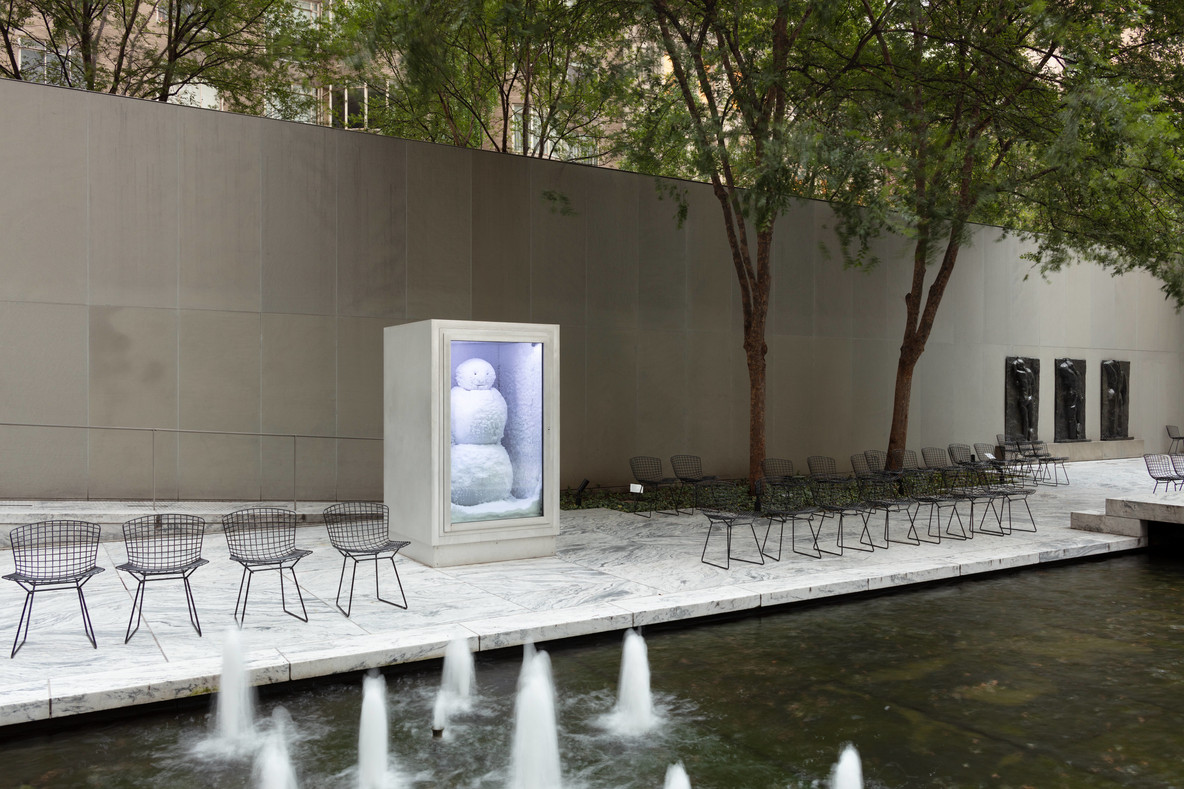 Installation view of the exhibition If Everything Is Sculpture Why Make Sculpture? Artist's Choice: Peter Fischli, 2018
2018: Fischli in the Garden
A snowman in the Sculpture Garden...in July? Art makes anything possible. The fanciful imagination of artist duo Peter Fischli and David Weiss was on view in Fischli's outdoor exhibition If Everything Is Sculpture Why Make Sculpture?, organized with assistant curator Cara Manes in June 2018. The Artist's Choice series, begun in 1989, invites contemporary artists to organize exhibitions drawn from the Museum's collection. If Everything Is Sculpture marked the first Artist's Choice show in the Garden, and the final exhibition there before the Museum closed in preparation for the opening of the new MoMA in October 2019.
A snowman is a "sculpture that almost anyone can make," Fischli pointed out. Placing Snowman (2016) among 20 works by artists including Herbert Ferber, Katharina Fritsch, Isa Genzken, Aristide Maillol, Henri Matisse, and Tony Smith embodies the spirit of subversive appearances often found in Fischli and Weiss's art. (The work is in fact quite complex to build.) And Snowman's playful, organic nature had a chilling turn, as a sculpture not entirely en plein air: kept alive inside a glass-doored freezer, Snowman raises subtle questions about climate change.