Extend, Repurpose, Redefine: on Park McArthur's Projects 195
A conversation with the artist about the impact of architecture on our lives
Projects 195: Park McArthur, organized by assistant curator Magnus Schaefer and curatorial assistant Tara Keny of MoMA's Department of Drawings and Prints, took shape alongside The Museum of Modern Art's current renovation and expansion, which, when completed this year, will add more than 40,000 square feet of new gallery space to the Museum's existing 53rd Street building. Relating to life both in and outside of MoMA's changing campus, Projects 195: Park McArthur focuses on topics such as dependency, care, and housing. One of the exhibition's five artworks, titled STUDIO/HOME, is a modular, stainless steel sculpture that doubles as an architectural model for an imagined mixed-use building. This building, McArthur envisions, would create much-needed residential, communal, and recreational spaces—such as an art gallery and a pool—shared by disabled and non-disabled people. Here, McArthur, Schaefer, and Keny speak with Sean Anderson, associate curator of Architecture and Design, about Projects 195: Park McArthur and the impact of architecture on our lives.
Park McArthur: I approached the idea of models and modeling as a visual artist, through the lens of sculpture. Sean, you are a curator and art historian, and you have also taught and practiced architecture. To start our conversation the three of us are interested in how you think about architectural models. What do they help us understand?
Sean Anderson: Models, on the whole, are both representations of desire and tools for the imagination. Once deployed in a more public way, the architectural model takes on a new meaning as something to be read, perhaps even occupied, but always at a distance. I was taught that the model—whether it is a formal presentation or even a scrap of folded cardboard—is a means of communication. It should be a clear representation of the idea(s) at hand as well as an argument for a certain aesthetic appreciation. Some "traditional" models might fall into a category of preciousness that one might enjoy not only from a historical perspective but also as the succinct output of a well-regarded architect. We look to architectural models as not-sculpture, as not-art but as a tool or medium that may point us backward and forward at the same time. In this Janus-like arrangement, however, the possibilities for conferring artistic, aesthetic, material, and political sensibilities are all the more heightened. They are not meant to be static objects but, perhaps, more like windows or enigmatic thresholds.
PM: The enigma is nice, especially when thinking about models not so much as ideals or idealized forms, but, as you outline, changeable ideas—a way to think together.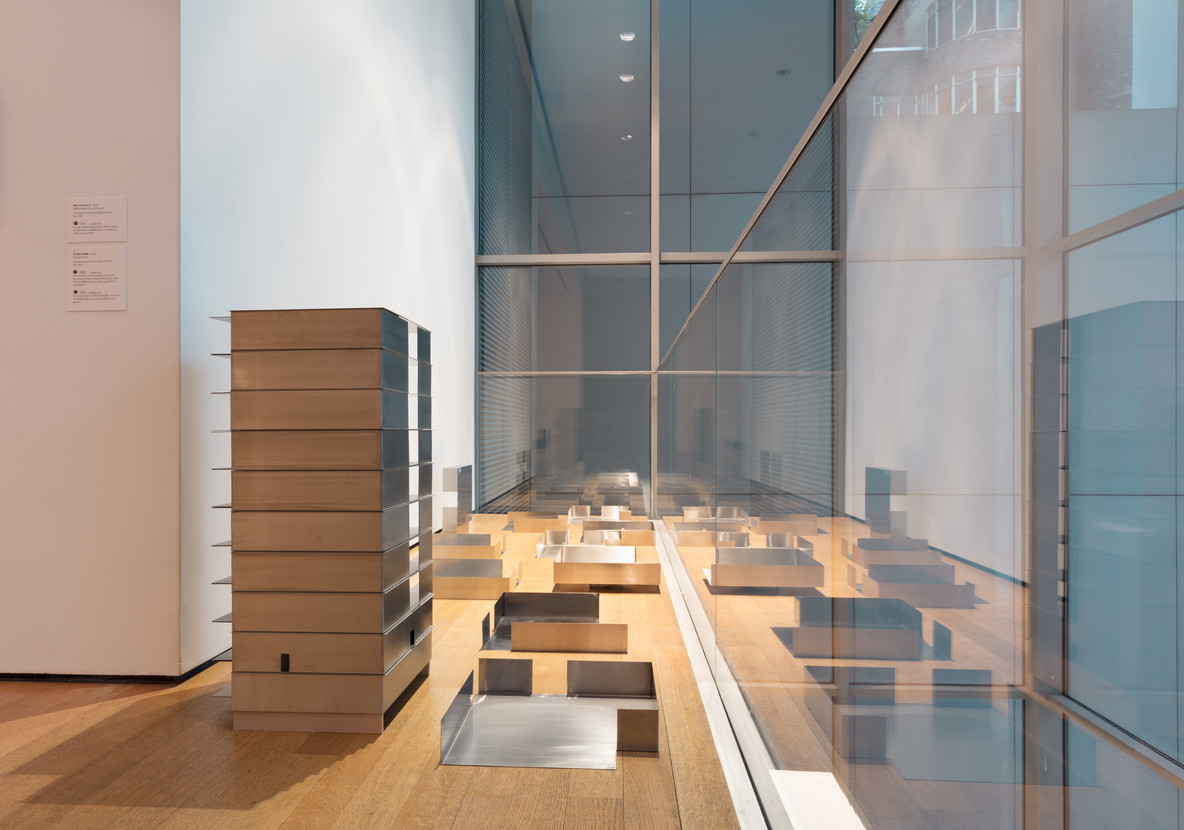 Installation view of the exhibition Projects 195: Park McArthur
If conversations are not happening with and around an architectural model or drawing, then something is wrong.
Sean Anderson
SA: What immediately sprang to mind when I saw your installation was the large Museum campus model by Diller Scofidio+Renfro (DS+R), in collaboration with Gensler, which is currently on display on the second floor at MoMA and shows the expanded Museum as planned for 2019. This model seeks to reassure visitors about what might be seen, felt, or heard around the Museum buildings during the construction period—the crash of hammer or drill; the insurrection of temporary walls; scaffolding on the exterior. Through its sectional opening of crucial components such as the 53 West 53rd tower (with a text explaining that the opening is purposeful), we are allowed "in." McArthur's model, on the other hand, through the physical inaccessibility of its installation, provides visual clues to a series of cascading scalar elements while demonstrating how spaces can frame and be framed within a museum. The first of *STUDIO/HOME*'s three iterations was installed in a narrow, "useless" or "forgotten" in-between space of wall and balustrade in the far corner of the gallery, where it was only visible from one side. We can imagine what might be the new inaccessible spaces that appear in the expansion. Perhaps these will only be discovered in the midst of installing works, or kitting out a new lounge, or rethinking bench placement. As sites of inaccessibility become apparent, I think all architects and clients seek ways to avoid, erase, or manage them, through furnishings, materials, and even storage. In this way, we might understand the leftover spaces of any institution to be like a domestic sphere in which we wish to display and hide at the same time.
Magnus Schaefer: How do architects address these spaces in the planning process?
SA: Such erasures—or, to be less severe, discrepancies—have become in many ways part of contemporary architectural practice. While maybe we still revel in form-making and form-being, representation via supplementary means (i.e., computer modeling, robotic fabrication, luxury materials) is very common. Drawings that we might see in a magazine or exhibition do not necessarily convey all aspects until actual building commences. I have had the pleasure of working on two built projects recently. In the first, obvious clues were not initially found in the drawings and were jointly decided on by the client and me once walls started being made. On the other hand, in another commercial project, all information had been mitigated by computer renderings that do not adequately depict or illustrate or resolve our questions. Consequently, a lot of time is spent remaking elaborate renderings that often feel incomplete. Working with this kind of loss in the design process, then, is also a productive way of considering our own skill sets. If conversations are not happening with and around an architectural model or drawing, then something is wrong.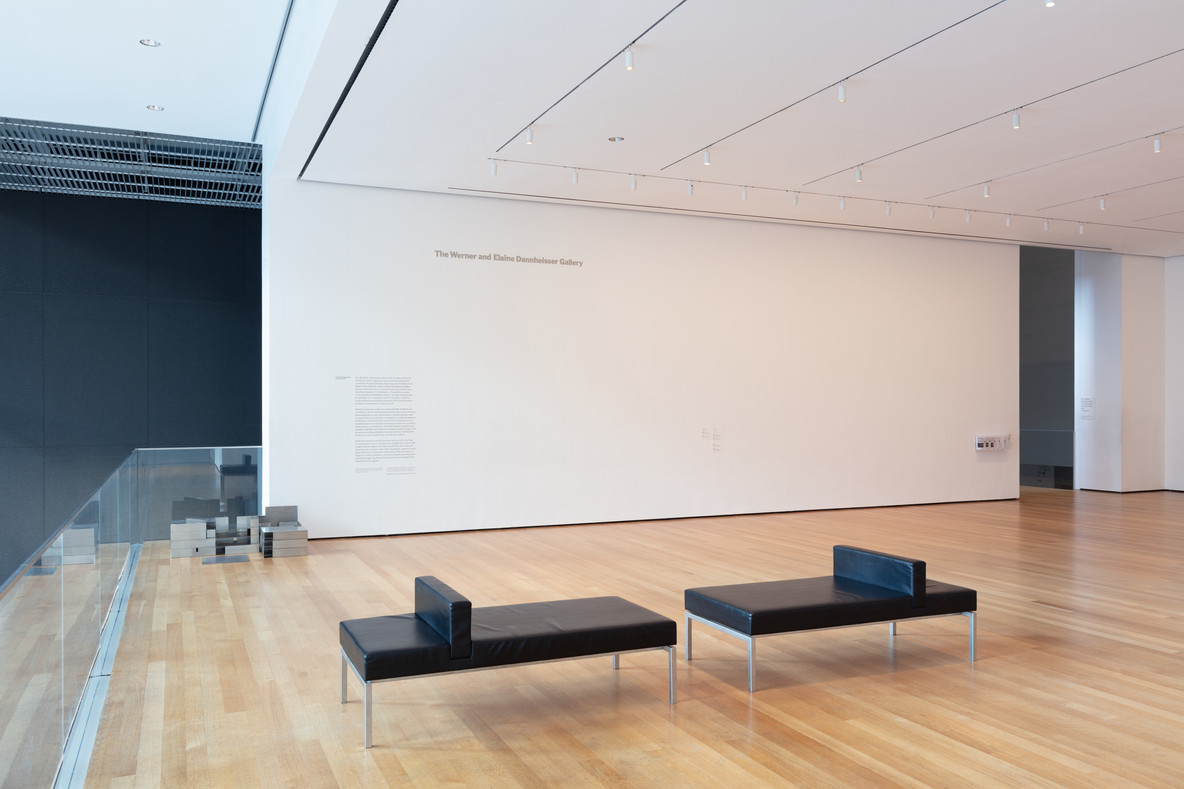 Installation view of the exhibition Projects 195: Park McArthur
Tara Keny: Working on Projects 195, McArthur became interested in a previous exhibition in the series, Projects 17 by Elizabeth Diller and Ricardo Scofidio, the founding partners of the architecture firm DS+R. How does this 1989 installation by the two architects relate to MoMA's current expansion?
SA: I don't think it's a coincidence that Diller Scofidio+Renfro, with Gensler, were chosen for the expansion. Given their recent projects—their intervention in the existing structure of Lincoln Center in New York, and new museums such as the Broad in LA—their practice is fundamentally built on questioning the limits of institutional architecture. Projects 17 included live CCTV footage from various parts of the Museum. What their exhibition aspired to, in my opinion, was at once to relinquish the boundaries we've come to expect with ideas of intimacy, interiority, and domesticity. At the same time, they suggest that there's a kind of resonance between the way that the museum works—a public space for viewing—and the way that the world of media works. It's a rather prescient project for Diller and Scofidio and already points forward to a number of the current interventions that are underway around the Museum campus. Look out for screens!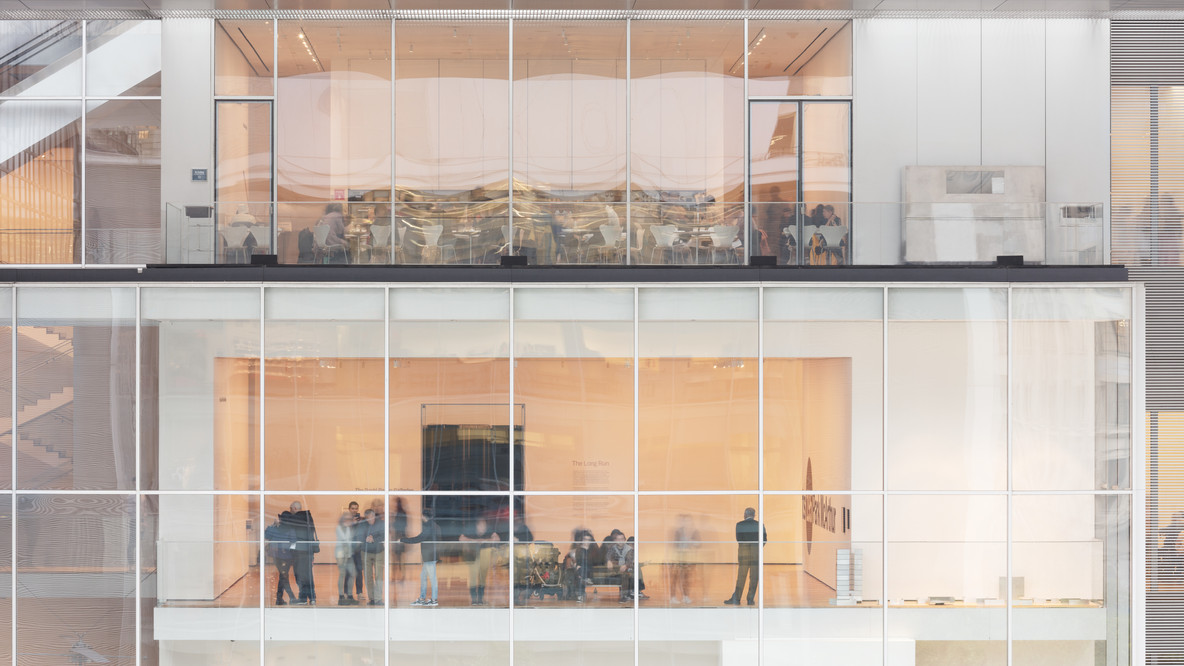 Installation view of the exhibition Projects 195: Park McArthur
PM: The Museum expansion will include galleries on the lower floors of a new tower, with private luxury housing occupying the floors above. The development of this building is overseen by the real estate firm Hines. In the mid-1980s, Hines was also the sponsor for the Gerald D. Hines Interests Architecture Program at MoMA. Could you speak a bit about these five exhibitions, which were held between 1985 and 1987?
  
SA: 1985 was a crucial year in the dissemination and establishment of conflicting architectural ideologies. The anxiety of postmodern tendencies was writ large. What do we do with this history? All of the white men (with the exception of Tadao Ando) presenting or organizing shows in this series at once acknowledged the potential of the past to surface shifts in ideology or paradigms of thinking about architecture. Yet all of the same white men were or are nimble thinkers who sought to move past isms, toward a more holistic perception of the moment. By extension, the arrival of deconstructionism, first found within literary theories of the day, was a dismantling of heteronomic forms—of things outside of an individual's control. By breaking down and reassembling those elements that once signified structure, for instance, or gravity, or power, it was suddenly possible to grasp that history was something to be conferred rather than built. What we saw was a shift from form to language and back again. This rethinking of what constitutes architecture also proved generative for Diller and Scofidio's Projects 17 four years later. Faced with a television screen or media, redirecting the gaze of visitors, as well as artwork and public space, we suddenly could see through architecture again. In this way, their Projects 17 might be understood as a rehearsal for all of their subsequent modern buildings and performances.
One last thing I might mention: a recent equivalent to the Hines series is Architecture and Design's Issues in Contemporary Architecture series, which was inaugurated in 2010 with the ever-important Rising Currents, organized by Barry Bergdoll. While I cannot argue around the fact that the architecture profession and department here is still skewed toward white men (including yours truly), each of the three Issues exhibitions thus far have attempted to question and rethink the means by which contemporary architecture practice is conceived and built. Sponsored in part by the Rockefeller Foundation, the Issues series continues to be an important facet of our programming. Each has served as a short-term think tank, bringing together architects working in the US and across the world in difficult contexts and conditions to resolve or reduce problems. In some ways, this has always been the remit of modernism: to fix. Moving beyond a modernist, solutions-based paradigm, each exhibition has examined the often devastating effects of not being present, not seeing, and not recognizing that architects and architecture can make a tremendous (but occasionally dubious) imprint on social, economic, and political formations that affect each of us dearly. I am genuinely excited and humbled to be working on the next iteration, scheduled right before the election in 2020.
Projects 195: Park McArthur runs through January 27, 2019. Buy tickets today.