Planet, Mother, Spaceship: Art to Commemorate Earth Day
From floating think tanks to modular coral farms, MoMA's Architecture and Design curators share artworks addressing the environmental crisis.
Planet, mother, spaceship—Earth is life itself. Earth Day, celebrated every year on April 22, was created in 1970, the brainchild of US Senator Gaylor Nelson of Wisconsin. If most narratives of the global environmental movement begin with Rachel Carson—the scientist who inspired it with her germinal 1962 book *Silent Spring*—Senator Nelson gave it a powerful yearly knell. Outraged by a massive oil spill in January 1969 in Santa Barbara, California, and inspired by the vitality and impact of the student antiwar movement, Nelson managed to mobilize 20 million Americans across the country. On the fateful day of April 22, 1970, with the help of Congressman Pete McCloskey and organizer Denis Hayes, their collective protest put pressure on the government and advanced a bipartisan progressive agenda that led, in December of that year, to the creation of the Environmental Protection Agency.
On this, the 50th anniversary of Earth Day, the members of MoMA's Department of Architecture and Design have selected artworks from the Museum's collection and from exhibitions past and future. These selections celebrate what have been and should continue being important goals for architecture and design—sustaining and enhancing the cycles of life, and improving conditions for all species on Earth.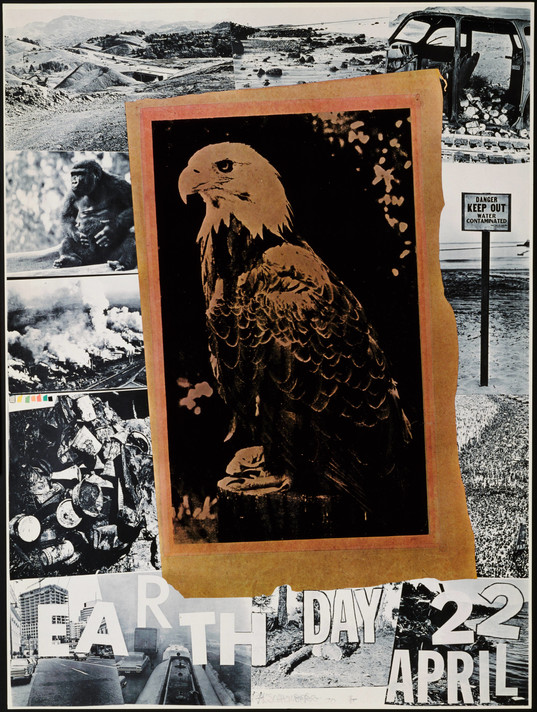 Robert Rauschenberg. Earth Day - 22 April. 1970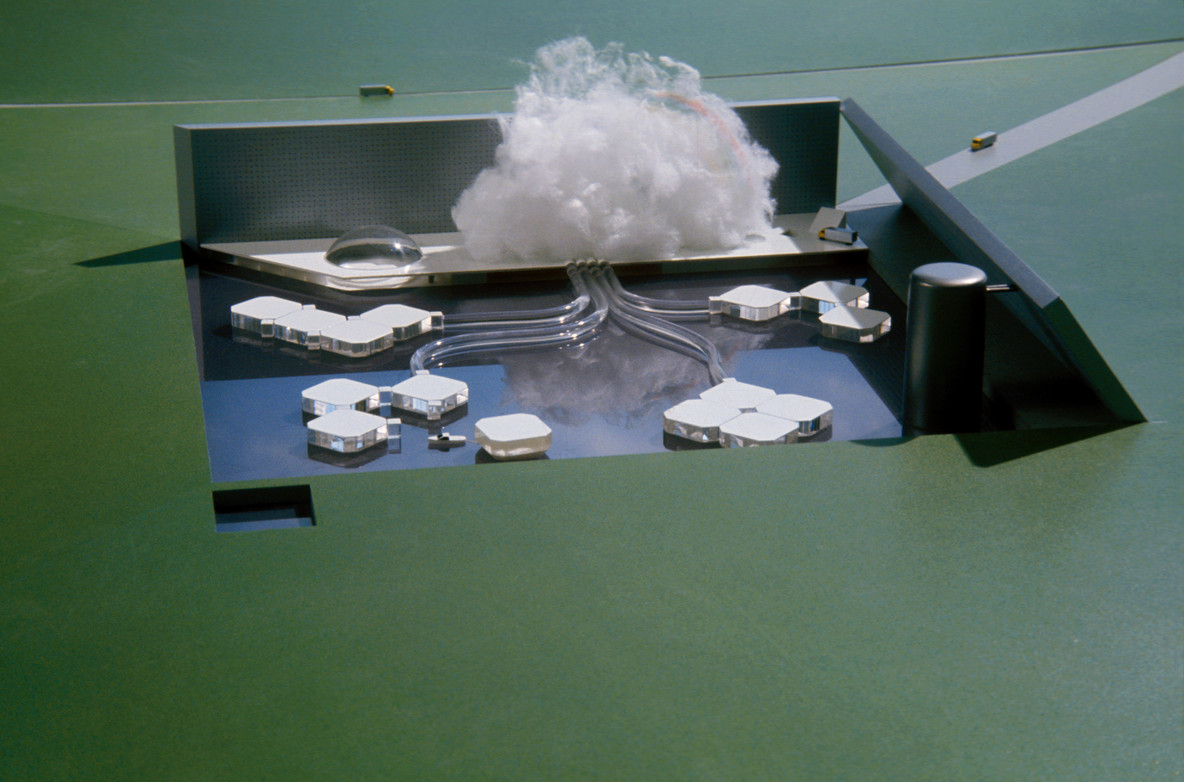 Emilio Ambasz. Center for Applied Computer Research and Programming, Mexico City. 1975
Martino Stierli, The Philip Johnson Chief Curator
Emilio Ambasz's Center for Applied Computer Research and Programming in Mexico City (1975) attests to the architect's interest in the integration of architecture and nature, where a building is transformed into a landscape. The project is visually evocative and ecologically radical in its harnessing of renewable energy. The Center is organized around a rectangular water basin, in which the modular units housing the workspaces float like barges, addressing the region's seismic issues (Mexico City is located on a landfilled lagoon, making the ground unstable). Two large walls that define the compound's perimeter are equipped with photovoltaic cells that provide electricity for the research center and the community around it; they also serve as display boards for visually representing the ongoing research projects. An artificially produced cloud above the main data center is conceived as an ephemeral architectural element. Consisting of cold water steam from highly pressurized water—the power for which is taken from windmills—it serves to refill the evaporated water from the basin and to cool the building's exterior. Exemplary in its self-sufficiency, Ambasz's visionary project remains unrealized.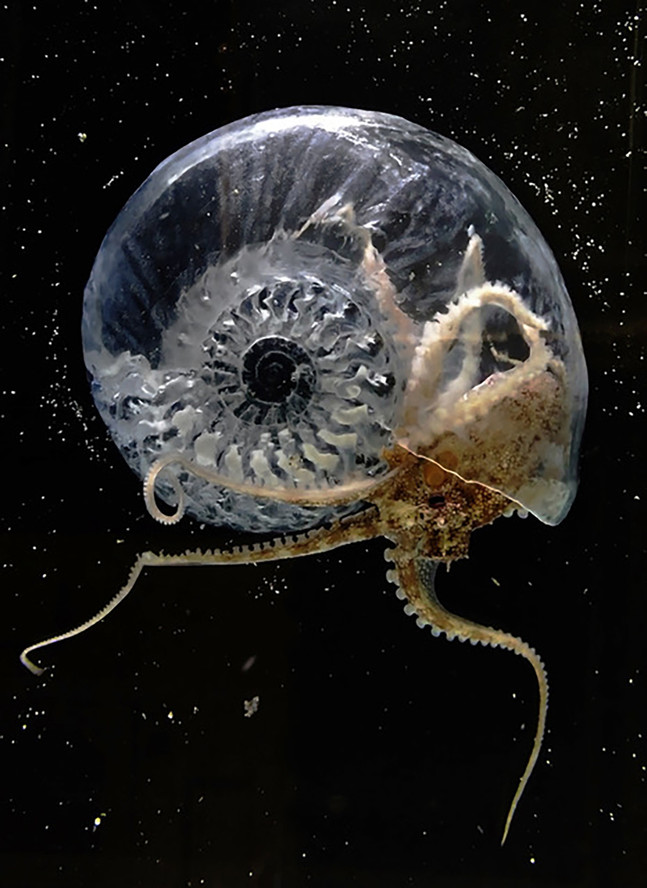 Aki Inomata. Think Evolution #1: Kiku-ichi (Ammonite). 2016–17
Paola Antonelli, Senior Curator
Awareness—of history and the passage of time, of other species, and of the interconnectedness of the world we inhabit—is the first step toward a constructive approach to the current environmental crisis. History also tells us that some things never change, especially when it comes to our most basic needs. Shelter is one such need. Take the octopus, for instance. Over the course of its evolution, it shed its shell in favor of velocity, to escape fast-moving predators. Yet some octopus species devise shelters from coconut or mollusk shells. To explore this transmitted evolutionary knowledge, Japanese designer Aki Inomata re-created the shell of an ammonite (the octopus's ancestor) using 3-D scanning and printing techniques. Inomata placed the shell in an aquarium alongside a small female octopus named Mersi, who took no more than a few minutes to recognize it as home and make it hers. The shell, and the video that recorded this intimate encounter, were the stars of the 2019 exhibition Broken Nature at the XXIII Triennale di Milano, part of which will come to MoMA in the fall of 2020.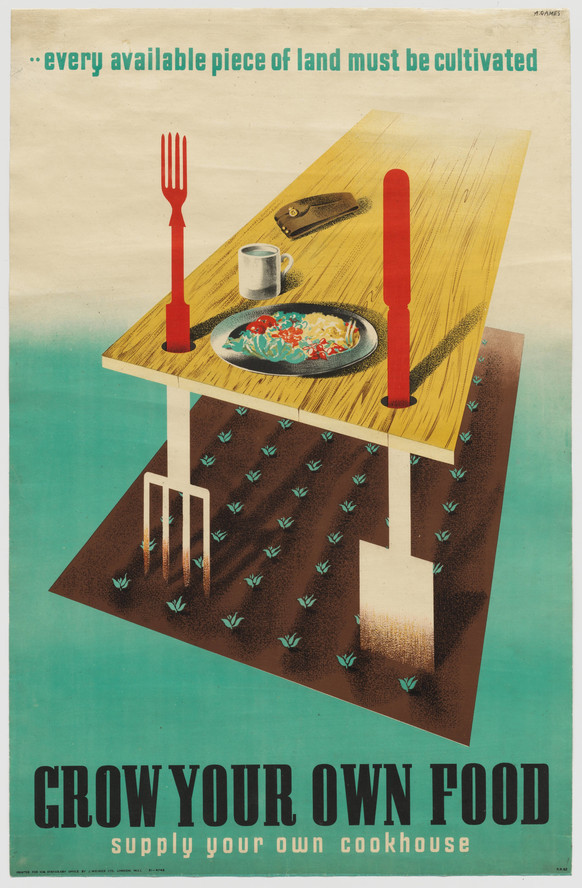 Abram Games. Grow Your Own Food. 1942
Juliet Kinchin, Curator
Commissioned by the British Ministry of Information during World War II as part of a "Dig for Victory" campaign, this poster echoes the twinned preoccupations with food and gardening in the current crisis. It also provides an example of government intervention that proved successful in generating vast quantities of locally grown food and encouraging a positive attitude toward sustainable patterns of living. As in 1942, budgets are tight and global supply chains are increasingly disrupted. Concerns about food safety and the desire to remain healthy have led to a resurgence of popular interest in gardening—whether growing our own produce in urban homes or, for those lucky enough to have their own patch, outside in gardens. In an imaginative effort to eliminate food imports altogether, the Sri Lankan government has recently supplied seeds for generating produce to the entire populace.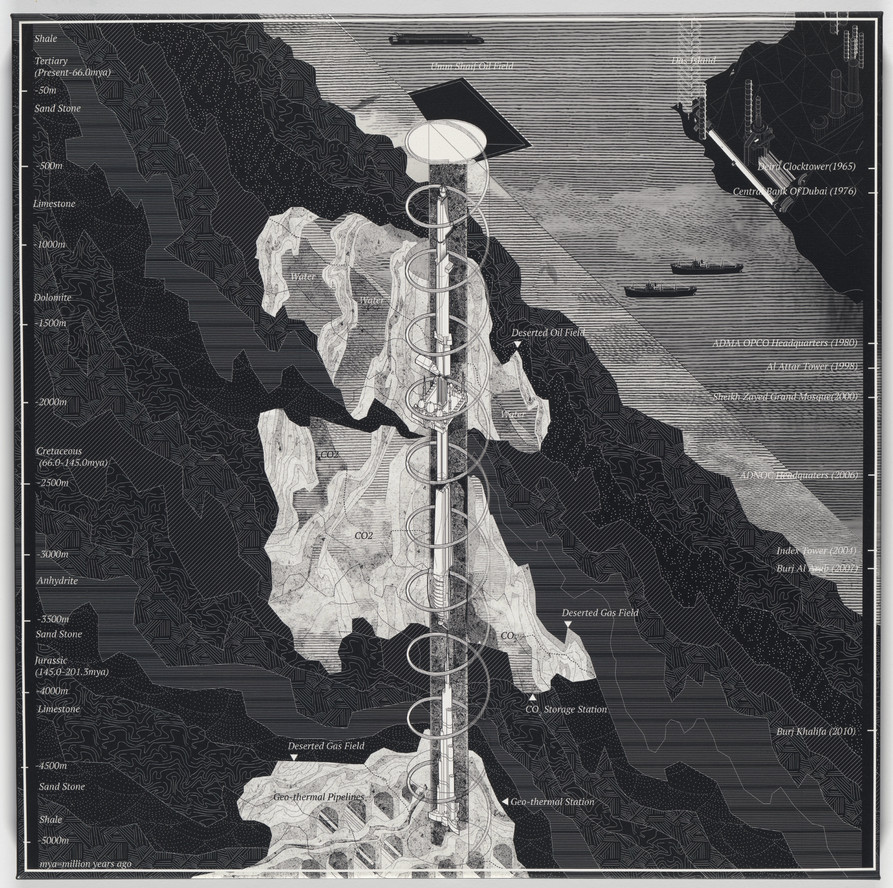 Rania Ghosn, El Hadi Jazairy: Design Earth After Oil (Das Island, Das Crude) 2016
Sean Anderson, Associate Curator
In his 1954 book Survival through Design, architect Richard Neutra outlined the ways life on the planet might be enhanced by technology rather than destroyed by it. While describing "biorealism," Neutra writes, "If design, production and construction cannot be channeled to serve survival, if we fabricate an environment and we cannot make it an organically possible extension of ourselves, then the end of the human race may well appear in sight."
While wildlife returns to city streets and the air is cleaner than ever, we cannot forget that extractive industries continue to decimate much of the world. Like an atlas of potential, Design Earth's After Oil speculates on the spatial, political, and economic relationships that will transform every aspect of the Earth.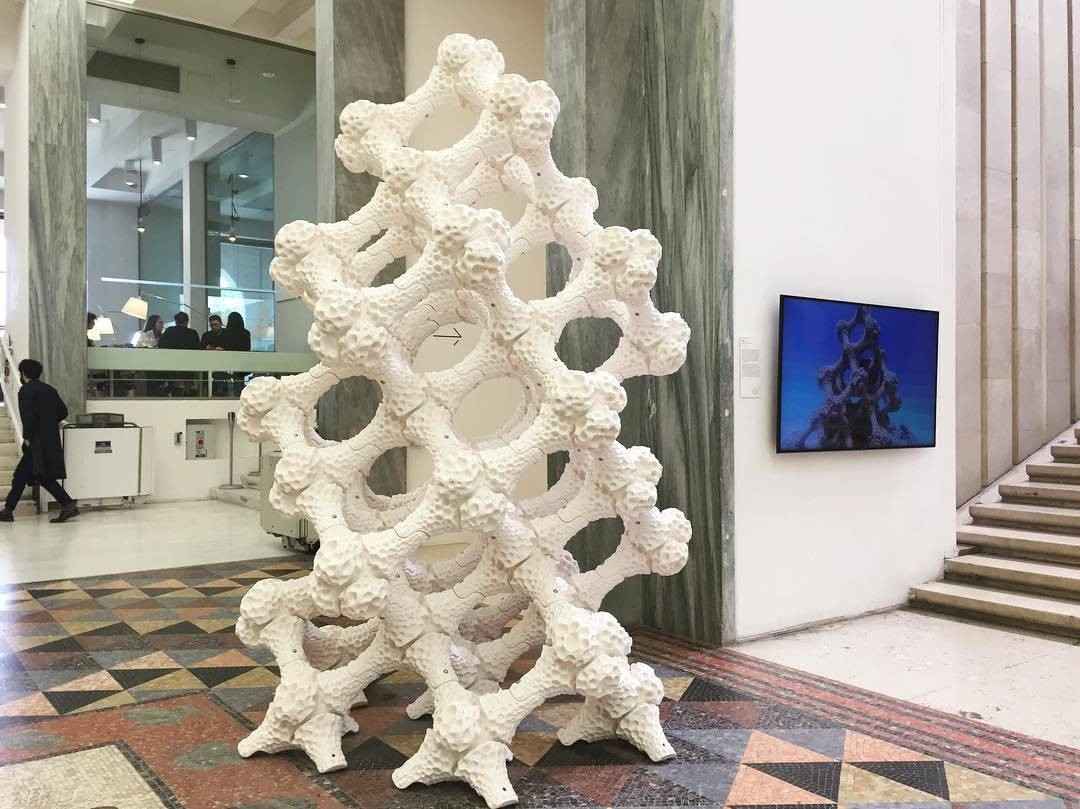 Alex Goad. MARS - Modular Artificial Reef Structure. 2013
Anna Burckhardt, Curatorial Assistant
The global decline of coral reefs is one of the most telling examples of climate change. Scuba divers can experience firsthand the consequences of the environmental forces harming our oceans. The designer Alex Goad developed new farming methods that allow coral species to grow until they are eventually transplanted back onto natural reefs. A new take on these structures, MARS is a three-dimensional lattice made up of individual units that are printed and molded in ceramic using slip-casting. Coral fragments are attached to the units before they are submerged, at which point divers can put them together like an underwater LEGO set. The structure provides a scaffolding on which transplanted corals can grow, while also acting as a protective habitat for a number of other reef species, such as fish and mollusks, and for the greater reef ecosystem. MARS is an elegant example of restorative design—easily replicable, it has been successfully implemented in a number of coral farming efforts.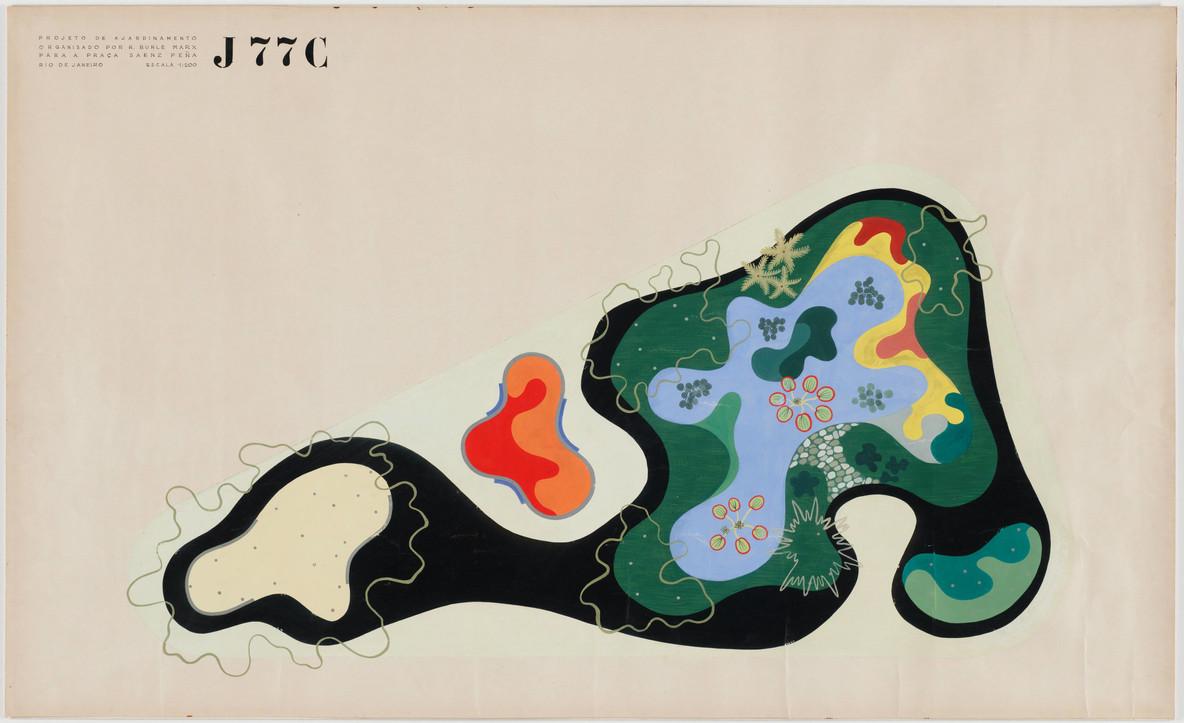 Roberto Burle Marx. Garden Design Saenz Peña Square, Rio de Janeiro, Brazil, Plan. 1948
Arièle Dionne-Krosnick, Curatorial Assistant
With its bold colors, squiggly lines, and a smart use of patterns and textures, Roberto Burle Marx's garden design for Saenz Peña Square (1948) in Rio de Janeiro could be easily mistaken for an abstraction. A painter by training, Burle Marx favored asymmetrical plans, colorful pavement, biomorphic water features, and a mix of native plants. He was knowledgeable about Brazil's indigenous flora and selected native species that would thrive in his country's tropical climate. Challenging the European-style formal garden, Burle Marx's ethics of promoting local species and site-sensitive designs resulted in an entirely new, modern vocabulary for landscape design in Brazil. Notably, he was also one of the first prominent public figures to condemn Brazil's destruction of its rainforests.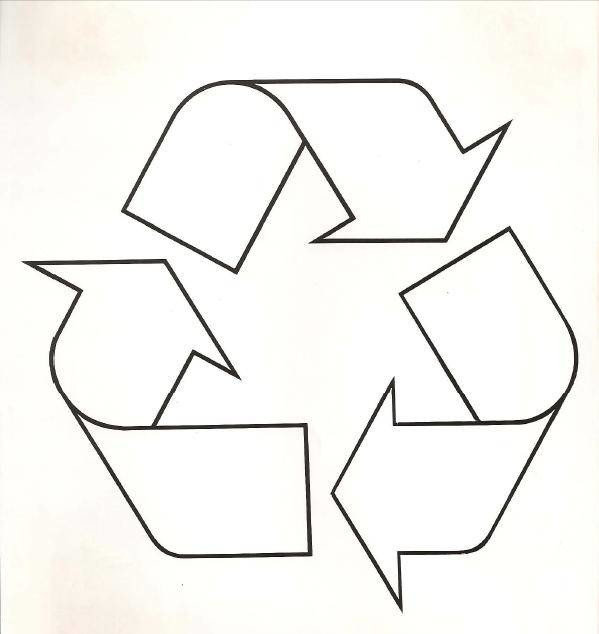 Gary Anderson. Recycling Symbol. 1970
Andrew Gardner, Curatorial Assistant
When I think about the modern environmental movement, there are few images as universally recognized as the recycling symbol. Gary Anderson designed it on the heels of the first Earth Day in April 1970, entering a competition organized by the Container Corporation of America to develop an icon for recycled paper. His winning design consists of a three-part möbius strip, the open points denoting an ongoing cycle of use and reuse. Describing his design process, Anderson said, "I'd already done a presentation on recycling waste water and I'd come up with a graphic that described the flow of water, from reservoirs through to consumption, so I already had arrows and arcs and angles in my mind."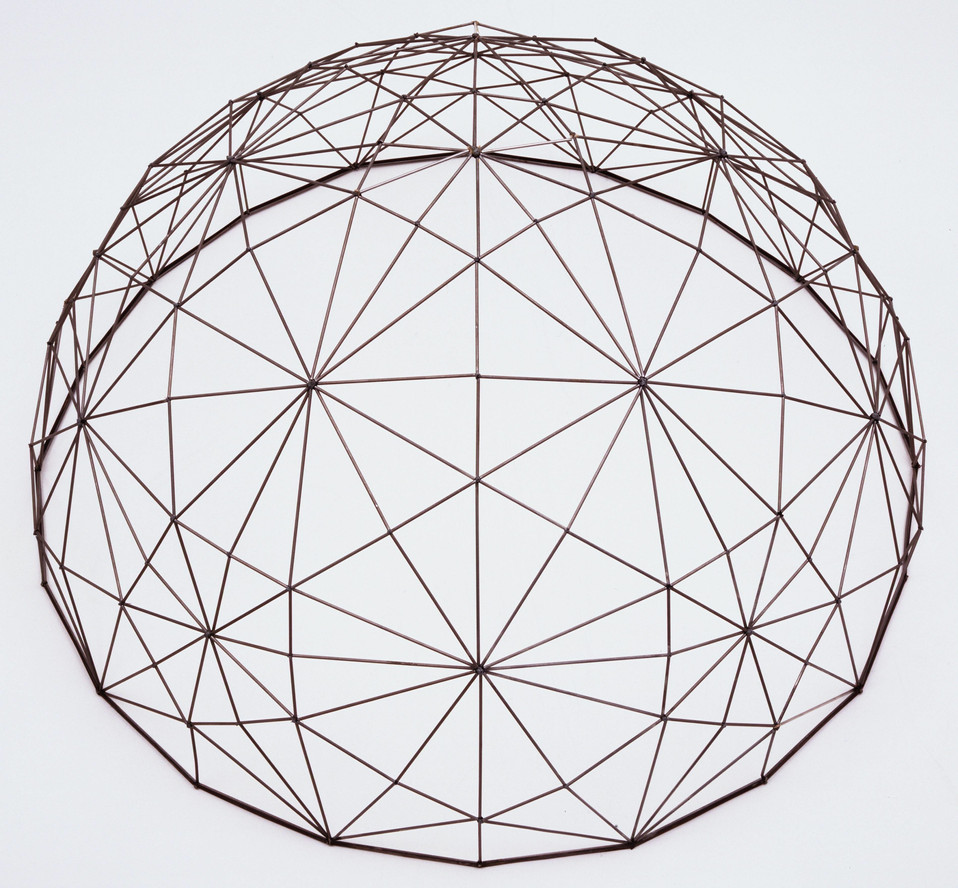 R. Buckminster Fuller. Geodesic Dome. 1952
Evangelos Kotsioris, Curatorial Assistant
"How much does your building weigh?" was a question the American architect and polymath R. Buckminster Fuller often asked his students and colleagues. Fuller's career-long obsession with efficiency is best demonstrated in his numerous designs for "geodesic domes." Composed of a series of tubular rods and connecting nodes, this seemingly fragile structure is able to withstand large weight loads using minimal material. The dome is often used to illustrate Fuller's concept of "Ephemeralization," or the ambition to do "more and more with less and less until eventually you can do everything with nothing." In the later phase of his career, and in books such as his 1969 Operating Manual for Spaceship Earth, Fuller investigated the efficient management of limited terrestrial resources.
SITE (Sculpture in the Environment), James Wines. Forest Building, Henrico, Virginia. 1978–80
Da Hyung Jeong, Mellon-Marron Research Consortium Fellow
The big-box mall, a symbol of human complacency, is here turned into the site of hypothetical destruction brought about by nature. The forest has inserted itself into the building, and the two, having become one, gesture toward man's symbiosis with nature. Founded by James Wines in 1970, SITE represented an early attempt to reflect on the ecological in architecture. The collective strove to develop "imaginative solutions for the environment."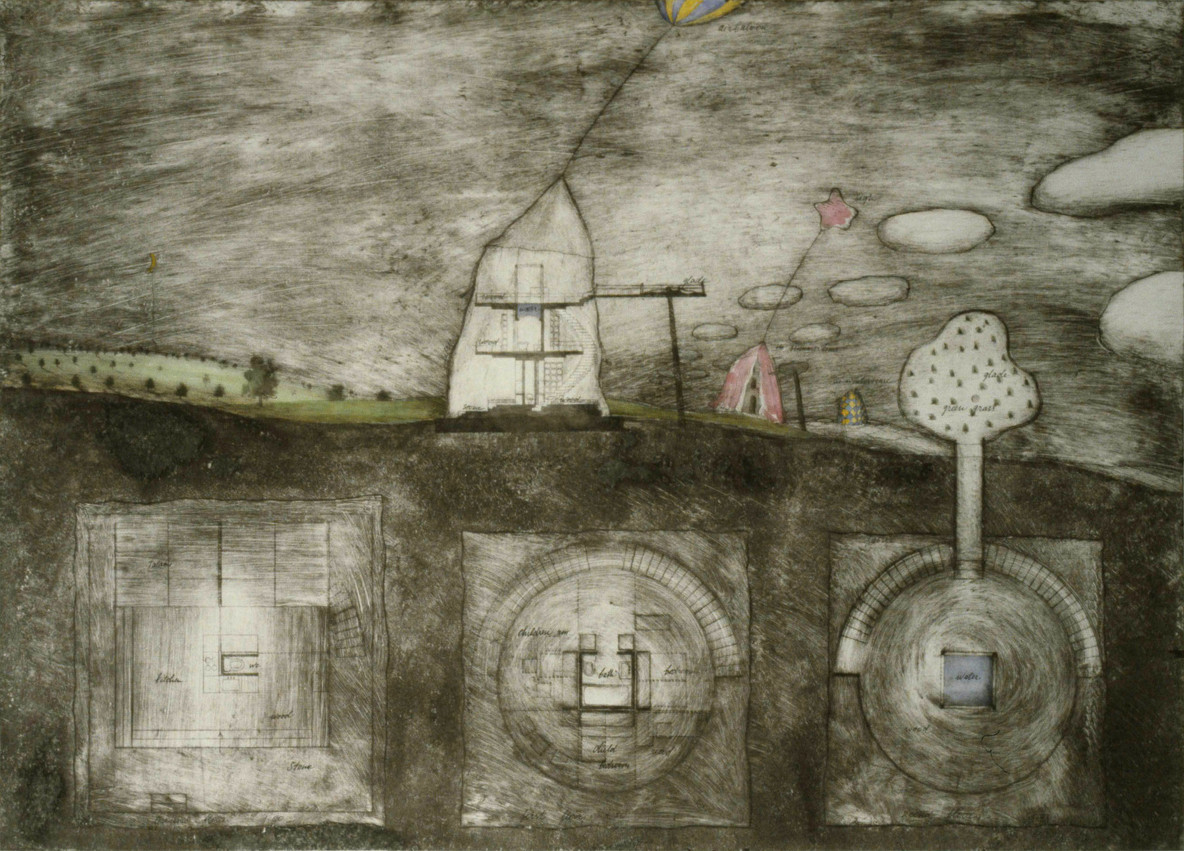 Mikhail Labazov, Andrei Savin. House for Nature. 1987
Anna Kats, Curatorial Assistant
This work is an example of late-Soviet paper architecture—less a cohesive movement than an underground, antiestablishment circle of friends. They practiced a kind of "dissent by retreat" in refusing to produce buildable, pragmatic architectural drawings or participate in the bureaucratized public life of an architect. This particular image, a monotype print that shows a private home (a taboo in the Soviet Union) for a tree, also references the late-Soviet dissident environmentalist movement. This 1987 proposal for a place to keep nature safe takes on particular significance in light of the ecological crisis precipitated by the Chernobyl nuclear reactor explosion, which transpired the previous year. In depicting a world that treats environmental stewardship as a matter of utmost significance, House for Nature lays bare the political agency of even the most fantastical architectural projects.