A selection of works from MoMA's collection explores being inside.
Though we usually imagine an interior as a physical space with four walls, we also possess an interior, our skin providing a fragile barrier between our bodies and the environments in which we live. Dreams, too, are the musings of our interior lives that can encompass boredom, violence, and fear.
At the turn of the 20th century, inwardness was regarded as a symptom of the dramatic changes occurring outside—in the streets, in medicine, in workplaces, in government. Individuals could turn inward, to the things and objects that filled their interiors, or be "in the world," embracing new perspectives. Today, we can remain indoors while our screens become thresholds into other spaces. Given these possibilities, how do we reconcile our interiors with the world outside our windows?
The following works from MoMA's collection explore the interior and its physical, psychological, and spiritual dimensions.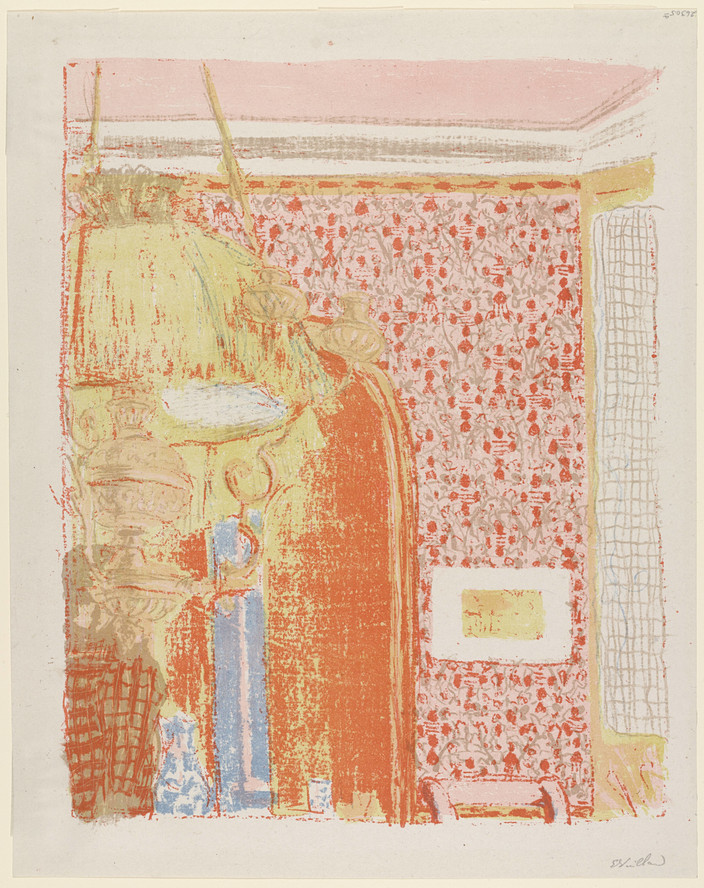 Édouard Vuillard. Interior with Pink Wallpaper II (Intérieur aux tentures roses II) from Landscapes and Interiors (Paysages et intérieurs). 1899
For artists, writers, and thinkers at the turn of the 20th century, the interior was a repository of dreams and memories. From its pink wallpaper and elaborate ceiling lamps to a Parisian avenue just outside the window, Vuillard's lithograph depicts the city and its changing lifestyles as living interiors: discreet, bodily landscapes.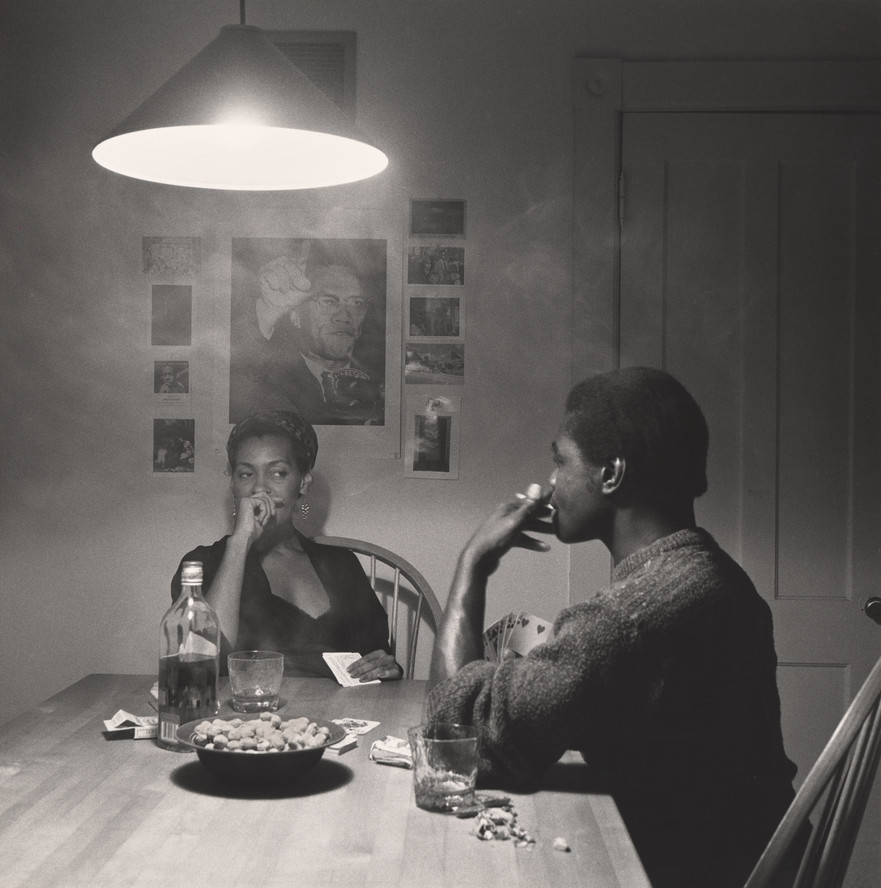 Carrie Mae Weems. Untitled (Man smoking). 1990
A space can encompass multiple interiors. At this kitchen table, each glance tells a story. We are drawn inward by the woman facing us—the artist herself—who we are told in an accompanying text has "a bodacious manner, varied talents, hard laughter, multiple opinions."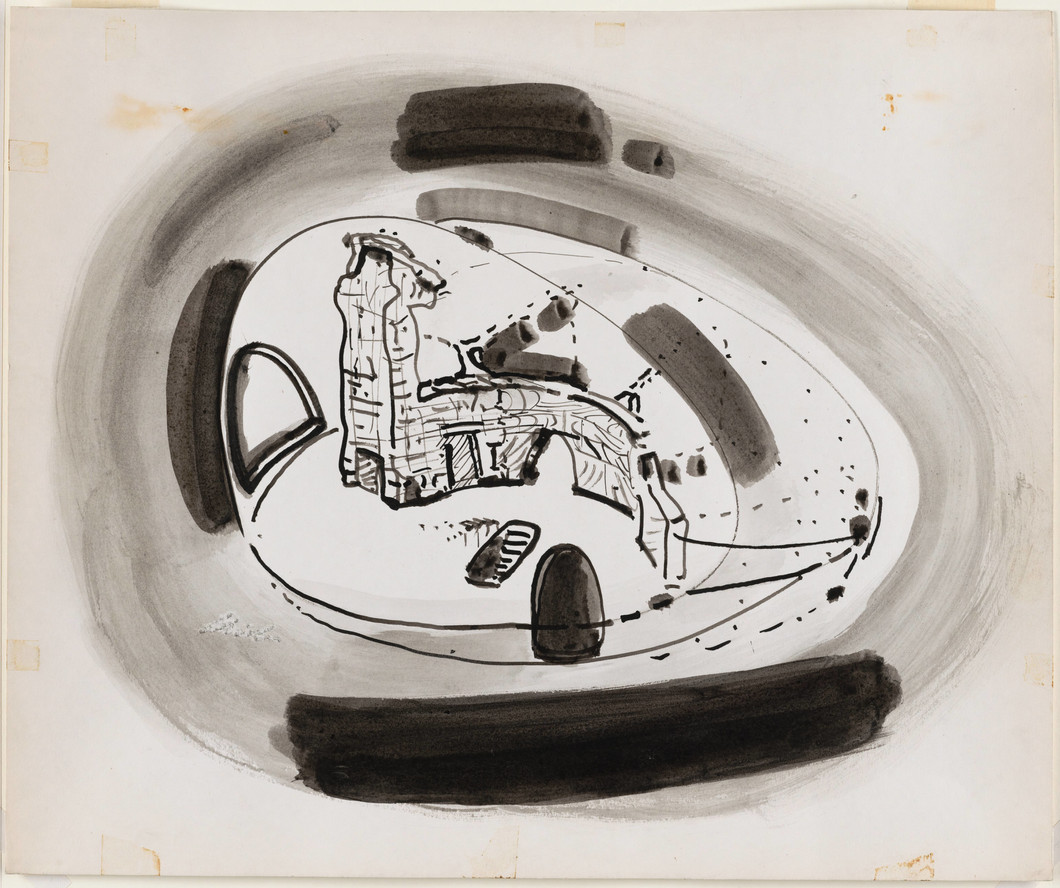 Frederick Kiesler. Endless House Project, Interior perspective. 1951
Like a body without boundaries, architecture can propose a new kind of inner world. Expressive in form and suggesting functional possibilities for dwelling, the corner-less interiors of the Endless House were intended to provide sanctuary.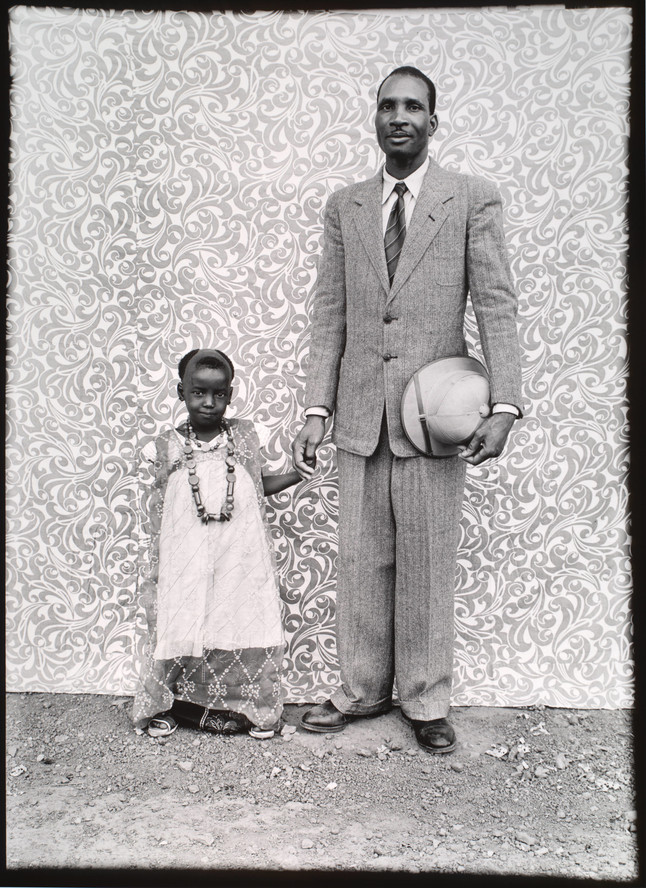 Seydou Keïta, Untitled (Bamako). 1956–57
Seydou Keïta, like many of his contemporaries working throughout West Africa and elsewhere, turned his studio into a space where an imagined interior might be fashioned together with the photographer. Bodies, clothing, backdrop, and other objects are all fused into one vibrant scene.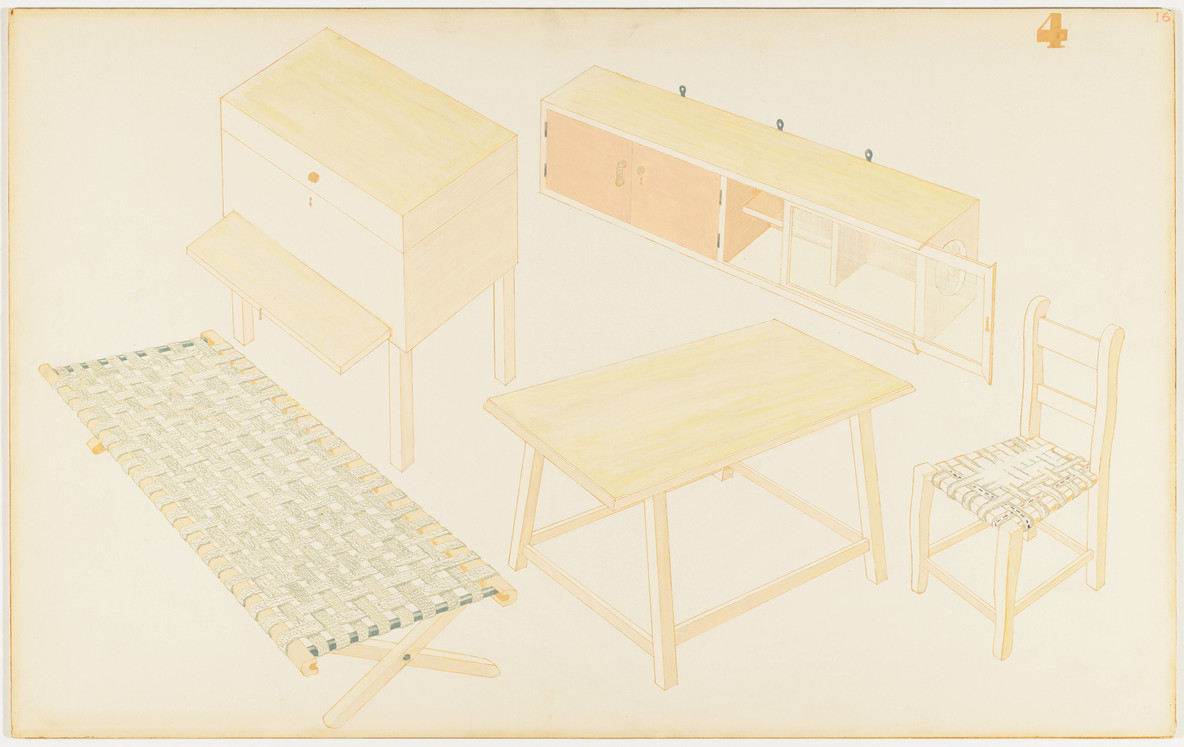 Clara Porset, Xavier Guerrero. Entry Panel for MoMA Latin American Competition for Organic Design in Home Furnishings. c.1940
How might the furnishing of interiors speak to our connections to each other? Clara Porset often designed for the overlooked populations of Mexico, such as farmers and laborers, and those inhabiting affordable housing. She conceived her furnishings to be versatile, made from local materials, and to be enjoyed by all.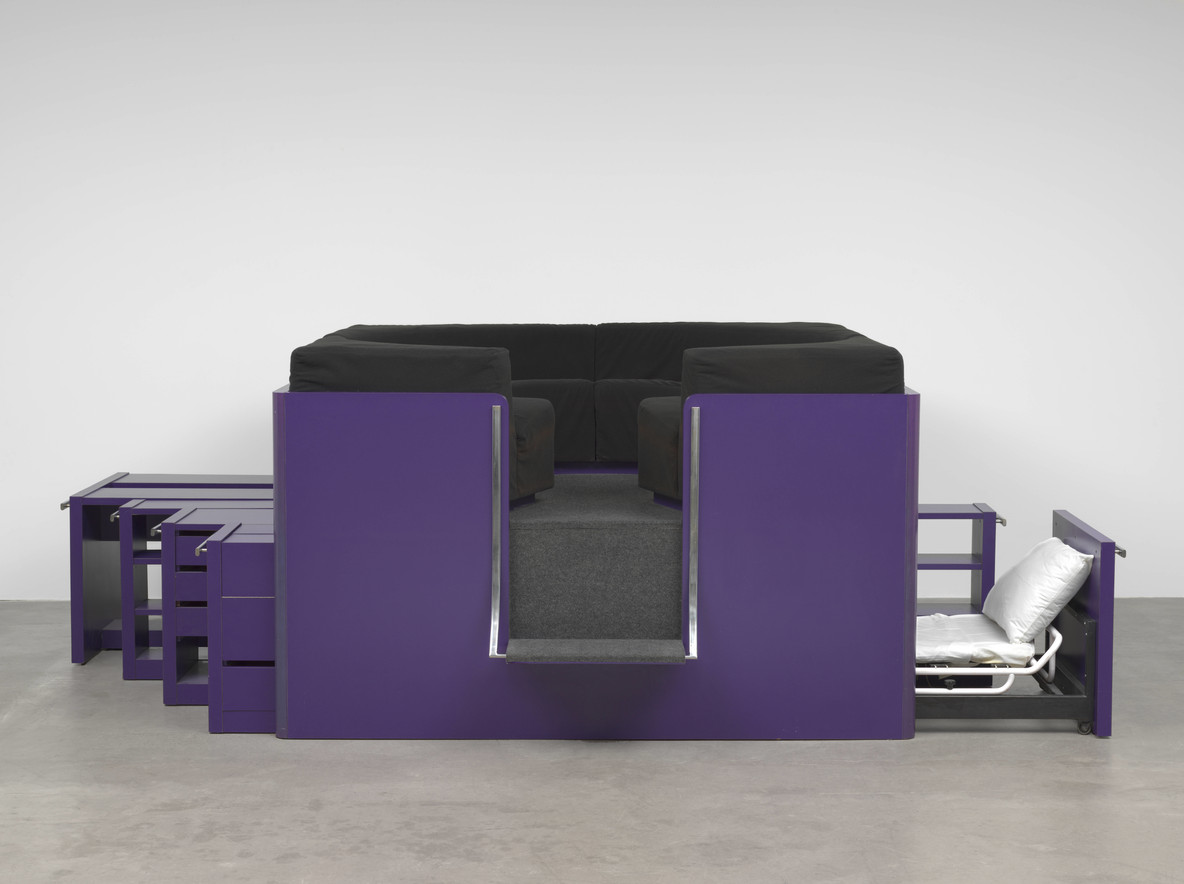 Internotredici Associati, Carlo Bimbi, Gianni Ferrara, Nilo Gioacchini. Tuttuno. 1971
Often working in collectives, experimental Italian architects of the 1960s and 1970s—such as Internotredici Associati and Superstudio—explored new ways of using architecture as a form of political, social, and cultural critique. Envisioning an inhabitable system with interchangeable components for eating, sleeping, and socializing, the designers of Tuttuno suggest that furniture can be an extension of our ever-changing lives.
Barbara Hammer. Sanctus. 1990
The interiors of our bodies contain secrets. Barbara Hammer assembled X-rays shot by Dr. James Sibley Watson and his colleagues during the height of the AIDS crisis to suggest precarity, defiance, and revelation.
Henri Michaux. Plate (page 93) from Meidosems. 1948
Henri Michaux created an intuitive visual language as an extension of his celebrated poetry, envisioning alternative spaces one might occupy alongside figures enveloped by shadows. Reluctant to be seen or recognized by the public, and disturbed by the effects of the war, Michaux conjured these images during a period of self-imposed exile.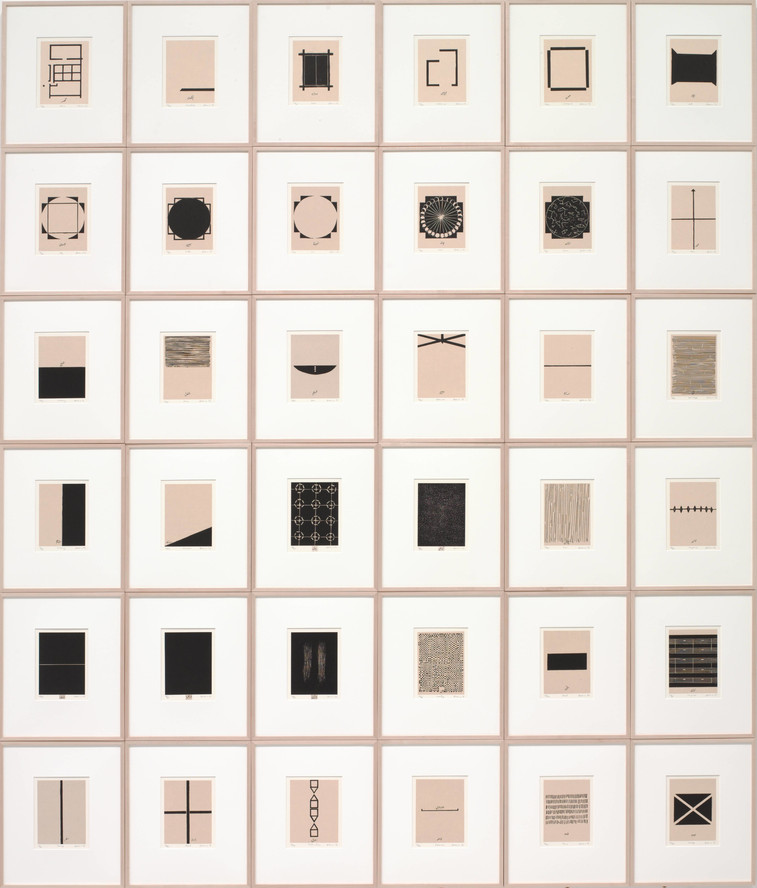 Zarina. Home Is a Foreign Place. 1999
Zarina's work concerns the transitory spaces of refugees and other displaced populations. In this grid configuration of multiple prints, each pairs an abstract image and word in Urdu, the artist's native tongue. The words—door, threshold—suggest that a longing for familiar interiors can be carried by those who are far from home.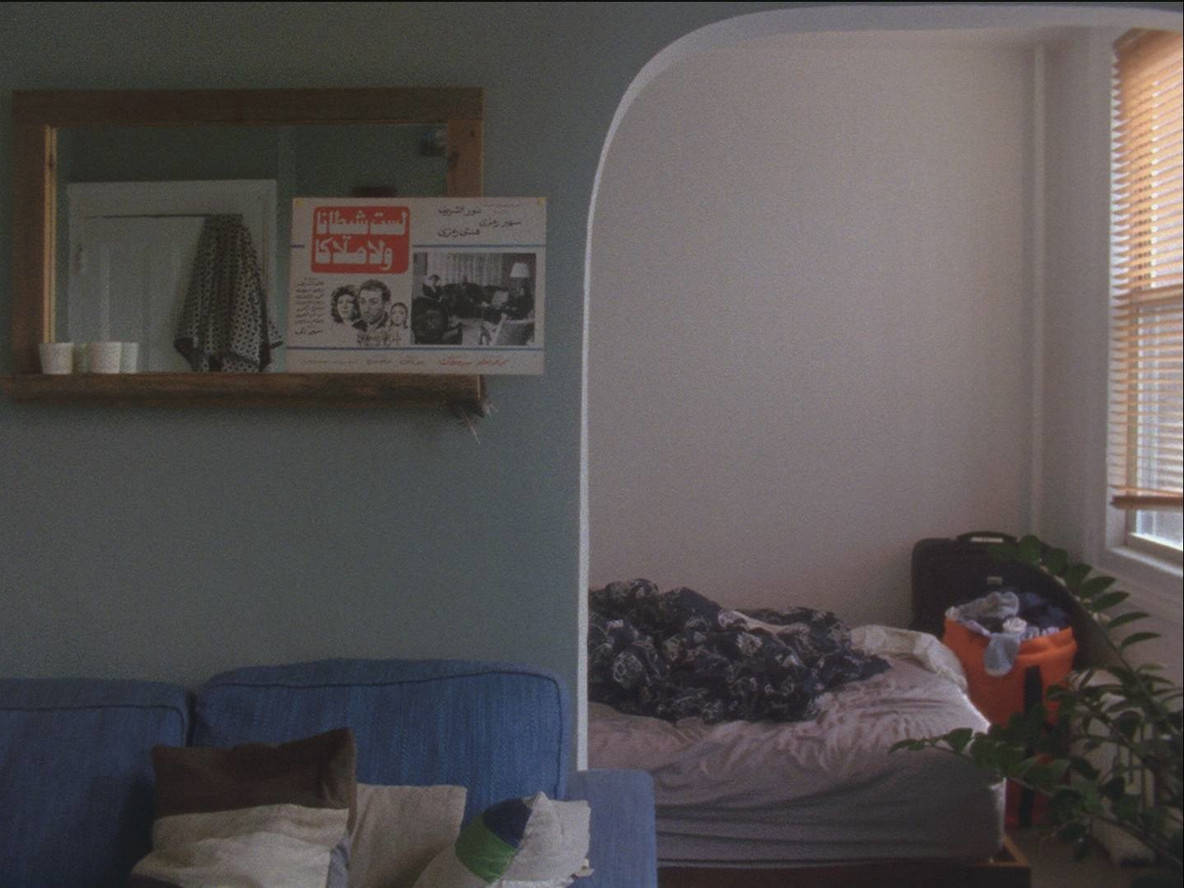 Mohammad Shawky Hassan. And on a Different Note. 2015
Many of us are caught between work and home—today, the boundaries between the two are more blurred than ever. Mohammad Shawky Hassan demonstrates how his home in New York reverberates with the sounds of his home in Cairo. Interiors communicate across cultures and continents. What language does yours speak?