The Anarchist and His Friends: Félix Fénéon through the Artists He Championed
Without Fénéon, we might not know artists like Georges Seurat, Paul Signac, and Henri Matisse as we do today.
Félix Fénéon (1861–1944) was an art critic, journalist, publisher, editor, collector, and anarchist. He championed some of history's most beloved artists before they became well known, including Georges Seurat, Paul Signac, Pierre Bonnard, Henri Matisse, and Amedeo Modigliani. He became particularly close with Seurat, Signac, and Matisse and coined the term Neo-Impressionism to describe Seurat's and Signac's novel use of bright contrasting colors, and pointillism, a dot-by-dot technique, they used to build their landscapes, portraits, and, occasionally, visions of an anarchist utopia. Just as the vivid touches of paint in these works came together to form a cohesive image, so, too, did Fénéon and these artists unify as intellectual partners and close friends to change art history forever.
We spoke with the curators of the exhibition, versions of which were on view in France before traveling to MoMA, where the exhibition was scheduled to open in March. While the Museum is closed, we would like to introduce the exhibition to you online through our Virtual Views series.
Below, Starr Figura, curator in MoMA's Department of Drawings and Prints; Isabelle Cahn, senior curator at Musée d'Orsay; and Philippe Peltier, former head of the Océania and Insulindia Unit at Musée du quai Branly-Jacques Chirac, discuss why Fénéon is a name we need to know today, and what he spotted in these pioneering young artists.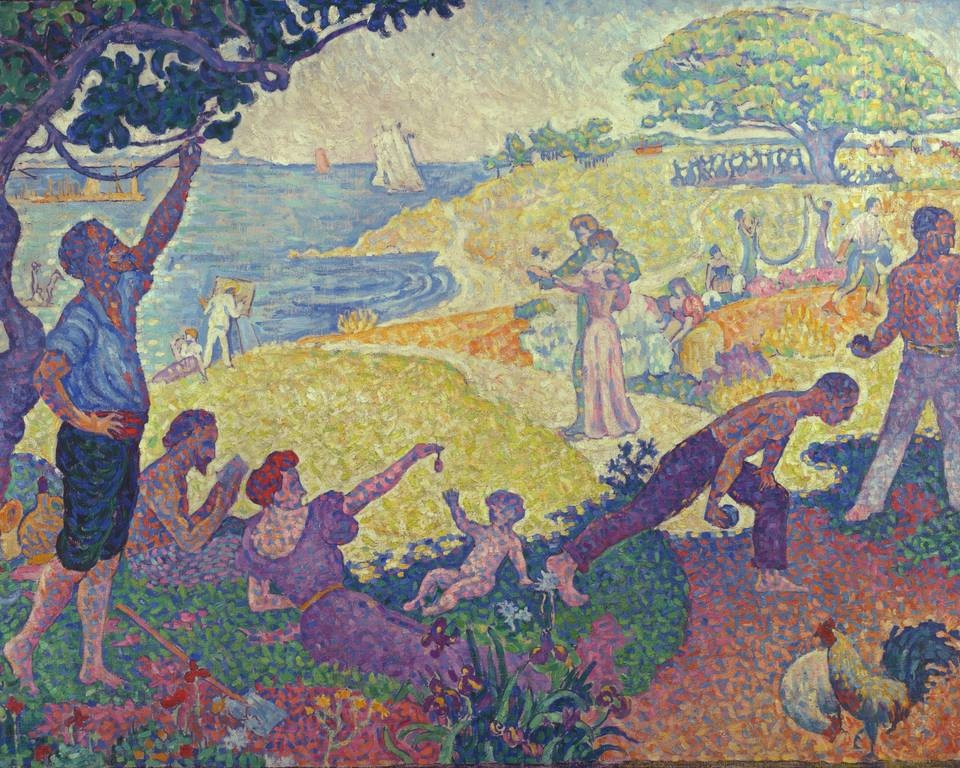 Paul Signac. Au temps d'harmonie: L'Âge d'or n'est pas dans le passé, il est dans l'avenir (reprise) (In the Time of Harmony: The Golden Age Has Not Passed, It Is Still to Come [Reprise]). 1896
Starr Figura: The period of the late 19th century in Paris is called the Belle Époque; it was a time that's often celebrated because of extraordinary cultural achievements and rapid modernization that transformed people's lives. If you were rich, it transformed your life for the better. There was electric light, modern transportation, and an exciting new print culture since paper and printing were cheap for the first time. There were thousands of little journals and newspapers that people could read to be informed about the world and connect with each other [and which fed] all kinds of developments in art, culture, and literature.
But it was also a time of incredible economic and social hardship for people at the other end of the socioeconomic spectrum. There was terrible poverty and the working class wasn't able to unionize, collect a minimum wage, or have a voice in their futures.
Paul Signac created In the Time of Harmony: The Golden Age Has Not Passed, It Is Still to Come (1896) as a manifesto for the anarchist ideal of a beautiful golden age that would emerge once the anarchists succeeded in overturning the social and political status quo and creating a new Arcadian world. It's a totally idealistic vision of workers and families living and enjoying a leisurely, beautiful life in the future. It was actually originally titled In the Time of Anarchy, but Signac changed the title due to all the political unrest of the 1890s.
In keeping with his anarchist ideals and his desire to help the underprivileged in society, Fénéon was extremely generous. He would give away money and even small artworks to friends and visitors. His generosity was also reflected in the way he devoted his entire life to supporting and promoting the artists that he believed in.
In the 20th century, he became an art dealer. While it was surprising to many of his anarchist friends that he would join the commercial side of the art world, it was another way he could support artists that he believed in. He gave Signac a contract with the Galerie Bernheim-Jeune and he gave Henri Matisse his first contract, in 1907.
Matisse met Fénéon in 1904. They were both visiting Signac, who had a house in the South of France. Fénéon was perhaps the only dealer that Matisse ever trusted, and the relationship between Signac and Matisse and Fénéon was critical for the development of modernism.
Looking back, it's hard to imagine that Matisse would have had the same career trajectory if it were not for Fénéon providing financial security and support—allowing Matisse the creative freedom to push his art, and the avant-garde, in new directions.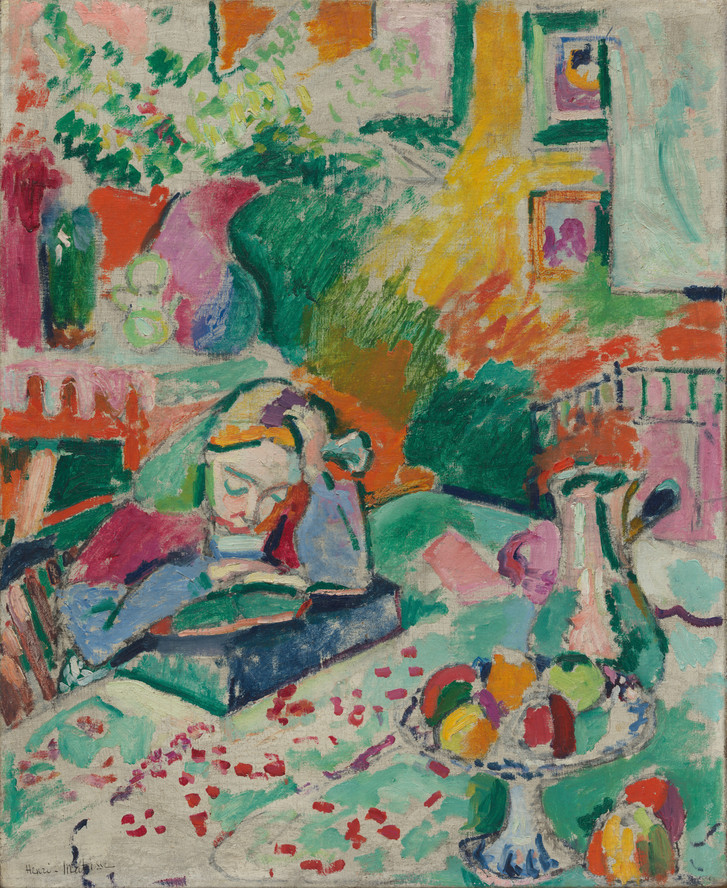 Henri Matisse. Interior with a Young Girl (Girl Reading). 1905–06
When we look at Matisse's paintings in this show, there are some from the initial moment, in 1905–06, when he broke through in a Fauvist style, which was based on incredibly vibrant, pure color, and wild gestures of the paint brush. At the time it was controversial, but it was a revolutionary beginning to the story of modern art. It was also a continuation of the emphasis on color and the juxtaposition of pure colors that we saw in Neo-Impressionism.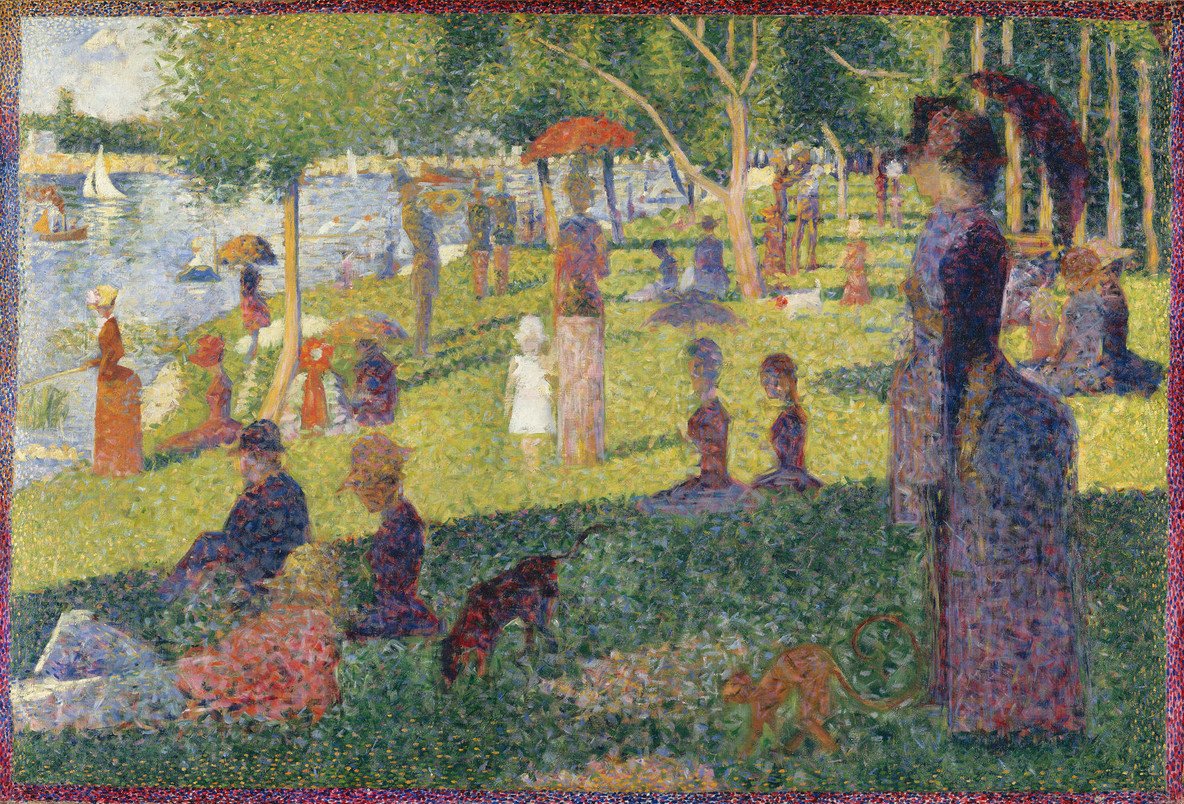 Georges-Pierre Seurat. Étude d'ensemble (Study for "A Sunday on La Grande Jatte"). 1884
Philippe Peltier: Fénéon discovered Georges Seurat's paintings in 1884 and he was shocked. It was the beginning of pointillism and for Fénéon, it was really a revolution in art.
Seurat was not very well known and died young, and his family was not interested in his paintings—they didn't like their revolutionary quality. If not for Fénéon, Seurat would have been forgotten.
Fénéon was not only supporting Seurat by producing publications and catalogues raisonnes, which is quite important, but also by sustaining his market by purchasing Seurat pieces. He did all of this because he considered Seurat's paintings incredibly important to the history of art.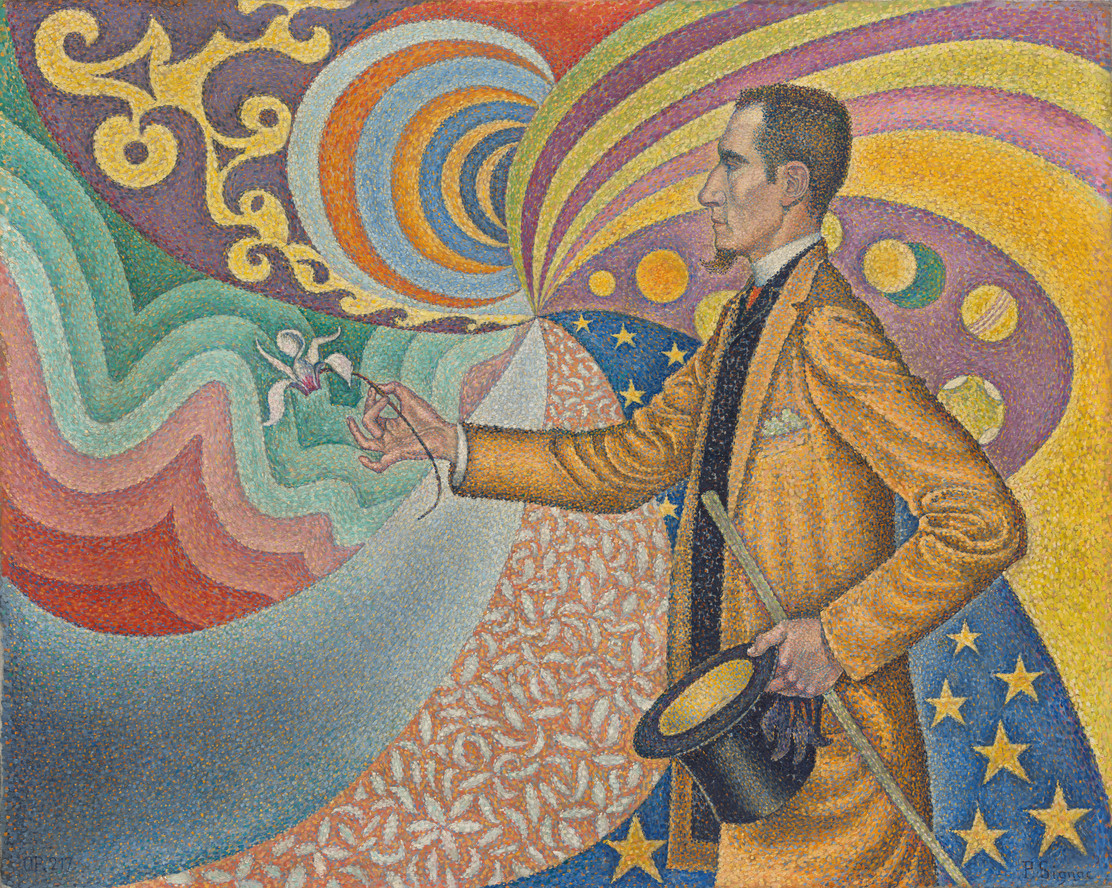 Paul Signac. Opus 217. Against the Enamel of a Background Rhythmic with Beats and Angles, Tones, and Tints, Portrait of M. Félix Fénéon in 1890. 1890
Isabelle Cahn: Fénéon was very particular. He believed museums were not involved in modern art, and he was alone in defending Seurat. He explained that the French museums were cemeteries, and he didn't want his collection to end up in such places.
The paintings by the Neo-Impressionists are a little bit paradoxical because these painters were anarchists, but they painted with small dots of colors, something very slow and methodical. This calculated process is curious for people with a very strong ideology based on freedom, and improvisation, or spontaneity.
The portrait of Fénéon by Signac is a Neo-Impressionist manifesto. All the colors create a likeness, but behind the man is this beautiful fan with colors. There are shades of Japan, because this selection of colors was culled from a book of Japanese patterns and kimono design that belonged to Signac. Bright colors are not realistic. They mean something higher than reality, and this higher reality is hope, is joy—it's optimism. Bright colors helped to build a new world, a world of harmony, a world of abstraction from reality.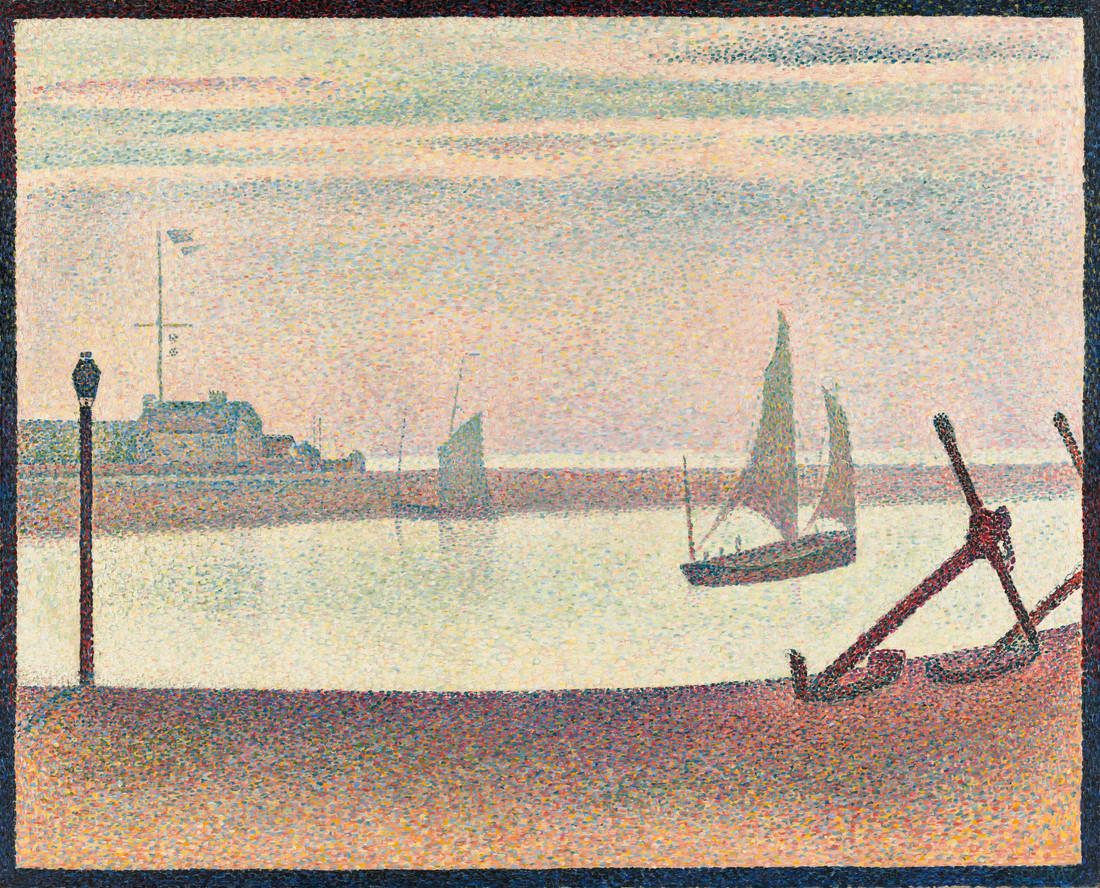 Georges-Pierre Seurat. The Channel at Gravelines, Evening. 1890
In this exhibition we have several of Seurat's paintings, which are rare and very fragile. The seascapes are particularly special. He painted the sea in the north of France: It is a cold sea, and the colors are gray and delicate. But there is something very quiet in his landscapes, especially because the light is wonderful. You can guess the time of the day when it was painted, and it is as if the world stops. The works create a kind of transcendence when you look at them carefully.
The emotive power is also very strong in Signac's Setting Sun. Sardine Fishing. Adagio. Opus 221 (1891), which depicts sunset. The sun is at the same level of the horizon and the light dances on the surface of the sea. The light is very intense, and only lasts for one or two seconds in the day. The painting itself sometimes looks like something mechanical, because of these small dots side by side, but the complete atmosphere is very poetic.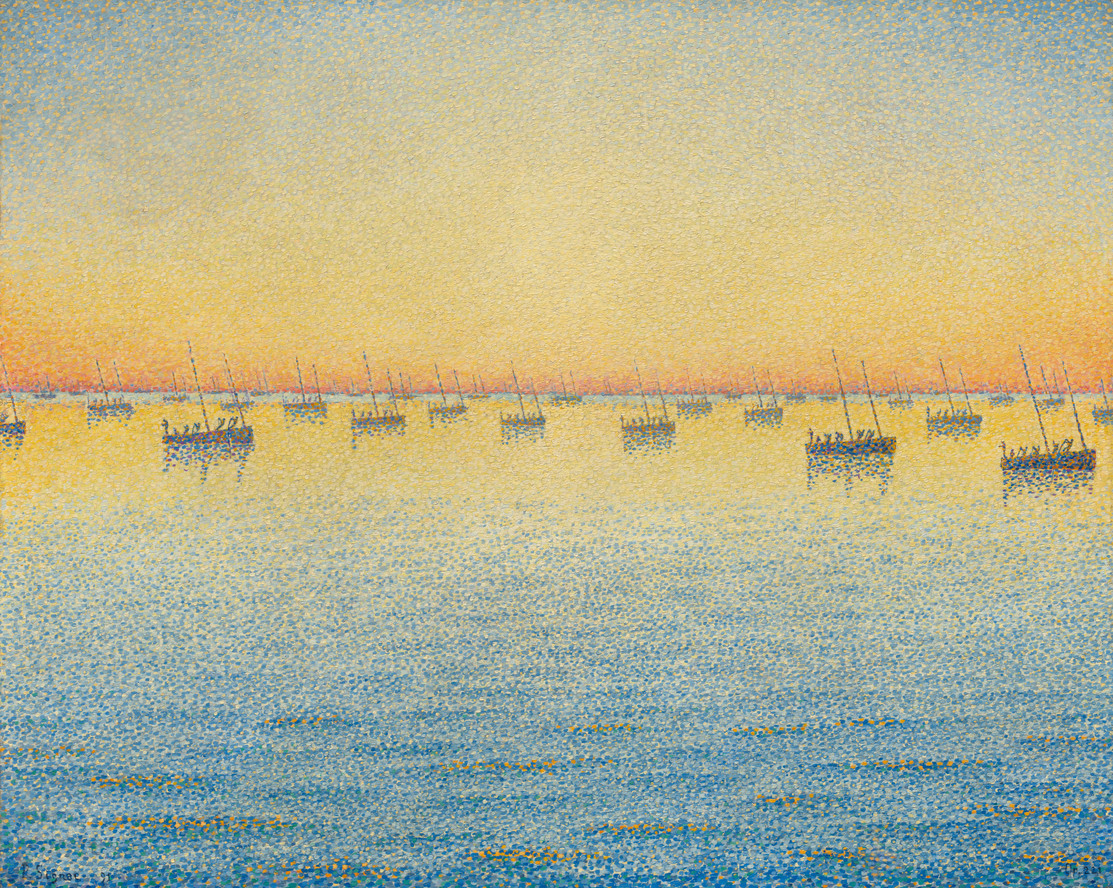 Paul Signac. Setting Sun. Sardine Fishing. Adagio. Opus 221 from the series The Sea, The Boats, Concarneau. 1891
Fénéon was fascinated by the scientific method of the Neo-Impressionists. Each color has a special role, and when they are together they interact in a special way. The artists read theory and books written by scientists to know how colors interacted together. Fénéon read books by Charles Henry, Ogden Rood, and others, and also tried to understand and describe the paintings through these theories. The theories were a skeleton for the painting.
I think that they wanted to believe theory. They knew the reality of human nature, and the political climate, and all these tensions, but they wanted to create a kind of testimony to show how life could be beautiful.
These paintings are a part of our human experience. It's not only work to admire, or to consider, or to describe. It is a physical experience and metaphysical experience. This is very apparent with the paintings that Fénéon liked and defended. With this exhibition we are lucky to be able to see them together, and see how they were all connected to a human experience.
Starr Figura: It's a fascinating moment to look at Fénéon's life and career because of the way that he viewed avant-garde art and radical politics as two sides of the same coin that fed each other. The climate that he lived in is amazingly relevant today. It was a world where there was a huge gulf between the economically advantaged and disadvantaged, the access to power, the glorious benefits of new technology, and the social structures that inhibited people from fully participating in them.
These artists could help promote new ideas, new ways of envisioning the world, new ways of creating harmony. On the political side, it was also necessary to think about the state of the world requiring something new and different. That resonates today, as does the way a lot of artists feel about art helping to envision change.
—As told to Natasha Giliberti