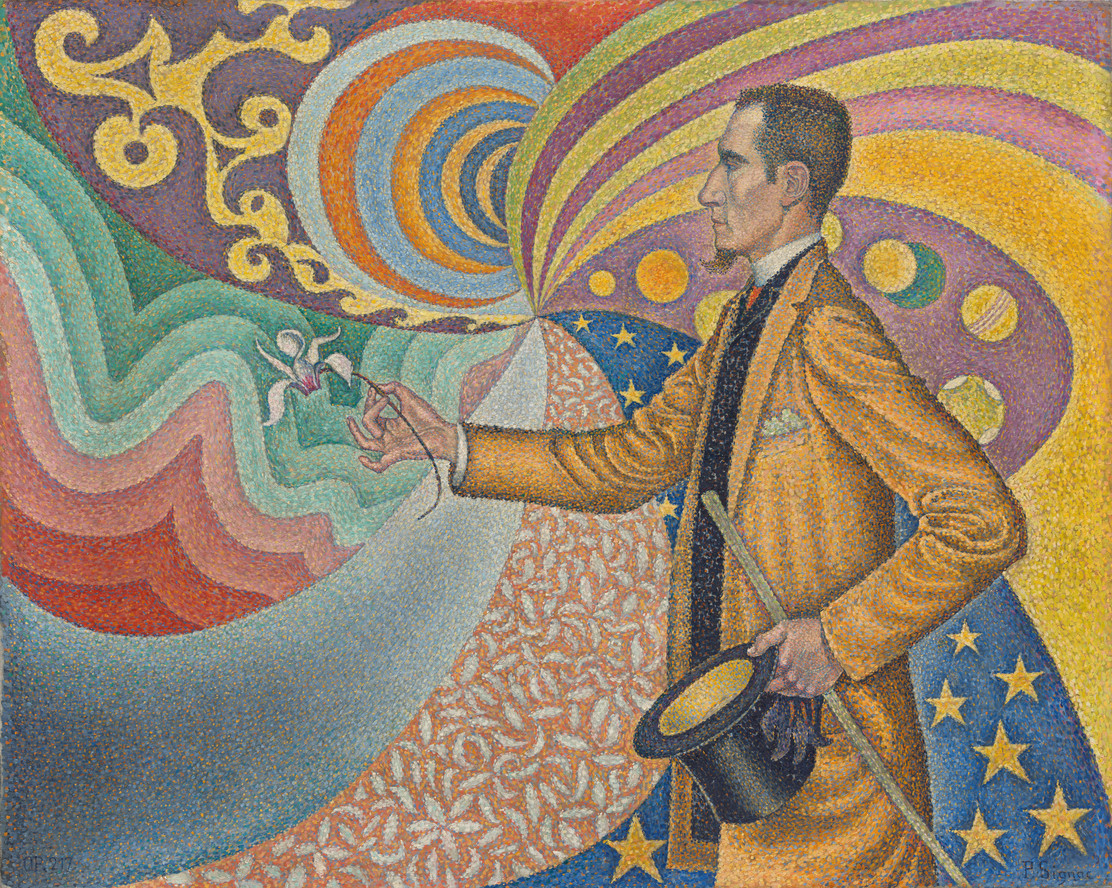 Paul Signac. Opus 217. Against the Enamel of a Background Rhythmic with Beats and Angles, Tones, and Tints, Portrait of M. Félix Fénéon in 1890. 1890
Paul Signac. Opus 217. Against the Enamel of a Background Rhythmic with Beats and Angles, Tones, and Tints, Portrait of M. Félix Fénéon in 1890. 1890. Oil on canvas
With his unusual goatee and meticulous clothing, Fénéon was known as a dandy among his peers. Signac (French, 1863–1935) highlights the young critic's unconventional appearance and enigmatic personality. Combining figuration and abstraction, the artist set Fénéon's static profile against a swirling background—a kaleidoscopic homage to recently published color theories. A few years earlier, Fénéon had coined the term "Neo-Impressionism" to describe the technique that Signac, Georges-Pierre Seurat, and their peers were using to apply color to their canvases using tiny dots of paint. "Take two steps away," Fénéon wrote, "and all these versicolored spots melt into undulating, luminous masses."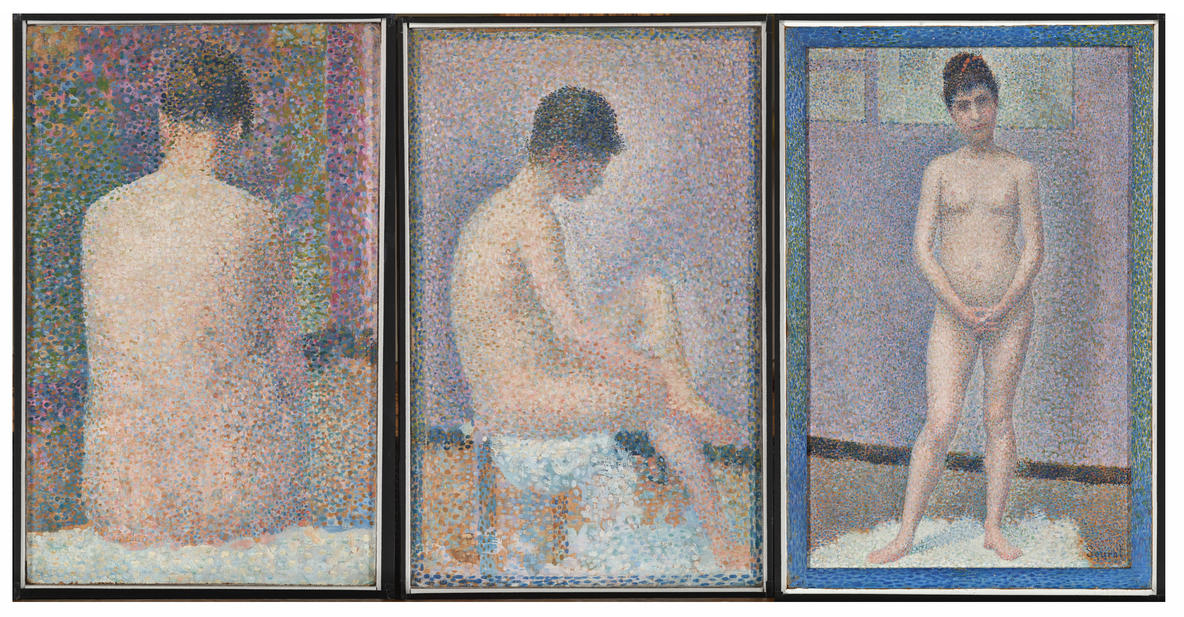 Georges-Pierre Seurat. Model from the Back. 1886; Model in Profile. 1886; Model. Facing Front. 1886–87
Georges-Pierre Seurat . Model from the Back. 1886; Model in Profile. 1886; Model. Facing Front. 1886–87. Oil on wood
Fénéon considered these three studies to be the most precious works in his collection. He called each one "a tiny picture, but a miracle work of art." He had small velvet covers made for them, and carried them in his waistcoat pocket every time he left Paris.
Fénéon had discovered Seurat's (French, 1859–1891) work in 1884. He promoted it through his art criticism and became the artist's first and most ardent champion. After Seurat died, in 1891, at the age of 31, Fénéon helped to inventory the hundreds of works in the artist's studio. His meticulous notes laid the foundation for the first comprehensive Seurat catalogues—standard references still used today. Later in his career, as a dealer and collector, Fénéon also organized many exhibitions, sales, and bequests that helped secure the artist's legacy as a pioneer of modern art. At one time or another, Fénéon owned at least 50 paintings and 180 drawings by Seurat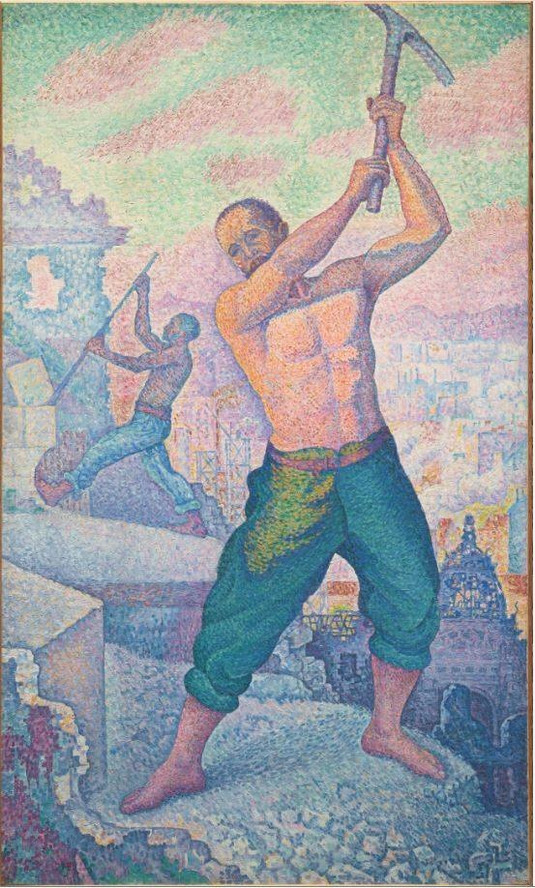 Paul Signac. Le Démolisseur (The Demolition Worker). 1897–99
Paul Signac. The Demolition Worker. 1897–99. Oil on canvas
Signac called for artists to deliver the "forceful blow of a pickaxe to the antiquated social structure." Here, he depicts demolition workers tearing down the edifice of the old order as a new dawn rises behind them. The monumental canvas is an allegory for Signac's anarchist vision of a modern, egalitarian society in which laborers would be treated with fairness and respect.
Anarchism flourished during the late 19th and early 20th centuries in France, a period often referred to as the Belle Époque. Though celebrated for its extraordinary cultural achievements, the era saw horrendous economic devastation for a large swath of the population, instilling in many a profound distrust of state institutions. Anarchists, including Fénéon, Signac, and many of their artist and writer friends, looked to a utopian future, when the dissolution of the capitalist government and bourgeoisie would allow social harmony, economic fairness, and artistic freedom to prevail.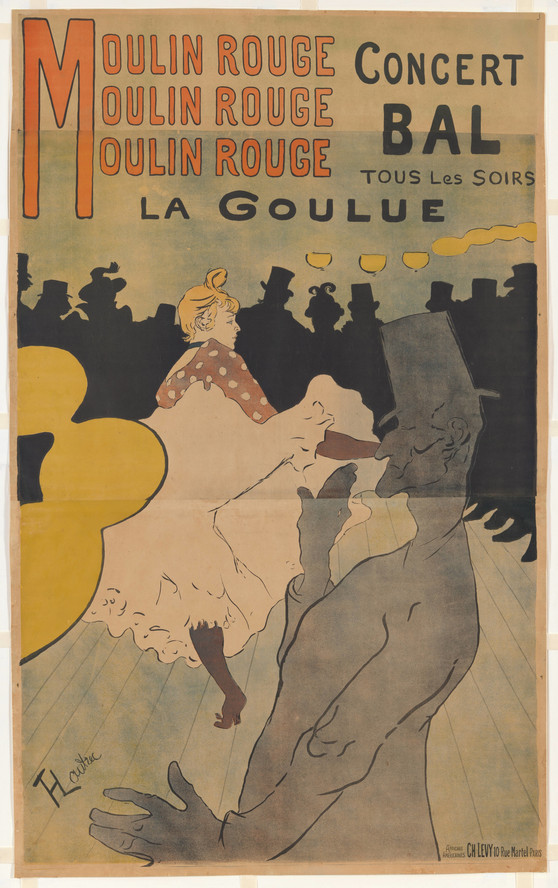 Henri de Toulouse-Lautrec. Poster for Moulin Rouge, La Goulue. 1891
Henri de Toulouse-Lautrec. Poster for Moulin Rouge, La Goulue. 1891. Lithograph
When Lautrec (French, 1864–1901) made this poster, the Moulin Rouge was one of the newest and most sensational of the bohemian cafés and dance halls in the working-class district of Montmartre. Fénéon was a frequent customer, and the bony-nosed silhouette of the performer Valentin le Désossé (Valentin the boneless) in the foreground of this image was sometimes mistaken for him. Le Désossé shared the stage with the infamous cancan dancer La Goulue (the glutton), depicted at the center. The flashy, underwear-revealing cancan was considered scandalous in the 19th century. A risqué kick at social and sexual respectability, it was an electrifying symbol of nonconformity and rebellion for Fénéon and others who made the Moulin Rouge their stomping ground.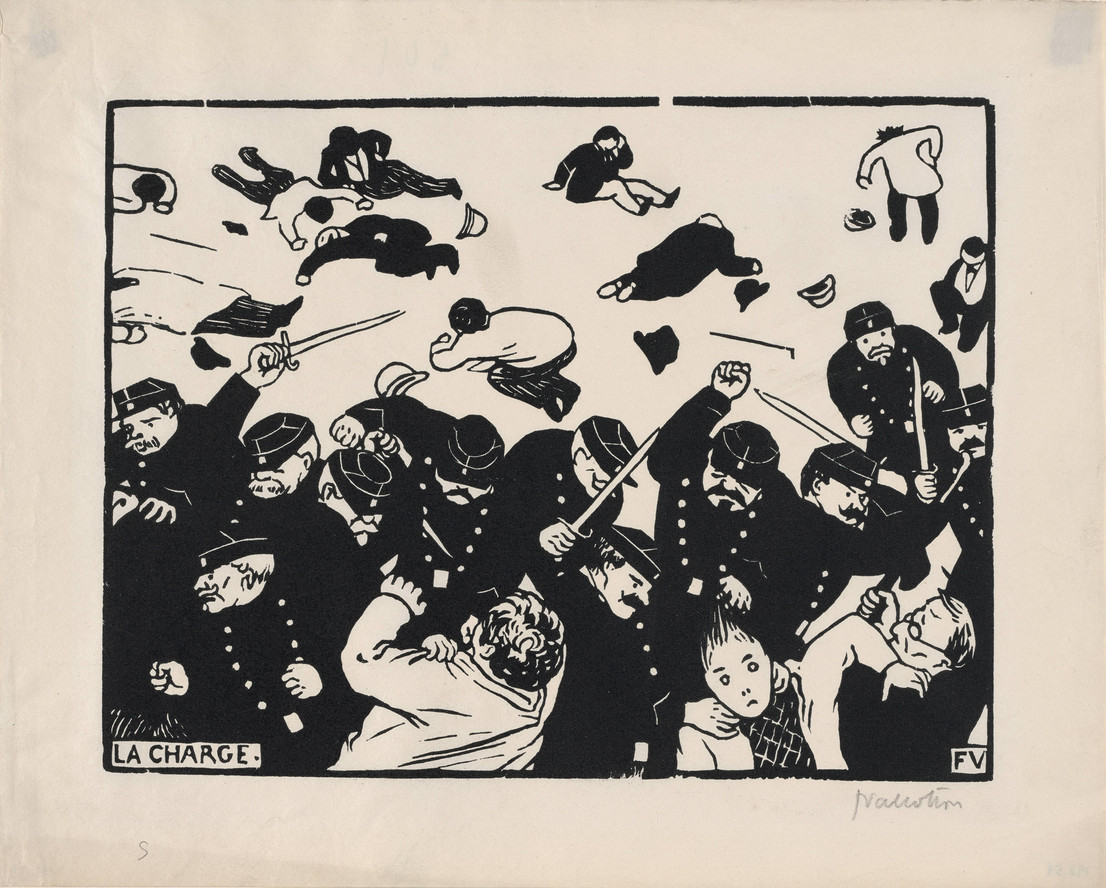 Félix Vallotton. The Charge (La Charge). 1893
Félix Vallotton. The Charge. 1893. Woodcut
Like his friend Fénéon, Vallotton (French, 1865–1925) was sympathetic to the anarchist cause. He often focused his sharply reductive woodcuts on the social turmoil in fin-de-siecle Paris, where grave wealth disparities and government corruption divided the working class from the ruling bourgeoisie. Here, for example, he implicitly criticized the violent force the police often used to suppress protesters.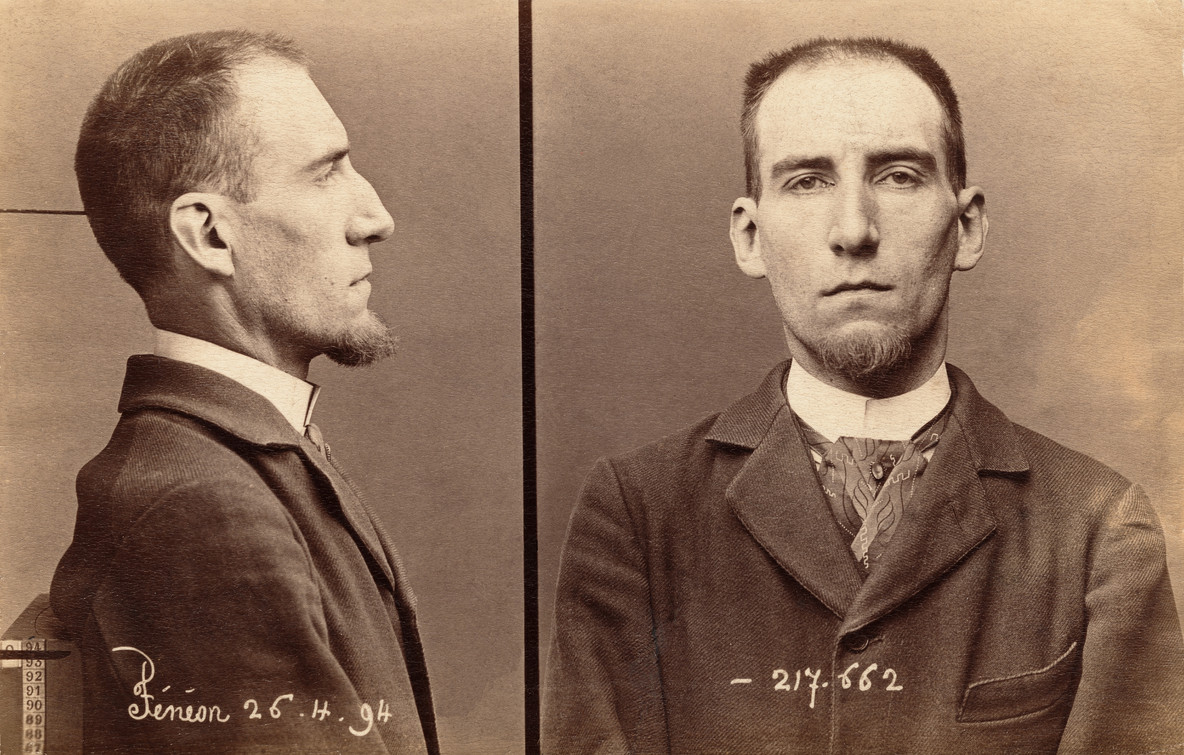 Alphonse Bertillon. Mug shot of Félix Fénéon. 1894–95
Alphonse Bertillon. Mug shot of Félix Fénéon. 1894. Photograph
This mug shot was taken after Fénéon was arrested in April 1894, following the latest in a slew of anarchist bombings in Paris. In the years leading up to that moment, Fénéon had led a double life. While working a day job as a clerk at the Ministry of War (and writing for cultural magazines during his off hours), he was also active in anarchist circles, contributing art criticism (anonymously or under pseudonyms) to various anarchist journals. Fénéon was imprisoned for more than three months, during which time the government mounted a case against him and 29 other suspected anarchists. During the so-called Trial of the Thirty, Fénéon famously pitted his wit against the prosecutor—to the great amusement of the courtroom audience and press—and was narrowly acquitted. His involvement in the bombing remains an open question.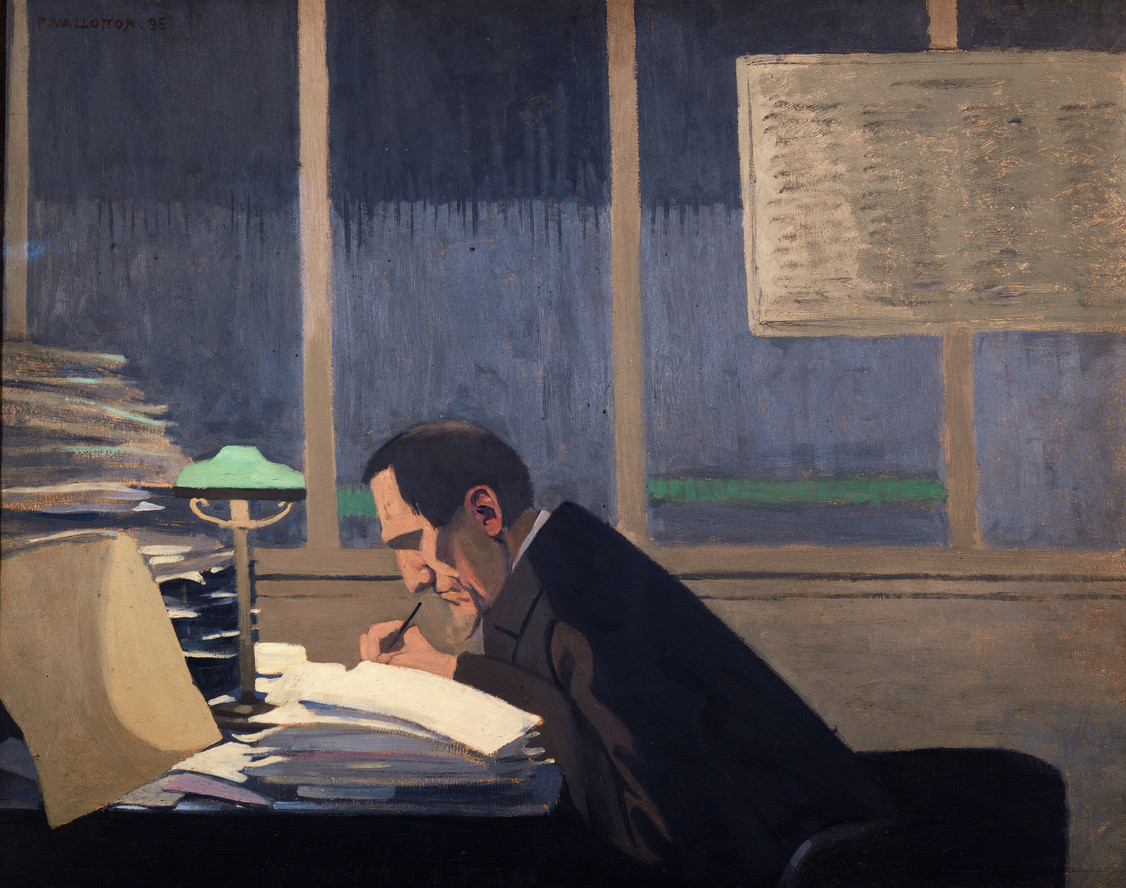 Félix Vallotton. Félix Fénéon dans le bureau de La Revue blanche (Félix Fénéon at the Revue Blanche). 1896
Félix Vallotton. Félix Fénéon at La Revue blanche. 1896. Oil on cardboard
Following his acquittal during the famous Trial of the Thirty, Fénéon became editor-in-chief of La Revue blanche (The white review). He worked there until it folded in 1903, and helped establish it as the leading avant-garde journal of its day. Fénéon's anarchist politics were not a liability at the progressive magazine, and he published social criticism alongside the latest in art and literature by a range of creative luminaries, including Pierre Bonnard, Henri de Toulouse-Lautrec, and Félix Vallotton. In this remarkable portrait, Vallotton paid homage to Fénéon's late-night, behind-the-scenes dedication. The editor is shown hunched over his desk, illuminated by the glow of an electric lamp.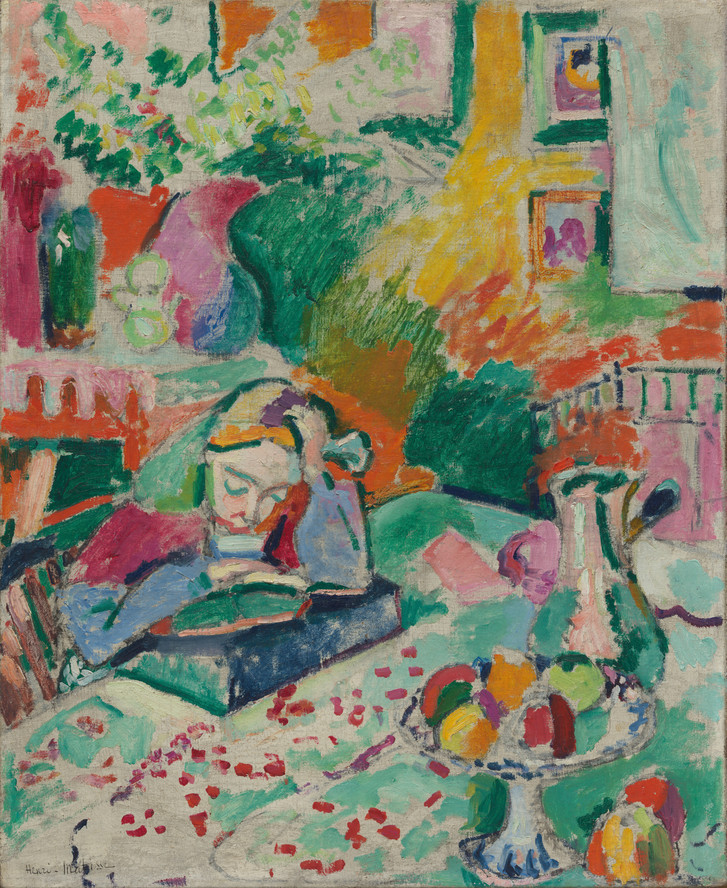 Henri Matisse. Interior with a Young Girl (Girl Reading). 1905–06
Henri Matisse. Interior with a Young Girl (Girl Reading). 1905–06. Oil on canvas
In 1906, Fénéon took a position as a dealer at the prominent Parisian art gallery Bernheim-Jeune, where he was tasked with bringing avant-garde talent into the relatively conservative program. While the job may have initially seemed at odds with Fénéon's anti-capitalist anarchism, for him it was another way of affirming his commitment to modern painting. He quickly signed contracts with his Neo-Impressionist friends, as well as with a new generation of artists including Henri Matisse, who had recently emerged with a shocking new style of painting based on vigorous brushwork and explosive color. "A good anarchist," one contemporary observed, "[Fénéon] planted Matisses among the bourgeoisie from the back room at Bernheim-Jeune as he might have planted bombs." During the early years of their relationship, Fénéon purchased at least eight paintings by Matisse (French, 1869–1954) for his personal collection, including this one.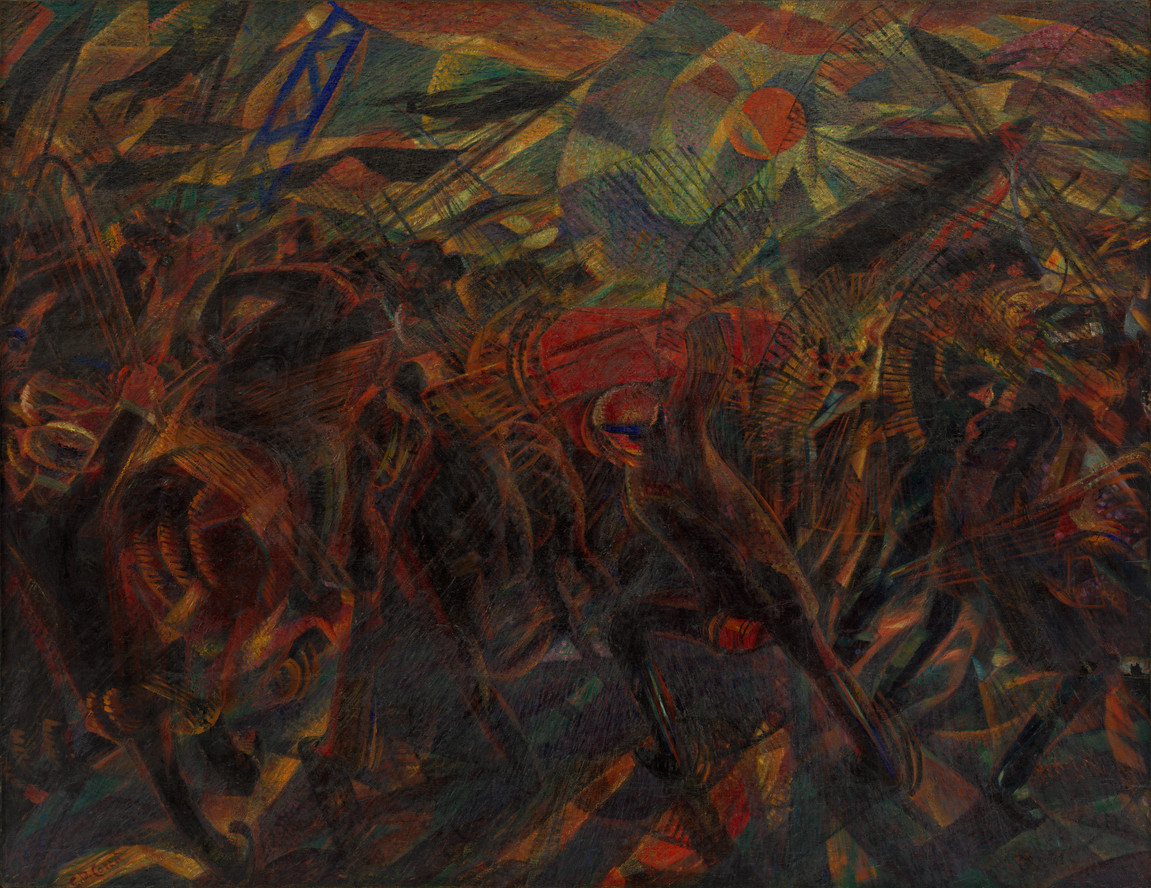 Carlo Carrà. Funeral of the Anarchist Galli. 1910–11
Carlo Carrà. Funeral of the Anarchist Galli. 1910–11. Oil on canvas
The most sensational of the exhibitions that Fénéon organized at Galerie Bernheim-Jeune was The Italian Futurist Painters, in February 1912. It drew huge crowds and established the group as a modernist force to be reckoned with. The Futurist painters—Umberto Boccioni, Carlo Carrà, Luigi Russolo, Gino Severini, and Giacomo Balla—focused their work on revolutionary politics and the dynamism of modern experience. Carrà created this painting, for example, to commemorate the killing of an Italian anarchist, Angelo Galli, during a strike in Milan in 1904. Galli's funeral turned violent when police refused to let mourning anarchists enter the cemetery. Carrà (Italian, 1881–1966), who was among those present, used slashing lines, broken planes, and violent colors to convey the chaos of the scene. As he later recalled, "I saw horses become restive, and clubs and lances clashing, so that it seemed to me that at any moment the corpse would fall to the ground and be trampled."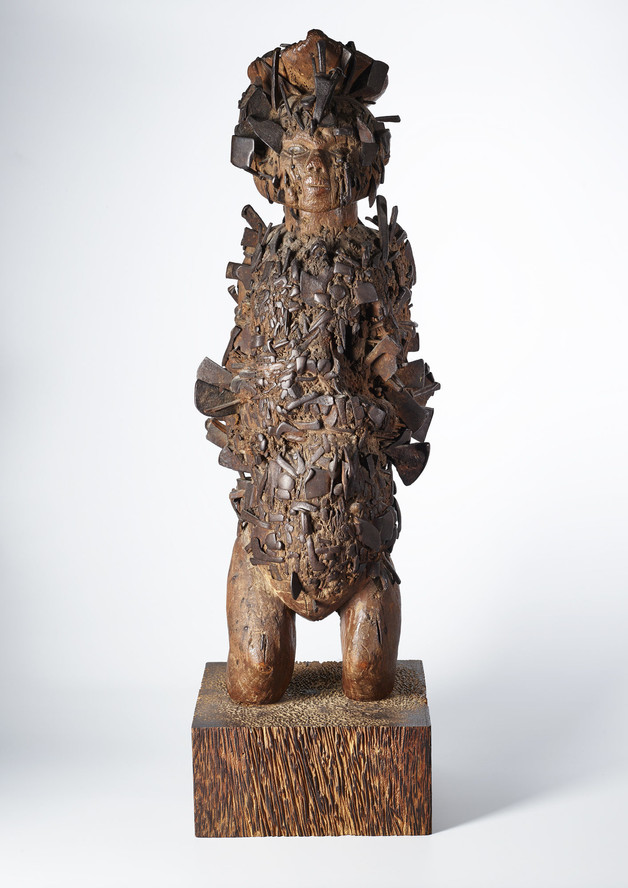 Unrecorded artist (Loango region, Republic of the Congo). Power Figure (Nkisi). 19th–early 20th century
Unrecorded artist (Loango region, Republic of the Congo). Power Figure (Nkisi). 19th–early 20th century. Wood and iron
By 1920, Fénéon's collection of modern European paintings was sharing his crowded home with an equally burgeoning collection of sculpture from Africa, Oceania, and the Americas. He was one of the first European collectors of such works, and, seeking to disrupt the status quo, he published a 1920 inquiry into whether they belonged in art museums rather than the ethnographic museums where they were then being shown.
This piece is one of several objects of ceremonial importance that Fénéon owned. The term Nkisi, loosely translated as "power figure," encompasses different kinds of physical containers used by healers to activate spirits of the dead for the purposes of protection or retribution. In a ritual procedure, a healer would have pounded a long iron nail into this figure as a means of "sealing" an agreement to invoke the power of a community member's ancestor. The accumulation of embedded nails in this sculpture testifies to its repeated use.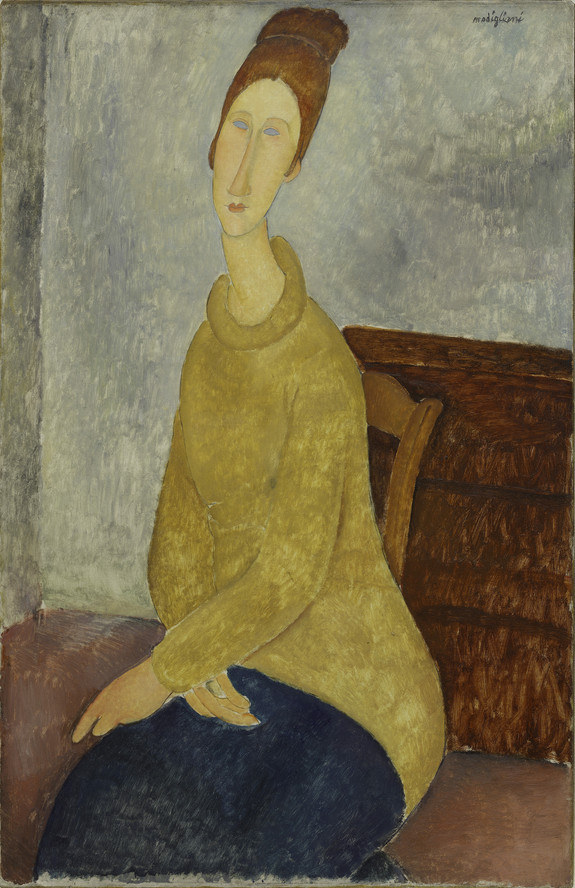 Amedeo Modigliani. Le Sweater jaune (Jeanne Hébuterne with Yellow Sweater). 1918–19
Amedeo Modigliani. Jeanne Hébuterne with Yellow Sweater. 1918–19. Oil on canvas
Following Modigliani's (Italian, 1884–1920) untimely death at the age of 35, Fénéon began exhibiting his work at Galerie Bernheim-Jeune. He also started purchasing paintings by Modigliani for his private collection, ultimately owning at least eight examples. Toward the end of his life, in need of funds for medical bills, Fénéon sold selected works, including this one, to the American collector Solomon R. Guggenheim.