Remembering Abstract Pioneer Jack Youngerman, 1926–2020
From Paris to New York, Youngerman's long dedication to abstraction celebrated shape and color.
I began talking with Jack Youngerman three years ago, as research for a book on the artist community that emerged at Coenties Slip in downtown Manhattan in the late 1950s and early '60s. What I imagined might be a few conversations turned into regular sessions: he was a generous philosopher of art. He'd moved out to Bridgehampton, on the East End of Long Island, full time in the '90s, and it was there, in a kitchen that was always sunny and warm no matter the season, with a cuckoo clock singing the hours and his wife Hilary Helfant's sculptures gracing the round table, that we talked about his childhood, his art apprenticeship in Paris, and his early days in New York City living in an old sailmaking loft by the East River, next door to Ellsworth Kelly, Robert Indiana, Lenore Tawney, Agnes Martin, and James Rosenquist.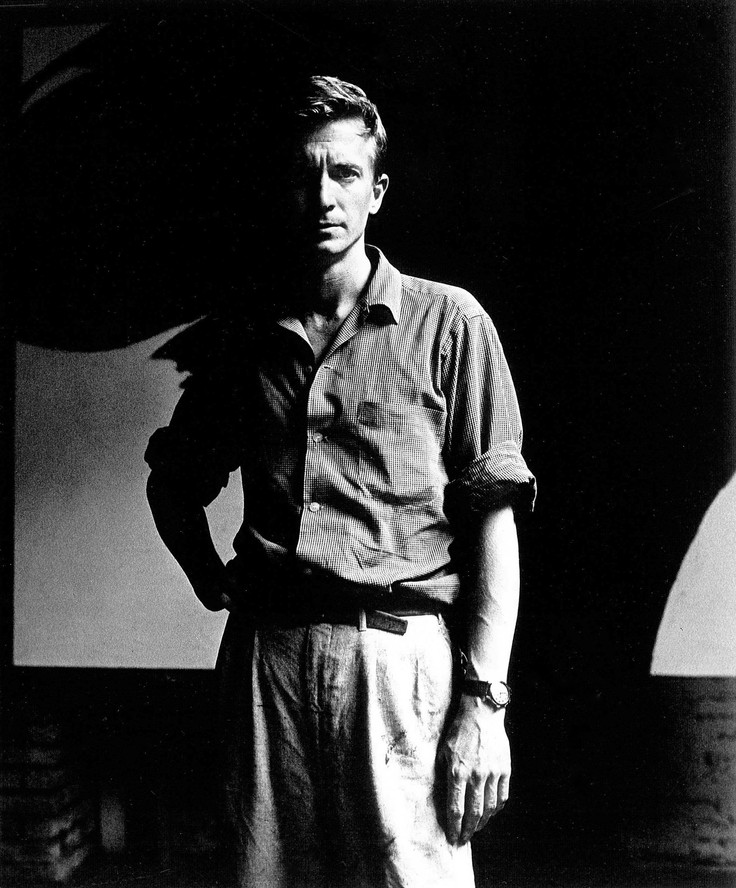 Hans Namuth. Jack Youngerman at Coenties Slip. c. 1957
Youngerman grew up poor in Kentucky and didn't see any art in person until he was 19. He was immediately smitten. He went to Paris in 1947 on the GI Bill to study art at the École des Beaux-Arts, where he met the fellow American Kelly. The two often played hooky, with the city itself as their school: visiting museums and cathedrals, seeing the paper cutouts of Henri Matisse at the Salon de Mais, and making pilgrimages to the studios of Constantin Brâncuși, Alberto Giacometti, and Jean Arp. Paris was just waking up from its World War II nightmare, and cafés were crowded with arguments about politics, the war, and art. Youngerman absorbed it all. He met Delphine Seyrig, an ambitious French student and actor. They fell in love quickly and were married.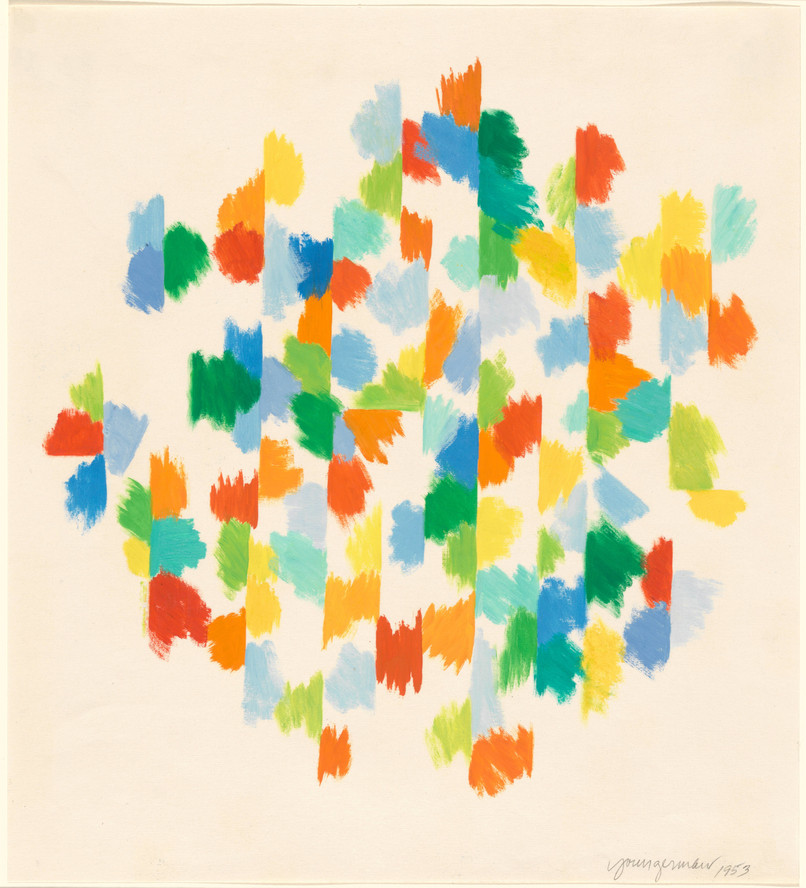 Jack Youngerman. Untitled. 1953
Youngerman and Kelly discovered abstraction in France, in the art and artists that surrounded them and through a series of experiments with how to compose pictures through found images and chance operations. (See Youngerman's beautiful Untitled drawing from 1953, above, in MoMA's collection.) Kelly returned to New York first, hopeful that Abstract Expressionism, like a powerful storm front, had cleared the air for other kinds of abstract thinking. Youngerman followed with his wife and six-month-old son Duncan a few years later, with a promise from Betty Parsons that if he moved to New York she would show him at her gallery. On a tip from Kelly, they moved in next to him at Coenties Slip, settling into one of the illegal loft spaces in the oldest neighborhood of Manhattan, a spot so secluded that Youngerman spoke about going "back into the city" when they needed supplies. Well before loft-living became a signature of artists' life in New York, the Coenties Slip group fixed up the rough warehouse spaces. Youngerman found furniture on the street and splurged on a picnic table from Sears Roebuck at the end of the subway line in Brooklyn. (In one of our conversations, he mentioned offhand that he still had part of that table, and pointed outside to the back porch, where the 60-year-old bench held pots of herbs.)
The friendships at Coenties Slip changed each of the artists there forever, and in turn changed American art history—how we now understand abstraction, Pop art, Minimalism, textile art. But that's another story. Kelly was a particularly important figure for Youngerman, both from their time together absorbing so much art history in Europe and from the experiments and breakthroughs that each came to individually as artists making their way in New York. Youngerman would go on to work with sculpture and prints, but it was his paintings at the Slip that set the course of his thinking.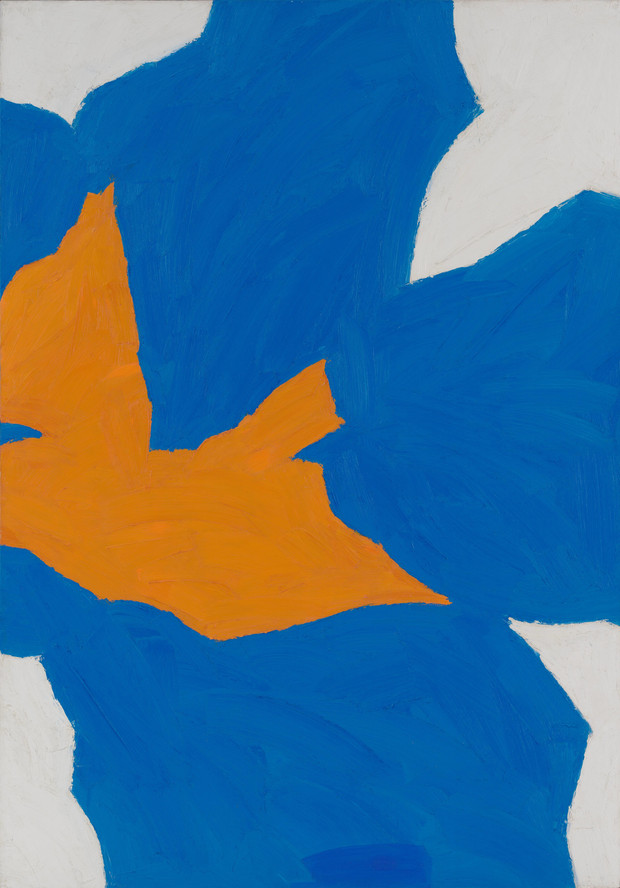 Jack Youngerman. Ram. 1959
He painted on the top floor of an old warehouse, beneath a huge pulley wheel that had been used for hauling heavy sails and a skylight he cut in the roof to bring in a little light and water views. His son Duncan would often watch from a swing hanging from the wooden beams. Youngerman's canvases got bigger and bolder, with jagged slashes of strong color shapes in white, black, orange, blue, and red, as if the paint were large pieces of torn paper glued to the page. Though he didn't draw from nature and wanted to invent shapes, his forms suggest movement and life: flames, a wing, something blooming or opening. Youngerman told Barbara Rose in a 1966 interview that he tried to "let things happen spontaneously, to allow the shape to burst into being." Kelly and Youngerman were chosen by MoMA curator Dorothy Miller to appear in Sixteen Americans in 1959, part of her influential series of exhibitions showcasing emerging talent. (Youngerman remembered the generosity of her visit to his out-of-the-way studio, and her climbing up the precarious ladder to the fifth-floor space in heels.) He was the only artist without an accompanying text in the catalogue—he was too modest to ask someone to write for it, and too modest to write his own statement. A painting from that show, Ram, (1959) was later given to MoMA by Kelly.
In their early years in Paris, Youngerman and Kelly took a pilgrimage to the last place where Vincent van Gogh lived, Auvers-sur-Oise, and laid wildflowers at his grave. Every corner they turned, they encountered a Van Gogh painting, as if the artist had himself invented what the town looked like, and not represented what he saw with his brush. That idea of conjuring a new language for seeing was always with Youngerman. He was still making paintings and works on paper into his nineties, and rereading books from his time in France (in French). What would be his last show at the Washburn gallery last April had new colorful collages that reflected the materials of his very first show in Paris in 1950 in the basement of a bookshop. He was still talking about color and light—what he'd thought about on his boat trip over from Paris to New York in 1956—and what constitutes a body of work. It shouldn't edit out false starts, but hopefully it might show that you kept trying to get to something that only art can give, an exploration of form that extends beyond the breadth of a single life.