MoMA curators weigh in on what they're looking forward to this year.
On the occasion of a new year, and a new decade, we invited MoMA's curators to choose something in art and culture they are looking forward to in 2020—whether a work, event, or topic—or to pick an artwork from the collection that speaks to their hopes and concerns for the year ahead.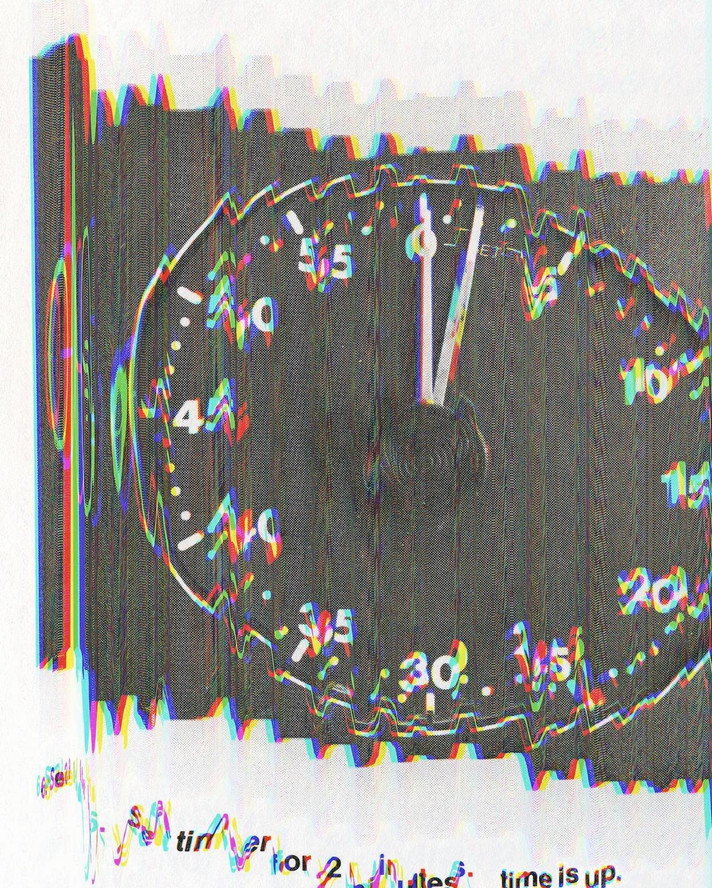 Sara Cwynar. Time Is Up 2 (Darkroom Manuals). 2018
Martino Stierli
I look forward to the upcoming exhibition Countryside, The Future at the Solomon R. Guggenheim Museum in New York (February 20–August 1). Organized by architect Rem Koolhaas and his AMO think tank, the exhibition will investigate how globalization and urbanization have fundamentally altered the countryside, and how the rural may provide opportunities in light of global social, political, and ecological challenges.
Martino Stierli is the Philip Johnson Chief Curator of Architecture and Design.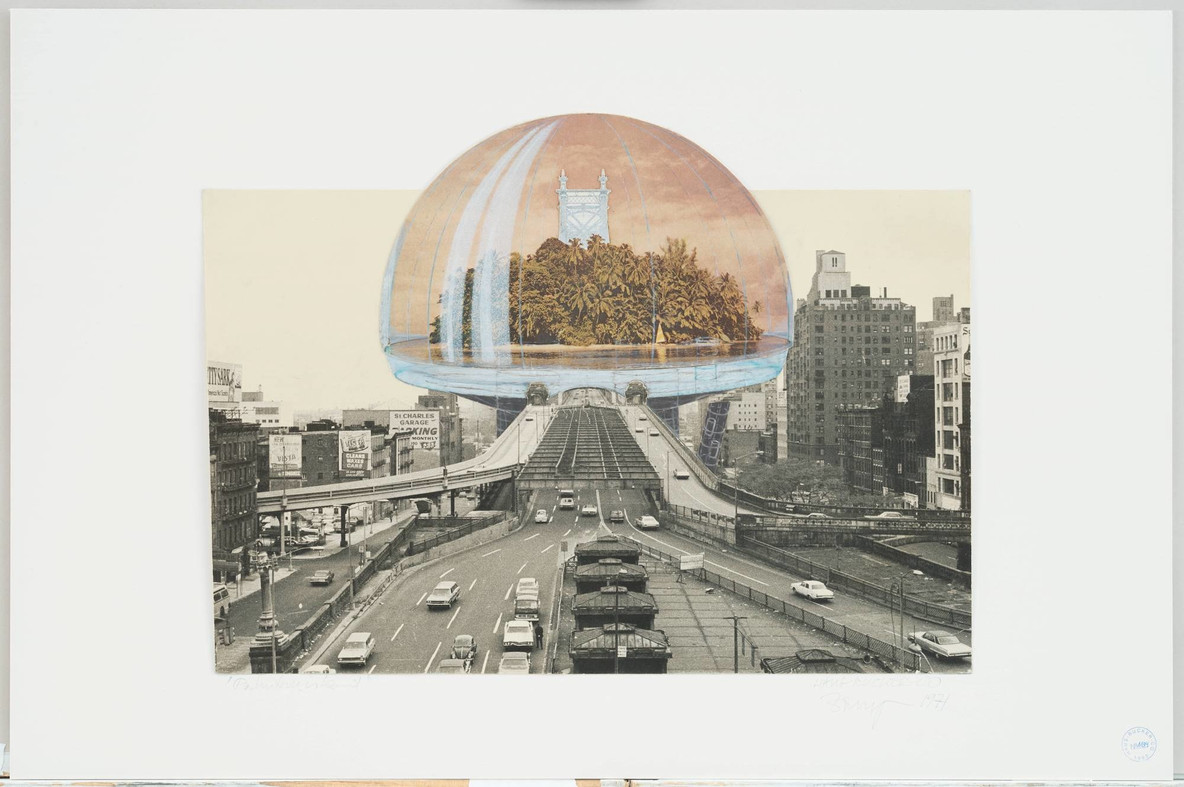 Haus-Rucker-Co, Günter Zamp Kelp, Laurids Ortner, Manfred Ortner, Klaus Pinter. Palmtree Island (Oasis) Project, New York, New York, Perspective. 1971
Thomas J. Lax
An art world with a more self-reflective approach to philanthropy.
Thomas J. Lax is a curator in the Department of Media and Performance.
Roxana Marcoci
I look forward to the two-day Women Photographers International Archive (WOPHA) Congress regarding the relations between women, photography, and feminisms, which will take place at the Pérez Art Museum Miami, November 19–20. The event seeks to create a critical space for photography by bringing together worldwide organizations of women artists, art historians, theorists, and curators who aim to build upon and better represent the dynamic history of women photographers from the 19th century through today.
Roxana Marcoci is a senior curator in the Department of Photography.
Ugochukwu-Smooth C. Nzewi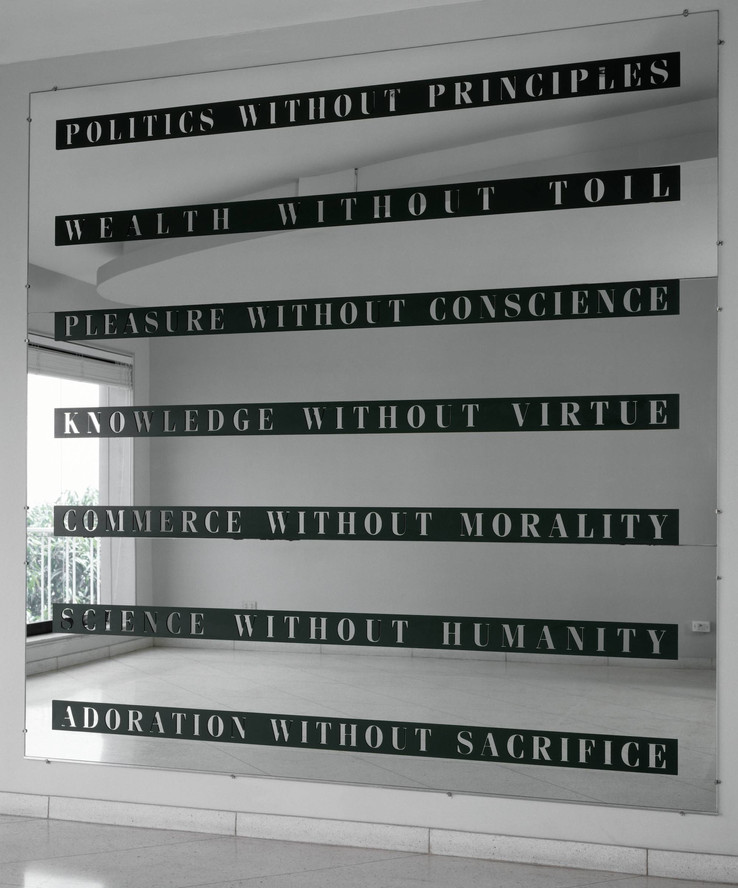 Alfredo Jaar. He Ram. 1991
Alfredo Jaar's He Ram (1991) is inspired by Mahatma Gandhi's list of Seven Social Sins: "Politics without Principle; Wealth without Toil; Pleasure without Conscience; Knowledge without Virtue; Commerce without Morality; Science without Humanity; Adoration without Sacrifice." Jaar's work speaks eternal truths about the human condition, but it is particularly relevant for the current state of things in the world. My fervent hope is that He Ram can guide our path in 2020 and beyond.
Ugochukwu-Smooth C. Nzewi is the Steven and Lisa Tananbaum Curator in the Department of Painting and Sculpture.
Josh Siegel
Back in the pre-Giuliani days of New York, I loved going to Luna Lounge on Ludlow Street, where for $7 you got two beers and the thrill of seeing then-unknown comics like Chris Rock and Sarah Silverman trying out their new material in an electrifyingly intense (and sweaty) back room of the bar. I've lost touch with this cherished aspect of my night life, having assumed more grown-up responsibilities like feeding and clothing my two young daughters, but I hope 2020 will bring more opportunities to discover rough comic talents in seedy redoubts, starting with the "carnal clowns" my friend Jason Zinoman recently extolled in the New York Times. I'm also excited about an exhibition that my wife, the New York University professor Meredith Martin, has curated, opening on October 2 at the New York Public Library. MELTDOWN: Picturing the First Bubble Economy tells the story of the first major international financial crisis brought about by the collapse, in 1720, of the Mississippi and South Sea bubbles.
Josh Siegel is a curator in the Department of Film.
Sarah Meister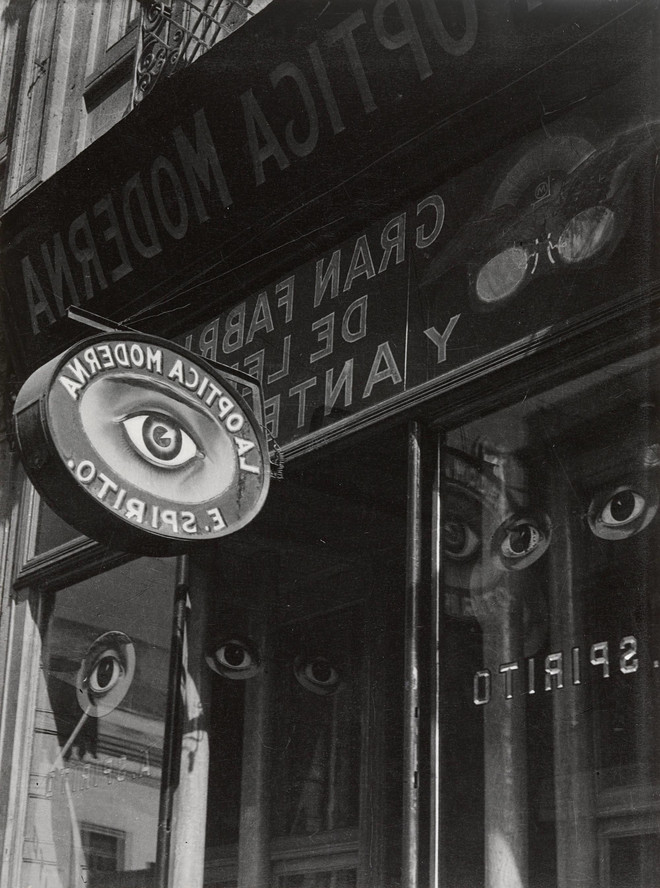 Manuel Álvarez Bravo. Optical Parable. 1931
2020 promises to be a year in which anything referencing "perfect" vision has particular resonance. I enjoy the studied imperfection of Manuel Álvarez Bravo's 1931 photograph of an opticians' shop, printed by the artist so that the image is reversed and the very idea of la optica moderna (modern optics) is called into question. I happen to be deep into the planning of an exhibition whose subtitle is Words & Pictures, so I'm particularly obsessed with words in pictures and the idea of referring to an image as a parable.
Sarah Meister is a curator in the Department of Photography.
Paola Antonelli
The theme for the 17th edition of the Venice Biennale of Architecture (May 23–November 29) is "How Will We Live Together?" It is a question we confront every day, and architecture can provide, if not answers, at least suggestions. I am especially looking forward to the national pavilions, to see how differently—and how honestly—they will interpret the topic and relate it to their own experience and record. There are very, very few states and governments that can claim to be sterling examples of tolerance of harmony among groups, religions, races, genders, and even species…
Paola Antonelli is a senior curator in the Department of Architecture and Design, and MoMA's director of Research and Development.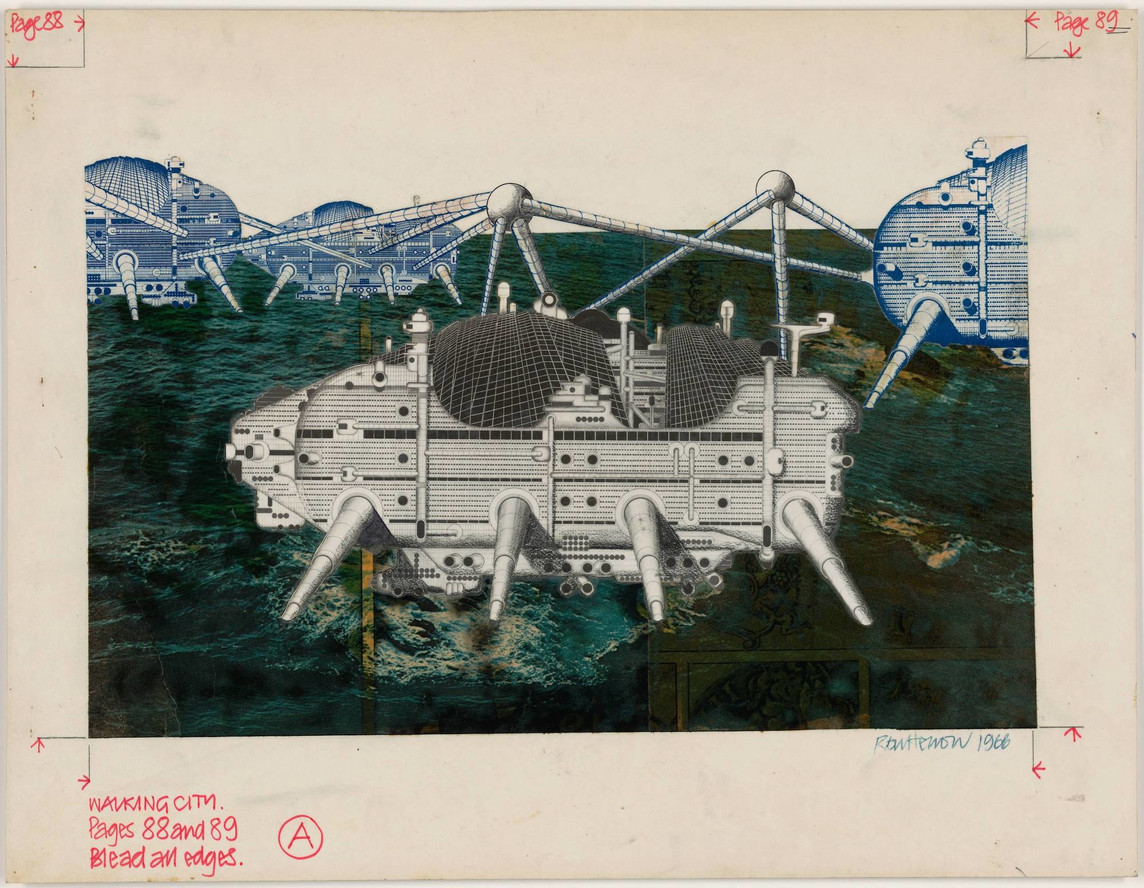 Ron Herron. Walking City on the Ocean, project (Exterior perspective). 1966
Samantha Friedman
With its timeless and very timely themes of immigration, violence, and love beyond boundaries, it's no wonder that the Romeo and Juliet-inspired musical West Side Story (which premiered on Broadway in 1957, but which many know from the 1961 film) is being reimagined not once but twice for 2020. Now in previews, a reimagined Broadway production will open in February, and I can't wait to see how avant-garde Belgian theater director Ivo van Hove and choreographer Anne Teresa de Keersmaeker respond to the syncopated Leonard Bernstein score and choreographic legacy of Jerome Robbins. It'll certainly help scratch the itch while I eagerly await director Steven Spielberg and choreographer Justin Peck's new film version, coming in December. As the song says, "Could it be, yes it could/Something's coming, something good/If I can wait…"
Samantha Friedman is an associate curator in the Department of Drawings and Prints.
Beverly Adams
I'm looking forward to the Whitney Museum of American Art's Vida Americana show (Feb 17–May 17). It is gratifying to know that US institutions are finally able to embrace the enormous impact post-revolutionary Mexican art had in the US and elsewhere.
Beverly Adams is the Estrellita Brodsky Curator of Latin American Art in the Department of Painting and Sculpture.
Lanka Tattersall
2020 sees the fifth iteration of the Hammer Museum's lauded Made in L.A. biennial exhibition, which, for the first time, will take place at both the Hammer and the Huntington Library, Art Museum, and Botanical Gardens, whose sprawling grounds are a slice of Shangri-La. The exhibition's two curators are similarly based in dual locations: Myriam Ben Salah in Paris, and Lauren Mackler in Los Angeles. Over the last decade, Mackler has organized nomadic exhibitions, performances, and publications under the name Public Fiction, highlighting the work of some of the most experimental artists in the City of Angels. If her history of smartly idiosyncratic and shape-shifting projects is any indication, this year's biennial promises a global perspective with some surprises that will linger in memory long after the Los Angeles sunset.
Lanka Tattersall is a curator in the Department of Drawing and Prints.
Anne Umland
I'm looking forward to seeing Fantastic Women: Surreal Worlds from Meret Oppenheim to Frida Kahlo, at Schirn Kunsthalle Frankfurt (February 13–May 24), which also travels to the Louisiana Museum of Modern Art, Humlebaek (June 18–September 27). This exhibition will offer a rare opportunity to see in-depth presentations of works by women artists affiliated with Surrealism, both known and unknown!
Anne Umland is the Blanchette Hooker Rockefeller Senior Curator of Painting and Sculpture.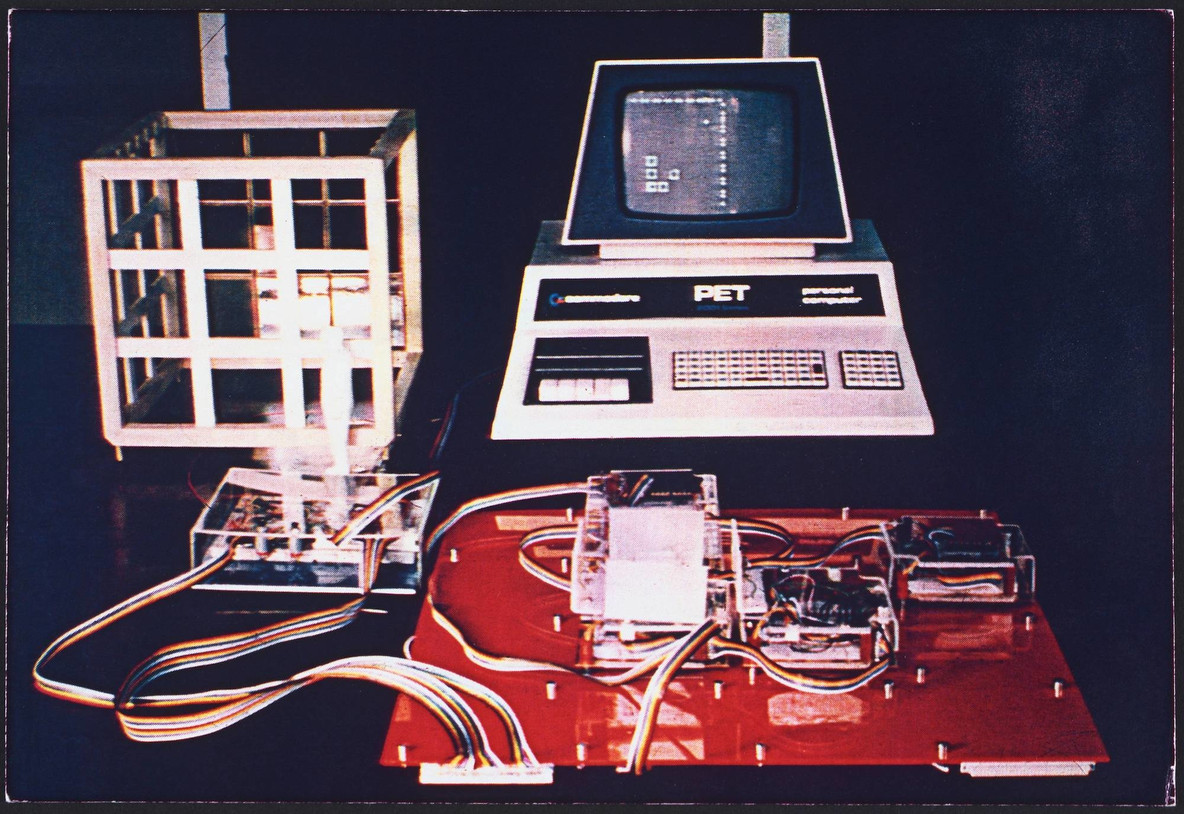 Cedric Price. Generator Project, White Oak, Florida (Five Enclosures, Model and Baseboard). 1978–80
Andrew Gardner
I'm looking forward to Tate Modern's summer retrospective of the Polish artist Magdalena Abakanowicz, a long-overdue survey of a key figure in the 1960s and '70s fiber art movement. The current embrace of craft-based practice in contemporary art suggests a shared desire to seek refuge from overwhelming digital fatigue and to connect with artisanal techniques that are at once global and local. It's these shared material- and process-based connections that draw us together as a culture, reminding us of our shared humanity.
Andrew Gardner is a curatorial assistant in the Department of Architecture and Design.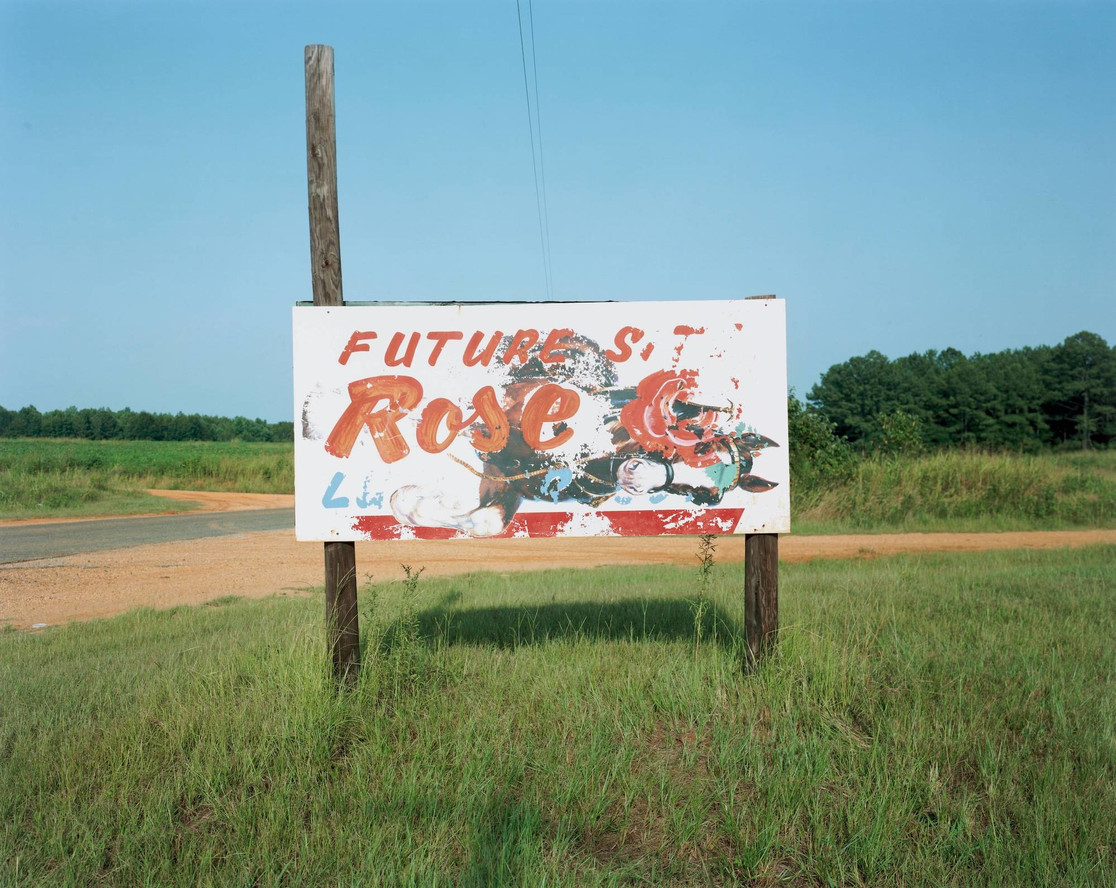 William Christenberry. Sign (Future Rose), near Greensboro, Alabama. 1978
Sean Anderson
Why is hindsight always 20/20? More often than not, we must look back to consider the ways to move forward. In that moment, the past becomes present. Architecture is a litmus for understanding the multiple worlds we inhabit. During this decade, I would like to imagine it's possible to design and build spaces of potential. An architecture of generosity. For 2020, in a new year of "perfect" vision, I am most keen to consider how repairs, large and small, are understood at once as an impetus for acknowledging where we are now while advancing the protocols that show us how and where we might be going.
Sean Anderson is an associate curator in the Department of Architecture and Design.