Seven Ways to Re-View a Film History
Filmmakers, curators, and archivists react to works featured in MoMA's landmark Cineprobe series.
In putting together Currents: Re-Viewing Cineprobe 1968–2002, I was faced with a conundrum: How do you do you assemble a retrospective of a live program that ran for three decades and was organized around the artists' presence alongside their work? And how do you narrate a curatorial initiative that changed week to week, took risks, eschewed categorization—in 1970, horror director George Romero and downtown avant-garde fixture Jonas Mekas appeared back-to-back—but also followed artists over the course of their careers and indelibly shaped our collection?
I set out to shape my program with a certain open-endedness: the idea that, even as the original series was structured around single-artist evenings, the collective resonance of these films isn't monolithic. The screenings celebrate individual voices, but watching these films is also about reflecting on the moving-image culture in which they existed, with new juxtapositions, new questions, new contexts, and, most happily, new viewers in 2019. I've shared my own connection to these works on moma.org over the past month. Now it's time to hand it over to filmmakers, curators, and archivists, who give us seven takes on seven works.
Modern Mondays, Cineprobe's successor, begins a new season this January.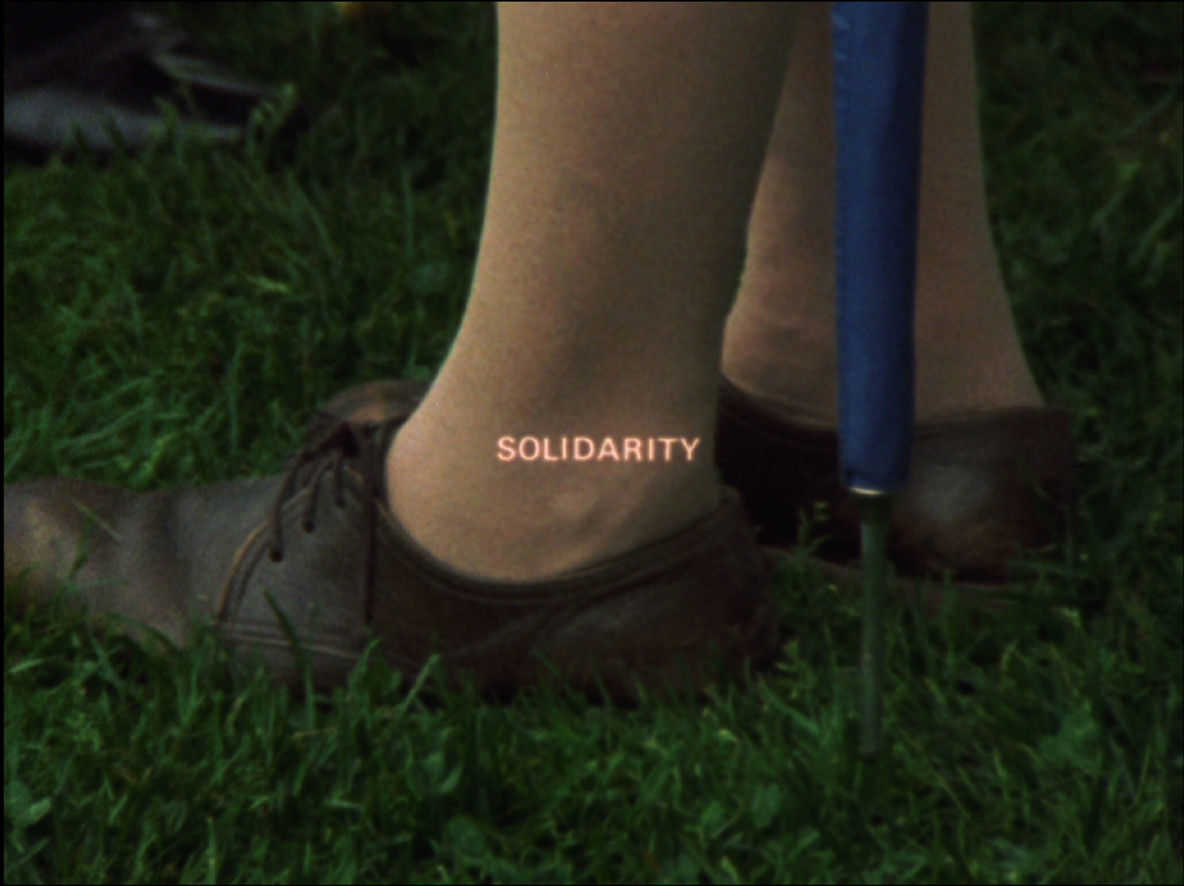 Solidarity. 1973. Directed by Joyce Weiland
Nazlı Dinçel
The Dare Strike took place from May of 1972 until January of 1974. The workers were asking for gender equality, fair pay, and better working conditions in the factory. Two-thirds of the workers were female, and were offered a 45-cents-per-hour raise over two years, compared to the 55-cents-per-hour raise for male workers. The union demanded an equal raise of 40 cents per hour for every year worked. In Solidarity (1973), Joyce Wieland creates an amazing record of one of the last demonstrations before Dare Foods' union-busting campaign was, unfortunately, successful. The heroine of striking itself is the feet, the laborer of our bodies. The film humorously ends on the paws of a dog; prompting the environmental effects of capitalist corporations. The words "SOLIDARITY" superimposed over the image is a radical act in itself, clarifying Wieland's political position: Her function is to be an activist and not to merely document. Solidarity forever.
Nazlı Dinçel is a Turkish American artist and experimental filmmaker who lives in Milwaukee, where she is building an artist-run film laboratory.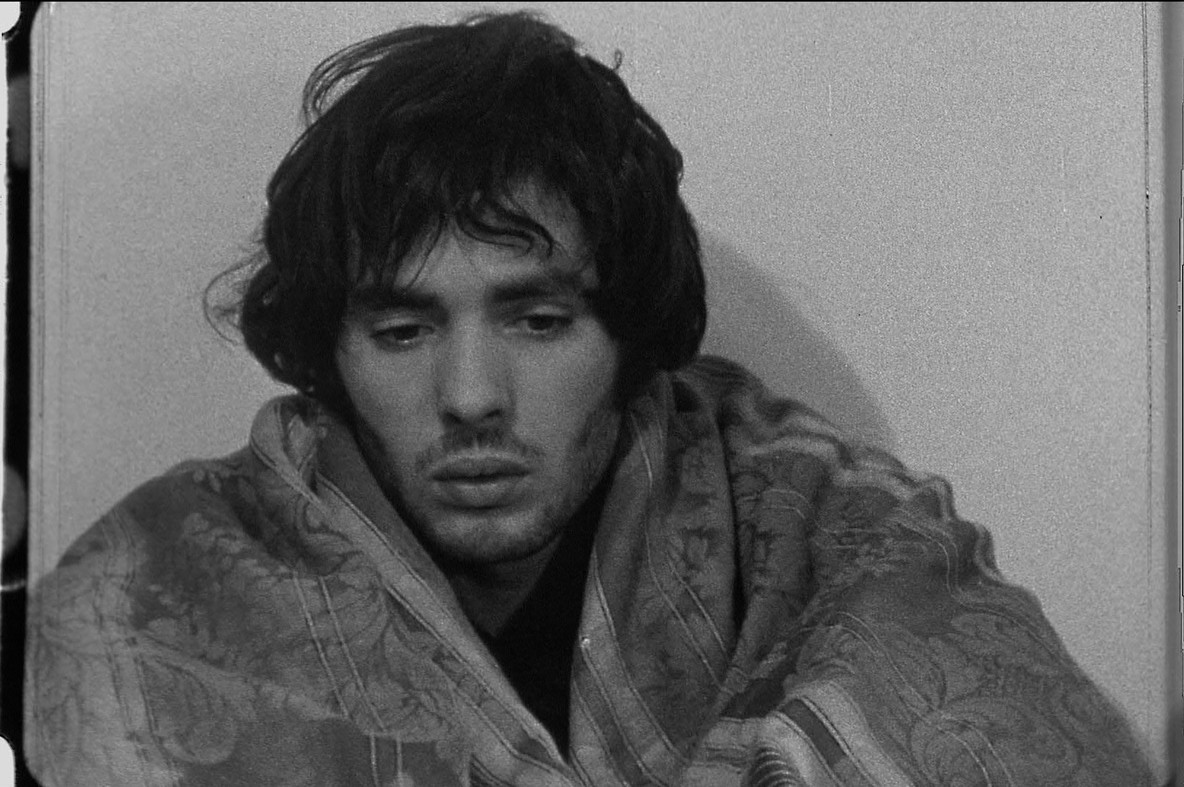 Roue de cendres (Wheel of Ashes). 1968. Directed by Peter Emmanuel Goldman
Matt Porterfield
At first, the melancholy ruminations of Pierre in Peter Goldman's Wheel of Ashes (1968) bring to mind Rainer Maria Rilke's Notebooks of Malte Laurids Brigge or Jean-Paul Sartre's Nausea, but soon it's clear Pierre's obsessions are mostly carnal. Played with sallow beauty by Pierre Clementí, our narrator is a lonely and lustful young man, wandering the streets of 1968 St-Germain-des-Prés, Paris, in agony. As his desperation nears a boiling point, he meets Anka (Katinka Bo) at a bar, and they settle into temporary domestic bliss despite a language barrier and his ever-wandering eye. But Pierre grows weary of this arrangement and leaves Anka in pursuit of asceticism in a tiny attic apartment with no mattress, where he studies books on theosophy and plays the flute. Here his torment only intensifies: isolated, horny, and seemingly starving himself, hallucinations give way to a complete nervous breakdown. Featuring an impressionistic score and beautiful black-and-white cinematography that perfectly balances subjective, handheld camerawork with documentary-style street photography, the pieces add up to a surprisingly timeless and moving portrait of a man in the throes of an existential crisis. And the fact that Pierre seems to achieve his spiritual awakening in the last frames, not alone but in concert with the world, leaves us with a profound sense of hope. I wish I'd seen this movie in my early 20s. I think I might have recognized myself on screen.
Matt Porterfield is a writer and director living and working in Baltimore.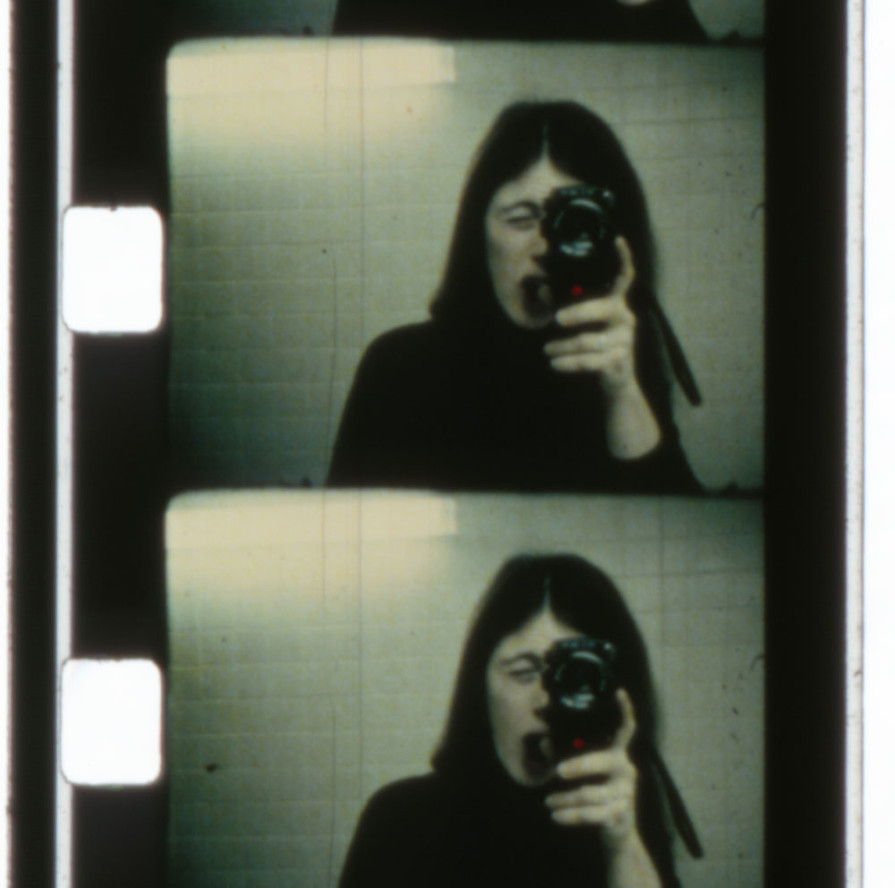 Apologies. 1983–90. Directed by Anne Charlotte Robertson
Mia Ferm
Anne Charlotte Robertson started making films in the 1970s with a Super 8 camera, used by many diary filmmakers for its intimacy, immediacy, and affordability. For Robertson, the camera also became a tool to record her anxieties, which she did for many of her larger diary film projects. Apologies (1983–90) was, in particular, as she describes, "another exercise in self-therapy," but not just for herself. The incessant "I'm sorry"s give attention to how many women reflexively apologize. "I noticed that I apologized a lot; it was a reflex action. I started noticing EVERY WOMAN I KNEW said 'I'm sorry' just to kind of smooth the conversation out." Instead of smoothing out though, the apologies in this short film become obsessive, sometimes transgressive, and Robertson's direct address more confrontational. But Apologies is also really funny. Its self-awareness—"What are your favorite apologies?"—is a wink to many who experience this everyday mania.
Mia Ferm, codirector of Cinema Project in Portland, Oregon, is currently studying film preservation at the University of Amsterdam.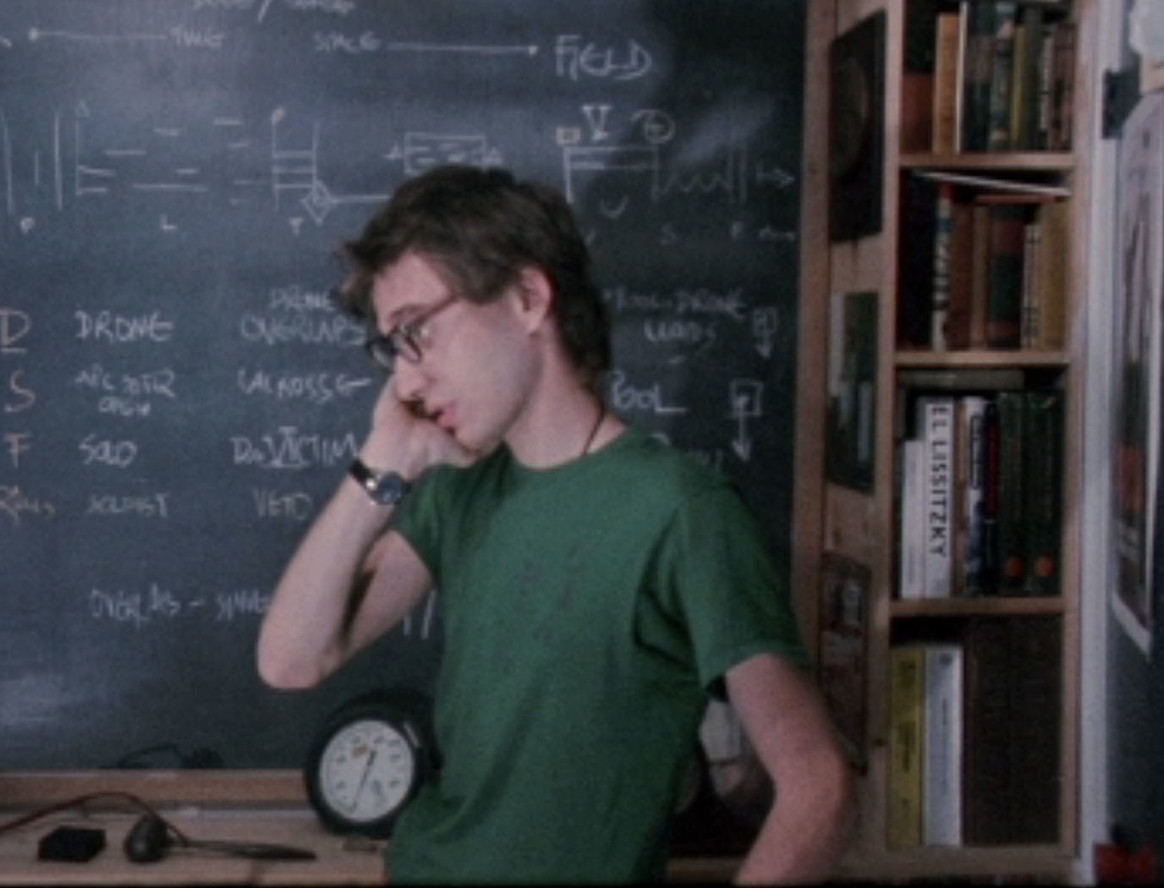 Money. 1984. Directed by Henry Hills
Malena Szlam (on Henry Hills's Money)
1984. The flesh of money tearing and fracturing bodies. Faces in dissonance
scrubbing uncertain futures. As the spectacle of ruthless neoliberalism continues,
lethargic people begin an awakening. Seen over and over again, sequences of movement
intermixed with rapid cuts, a multiplicity of voices claiming a position. "Editing people." AHHHHH!!! Silenced by retaliation and the rage stolen, again and again. Hello? NO! Resistance.
In my street: commodity and anxiety, and in yours? This is not America. This is America.
1973. M. Friedman, the Chicago Boys, and their program for economic development, "el ladrillo" (the brick), is more than a failure. It's not 30 pesos—it's 30 years. 2019
Malena Szlam is a Chilean artist-filmmaker working at the intersection between cinema, installation, and performance.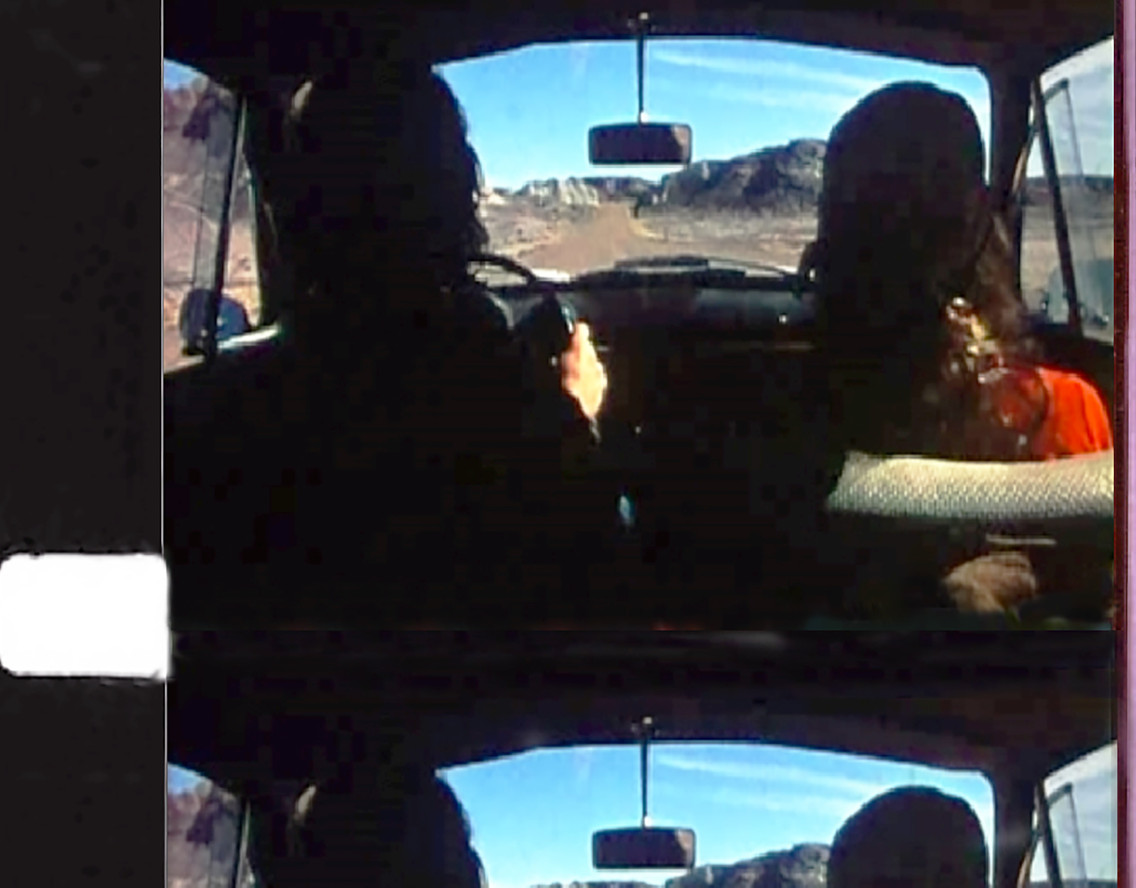 The United States of America. 1975. USA. Directed by James Benning, Bette Gordon. 16mm. Courtesy the artist
Andrew Lampert
When it comes to patriotism, I've always been something of a pinko. An unnerved grade school teacher once called my mother because I flat out refused to pledge allegiance to the flag. That said, the one and only film that fills me with anything close to nationalist zeal is James Benning and Bette Gordon's The United States of America (1975). Shot with a 16mm camera mounted in the backseat, the film is a record of a road trip from east to west, coast to coast. Ektachrome images fade in and out, time and space are collapsed as boundless, rhythmically morphing landscapes glide by the window. Maybe the true genius in this mini epic is found in the overheard radio snippets that make up the soundtrack. Married to the picture, we not only get to see America but hear it, too, from out of the mouths of DJs, preachers, and of course the inescapable, number-one hit of April 1975, "Lovin' You," by Minnie Ripperton. Every American should see this film. Did I just write that?
Andrew Lampert has made a lot of work in the areas of film, video, photography, and performance.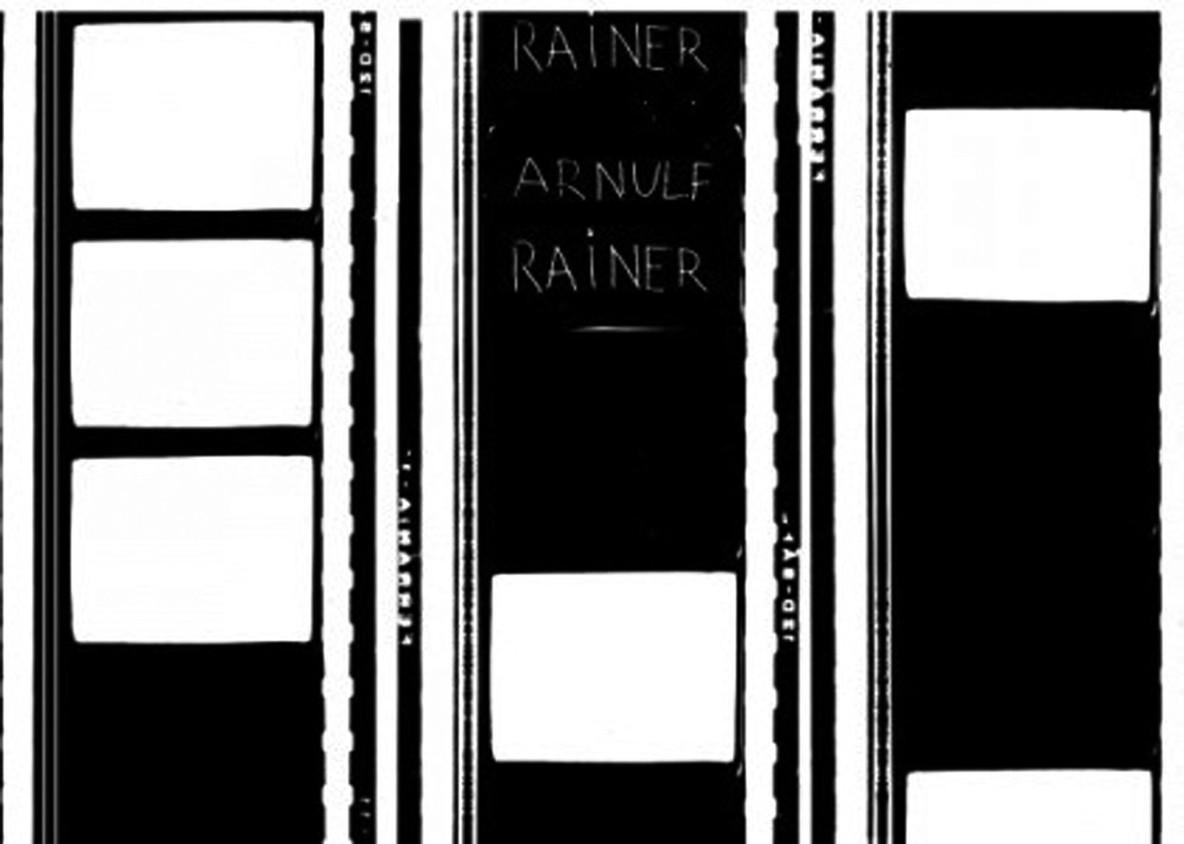 Arnulf Rainer. 1960. Directed by Peter Kubelka
Julian Ross
Over 5,000 miles away from its first screening in Vienna, Japanese artist and writer Yasunao Tone first saw the abstract film Arnulf Rainer (1960) in Tokyo's Minami Gallery in 1962. Several years later in 1968, Tone revisited this experience as a fundamental inspiration to his theory of intermedia—an unusual take on the film. Rather than discussing the film in relation to cinema's essential qualities and the emerging tradition of structuralist film, Tone discusses how the oscillation between light and darkness illuminates the space in a way that unites the film, the audience, and the space in the moment. While prints of the film may deteriorate with age, Arnulf Rainer is a film that always speaks to the present.
Julian Ross is an assistant professor at Leiden University and a programmer at International Film Festival Rotterdam and Locarno Film Festival.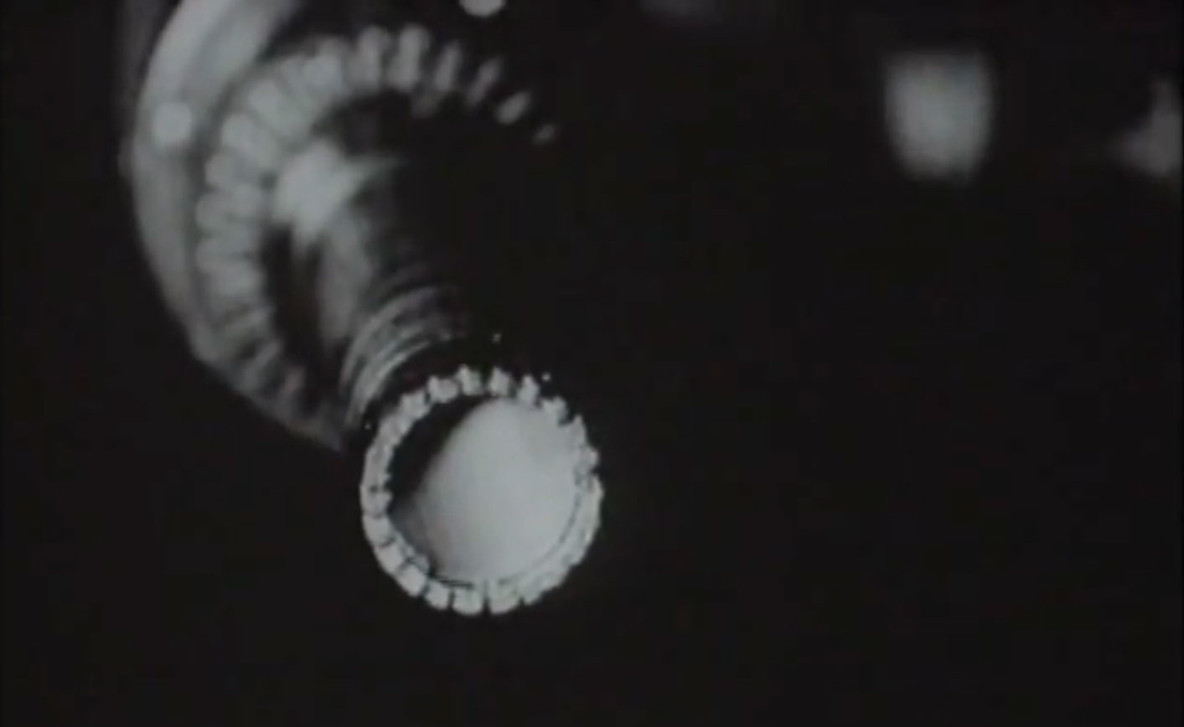 Futility. 1989. Directed by Greta Snider
Almudena Escobar López
Running water, a list of synonyms of lack, a personal account of an abortion, and a letter to an ex-lover. A body that is too sick to eat, and too uncomfortable to lie down, a lover that hears what he wants, and images that are more powerful when they lie.
In Futility (1989), Greta Snider overlaps intimate stories with isolated images, reclaiming the autonomy between the visual and the auditory form. Her rupture of any audiovisual discourse proposes a reflexive play between fact and fiction.
Futility disrupts the conditions of viewing as a political experience, blurring the patriarchal division between public and private that reduces the experiences of women. Snider's expanded viewing in favor of deep listening transforms the archival images into spaces of reflection and mirroring, proposing a reparative space of relationality where saying "I love you too" is an aborted effort of intimacy.
Almudena Escobar López is an independent curator, archivist, and researcher, and the time-based media curatorial assistant at the Memorial Art Gallery in Rochester, NY.