Brewmaster Garrett Oliver pairs favorite beers with works from the Museum's collection.
In time for Oktoberfest, we asked Garrett Oliver, brewmaster for the Brooklyn Brewery and editor of The Oxford Companion to Beer, to take a stroll through the Museum's collection and make some pairings. Sláinte!
When you make beer for a living, people have questions. And the question I'm most frequently asked is not a technical question, but this: "How does an African American guy from Queens, New York, with a degree in film end up being a brewmaster? Where is the connection?" The answer to the first part of the question is long and circuitous and will have to wait for another day.
But the second part is easy: mentally and spiritually, making beer is exactly like filmmaking and other art forms. You start with history, forms, and predecessors and then you apply to them both art and science, hopefully in roughly equal measure. In order to make something worthwhile, either as a brewer or an artist, you have to have something to say, but also the technical ability to say it.
So let's take a stroll through MoMA's vast collection, beers in hand, and find some connections. Beer, like art, is deep and wide and tall. We're going to end up in unexpected places.
IRISH STOUT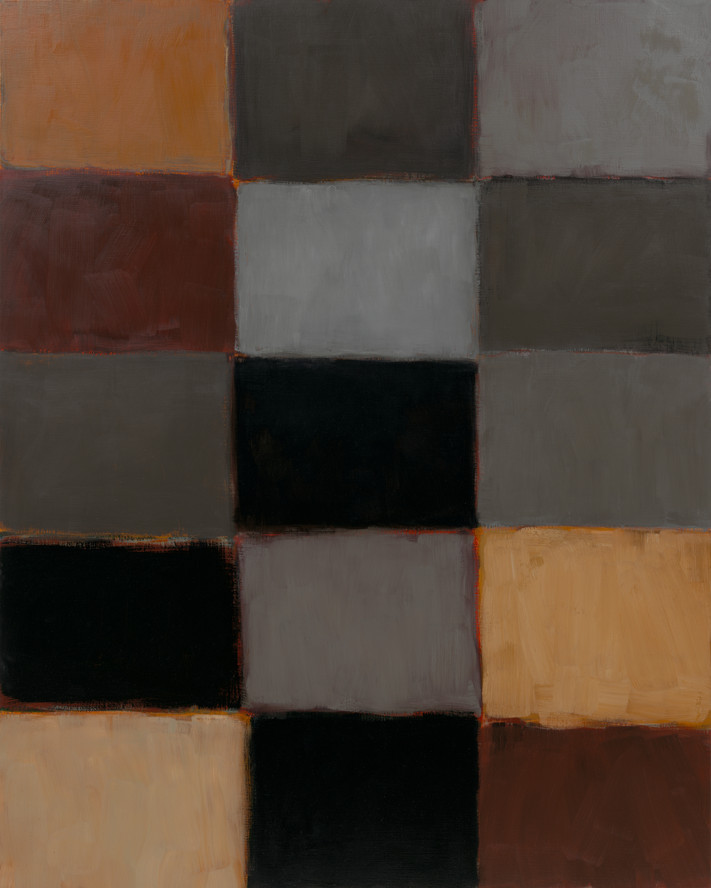 Sean Scully. Big Grey Robe. 2002
Perhaps no country is so closely associated with a single beer as Ireland is with Guinness. Irish literature is stacked high with praise and love for Irish stout, and Guinness is often mentioned by name. Stouts are warm-fermented beers that gain their flavors and color largely from heavily roasted malts. These give rise to flavors reminiscent of dark chocolate and coffee.
MoMA's collection holds many great images of Ireland, but I was drawn to Dublin-born Sean Scully's Big Grey Robe (2002). When I look at this piece, I seem to "feel" a pint of Guinness. The colors—tan, black, chocolate, gray. Guinness, when poured, at first appears almost cream-colored, but as the bubbles wend their way up the glass in their patented waves, the appearance is transformed. Does this painting in fact depict the many aspects and moods of "a pint of plain," as Guinness was once called?
SAISON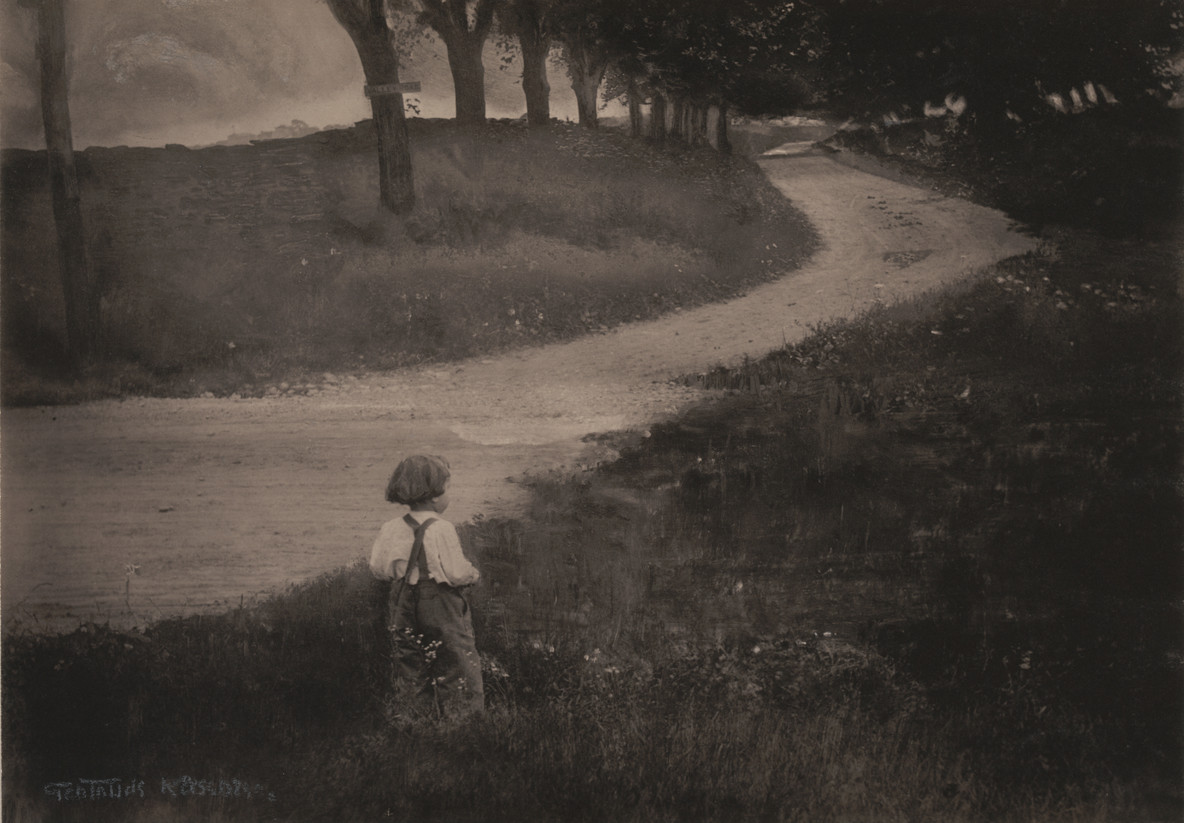 Gertrude Käsebier. The Road to Rome. 1902
Straddling the borders between Belgium and France, Wallonia is best known for the farmhouse beer style known as "saison." Once, every farm had its own beer, and eventually the farms started to trade their beer with each other and the general public. By the early 20th century, the saison become somewhat standardized as a strong-ish, hazy beer with a complex peppery flavor and the volcanic texture of creamy bubbles that only bottle refermentation (similar to the method used to make Champagne) can achieve. Our beer here is the most excellent Boulevard Tank 7 Saison, a classical American-brewed example.
I've paired it with Gertrude Käsebier's The Road to Rome (1902). The scene is pastoral; there must be a farm nearby, but it can no longer be seen. The road winds on and all should seem beautiful…so why do we feel menaced? Is the child in the foreground playing, or lost? Saison may have lost its way too. Suddenly there are all sorts of saisons—sour types, barnyardy throwbacks featuring funky wild yeasts—so who can be sure what a saison is anymore?
AMERICAN "FRUIT SOURS"
Beach Blanket Bingo. 1965. USA. Directed by William Asher
Sometimes beer is just supposed to be fun. As the American food world descended into The Matrix of mid-20th-century food culture, we turned our food into facsimiles. Bread became a dead chemical sponge and cheese became plastic (literally, and often packaged between two other pieces of plastic). Among the things we erased was an entire genre of beers based on lactic acidity rather than hop bitterness. And as our food culture comes roaring back to life, "sour" beers have started to make a comeback. But rather than brewing them to be as sharp as the term "sour beer" may sound, many brewers are making fun versions full of actual fruit.
One of my favorites is Funkwerks Raspberry Provincial from Fort Collins, CO. It has a gentle tang, a mere wisp of spicy funkiness, and then splashes into the raspberry pool. And so, from MoMA's film collection, I chose Beach Blanket Bingo (1965), the "mmmmm....I don't care what anyone says...it has fruit" of movies: don't overthink it—just watch it and smile.
BROWN ALE
A Ship Is Born. 1942. USA. Directed by Jean Negulesco
Brown ale was once the drink of British workers, none more than the once-iconic Newcastle Brown Ale. Dark with roasted and caramelized malts, brown ale was once said to be full of energy—"a meal in a glass." These beers bring to mind all sorts of laborers—blacksmiths, field hands, coal miners—but especially shipbuilders. In Britain's shipbuilding yards, the workers worked hard and saw little glory or wealth. As Thatcherism gained a steely grip in the UK of the 1980s, the British working class was slowly chipped away. Brown ale was chipped away with it.
Diving once more into MoMA's film collection, we bring you A Ship Is Born (1942), a propaganda film about the last golden age of ships that subdued continents and won wars. People still drink Newcastle Brown Ale, and it's a nice beer. But the shipyards are largely silent now, and those that are left are building oil tankers, container ships, and cruise vessels to convey to us our material dreams.
Ancient beers were invented in Africa and belong to all the peoples of the Earth, not just to Europe.
INDIA PALE ALE (IPA)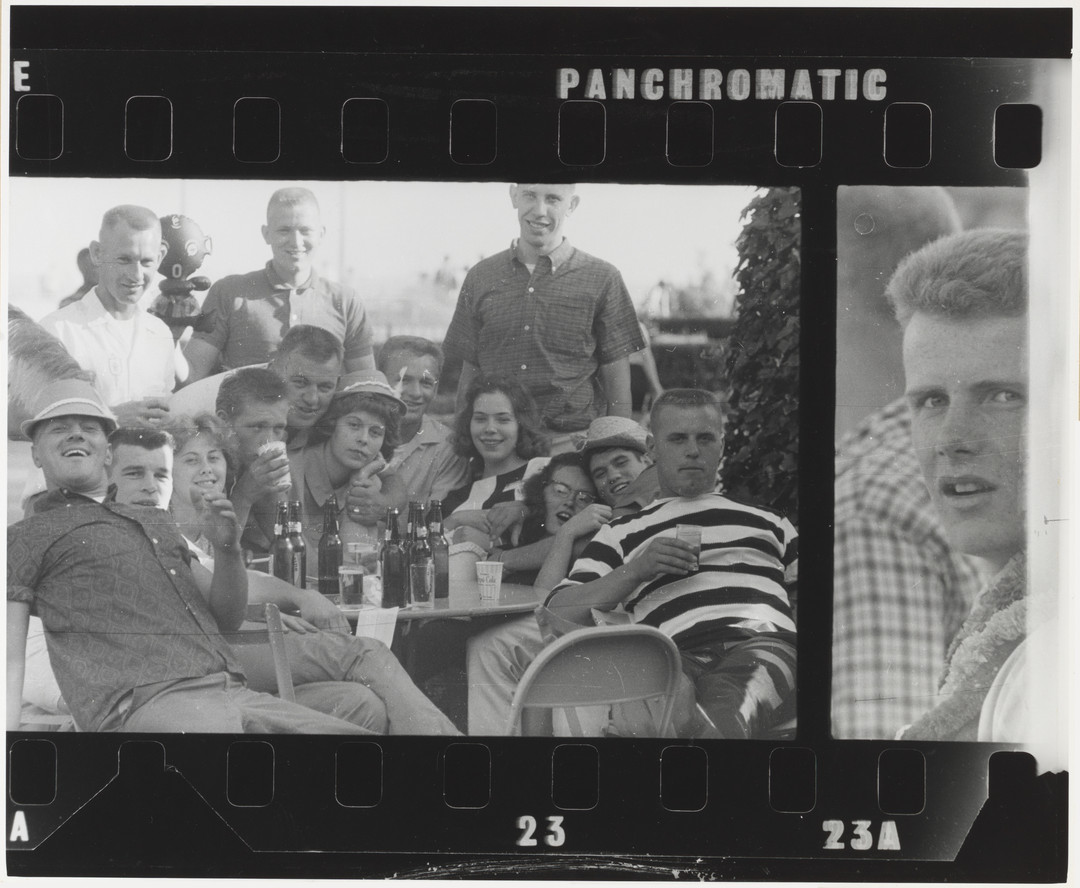 Michael Ciavolino. *Boat Ride, Rye Beach.*1962
The current winner of the modern beer world is surely the India Pale Ale, better known as the IPA. As the name suggests, it was an outgrowth of British colonialism in India. In the 18th and 19th centuries, the British shipped the beer from England and Scotland, half-way 'round the world, to supply the colonists. The beer that survived the voyage best was strong and bitter. Modern brewers have taken the flavors of IPA—big, bold, and florid with hops—and turned the style into the flagship of the movement against flavorless industrial beers. The result can involve a certain homogeneity. Shall we call it "bro-ism"?
My photograph is Michael Ciavolino's Boat Ride, Rye Beach (1962). What do you see? Does it look like fun? Do they look friendly? They're certainly laughing. Are they laughing with you...or at you? What looks like people having a good time is somehow tinged with a toxic male energy. Some of us who are familiar with the geeky-cliquey beer scene can relate. Our beer is Tree House Brewing's Julius. It's really good and super-popular. But is it fair to pin all this on Julius? No, it's not fair. Neither is life.
DOUBLE IPA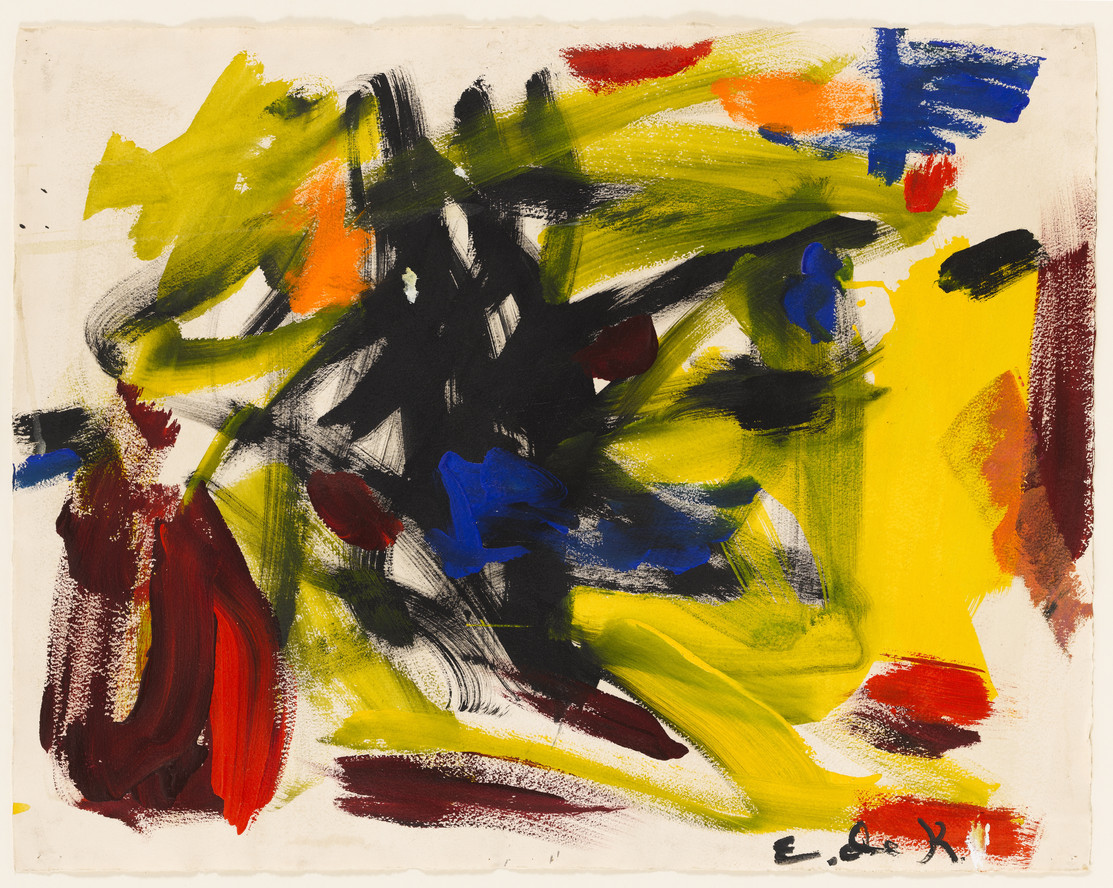 Elaine de Kooning. Bullfight. 1960
In the early 2000s, a particularly strong version of IPA arose in Northern California. Brandishing sharp, slicing bitterness and massive piney/citrus hop aromatics, these beers were dubbed "double IPAs." The most iconic—and still one of the best—is Pliny the Elder from Russian River Brewing Company of Santa Rosa (and now Windsor), CA. The beer is strong and explosively flavorful, but balanced. It might seem shocking at first sip, but if you can shift yourself into Pliny's world, it somehow becomes a perfect drink.
Our painting from MoMAs collection is Elaine de Kooning's Bullfight. The toreador is evinced by dashes of elegant red, posed as if to dance. The bull, rendered as a blurred set of black strokes, resembles a dynamic piece of Japanese calligraphy and seems to charge violently from every angle at once. A toreador tries to make this dance of death look easy. But it isn't easy, and neither is brewing a great double IPA like Pliny. Russian River's brewmaster, Vinnie Cilurzo, once told me that he likes the bitterness of Pliny to be a little bit threatening rather than tame.
PILSNER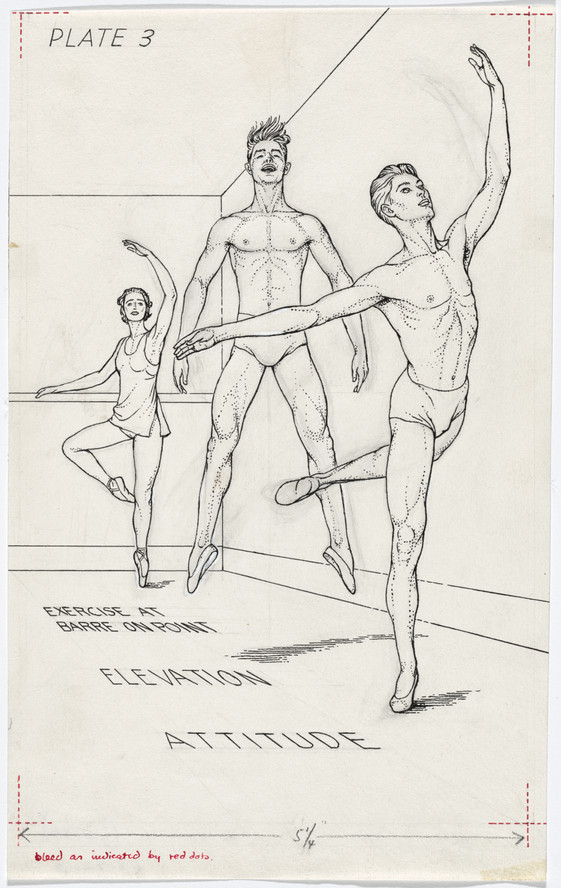 Paul Cadmus. Plate 3 from Ballet Positions. Drawing for Ballet Alphabet: A Primer for Laymen. 1939
Born in Czech Bohemia in 1840, genuine pilsner is a very classical form—sharp, clear, golden-colored, and floral. Though often bowdlerized around the world, in its Central European home Pilsner rarely strays. Jever Pils comes from Lutheran Northern Germany and wears its angular and severely bitter flavor profile like a badge of honor. That doesn't mean it isn't delicious.
Here at MoMA, consider Paul Cadmus's Plate 3 from Ballet Positions. This drawing, made in 1939, carries with it all the weight of its momentous year. Cadmus's photo speaks of classicism but also of a certain nascent severity of perfection. Some people feel this way about pilsner, too. In their expression of pilsner, many Germans once felt—and some still feel—that they had perfected beer.
LAMBIC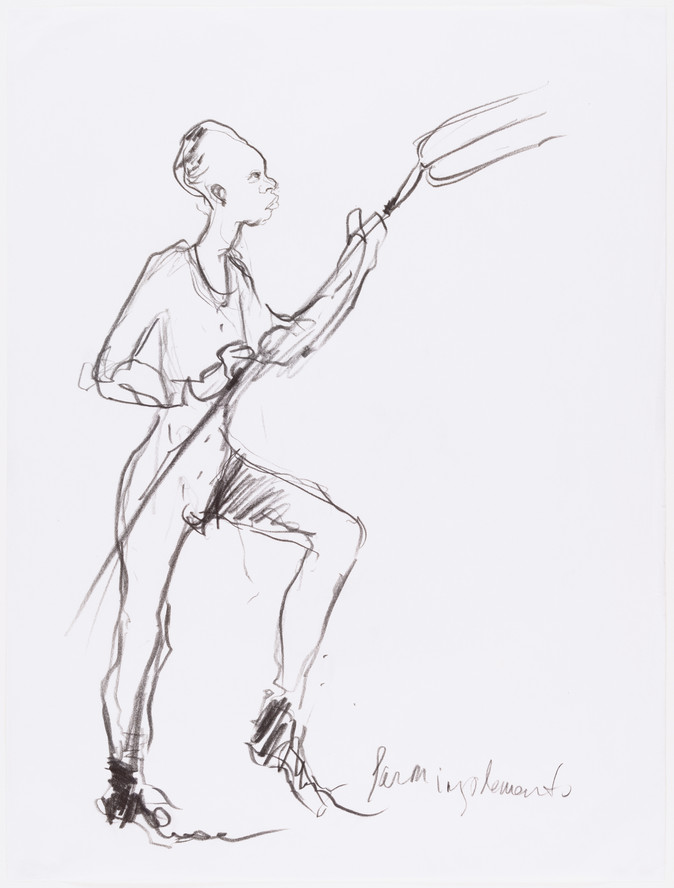 Kara Walker. Untitled. 1996
The lambics of Belgium comprise one of the oldest beer types on Earth. No drink achieves more terroir than lambic beer, as its flavors are literally the flavors of the countryside. Rather than subjecting the wort (the sugary grain-derived liquid that ferments into beer) to a sterilizing boil and a laboratory-derived yeast, the brewer relies on wild native fermentation, and the results can be complex and magnificent.
Of course, this type of fermentation isn't unique to Belgium. Similar beers remain central to many African societies today. So our beer here is bil-bil, the traditional millet-based beer of the Northern Congo. We have no brand name because it is not commercialized by European-based brewing groups; instead it's an ancient home economy, largely carried out by women.
Our artwork here is an untitled drawing by Kara Walker (1996). The pitchfork suggests a peasant or farmer, the sort of person who in Belgium might brew a lambic. The script below appears to say "farm implements." But this man, who has African features, does not look as if he intends to sow millet for beer. He looks determined and tumescent with anger. He may be a farmer, and he and his family may brew beer, but today he looks to be brewing a vengeful war. Perhaps you are a beer fan but have never heard of bil-bil or umquombothi? That's not a surprise. Ancient beers were invented in Africa and belong to all the peoples of the Earth, not just to Europe. Maybe this man intends to take them back.
BARLEY WINE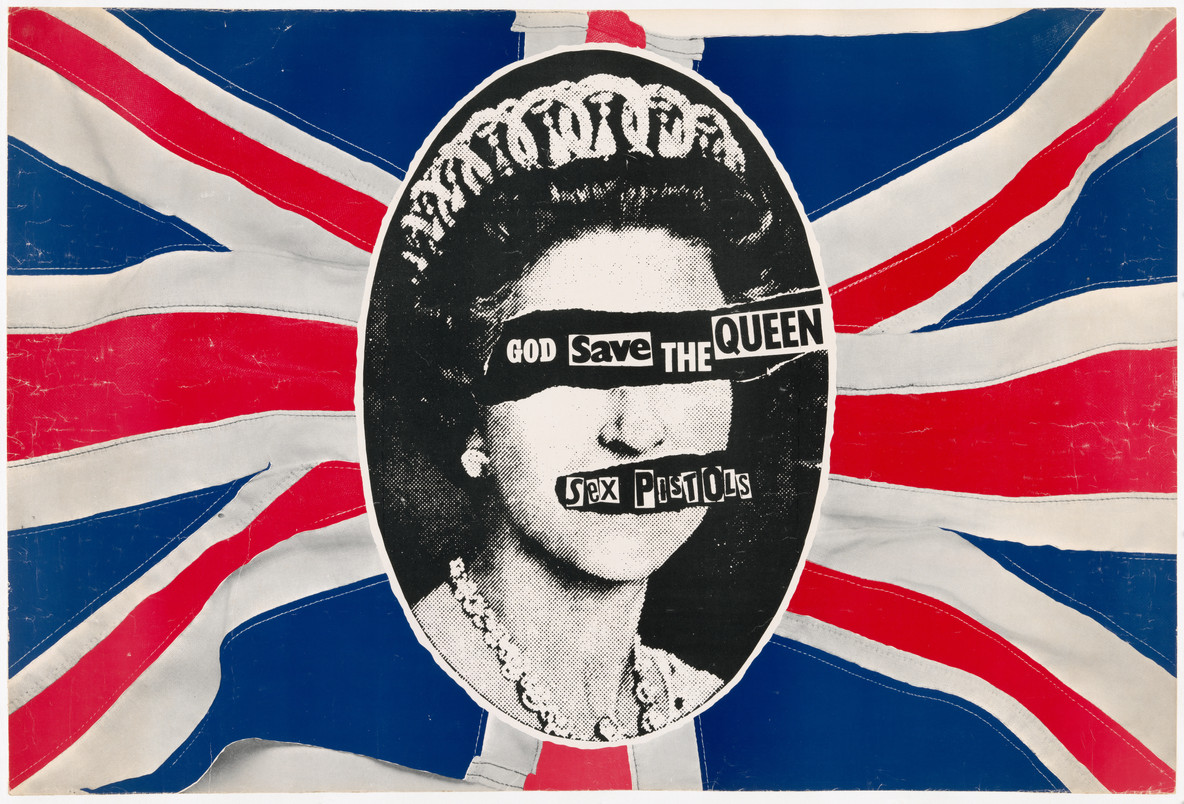 Jamie Reid. Sex Pistols, God Save the Queen. 1977
One of my favorite beer styles, "barley wine" is very strong, often between 12 and 14% alcohol. Having first appeared in England in the 1700s, barley wines were brewed by and for the aristocratic houses of England. Then they were laid down in oak barrels, sometimes for decades. I've had the privilege to drink more than 20 different barley wines that were more than 100 years old, some of them "coronation ales" brewed to commemorate an ascension to the British throne.
Great British barley wines, like J.W. Lees Harvest Ale, can age well for decades, but exist largely to be exported to appreciative beer fans elsewhere in the world. Perhaps there is a parallel there to the British monarchy, so beloved by Americans, but viewed with an ochre eye by many subjects at home. Our lithograph is Jamie Reid's iconic artwork for the Sex Pistols' second single, "God Save the Queen." In 1977 this artwork was shocking; not anymore. As Britain braces for an imagined and nostalgic "sovereignty," we are left to wonder whether Brexit, if it happens, shall truly glitter.
Garrett Oliver is the brewmaster for the Brooklyn Brewery in New York City. He is the author of The Brewmaster's Table, the editor-in-chief of The Oxford Companion To Beer, and the winner of the 2014 James Beard Foundation Award as "Outstanding Beer, Wine, or Spirits Professional." He lives in Brooklyn.