For this Poetry Project, we asked Robin Coste Lewis, the poet laureate of Los Angeles, to invite a group of poets to contribute an original poem written in response to a work of art in MoMA's collection. In addition to hearing these poems read by their authors and reading about their creation on Magazine, you can listen to them in front of the chosen artwork as a part of our new Poetry Audio Tour of the collection galleries.
Poem in the Form of a Telegram to Someone Looking at Henri Rousseau's The Sleeping Gypsy
Before they had
questions marks,
and periods, in telegrams, they had
only the word STOP. When I say
STOP, hit PAUSE and look at The Sleeping
Gypsy. If the picture were a photograph,
what do you think would happen next?
STOP If the sleeper is dreaming, what might
the sleeper be dreaming of? STOP
If the lion were thinking, what might the lion
be thinking? STOP If the moon could dream,
what might the moon be dreaming? STOP
If you could show
this picture to someone
you know, who would you show it to?
STOP If you could show it to someone in some
other country on earth this minute?
STOP If you could show it to someone
no longer living, who would it be?
STOP If you could show it to someone not yet
born? STOP Now I am going
to answer my own questions. STOP
I saw the picture when I was five.
My father's middle name was Lyon.
I had a book called The Cozy Lion, he was
shy, he didn't want to scare anyone.
I thought this was a picture of a woman
in a world where she was safe—a girl
singer, maybe a sister of Joseph with the
Coat of Many Colors. Her dress
was like lines of music. The lion's tail
was like a line of music. The picture
was a dream of my father guarding my sleep,
the musical instrument was like
a whole note, a reflection of the music, and like
the dream
of the moon.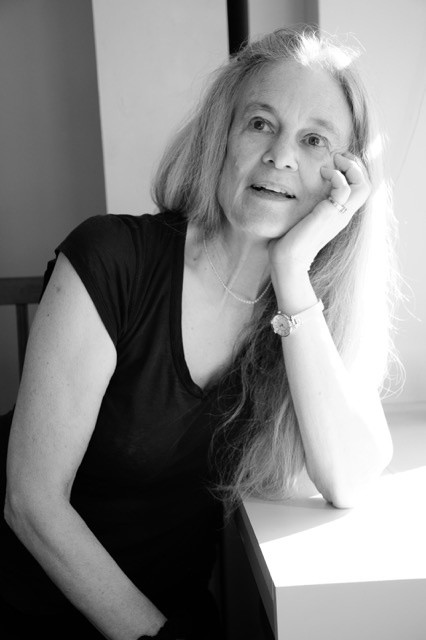 Why did you choose this work of art?
When I saw the lion, I could tell that I had a strong emotional connection with it. I had seen it at the museum when I was 15 on, so it was a painting I knew well. In terms of being able to write something about it, I didn't know how that would go, but I just followed my imagination.
What was your approach to writing a poem about it?
To be able to speak to a viewer of a painting while they're looking at the painting is something few of us can do, except with our close friends or family, and to do it on earphones is very thrilling for a poet. I realized I wanted to talk directly to the viewer about the experience of looking. And if anything, though I wasn't really thinking in these terms, to enrich their experience by making them a little more conscious of what they're seeing.
I like the sense that once we've looked at a painting the looking doesn't stop—it stays within us.
Art connects people from different times and places and a painting takes the viewer to other times in their own life, and also times of history on Earth now. It's not a painting without politics—it's a poem without politics, but I like the possibility of engaging us in that present. And then I thought of the form of the telegram: in any sentence, people would write you and say, "See you soon, stop" or "I love you, stop." There was no other punctuation, and [telegrams were still used] at the age when I had first seen the painting. So once that [thinking] started, the form just seemed to roll along. And then, I noticed today, we never get "stop" again [in the poem]. And I thought, well I'm glad I didn't think it would be cool to have some tricky thing like "stop" at the end of the poem because I like the sense that once we've looked at a painting the looking doesn't stop—it stays within us.
Sharon Olds was born in San Francisco and has lived in New York City since 1964. She teaches in the Graduate Creative Writing Program at New York University. Her 13th book of poems, Arias, was published by Knopf in October 2019.