24 hours with Howardena Pindell
On a Sunday in the studio, artist Howardena Pindell weathers a summer storm with us.
This feature is part of our A Day series, in which writer Heidi Julavits invites artists to share an account of their day with us.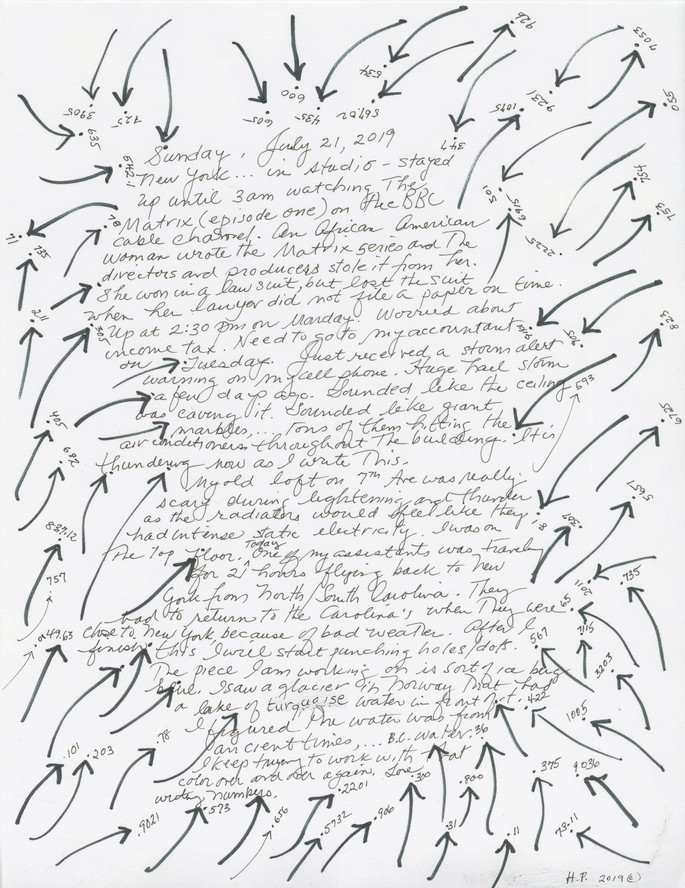 Click on the image for a closer look.
Sunday, July 21, 2019
New York…in studio—stayed up until 3 am watching The Matrix (episode one) on the BBC cable channel. An African American woman wrote The Matrix series and the directors and producers stole it from her. She won in a lawsuit, but lost the suit when her lawyer did not file a paper on time.
Up at 2:30 pm on Monday. Worried about income tax. Need to go to my accountant on Tuesday. Just received a storm alert warning on my cell phone. Huge hail storm a few days ago. Sounded like the ceiling was caving in. Sounded like giant marbles.… Tons of them hitting the air conditioners throughout the building. It's thundering now as I write this.
My old loft on 7th Ave was really scary during lightening and thunder as the radiators would feel like they had intense static electricity. I was on the top floor. Today one of my assistants was traveling for 21 hours flying back to New York from North/South Carolina. They had to return to the Carolinas when they were close to New York because of bad weather. After I finish this I will start punching holes/dots. The piece I am working on is sort of iceberg blue. I saw a glacier in Norway that had a lake of turquoise water in front of it.
I figured the water was from ancient times… B.C. water. I keep trying to work with that color over and over again. Love writing numbers.