The best spots to eat lunch in midtown according to Paul Galloway, MoMA's collection specialist in Architecture and Design
Paul Galloway is the collection specialist in Architecture and Design. He seems to know something about almost everything you could imagine in his field, whether posters, buildings, or chairs. And he's always hungry. After years of careful lunch hour research, he's put together what he calls his "peckish peregrinations"—easy and delicious spots around Midtown Manhattan to grab a good bite and eat outdoors. For a complete experience, we recommend pairing these spots with our Staff Picks for art around midtown.
Illustrations are by Jennifer Tobias, MoMA's Reader Services Librarian.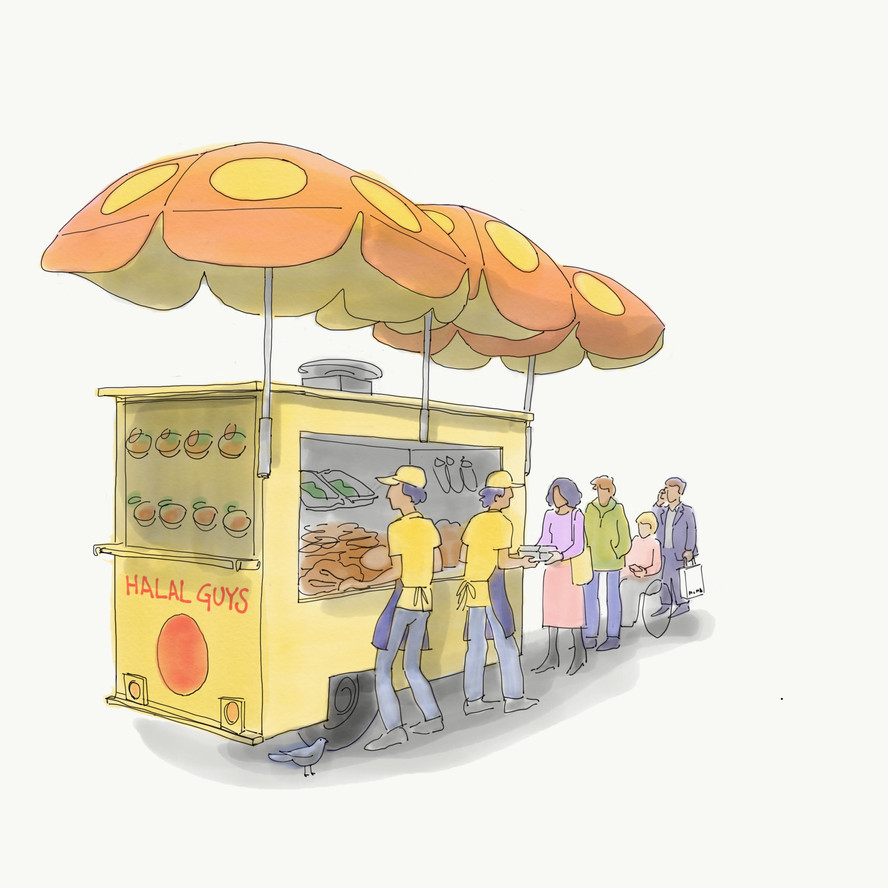 Food Carts (embrace the street meat)
King of Falafel
53 Street and Park Avenue
My #1 go-to cart. Vendy award winner. Excellent falafel and shawarma (best in the city I think), and it's right by Lever House and the Seagram Building, so a lovely area to eat outside. Line gets long but it moves fast.
Original Halal Guys
53 Street
The famous, perennial hangover cure sits right outside MoMA's front door. Delicious, but not for those lacking an iron stomach.
Uncle Gussy's
52 Street and Park Avenue
Great Greek food, but the line gets ridiculously long so get there early or forget it.
Biryani Cart
46 Street and Sixth Avenue
Halal Indian—well worth a little walk.
Cousin's Lobster
53 Street and Park Avenue
Keep in mind, this is only on Thursdays. Pricey, but that's a fantastic, wicked Lobstah Roll.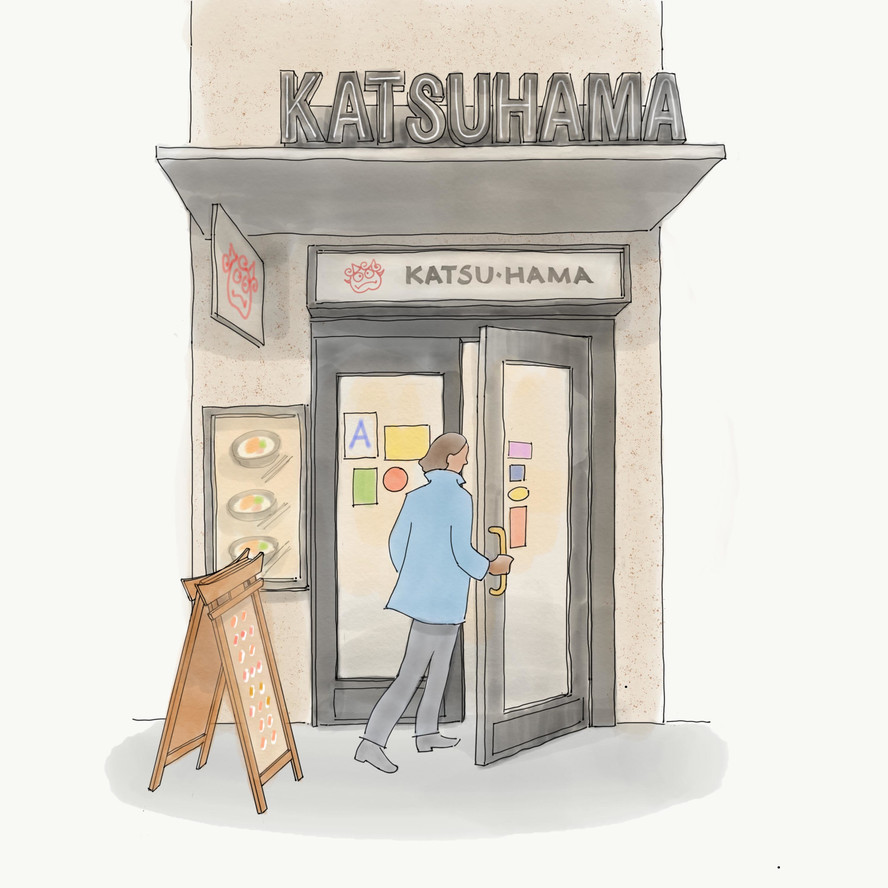 Restaurants (take it away, Sam)
Urbanspace at Vanderbilt
Near Grand Central Station
It's a bit of a walk, but there are so many great options here (Ippudo Ramen! Roberta's Pizza!). I find it well worth the trek.
Sweetgreen
55 Street
Yes, we all know it, but you can't get a better salad in Midtown.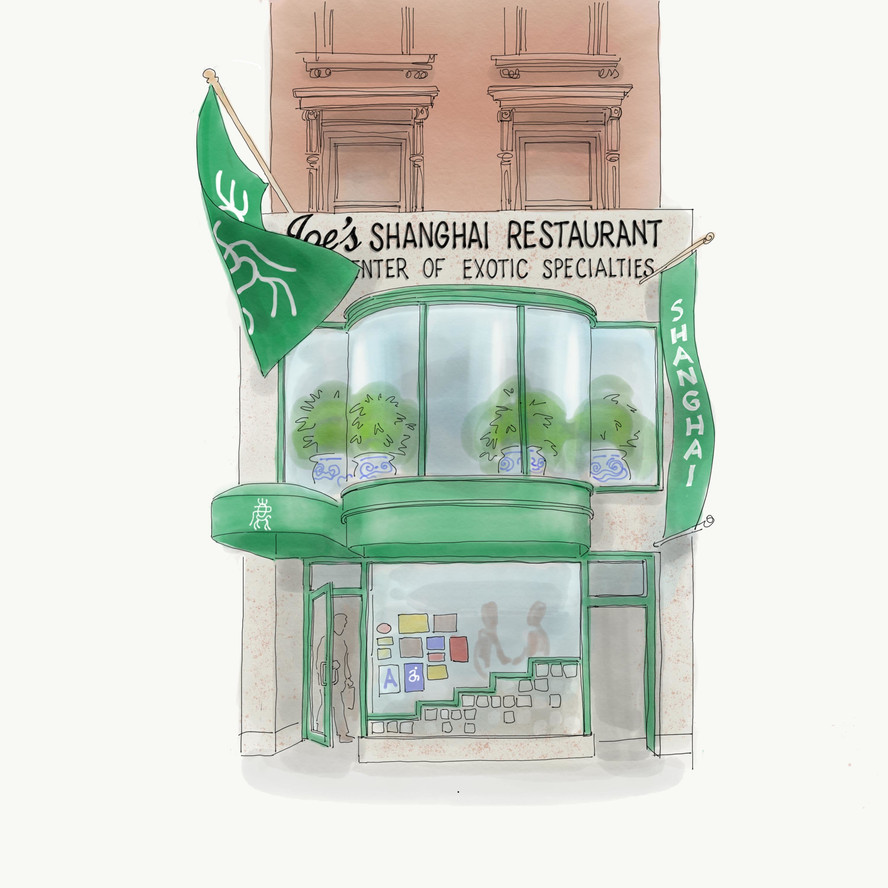 Restaurants (sit down, eat up)
Katsuhama
55 Street
Japanese comfort food with great lunch specials. Gets crowded, so best to get there early. There's another location on 47th Street.
Joe's Shanghai
56 Street
Soup dumplings! Classic American-Chinese food done well! You'll be hungry again in exactly one hour!
Wondee Siam
Ninth Avenue and 52 Street
Ok, this too is a bit far, but it's some damn fine Thai food and worth a wander. This area has tons of good Thai.
Menkui-Tei
56 Street
Maybe I'm obsessed with noodles? This place is amazing, but the wait can be very long.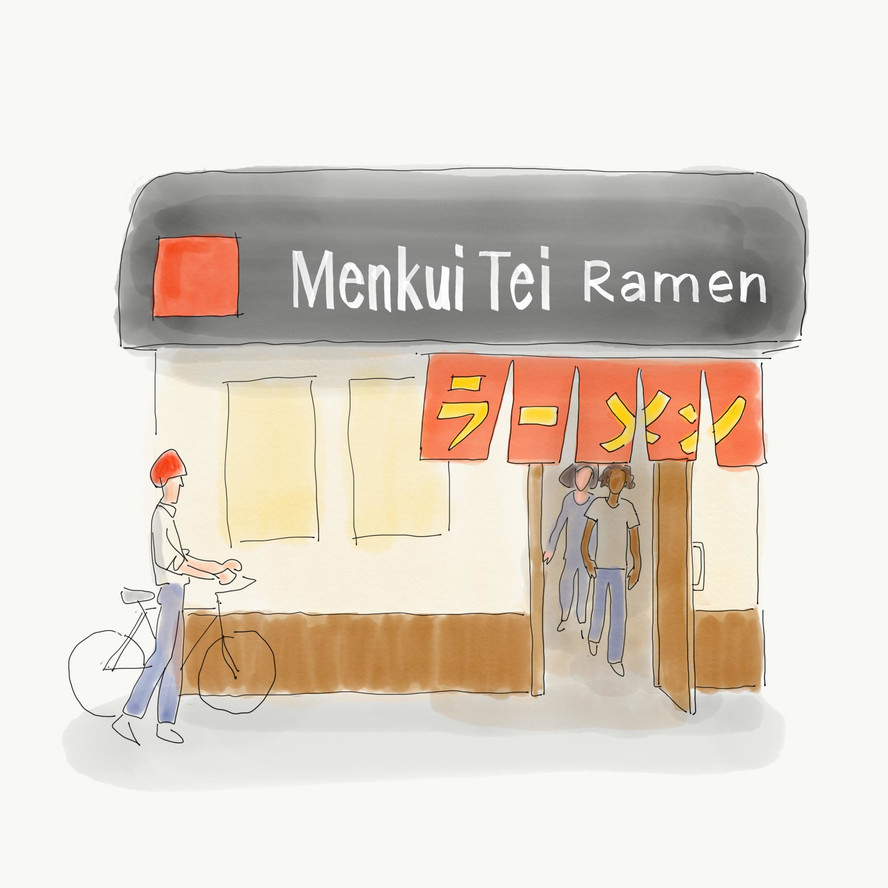 Lastly, say it's a lovely day outside. Do you bring the above goodies back to your sad desk and eat like a sad, pale animal in the blue glow of your monitor? NO! You eat in one of the abundance of lovely outdoor areas available to you.
Paley Park
It's right near MoMA. The OG pocket park.
The giant, lovely plaza in front of the Seagram Building.
An absolute Mies-terpiece.
Central Park
It's only six blocks away!
Peter Detmold Park
What's that? You want to go really far afield? You want to find a bizarre little park no one you know of has ever been to? You don't mind a brisk 20-minute walk all the way to the East River? Please meet my dear, weird friend Peter Detmold Park.