Video Spaces: Eight Installations
The Museum of Modern Art, New York
June 22-September 12, 1995
---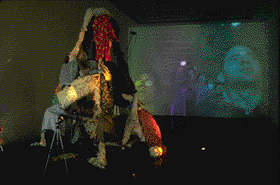 Tony Oursler
System for Dramatic Feedback. 1994









Ten-channel video/sound installation with nine small video projectors that animate a group of rag dolls, and one wall projection. Produced by Portikus, Frankfurt-am-Main. Collection of the artist. Photo: Katrin Schilling, courtesy of Metro Pictures.



---


"System for Dramatic Feedback incorporates projected video images and sculptural elements to create a total environment for the viewer to enter.

"The subject is popular media, as signified by television/cinema and its relationship to various kinds of psychological/social disorders. The effects of the depiction of violence and sex have been debated and studied in the United States; although no definite conclusions have been reached, some correlations have been drawn to the increase in violent crime. In 1975, the psychiatrist Bozzuto noted four new cases of demonic possession, each case developing within days of viewing the film The Exorcist. He calls these episodes 'cinematic neuroses,' while others suggest 'hysterical psychoses.'

". . . the division between media and real world has dissolved on other levels as well. For example, media has a mirror effect in the creation of self-image, body types, and the manufacture of desire. Also, psychologically one may view media as an evolutionary facilitator of the fractured self. These examples suggest a much more complicated relationship than simple cause and effect if one considers the (viewing) habits of Americans as a sort of governor of media content.

"This installation is a model in which the viewer is invited to continue the above discourse. It can be seen as a feedback system of three thematic elements; the individual, social interaction, and pop media. As with all such systems, the information fed into it continuously cycles through, intensifying and becoming more refined and distorted. The space is divided into three corresponding sculptural elements: Empathy, Mutation, and Audience."--Tony Oursler


---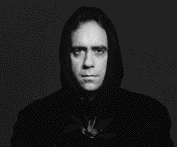 Tony Oursler has developed an original style of surrealistic video narrative. His work has been widely shown abroad, with recent one-person shows in Geneva, Frankfurt-am-Main, Strasbourg, London, and Salzburg. Photo: Brad Wilson.
---
Return to Video Spaces Home Page
[ Barry/Miskell ] [ Douglas ] [ Furuhashi ] [ Hill ]
[ Marker ] [ Odenbach ] [ Oursler ] [ Viola ]
[ London, Introduction ] [ Delany, "High Involvement" ]


Copyright

1995 The Museum of Modern Art, New York