Video Spaces: Eight Installations
The Museum of Modern Art, New York
June 22-September 12, 1995
---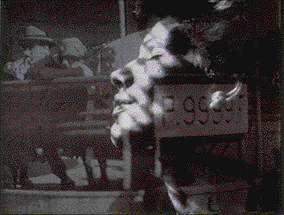 Chris Marker
Silent Movie. 1994-95













Computer-controlled, five-channel video/sound installation with five 25-inch monitors stacked on metal shelving and steadied with guy wires. Computer-controlled images are accompanied by a separate sound system and photographs. Commissioned by the Wexner Center for the Arts, The Ohio State University, as part of the Artist Residency Award Program. Collection of the artist. Photo: Richard K. Loesch.



---


Silent Movie is a soaring tower of five oversize monitors stacked one on top of the other. The black-and-white images on the monumental screens appear to have been taken from the silent-movie era--or are they the artist's reverie about the past? However nostalgically bound to the "golden age" of silent film, Marker has not abandoned the present. Rather, he brings the visual effects of the silent film--dissolves, irises, and subtitles--up-to-date by juxtaposing his computer-controlled images on multiple screens.

"Silent Movie. To give an installation the name of something that never existed is probably less innocent than the average cat may infer. There was never anything like silent cinema, except at the very beginning, or in film libraries, or when the pianist had caught a bad flu. There was at least a pianist, and soon an orchestra, next the Wurlitzer, and what contraptions did they use, in the day of my childhood, to play regularly the same tunes to accompany the same film? I'm probably one of the last earthlings--the 'last,' says the cat--to remember what themes came with what films: 'A Midsummer Night's Dream' on Wings (the dogfights), Liszt's 'The Preludes' on Ben Hur. A touch of humour noir here, to think that the saga of the young hebrew prince was adorned by Hitler's favorite music, which in turn explains why you hear it more often than Wagner on the German war newsreels--but I get carried away. . . ."--Chris Marker


---
Chris Marker has creatively reworked his life as if he were editing one of his films. Blending fact and fiction, French-born Marker plays with multiple personas and memory, creating such classic experimental films as The Last Bolshevik (1993). Today, he concentrates exclusively on video and computer-controlled imagery.
---
Return to Video Spaces Home Page
[ Barry/Miskell ] [ Douglas ] [ Furuhashi ] [ Hill ]
[ Marker ] [ Odenbach ] [ Oursler ] [ Viola ]
[London, Introduction ] [ Delany, "High Involvement"]


Copyright

1995 by The Museum of Modern Art, New York