Video Spaces: Eight Installations
The Museum of Modern Art, New York
June 22-September 12, 1995
---
Stan Douglas
Evening. 1994







Three-channel video/sound installation with three projectors. Projection cycle: 20 mins. Edition of two. Produced by the Renaissance Society at the University of Chicago. Courtesy of the artist and David Zwirner Gallery, New York. Photo: Courtesy of the artist and David Zwirner Gallery.



---


"In the late 1960s, there was a major paradigm shift in U.S. television journalism. There were, to be sure, many technical elaborations (the portable video recorder, live remote broadcasts, and the transition to all-color regional broadcasting), but equally significant changes to news stagecraft were implemented when that curious synthesis of journalism and entertainment called 'Happy Talk News' was introduced. Happy Talk: No matter how bad the news is, present it with a happy face. This is what the format suggests on the most simplistic level, but it also meant the inclusion of 'human interest stories,' banter between coanchors, and new techniques of vocal delivery (narcotic rhythms and peculiar descending inflections) that were a radical departure from the bone-dry styles of recitation passed on by radio announcers. So, just as television news had the technical means to present social life in the United States with greater immediacy, it became more removed from that realm and increasingly obsessed with its own internal logic."

"In Evening I have reconstructed, based on archival newspaper reports and television footage, two representative news days--1 January 1969 and 1 January 1970 (dates that roughly define the period in which Happy Talk was adopted by U.S. broadcasters). When the work is installed, three adjacent 3-meter screens simultaneously present the differing approaches to the news peculiar to three fictional Chicago-area network-affiliated stations: "WAMQ" (which maintains a conventional paternalistic tone), "WBMB" (in transition from serious reportage to Happy News), and "WCLS" (in the process of perfecting its Happy rhetoric). The sound system is configured so that, in certain areas, viewers may hear the polyphony of all three stations broadcasting at once, or, when in front of a particular screen, a single, corresponding soundtrack."--Stan Douglas



---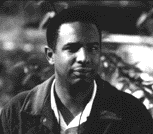 Stan Douglas lives in Vancouver, British Columbia. His photographic and video installation work was recently exhibited at the Whitney Biennial, the Whitney Museum of American Art, New York; the Institute of Contemporary Art, London; and the Museum of Modern Art, San Francisco. Photo: Jan-Peter Boning, courtesy of David Zwirner Gallery.
---
Return to Video Spaces Home Page
[ Barry/Miskell ] [ Douglas ] [ Furuhashi ] [ Hill ]
[ Marker ] [ Odenbach ] [ Oursler ] [ Viola ]
[London, Introduction ] [ Delany, "High Involvement"]

Copyright

1995 by The Museum of Modern Art, New York