Video Spaces: Eight Installations
The Museum of Modern Art, New York
June 22-September 12, 1995
---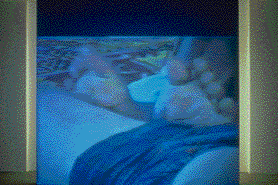 Marcel Odenbach
Eine Faust in der Tasche Machen (Make a Fist in the Pocket). 1994







Eight-channel video/sound installation with seven 19-inch monitors showing 3-minute programs; a projection of a 7-minute program; and wall text. Produced by the Museo Nacional Centro de Arte Reina Sofía, Madrid. Collection of the artist. Photo: Javier Campano, courtesy of the Museo Nacional Centro de Arte Reina Sofía.



---


"Make a fist in the pocket" is a German aphorism for hiding one's rage--in this instance, a reference to the disorder behind a calm public face.

Odenbach is ambivalent about his cultural history. He feels comfortable with the idealism and clear social objectives of the 1960s, a period in which the inhumanity of Hitler's Germany seemed to be a closed chapter in the country's history. In light of the recent unsettling events in Germany, however, the specter of the past has acquired an oppressive presence. The current revanchism has shocked many segments of the society, and left them uncertain how to react.

On the wall at the entrance to the installation is a quote from Ingeborg Bachman, an Austrian poet and activist who was influential in the 1960s. In bold letters the text reads: "I am writing with my burnt hand about the nature of fire." In this context, fire becomes emblematic of the organized violence in German history. That history and the artist's search for his place in it are Odenbach's subject matter.



---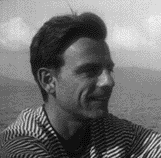 Marcel Odenbach has been using video to probe the cultural identity of his native Germany for the past fifteen years. His multimedia works have most recently been exhibited in Helsinki, Bonn, Dresden, and Madrid. Photo: Mike Sale, courtesy of the artist.
---
Return to Video Spaces Home Page
[ Barry/Miskell ] [ Douglas ] [ Furuhashi ] [ Hill ]
[ Marker ] [ Odenbach ] [ Oursler ] [ Viola ]
[London, Introduction ] [ Delany, "High Involvement"]


Copyright

1995 by The Museum of Modern Art, New York