Video Spaces: Eight Installations
The Museum of Modern Art, New York
June 22-September 12, 1995
---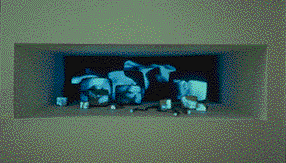 Gary Hill
Inasmuch as It Is Always Already Taking Place. 1990







Sixteen-channel video/sound installation with sixteen modified monitors recessed in a wall. Edition of three. Coproduced by The Museum of Modern Art and the artist. Courtesy of the artist and Donald Young Gallery, Seattle. Photo: Alison Rossiter, courtesy of Donald Young Gallery.



---


The sixteen stripped-down monitors in Hill's Inasmuch . . ., which range in size from the eyepiece of a camera to the dimensions of an adult rib cage, are set on a shelf recessed five feet into the wall, slightly below eye level. The size of each monitor corresponds to the size of the particular section of the body recorded on the video loop: a soft belly that rises and falls with each breath, a quadrant of a face with a peering eye.

The arrangement of the monitors does not follow the logical organization of a human skeleton. Representations of Hill's ear and arched foot lie side by side; tucked modestly behind them is an image of his groin. On a torso-size screen, smooth, taut skin stretches over the ridges of bone that shape the human back. The image fills the frame, and the monitor, given its equivalent size, is perceived as part of the body: an enclosure, a vessel. Monitor and image exist as a unified object, as representation, as a living thing.

The long, nervelike wires attached to each monitor are bundled together like spinal chords and snaked along the shelf, to disappear from view at the back of the recess. Although it unites the system of monitors, this electrical network emphasizes that the body parts are presented as extremities, without a unifying torso. The hidden core to which the components of the body are attached serves as a metaphor for a human being's invisible, existential center: the soul.



---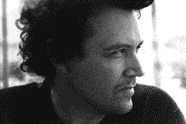 West Coast artist Gary Hill began working in video in the early 1970s. One-person exhibitions of his video environments have recently been held at the Solomon R. Guggenheim Museum, New York; the Hirshhorn Museum and Sculpture Garden, Washington, D.C.; the Long Beach Museum of Art; and the Basel Kunsthalle. Photo: Marine Hugonnier, courtesy of Donald Young Gallery.
---
Return to Video Spaces Home Page
[ Barry/Miskell ] [ Douglas ] [ Furuhashi ] [ Hill ]
[ Marker ] [ Odenbach ] [ Oursler ] [ Viola ]
[London, Introduction ] [ Delany, "High Involvement"]


Copyright

1995 by The Museum of Modern Art, New York