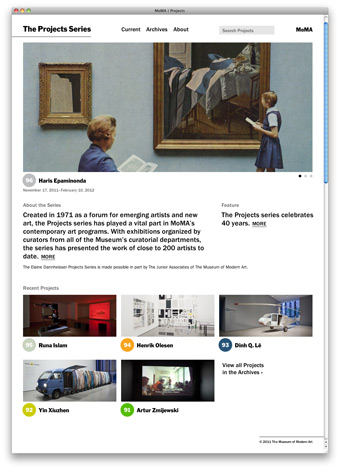 Coinciding with the 40th anniversary of MoMA's groundbreaking Projects series, we've redesigned the Projects website, including a vast expansion of the archives. As curator Kathy Halbreich states in her essay about the series, "Projects has often expanded our understanding of what art could be made of and what it could mean, demanding that we think anew about our own place in the world." I'll skip the history of the series since the new site features Kathy's piece—along with writings by artist Keith Sonnier and art historian Robert Storr—which tells the story of Projects with the eloquence and authority that the subject deserves. Please be sure to give them a read.
The original Projects website was launched in 2001. Although it was cutting edge in its day, there were a few major issues that pointed to the need for a new home. The first was the changing nature of content. The old site primarily repurposed the text and images from the now discontinued print brochures that accompanied each installation. Today we create a huge amount of digital content (video, audio, slideshows, etc.) that did not fit naturally within the design of the previous site.
We also wanted to significantly expand the archives, but doing so without a content management system in place would have been a monumental endeavor; each and every new page would have to be built by hand. Not surprisingly, we had trouble finding volunteers for the task.
Those of you who visited Projects over the past several years may have experienced the incredible shrinking site. Although it appeared that we were slowly whittling it down, the real cause was the continual magnification of monitor resolution and size. Projects, as well as many websites from that era, was designed to inhabit the standard resolution of the day: 800 x 600 pixels. As monitor makers packed more and more pixels into their products, sites that once fit snugly began to take up increasingly smaller portions of screens. (Most of our visitors now use resolutions well upwards of 1024 x 768.) Of course, a smaller footprint is not in itself a problem. It just means that the content needs to fit in slim surroundings, and smaller confines rarely enhance online art viewing.
The last major reason for reworking Projects was simply to refresh its look and feel. The original incarnation was the first of many beautiful and engaging sites designed for us by Anh Tuan Pham of For Office Use Only. It was stunning when it launched, but it employed many design approaches from that time—and a lot has changed since. While we very rarely tinker with the vast majority of our exhibition websites after launch, we felt a redesign was warranted given the continually changing nature of the series. As Projects evolves, so must the site that it inhabits.
So what did we do this time around? We now have a fast and efficient system for managing the vast static and multimedia content. Dan Phiffer, our Media Technology Developer, wrote a custom theme for WordPress, and the resulting content management system is such a breeze to use that we were able to port over the original site's content as well as installation images for over 100 previously unrepresented Projects. (A huge thanks goes to our fall intern, Genevieve Hoffman, for helping with this!) The site now fits comfortably in contemporary monitors and mobile devices, with imagery viewable at a healthy size. Finally, the new design that dresses it all is—we hope—elegant, engaging, and easy to use.
I like to think that the sites we build are timeless. This ideal is, of course, wishful thinking. Everything we do reflects in some small or large ways the day's design currents and the state of technology. Projects will continue mutate and grow, the technology we use to share the series with the world will change, and at some point in the future we will undoubtedly have to do this again.