I've been thinking about how the Fourth of July is as much a monument to summertime culture as to the ideals of equality, and what a disappointment it would be if Independence Day didn't happen in the summer. Life, liberty, and the pursuit of happiness seem so much more inalienable when the days are long, the grass is green, the pool is open, and we're cooking outside. This naturally led me to thinking about the Lawn Chef, Raymond Loewy's portable, foldable grill from the early 1950s.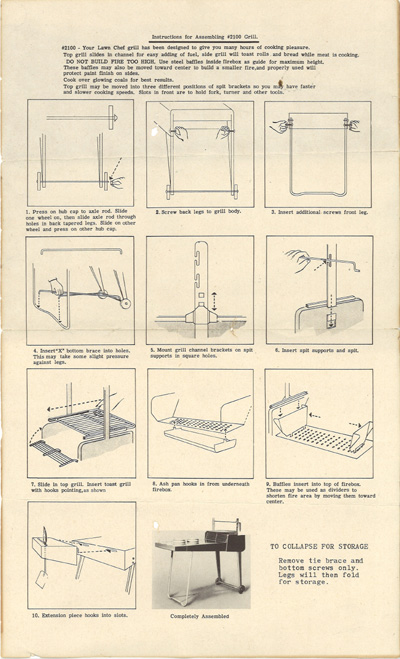 The New York Times described the Lawn Chef as "a sleek table-height model styled by Raymond Loewy, famous industrial designer" in its May 25, 1950, article on the new plenitude of outdoor grills. The Times continued, "In the Lawn Chef a trough-type fire box protected by an aluminum hood is set at one end of a table on wheels. There's an eighty-four-inch grill directly over the flame and smaller one on the side for toasting buns. An adjustable spit for barbecuing is included in the arrangement. At the opposite end from the fire box are slots for accessory tools, and set in two holes in the surface; enamel pots for salads, relishes and other foods that don't have to be warmed.  The lawn Chef is at Gimbels. The Epicure mart, Greenwich, Conn. expects to have it within a week."
We know Raymond Loewy well for the Lucky Strike package, the Shell logo, the Greyhound bus, the Studebaker, the Coca-Cola bottle, turning Esso into Exxon, and the US Postal Service logo (to name just a few), and not so much as a designer of the backyard grill. But it makes sense; there's a certain poetic balance given the cultural pervasiveness of Loewy's design work and the ubiquity of the American backyard grill—an essential tool in the celebration of our independence.
Also cause for considering the Lawn Chef while celebrating the Fourth is the aptness of Loewy's personal American dream story: he arrived in New York shortly after World War I with only $50 to his name, and worked his way up from window designer to world-renowned industrial designer.
The Lawn Chef is on view in Shaping Modernity: Design 1880–1980 on the third floor, in MoMA's Architecture and Design galleries. It really is a beauty, and was obviously a very good deal in its day.