Five for Friday, written by a variety of MoMA staff members, is our attempt to spotlight some of the compelling, charming, and downright curious works in the Museum's rich collection.
Memorial Day weekend marks the unofficial start of the summer season, and fiiiiiinally the weather around here seems to be cooperating. It also marks the resurgence of my recurring fantasy of uprooting my cube (yes, we work in white cubes, too) and dragging it out to The Abby Aldrich Rockefeller Sculpture Garden, where I'd be happy to work among the gurgling fountains, rustling trees, and beautiful sculptures. I'd be productive, I swear! [Boss reads blog post, rolls eyes.]
All kidding aside, there's simply no nicer place to spend a few hours on a beautiful day. Well, no nicer place in Midtown, anyway. And this is the time of year the Sculpture Garden really comes to life—every day now, as I cut through the garden on totally necessary trips to the Education and Research Building, I can see visitors sunning themselves on chairs, looking at the new summer sculpture installation, and enjoying some gelato or iced coffee at the Garden Bar. So in honor of what the garden's designer, Philip Johnson, called "a sort of outdoor room" and what I call "my lunch break," here are four notable works in the Sculpture Garden's history, and one new sculpture acquisition that debuted there just last month!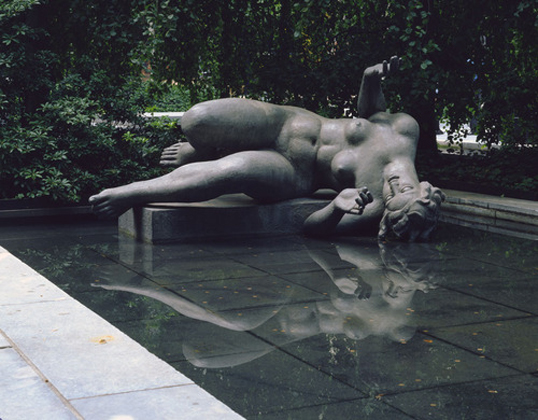 1. Aristide Maillol. The River. Begun 1938–39; completed 1943 (cast 1948)
Maillol's twisting, larger-than-life female figure is, to my mind, the very essence of the Sculpture Garden. She was included in the inaugural installation of Philip Johnson's redesigned garden in 1953, and as far as I can remember, she has been there, dipping her hair in the water, since the Museum (and the Sculpture Garden) reopened in 2004. Perhaps her nudity and proximity to the water were what inspired Yayoi Kusama, in a 1969 Happening, to take it all off and indulge in an impromptu dip. (Word to the wise: Don't do it.)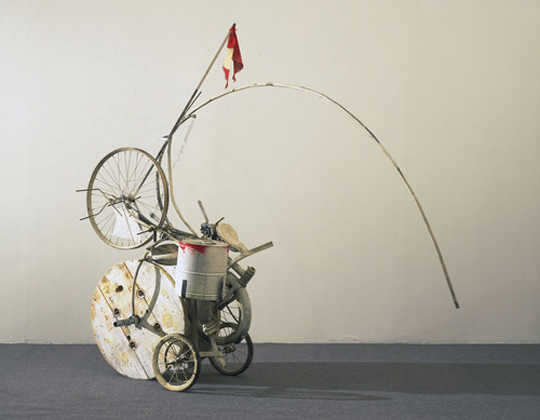 2. Jean Tinguely. Fragment from Homage to New York. 1960
This is one fragment of a "self-constructing and self-destroying work of art" that Tinguely set in motion on March 18, 1960, before an audience in the Sculpture Garden. In the work's brief but dramatic life, a meteorological trial balloon inflated and burst, colored smoke discharged, paintings were made and destroyed, and bottles crashed to the ground, all accompanied by a cacophony of piano music, metal drums, a radio broadcast, and a recording of the artist's voice. Then the fire department showed up.



3. Rafael Ferrer. Fifty Cakes of Ice (detail). 1970
Ferrer's eight-ton ice sculpture MoMA Ice Piece was installed in the Sculpture Garden in 1970 for the opening of the landmark Conceptual art exhibition Information. It was July, so this one was short-lived, too.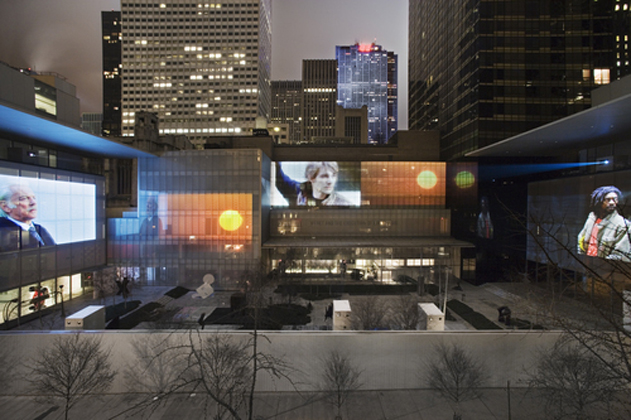 4. Doug Aitken. sleepwalkers. 2007
In 2007 Aitken brought this incredible, expansive work of site-specific cinema to the Sculpture Garden. To visitors, it meant seeing the nocturnal journeys of five city inhabitants—a bicycle messenger, an electrician, a postal worker, a businessman, and an office worker—play out, enigmatically, in large scale on the walls of the Museum. To MoMA staff with offices facing the Sculpture Garden, it meant lights off and shades drawn by 5:30 p.m. each night, no exceptions. Not a bad perk!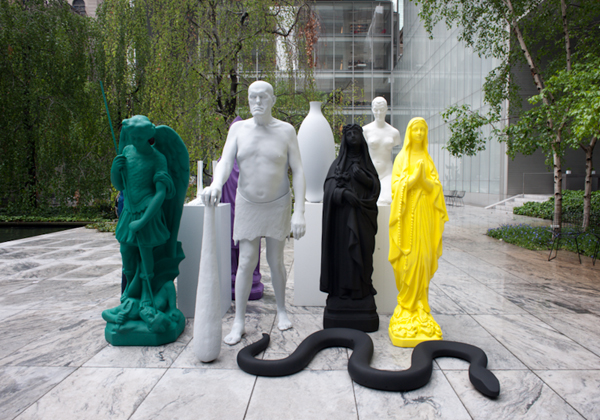 5. Katharina Fritsch. Figurengruppe/Group of Figures. 2006–08 (fabricated 2010–11). Bronze, copper, and stainless steel, lacquered. Gift of Maja Oeri and Hans Bodenmann (Laurenz Foundation). © 2011 Katharina Fritsch. Photo: Martin Seck
Making its debut at MoMA in the Sculpture Garden this summer is this group of nine life-size figures by German artist Katharina Fritsch. The boldly colored figures include St. Michael, a Madonna, a loin-clothed giant, and a snake. It's only been on view for about two weeks, but my completely unscientific studies show that striking a pious pose next to the Madonna is among the most popular photo ops. Haven't noticed anyone planking next to the snake yet, but time will tell….

Enjoy the long weekend, everyone—see you in the Sculpture Garden!