Five for Friday, written by a variety of MoMA staff members, is our attempt to spotlight some of the compelling, charming, and downright curious works in the Museum's rich collection.
The works have been selected. Handlers contracted. Opening parties and after-parties and after-after-parties arranged. It's almost time for the cultural glitterati to come together and salute each other's art (and, just as important, artful outfits). Yes, the Armory Show is nearly upon us!
Okay, so there are no gold statues, and no Angelina Jolie, but the Armory Show's still a pretty big deal around these parts. New York's foremost art fair has been held annually since 1999, but it has its roots in a show that happened almost a century ago, the Armory Show of 1913. If you took any sort of a modern art class in college, you know all about it: the show that alternately scandalized and sparked imaginations, introducing Americans to some of the most important art and artists of the modern period. (Physics and econ majors, don't fret: the University of Virginia has a great site with a virtual tour.) Since so many of these works are now widely acclaimed as masterpieces, it's hard to imagine how revolutionary this art looked at the time (or how reviled; Teddy Roosevelt reportedly declared, "That's not art!"). But they're still pretty wonderful to look at. So here, for a rainy Friday, is a look at five works in MoMA's collection that appeared in the 1913 show (the actual works, or versions thereof).

1. Henri Matisse. The Red Studio. 1911
"Where I got the color red—to be sure, I just don't know," Matisse once remarked. Matisse had 12 works in the original Armory Show, and it's clear the world wasn't quiiiiite ready for some of them—when the exhibition traveled to Boston and Chicago following its New York run, students burned effigies of the artist's Blue Nude: Memory of Biskra and Le Luxe II. Aw, Matisse! Don't worry, this story turns out fine for you in the end.

2. Henri de Toulouse-Lautrec. Divan Japonais. 1893
Before it was a poster in college dorms across the country, Divan Japonais was…okay, it was a poster. Édouard Fournier, owner of the titular Parisian cabaret, enlisted Toulouse-Lautrec to create an advertisement for the opening of his nightclub; the artist delivered this stylish, Japanese-inspired composition, with a nice shout-out to Fournier in the lower-left corner.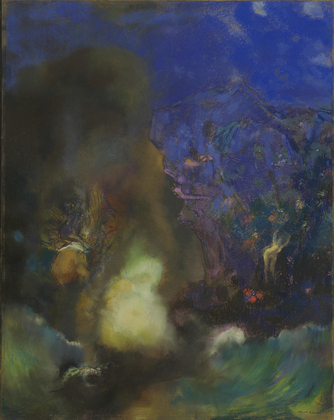 3. Odilon Redon. Roger and Angelica. c. 1910
Redon created this dreamy pastel late in his career, when he departed from his delightfully oddball noirs and embraced lush and expressive color. Though the composition is influenced by 19th-century Romanticism, it draws on decidedly older subject matter—specifically, a scene from the 16th-century romance Orlando Furioso, in which the knight Roger appears on his fiery steed to save the maiden Angelica. Rawr!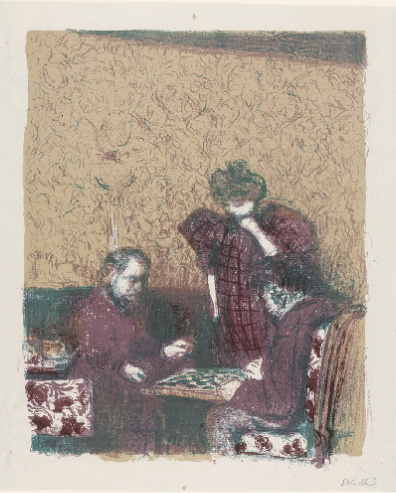 4. Édouard Vuillard. The Game of Checkers, from Landscapes and Interiors. 1899. One from a portfolio of 12 lithographs. MoMA. Gift of Abby Aldrich Rockefeller. © 2011 Artists Rights Society (ARS), New York/ADAGP, Paris
Like many artists of the Nabi group—and many of the artists featured at the 1913 Armory Show—Vuillard was inspired by flat color and domestic focus of Japanese ukiyo-e prints.


5. Edvard Munch. Madonna. 1895–1902
I guess it's not too hard to imagine what about this composition might have rattled the art world establishment—Munch's Madonna, lost in reverie, is surrounded by a frame featuring distinctly sperm-like squiggles and a rather anemic-looking fetus. This work was originally conceived (poor word choice, I know) as part of the artist's Frieze of Life series of paintings, which focused on the elemental themes of love, sex, death, melancholy, and fear.

Inspired yet? Get thee over to Piers 92 and 94 starting March 3 to discover the Matisse or Munch of 2090!