"I like boring things." – Andy Warhol
As we prepared for the Andy Warhol: Motion Pictures exhibition, we struggled with how to create an online experience for the exhibition. Our colleagues in Graphic Design came up with a simple and elegant idea: a site where people could submit their own "screen tests" in the style of Warhol's iconic works, and view others' submissions. The site is live at MoMA.org/screentests.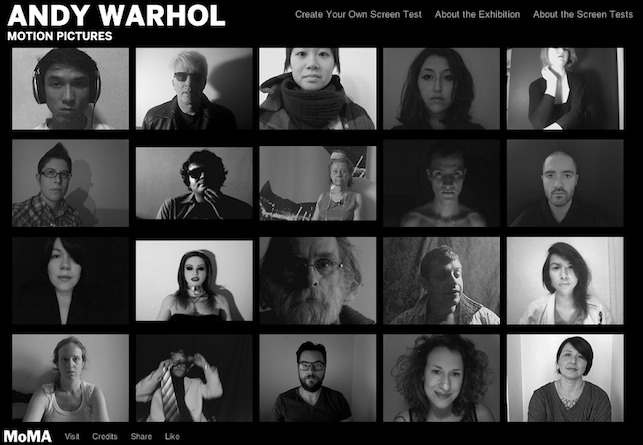 The concept is nothing new, but seems timely given the rise of Chat Roulette, FaceTime, and other video technologies of the past year or two. In fact, technically speaking, it's almost antique at this point.
"It's perfectly boring," one of my colleagues said, partly in jest. In all seriousness, that perfectly describes what makes the original screen tests—and this homage—so compelling in the present day. As our lives have become increasingly distracted and the Internet has become bloated with more input and content, there is something both calming and eerily disturbing about a silent person staring back at you.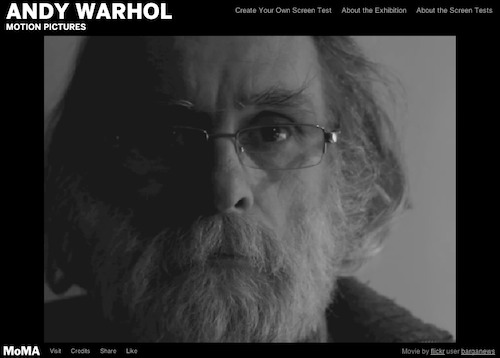 If you're interested in participating, head over to the site and click "Create Your Own Screen Test" (in the upper-right corner) for detailed, easy to follow instructions.
On January 20, MoMA's PopRally will be hosting an event with artist Conrad Ventur, including a viewing of the exhibition and the opportunity for visitors to record their own screen tests. Tickets are available online and you must be 21 or older to attend this event.
And in case you were wondering, the answer to "How many days before a cat was uploaded?" is "Two."