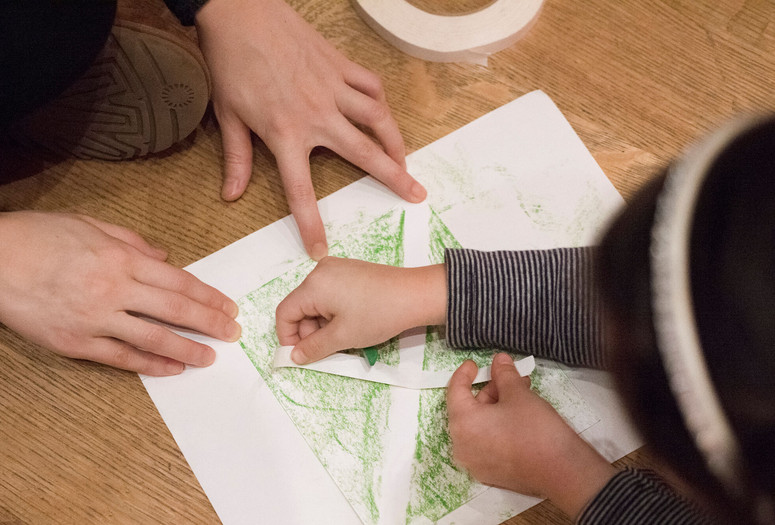 Arte en Familia: ¿Cuál es la historia?
Observa, escucha, y comparte ideas mientras exploras el arte moderno y contemporáneo en un programa bilingüe, creado especialmente para familias de habla hispana. El movimiento, el dibujo, la narración de cuentos y otras actividades dentro de las galerías brindan a todos la oportunidad de participar. Cada mes se introduce un nuevo tema. Para familias con niños de 7 a 10 años.
Participan niños y adultos en todas las actividades del programa. Solo podrán asistir niños de 7 a 10 años y sus acompañantes adultos. Tanto los menores como los adultos tienen que registrarse para participar.
Se proporcionarán tarjetas de metro y snacks al final del programa.
Entradas: El registro se abre en línea el lunes 30 de octubre a las 10:30 a.m. El programa es gratuito. Incluye entrada gratuita al Museo.
¿Preguntas? Contactanos a través de [email protected] o 212-708-9805
Art among Family: What's the Story?
Look, listen, and share ideas while you explore modern and contemporary art in a bilingual program especially for Spanish-speaking families. Movement, drawing, storytelling, and other gallery activities give everyone the chance to participate. A new theme is introduced each month. For families with kids ages seven to 10.
Metrocards and snacks provided after the program.
Kids and adults participate in all program activities. Only kids ages seven to 10 and their adult companions will be permitted to attend. Both children and adults must be registered to participate.
Registration opens online on Monday, October 30, at 10:30 a.m. Registration is free and includes Museum admission.
Questions? Contact [email protected] or 212-708-9805.
Accesibilidad
Durante este programa los participantes se sientan en el piso frente a las obras. Hay banquitos plegables sin respaldo disponibles a base de pedido.

All-gender restrooms are located on Floors 1, 3W, 5, and T1.
Baños sin género y baños familiares están ubicados en los pisos 1, 3W, 5 y T1.


Los dispositivos de asistencia auditiva FM para la amplificación de sonido (auriculares y lazos para el cuello con compatibilidad T-Coil) están disponibles a base de pedido.

La interpretación a lenguaje de señas americano (ASL, por sus siglas en inglés) está disponible para los programas públicos a base de pedido y bcon previa solicitud de dos semanas de anticipación.
Para obtener más información sobre la accesibilidad en el MoMA, visita moma.org/visit/accessibility/. Para preguntas sobre accesibilidad o solicitudes de adaptaciones, envía un correo electrónico a [email protected] o llama al 212-708-9805.
Accessibility
Participants sit on the floor in front of artworks during this program. Folding stools without backs are available for seating upon request.
All-gender and family restrooms are located on Floors 1, 3W, 5, and T1.


FM assistive-listening devices (headsets and neck loops for T-Coil compatibility) are available for sound amplification upon request.

American Sign Language (ASL) interpretation is available for public programs upon request with two weeks advance notice.
For more information on accessibility at MoMA, please visit moma.org/visit/accessibility/. For accessibility questions or accommodation requests, please email [email protected] or call 212-708-9805.


The Adobe Foundation is proud to support equity, learning, and creativity at MoMA.

Family Programs are made possible by the Samuel and Ronnie Heyman Family Endowment Fund.

Major support is provided by the William Randolph Hearst Endowment Fund, Volkswagen of America, the Emily Fisher Landau Educator Fund, the Charles A. Cuomo Education Endowment Fund, and by the Annual Education Fund.