MoMA's commitment
Everyone is welcome at MoMA. We offer a variety of free programs and services to make MoMA accessible to you. Visit Access Programs for more information about public programs and group tours.
For the best availability, book your ticket in advance online. Visitors with disabilities receive a discounted admission of $18. Admission is free for a care partner accompanying a visitor with a disability. Members receive priority access. Visit moma.org/visit/tips for more information.
MoMA is committed to facilitating the accessibility and usability of this website for all people with disabilities. The National Center for Accessible Media at WGBH serves as accessibility consultant in our active and ongoing efforts toward this end. If you have questions or feedback about the accessibility of moma.org, or any particular MoMA Web page, please contact us at [email protected].







Wheelchair access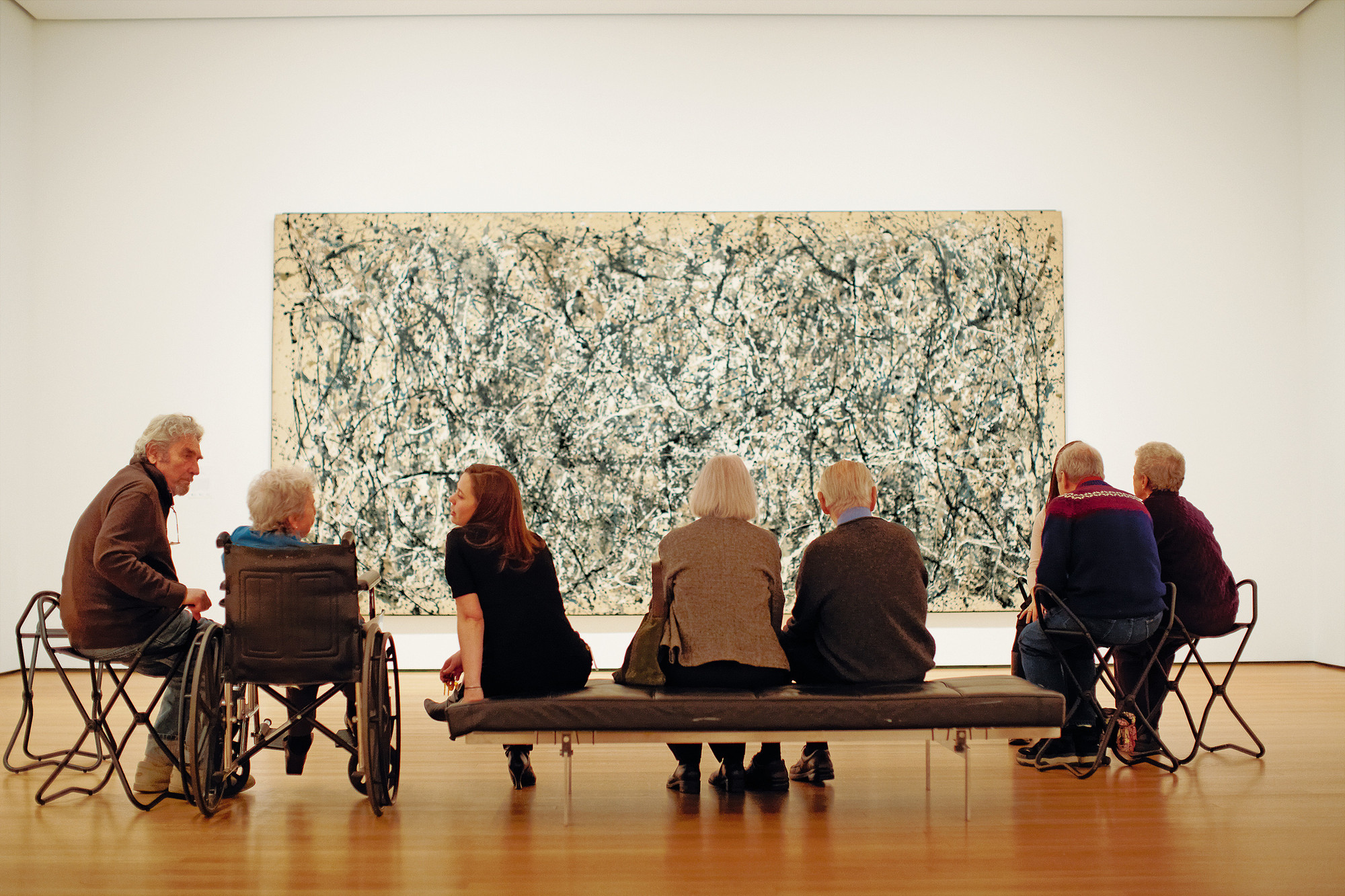 All MoMA galleries, entrances, and facilities are wheelchair accessible. Entrances with power-assist doors are located on 53rd and 54th streets between Fifth and Sixth avenues.
If you or someone in your visiting group has limited mobility, uses a wheelchair, or has difficulty standing still for long periods of time for any reason, you do not have to wait in line. Alert any of the security officers stationed in the lobby or a guest assistant and you will be skipped ahead.
Wheelchairs are available for use free of charge at all Museum entrances on a first-come, first-served basis. For questions or assistance, please approach any MoMA staff member. Portable stools are also available for use free of charge, and can be requested from any MoMA staff member in the main lobby. Motorized wheelchairs are permitted.
All restrooms are wheelchair accessible. Restrooms are located on all floors except the Theater 2 level and the entry level of the Cullman Education and Research Building.
Single-user/family restrooms are located on the entry level of the Museum (adjacent to the Member Checkroom), Theater 1 level, Floor 5, Floor 3, Floor 6, and the Mezzanine level of the Cullman Education and Research Building.
Elevators are located throughout the Museum.
Service animal policy

Guide dogs and other trained service animals are welcome at the Museum. Pets and emotional support animals are not permitted.
Contact us at [email protected] with any questions regarding service animals.
Sensory map
Visitors can use this sensory map to identify sensory-friendly spaces within the Museum. Find spaces that tend to be quieter and less crowded, places to sit, and places with tactile engagement and activities.
Please keep in mind that as the Museum's building and exhibitions change, parts of this map may not always be up to date.
Download the sensory map in English or en español
Social guide
This social guide provides a written description and images of what a visitor may encounter while at the Museum. It connects important details of the Museum setting to the typical social experience. Learn about how to enter the Museum, MoMA staff members who can help with your visit, and things that you can do at the Museum.
This guide may be useful for first-time visitors, families, and visitors with intellectual and developmental disabilities.
Download the social guide in English or en español
Bloomberg Connects app
Discover new and old favorite artworks, get suggestions on where to start, and find your way around the Museum using the free Bloomberg Connects app. Download the app to your mobile device and select MoMA's guide to get started. Browse audio playlists or enter the number on the artwork's label to listen.
In addition to MoMA's website, the Bloomberg Connects app also hosts verbal descriptions of artworks in MoMA's collection, assistive listening technology for artworks with sound, and transcripts of all audio guides.
Scan the code below with your smartphone to download Bloomberg Connects.
QR codes
QR codes are placed throughout the Museum to provide maps, additional information about artworks, verbal descriptions, and assistive listening for sound artworks created to enhance your visit. Here's how to use them:
iOS devices
Open the Camera app from the Home Screen, Control Center, or Lock Screen.
Select the rear facing camera. Hold your device so that the QR code appears in the viewfinder in the Camera app. Your device recognizes the QR code and shows a notification.
Tap the notification to open the link associated with the QR code.
Android devices
Open the camera app.
Select the rear-facing camera in Photo or Camera mode and center the QR code that you want to scan on the screen.
Tap the notification that pops up to open the link.
If no notification appears, follow these instructions to use Google Lens:
Tap the color lens icon in Google Assistant, or open the Google Lens app.
Select the Search mode and center the QR code that you want to scan on the screen.
Tap the notification that pops up to open the link.
MoMA PS1
MoMA PS1 strives to create an accessible environment for all visitors. For accessibility requests or questions, please email [email protected], call the front desk during open hours at (718) 784-2086, or connect with our Visitor Engagement team while you're on site.
Learn more about accessibility at MoMA PS1.
Phone: (212) 408-6347 Fax: (212) 333-1118 Email: [email protected]



The Adobe Foundation is proud to support equity, learning, and creativity at MoMA.
Access and Community Programs are supported by the Stavros Niarchos Foundation (SNF).
Major funding is provided by Volkswagen of America, The Taft Foundation, and by the Werner and Elaine Dannheisser Fund for Older Adults at MoMA in honor of Agnes Gund.
Additional support is provided by the Sarah K. de Coizart Article TENTH Perpetual Charitable Trust, the Allene Reuss Memorial Trust, the J.E. and Z.B. Butler Foundation, the Megara Foundation, The Max and Victoria Dreyfus Foundation, Inc., the Von Seebeck-Share B. Charitable Trust, The Elroy and Terry Krumholz Foundation, and the Annual Education Fund.