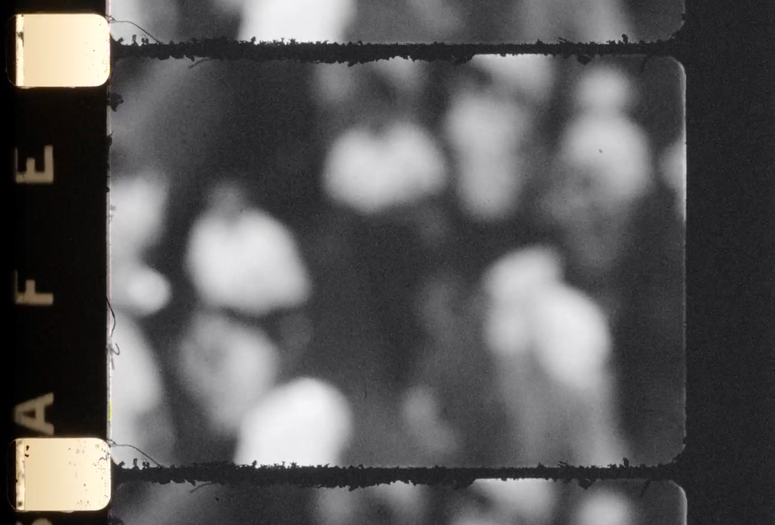 As part of the Fellowship for Artistic Research awarded by the Cisneros Institute in 2022, Sofía Gallisá Muriente worked on the digitization of a collection of films from the Intelligence Division of the Puerto Rico Police that were filmed in Super 8 and 16mm in the 1960s and 1970s. Her interest in this material problematizes the fact that this institution's filmic gaze is one of the few images that survive of an important period of anticolonial militancy in the Caribbean archipelago.
In this conversation, Gallisá Muriente will share the major findings of her research, as well as some of the pending questions that she continues to reflect on. Together with Andrés Jurado and Virginia Colwell, who have collaborated with the artist in the past, they discuss the surveillance cinema produced by intelligence agencies. Jurado, a Colombian filmmaker and artist, has provided support throughout the process based on his practice and diverse experience with archives, raising questions about their use in experimental and expanded cinema. He will share how his projects and collaborations have engaged critically with access, colonization, and the systematic disappearance of archives in conflict contexts. For her part, Colwell, a US artist established in Mexico, has worked on films her father shot as an FBI agent in Puerto Rico using the Bureau's cameras and techniques. Together, they will explore how the state understands and uses the camera, how to read the police use of these technologies as a kind of experimental cinema, and how archives of political persecution and surveillance can double as family albums.
Sofía Gallisá Muriente is an artist whose research-based practice resists colonial erasures and claims the freedom of historical agency, proposing mechanisms for remembering and reimagining. She employs text, images, and archives as mediums and subjects, exploring their poetic and political implications. Gallisá Muriente has been a fellow of the Cisneros Institute at MoMA, Smithsonian Institute, Puerto Rican Arts Initiative, Annenberg Media Lab at USC, and the Flaherty Seminar, and has participated in residencies with the Vieques Historical Archive, Alice Yard, Amant, FAARA, and Fonderie Darling, among others. Her work has been shown recently at Documenta Fifteen, MoMA, the Whitney Museum, Savvy Contemporary, Museo de Arte Contemporáneo de Puerto Rico, and the galleries El Kilómetro and Embajada. From 2014 to 2020, she co-directed the artist-run organization Beta-Local in San Juan. In 2023, she was awarded the Latinx Artist Fellowship.
Virginia Colwell's work examines the space between official and unofficial histories and the poetic ambiguities of truth and fiction in historical narratives. Often, her artworks begin with extensive research, site visits, interviews, and archives. The resulting drawings, sculptures, collages, and videos intricately unfold complex histories that question how we understand the past. Colwell's works have been exhibited at the National Gallery in Rome, the Center for Contemporary Art in Lithuania, the Hirshhorn Museum, and the Centro Cultural Varela during the 12th Havana Biennial. She has been an artist-in-residence with Beta-Local's La Práctica program in Puerto Rico, Kiosko in Bolivia, and Hangar in Barcelona. Colwell has received numerous awards, including the Virginia Museum of Fine Arts Award and a Pollock Krasner Foundation Fellowship. Her work is part of various private and public collections, including the Axa Collection, the Jumex Collection, and the Museo Reina Sofia. From 2015 to 2019 she was a faculty member of the SOMA post-graduate program in Mexico City.
Andrés Jurado is an artist, filmmaker, researcher, and producer. His work explores the intersections of experimental and expanded cinema, archives, counter-archives, contemporary art, propaganda, and politics of memory. He is the co-director, along with Maria Rojas, of the Experimental Film and Expanded Theater Laboratory La Vulcanizadora (Santa Marta - Colombia). His film El Renacer del Carare was awarded a mention at the 31st FIDMarseille and in the Panorama of Colombian Cinema in Paris. His latest short film, Yarokamena, premiered at the 72nd Forum Expanded of the Berlinale and received an honorable mention at DocLisboa. In 2023 he was a jury member at the Sheffield DocFest (UK) and curated the Expanded Documentary section at the Muestra Internacional Documental de Bogotá (MIDBO) from 2017 to 2021. With La Vulcanizadora, he is a co-producer of Hevea Brasiliensis, directed by Susana de Sousa Dias, and he was the producer of Maria Rojas's film Abrir Monte. Currently, he is researching extraterritoriality and anticolonialism at the Center for Theater Studies at the University of Lisbon in Portugal. He was part of the Forensic Architecture Team in the Colombian investigation and exhibition Traces of Disappearance. Additionally, he is working on his debut feature film, Welcome Interplanetary and Sidereal Conquerors.
Admission is free but RSVP is required. Please RSVP to [email protected] with ARCHIVE in the subject line. Space is limited and seating will be offered on a first-come, first-served basis.
Accessibility

The lecture will be in English with CART captioning.

American Sign Language interpretation is available for any public program, with advance notice. Please email [email protected] to request sign language interpretation with two weeks' notice.
La mirada persistente: lidiando con archivos fílmicos de vigilancia estatal
Como parte de la Beca de Investigación Artística otorgada por el Instituto Cisneros en 2022, Sofía Gallisá Muriente trabajó en la digitalización de una colección de películas de la División de Inteligencia de la Policía de Puerto Rico filmadas en Super8 y 16mm en los años 60 y 70. Su interés en este material problematiza el hecho de que la mirada fílmica de esta institución sea de lo poco que sobrevive de una época importante de militancia anticolonial en el archipiélago caribeño.
En este conversatorio, Gallisá Muriente compartirá los hallazgos principales de su proceso de trabajo, así como algunas de las preguntas pendientes sobre las cuales continúa reflexionando. Junto a Andrés Jurado y Virginia Colwell, quienes han sido colaboradores de la artista en el pasado, se abrirá un espacio para reflexionar acerca del cine de vigilancia producido por agencias de inteligencia. Jurado, cineasta y artista colombiano, ha ofrecido acompañamiento durante el proceso a partir de su práctica y diversa experiencia con archivos planteando cuestiones sobre su uso en el cine experimental y expandido. Nos contará cómo sus proyectos y colaboraciones han debatido aspectos cruciales como el acceso, la colonización y la desaparición sistemática del archivo en contextos de conflicto. Por su parte, Colwell, artista estadounidense establecida en México, ha trabajado con películas que filmó su padre como agente del FBI en Puerto Rico usando las cámaras y técnicas del Buró. Juntos intercambiarán perspectivas sobre cómo el Estado entiende y utiliza la cámara, cómo leer el uso policíaco de estas tecnologías como un tipo de cine experimental y cómo los archivos de persecución política y vigilancia pueden también ser álbumes familiares.
Sofía Gallisá Muriente es una artista cuya práctica orientada a la investigación se resiste a las omisiones coloniales y reivindica la libertad de la intervención histórica, proponiendo mecanismos para recordar y reimaginar. Utiliza el texto, la imagen y el archivo como medios y temas, explorando sus repercusiones poéticas y políticas. Sofía ha sido becaria del Instituto Cisneros del MoMA, del Instituto Smithsonian, del Puerto Rican Arts Initiative, del Annenberg Media Lab de la USC y del Flaherty Seminar, y ha participado en residencias con el Archivo Histórico de Vieques, Alice Yard, Amant, FAARA y Fonderie Darling, entre otros. Últimamente ha expuesto obra en Documenta Fifteen, en el MoMA, en el Whitney Museum, en Savvy Contemporary, en el Museo de Arte Contemporáneo de Puerto Rico y en las galerías El Kilómetro y Embajada. Entre 2014 y 2020 co-dirigió en San Juan, Beta-Local un espacio gestionado por artistas. En 2023, fue galardonada con la Latinx Artist Fellowship.
La obra de Virginia Colwell explora el espacio entre los relatos oficiales y los no oficiales, y las ambigüedades poéticas de la verdad y la ficción presentes en los discursos históricos. Por lo general, sus obras comienzan con exhaustivas investigaciones, visitas de campo, entrevistas y trabajo de archivo. Los dibujos, esculturas, collages y vídeos resultantes despliegan al detalle complejas historias que cuestionan nuestra forma de entender el pasado. Colwell ha expuesto sus obras en la Galería Nacional de Roma, el Centro de Arte Contemporáneo de Lituania, el Museo Hirshhorn en Estados Unidos y el Centro Cultural Varela durante la XII Bienal en La Habana. Ha sido artista residente del programa La Práctica de Beta-Local en Puerto Rico, Kiosko en Bolivia y Hangar en Barcelona. Ha recibido numerosos premios, entre los que figuran el del Museo de Bellas Artes de Virginia y una beca de la Fundación Pollock Krasner. Su obra forma parte de varias colecciones privadas y públicas, incluyendo la Colección Axa, la Colección Jumex y la colección del Museo Reina Sofía. Entre 2015 y 2019 fue profesora en el programa de posgrado SOMA en la Ciudad de México.
Andrés Jurado es artista, cineasta, investigador y productor. Su trabajo explora las intersecciones del cine experimental y expandido, los archivos, los contra-archivos, el arte contemporáneo, la propaganda y la política de la memoria. Es codirector, junto con Maria Rojas, del Laboratorio de Cine Experimental y Teatro Expandido La Vulcanizadora (Santa Marta - Colombia). Su película El Renacer del Carare fue premiada con una mención en el 31º FIDMarseille y en el Panorama de Cine Colombiano en París. Su último cortometraje, Yarokamena, se estrenó en el 72º Forum Expanded de la Berlinale y recibió una Mención de Honor en DocLisboa. En 2023, fue jurado en el Sheffield DocFest (Reino Unido) y ha sido curador de la sección Documental Expandido en la Muestra Internacional Documental de Bogotá MIDBO de 2017 a 2021. Con La Vulcanizadora, es co-productor de Hevea Brasiliensis de la directora Susana de Sousa Dias, y fue el productor del filme Abrir Monte de Maria Rojas. Actualmente, investiga sobre extraterritorialidad y anticolonialismo en el Centro de Estudios de Teatro de la Universidad de Lisboa en Portugal. Formó parte del Equipo de Forensic Architecture en la investigación y exposición colombiana Huellas de la Desaparición. Además, se encuentra realizando su primer largometraje, Welcome interplanetary and sidereal conquerors [Bienvenidos conquistadores interplanetarios y del espacio sideral].
La entrada es libre, pero se requiere reservar el cupo. El espacio es limitado y los asientos se ofrecerán en orden de llegada. RSVP a [email protected] con la palabra ARCHIVO en el tema del correo.
Accesibilidad

La conferencia será en inglés con subtítulos CART.

Se puede solicitar interpretación en lenguaje de señas americano para nuestros programas públicos, previo aviso. Por favor envíe un correo a [email protected] con dos semanas de antelación.
The Patricia Phelps de Cisneros Research Institute for the Study of Art from Latin America is a platform dedicated to stimulating, supporting, and disseminating new understandings of Latin American modern and contemporary art in relationship to broader cultural issues within a global context.
The Institute will present a number of events that examine pressing situations facing Latin America today. We are interested in reflecting on Latin America as part of the larger world, and will create links with debates from further afield.
El Instituto de Investigación Patricia Phelps de Cisneros para el estudio del arte de América Latina es una plataforma dedicada a estimular, apoyar y diseminar nuevos acercamientos al arte moderno y contemporáneo de América Latina, en diálogo con problemáticas culturales ampliadas en el contexto global.
El Instituto presenta una serie de eventos que examinan situaciones urgentes que se afrontan en América Latina hoy. Estamos interesados en reflexionar sobre Latinoamérica como parte del mundo global, y en generar vínculos con debates de otras geografías.