Established in 2019, the Artist Research Fellowship supports artists in their experimental approaches to research, and in the production of new ideas and vocabularies related to their objects of study.
Instaurada en 2019, la Beca de Investigación para Artistas apoya a artistas tanto en sus investigaciones de carácter experimental, como en la producción de nuevas ideas y lenguajes vinculados a sus objetos de estudio.
2022 Artist Fellow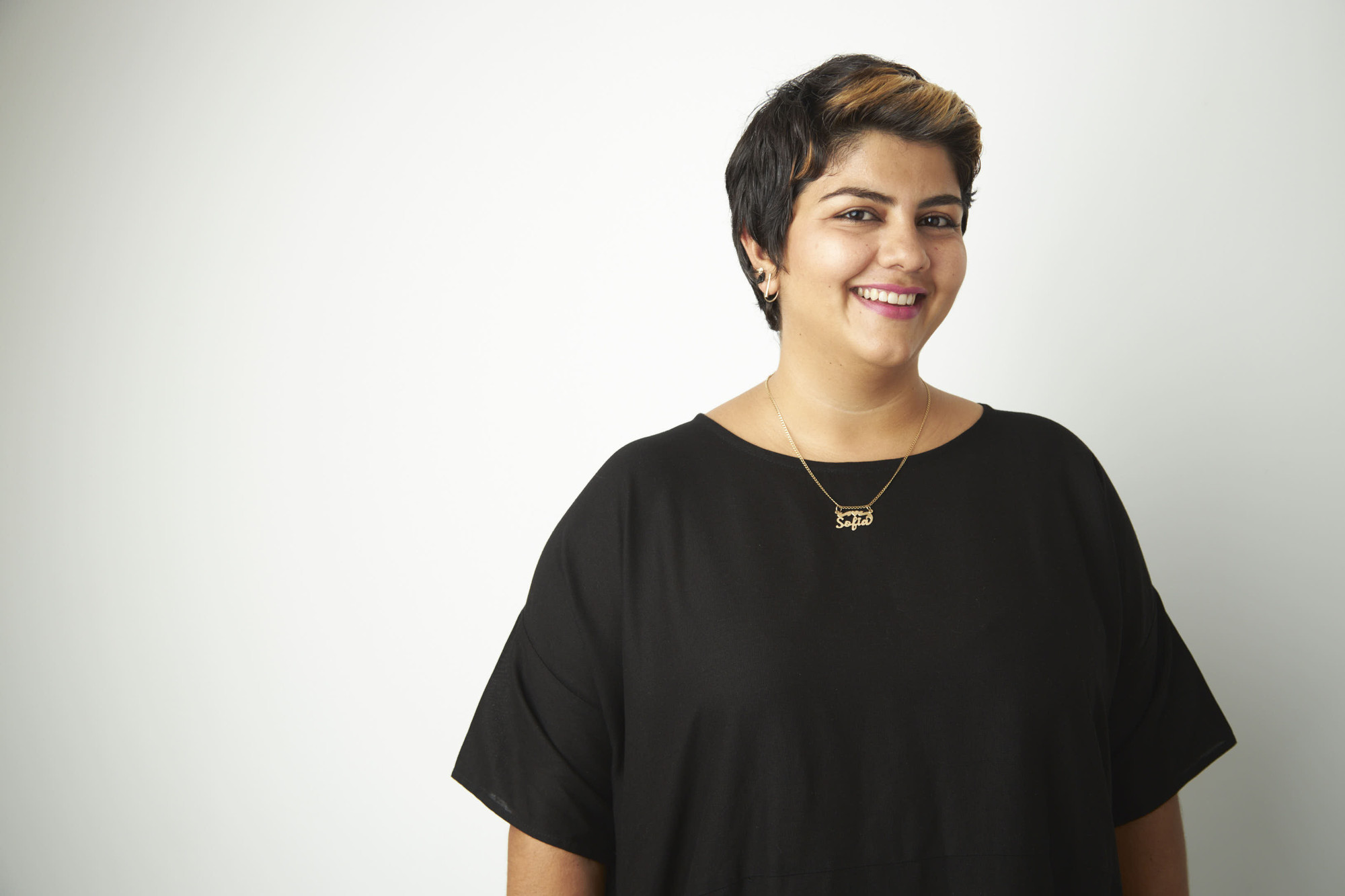 Sofía Gallisá Muriente
The 2022 Artist Research Fellowship was awarded to Sofía Gallisá Muriente. Gallisá Muriente is a Puerto Rican visual artist whose work resists colonial forces of erasure, proposing mechanisms for remembering and reimagining through multiple approaches to documentation and collaboration.
During her fellowship, Gallisá Muriente will focus on the archives of the Puerto Rican Police Intelligence Division, which contains almost 50 rolls of Super 8 and 16mm film, either shot by police officers or seized during raids on activists struggling for the decolonization of Puerto Rico in the 1960s, '70s, and '80s. Gallisá Muriente aims to salvage these films for memory, to confront the police vision from the perspective of the present, and to generate a counternarrative with the help of individuals who might find themselves represented in these reels.
Leer en español
El 2022 la Beca de Investigación para Artistas se otorgó a Sofía Gallisá Muriente. Gallisá Muriente es una artista visual puertorriqueña cuyo trabajo se resiste a las fuerzas colonialistas de borramiento, proponiendo mecanismos de memoria y reimaginación desde diversas aproximaciones a la documentación y la colaboración.
Durante la beca, Gallisá Muriente trabajará en los archivos de la División de inteligencia de la Policía de Puerto Rico, donde se conservan casi cincuenta rollos de película de Súper 8 y 16 mm, filmados por agentes de policía o incautados durante las redadas a los activistas que luchaban por la descolonización de Puerto Rico en los años sesenta, setenta y ochenta. A la artista le interesa rescatar estas películas del olvido para contraponer a la visión policial una perspectiva actual y generar así una contrarelato con la ayuda de las personas que pudieran encontrarse en las imágenes.
2021 Artist Fellow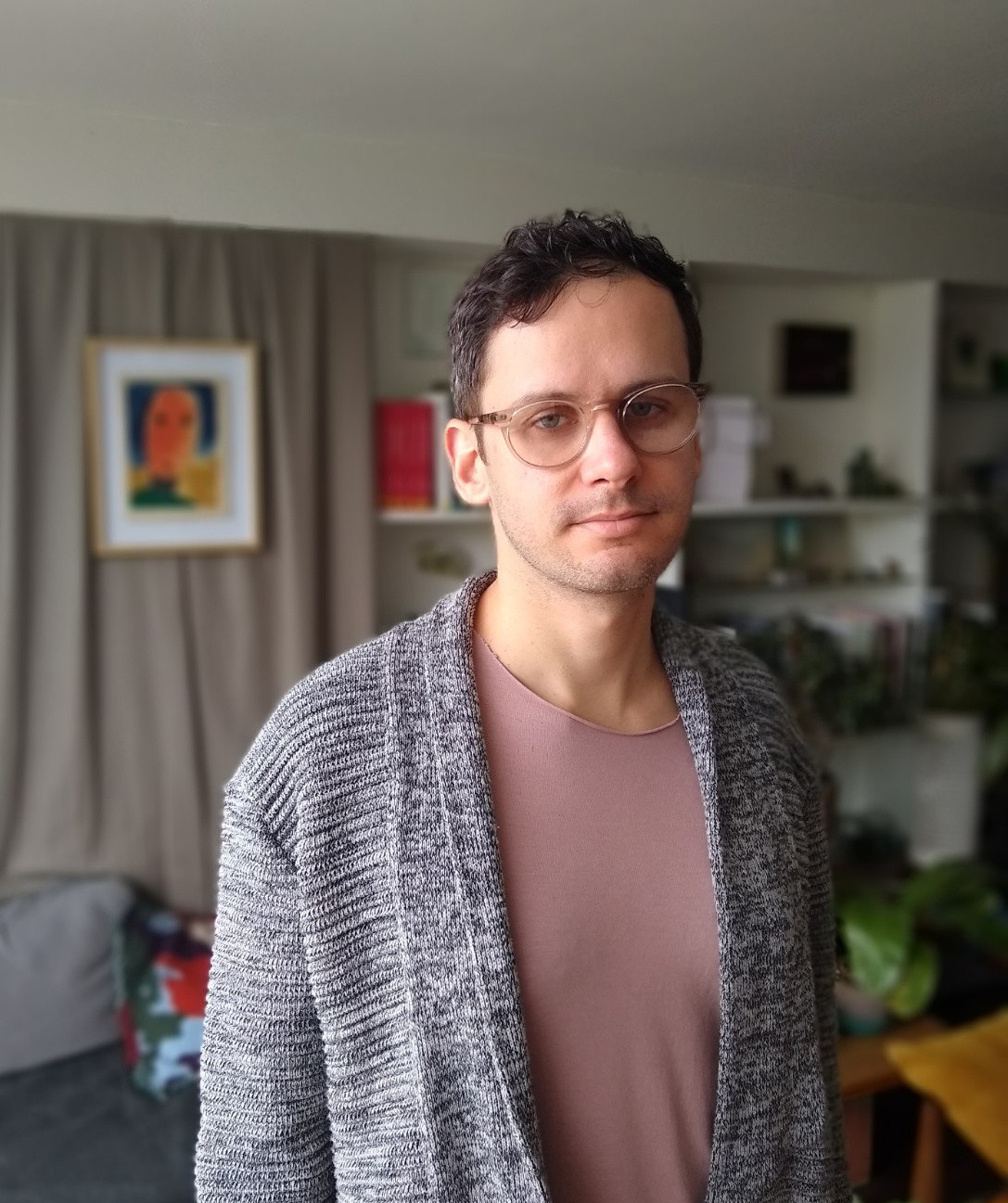 Iosu Aramburu
The 2021 Artist Research Fellowship was awarded to visual artist Iosu Aramburu. Aramburu works with painting, sculpture, and installation, exploring the imagination of a multifaceted modernity and its utopian potentials. His research project revisits early and mid-century modernism in the Andean region, through the creation of an atlas of forgotten images that aims to map the changing sensibilities in the region.
Leer en español
La obra de En 2021 la Beca de Investigación para Artistas fue otorgada al artista visual Iosu Aramburu. La obra de Aramburu incluye pinturas, esculturas e instalaciones que exploran la imaginación de una modernidad multifacética y sus posibilidades utópicas. Su proyecto de investigación repasa el modernismo de principios y mediados del siglo pasado en la región andina, a partir de la construcción de un Atlas de imágenes olvidadas con el objetivo de trazar un mapa de las sensibilidades cambiantes en la región.
Atlas of Andean Modernism
by Iosu Aramburu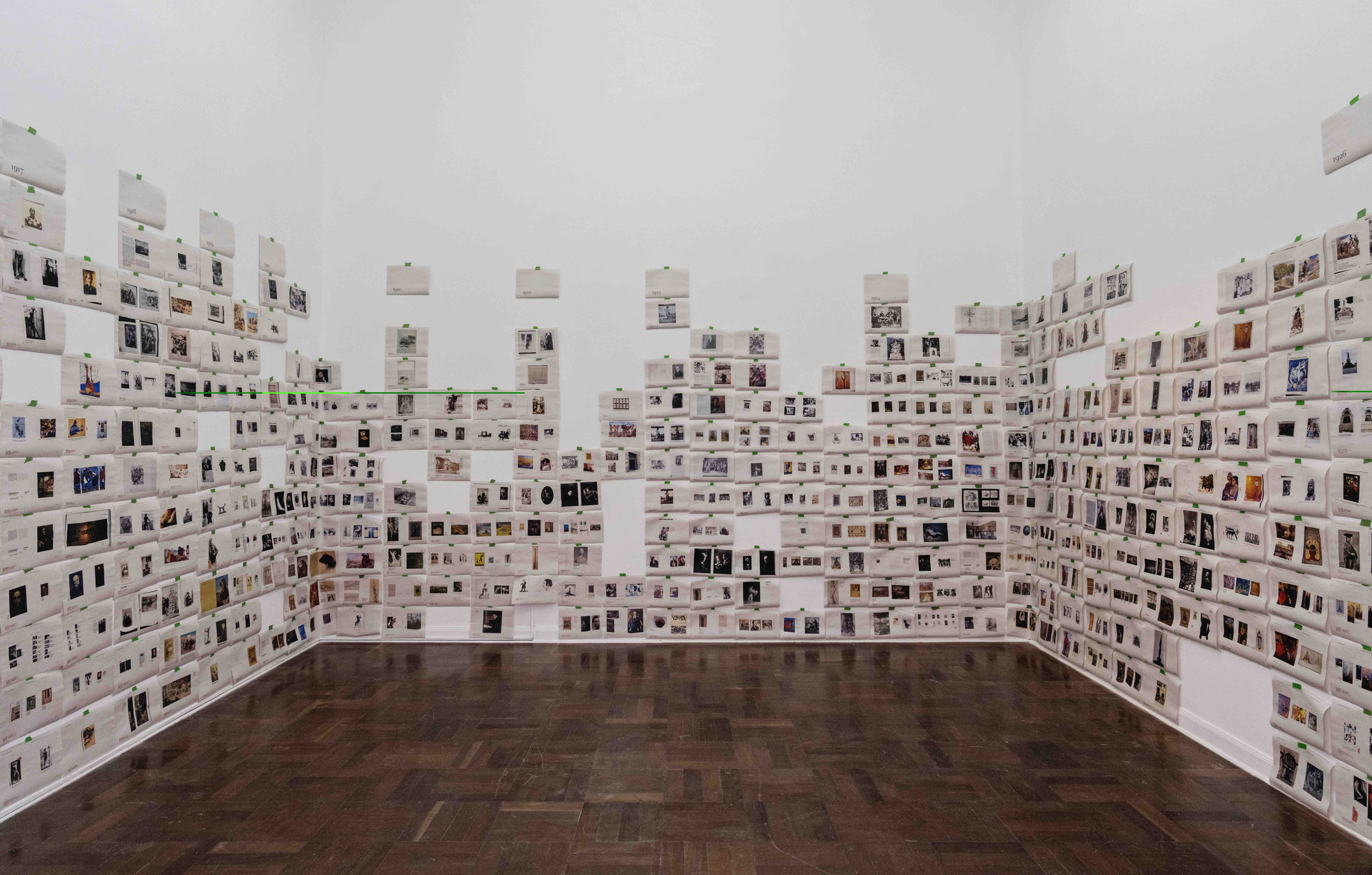 When I was training as an artist in Lima in the mid-2000s, it was difficult to find an art history that I could claim. In the absence of a critical mass of local art publications and of museums permanently exhibiting 20th-century art, what existed was a diffuse, oral narrative, based on a few texts and memories inherited from recent large-scale exhibitions. It was a story that centered on a handful of individuals and therefore could not capture the ferment that truly defines an artistic scene: the combined collective production where an artwork may condense the ideas, fears, concerns, mistakes, and fascinations of a generation and a moment in time. A liquid, turbulent body of images, vast and charged with energies, whose remains we can only partially access.
My research project for this grant is an effort to map this body of images and display it in such a way that one may identify artworks that open the way for new readings and possibilities.
I often think of the stratigraphic schemas formulated by early 20th-century archaeologists working in the Andean area: comparing the results of a handful of excavations, they attempted to untangle the past and confine thousands of years of cultural production from a vast geographical area within a decipherable chronology. The ambition of seeing bones strewn in the sand and being able to read the subterranean currents from which they came.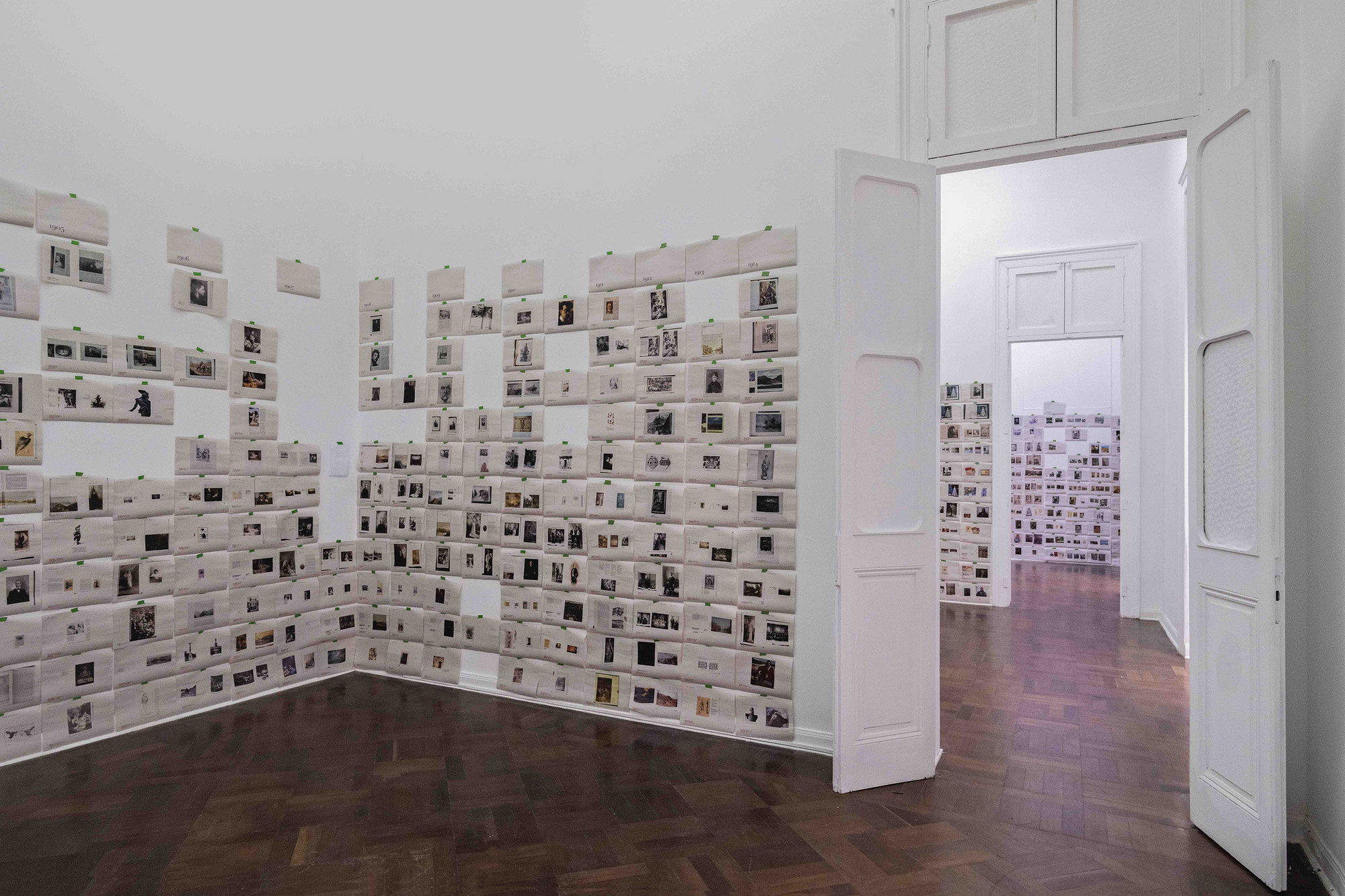 The aspirations of this research project are not far removed from the strategies employed by these archaeologists. It is an excavation of the historical narratives about the modernisms that emerged in the Andean region. It consists of an atlas of large proportions that chronologically organizes the artworks published in books in the first decades of the 20th century to illustrate panoramic narratives about modern art in the region. All the images derive from publications that, in one way or another, imply a specific vision of the values to which the art of the first two-thirds of the 20th century aspire in a delimited territory.
The over 5,000 images in the atlas are printed on A4 pages, organized chronologically by year and exhibited on 2.3-meter-high panels that cover approximately 100 yards of wall. The atlas moves from left to right. The year in which the source materials were published serves as a secondary organizing principle. In some cases, the same works are repeated several times. As one watches it unfold, certain currents traversing the visual production surface, and the shifting sensibilities of artists over the years and with generational changes, come into focus. With a little attention, one can see beyond the compartmentalization to which the majority of historical narratives tend, and encounter the heterogeneity, contradictions, and utopian potential of cultural production.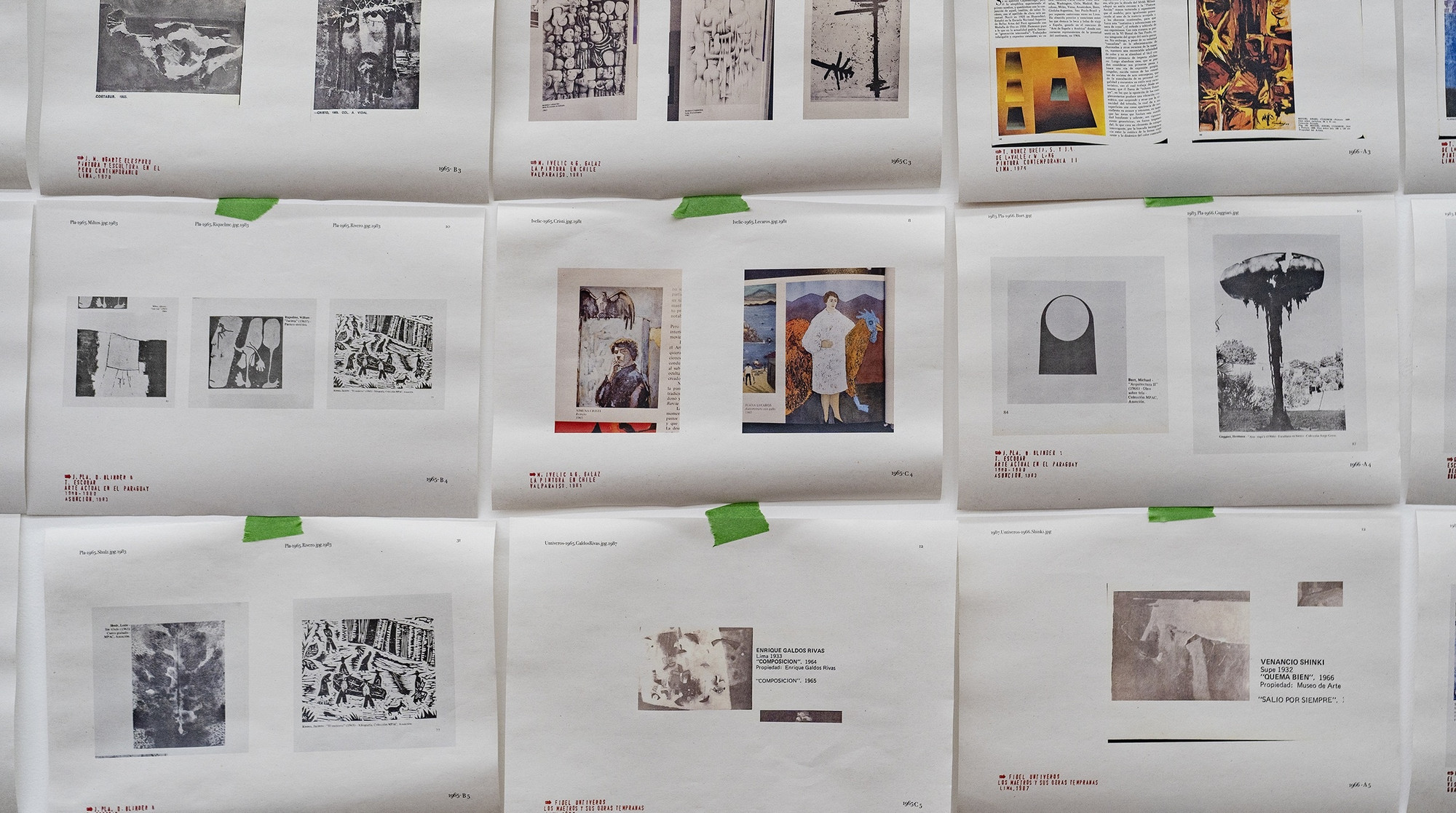 "Modernism," "Andean," and even "art" are categories whose limits I have intentionally blurred, taking advantage of a productive ambiguity that enables each of the editorial voices making up the narratives I have included to define them, though not always intentionally.
There is something overwhelming and melancholic about confronting this sea of images. We find ourselves before thousands of artworks and hundreds of artists we've never heard of, and whom almost no one remembers. It is a conservative selection; in general, it evades the most experimental moments, avoids scandals, and excludes many dissident voices. And here is where the atlas speaks not only through the images included, but, even more forcefully, through those that aren't, in order to narrate a historiography constructed by and for a criollo bourgeoisie, almost always male and heterosexual, erecting icons and aesthetic categories through the publication and republication of the same corpus of artworks. The inclusion or exclusion of the vast Indigenous populations in the modern aesthetic project and the mechanisms for achieving this have been fundamental to the projections of the elites of the nations where the works appearing in the atlas come from (Colombia, Ecuador, Peru, Bolivia, and Paraguay, and in some cases Chile and Argentina as well). In this sense, at first sight the atlas offers a survey of the 20th century in which formal experimentation and radicalism are generally superseded in favor of the anguished search for an autonomous modern identity or atonement for the guilt over unfulfilled promises of emancipation.
But there is a second, and a third, look. In the plurality of competing voices enabling some to silence others, a shattering of established history, a questioning of icons, and the appearing of artworks and artists whose radicalism, sincerity, and iconoclastic intrusion enable us to gain access to that liquid, turbulent body of images to which I referred at the beginning of this text.
We offer a section of this atlas for visitors, which can only be activated when one begins to navigate among the images. As an entry to the work, we have produced three audio guides conducted by the artist Fernando Bryce, the artist and curator Gala Berger, and the anthropologist Mijail Mitrovic. All three were able to walk through the atlas installed in the space, which is the best way to use it.
Click the links below to listen to the audio guides.
Leer en español
Atlas del modernismo andino
por Iosu Aramburu
A mediados de los años 2000, cuando me formé como artista en Lima, era difícil encontrar una historicidad de la cual aferrarme. A falta de una cantidad crítica de publicaciones sobre historia del arte local y de museos que tuvieran en exhibición permanente la producción del siglo XX, lo que había era una narrativa oral y difusa, basada en un par de textos y recuerdos heredados de algunas exposiciones grandes y recientes. Era un relato que se concentraba en un puñado de individuos y que olvidaba el fermento que es realmente una escena artística: la producción conjunta colectiva en la que una obra puede condensar las ideas, miedos, inquietudes, errores, fascinaciones de una generación y de un momento concreto. Un cuerpo líquido y turbulento de imágenes, vasto y cargado de energías, a cuyos restos sólo podemos acceder de manera parcial.
Mi proyecto de investigación para esta beca es un esfuerzo por mapear este cuerpo de imágenes y mostrarlo de manera que uno mismo pueda establecer qué obras marcarán el camino a nuevas lecturas y posibilidades.
Pienso siempre en los esquemas estratigráficos realizados por los arqueólogos de principios del siglo XX trabajando en el área andina; esos en los que intentan comparar los resultados de un puñado de excavaciones para desenmarañar el pasado y poder encasillar la producción cultural milenaria de un área geográfica vasta en una cronología descifrable. La ambición de ver los huesos regados en la arena y poder leer las corrientes subterráneas de las que provienen.
Las aspiraciones de este proyecto de investigación no están tan lejos de las estrategias usadas por esos arqueólogos. Es una excavación en las narrativas históricas sobre los modernismos surgidos en la región andina. Consiste en construir un atlas de grandes proporciones que organicé cronológicamente las obras de arte que se hayan publicado desde las primeras décadas del siglo XX para ilustrar relatos panorámicos sobre el arte moderno en la región. Al verlo desplegado, uno puede leer ciertas corrientes que atraviesan la producción plástica, puede ver los cambios en las sensibilidades de sus artistas con el pasar de los años y el relevo generacional, y con un poco de atención, puede mirar más allá del encasillamiento al que tienden la mayoría de las narrativas históricas para encontrar la heterogeneidad, las contradicciones y el potencial utópico de la producción cultural.
Las más de cinco mil imágenes de este atlas están ordenadas de manera cronológica, año por año, de acuerdo a cuándo fueron producidas las obras, y están exhibidas en paneles de 2,3 m de altura, impresos en hojas DIN A4 y dispuestos en unos cien metros lineales de pared. La cronología de las obras va de izquierda a derecha. Un segundo nivel de organización utiliza el año en que fueron publicados los materiales usados como fuentes. En varios casos, las mismas obras aparecen repetidas varias veces.
"Modernismo", "andino" e incluso "arte" son categorías cuyos límites he dejado intencionalmente borrosos, aprovechándome de una ambigüedad productiva que permita que cada una de las voces que compilaron las narrativas que he incluido las definan, aunque no siempre de manera intencional. Todas las imágenes provienen de publicaciones que, de una manera u otra, implican una visión específica sobre cuáles son los valores a los que aspira el arte de los primeros dos tercios del siglo XX en un territorio delimitado.
Hay algo abrumador y melancólico cuando uno se enfrenta a ese mar de imágenes. Estamos ante miles de obras y cientos de artistas que no reconocemos, y que casi nadie recuerda. Es una selección conservadora de obras, por lo general evade los momentos más experimentales, evita los escándalos y excluye muchas de las voces disidentes. Y aquí es donde el atlas habla no solo a través de las imágenes que incluye sino, incluso con más fuerza, a través de las que no están, para narrar una historiografía construida por y para una burguesía criolla, casi siempre masculina y heterosexual, erigiendo íconos y categorías estéticas a través de la publicación y republicación de un mismo corpus de obras. La inclusión o la exclusión de las vastas poblaciones indígenas en el proyecto estético moderno y los mecanismos para lograrlo han sido parte fundamental de las proyecciones de las élites de las naciones de las que provienen las obras que aparecen en el atlas (Colombia, Ecuador, Perú, Bolivia y Paraguay, en algunos casos también Chile y Argentina). En este sentido, en un primer vistazo, el Atlas ofrece un recorrido por el siglo XX en el que la experimentación formal y el radicalismo aparecen generalmente supeditados en favor de la angustiosa búsqueda de una identidad moderna autónoma o de la expiación de culpas por las promesas de emancipación no cumplidas.
Pero hay un segundo y tercer vistazo. La pluralidad de voces compiladoras permite que se silencien unas a otras, que una historia establecida se resquebraje, que los íconos sean cuestionados y que aparezcan obras y artistas cuya radicalidad, sinceridad e intrusión iconoclasta nos permite acceder a aquel cuerpo líquido y turbulento de imágenes al que me refería al comienzo de este texto.
Este atlas es una herramienta que solo se activa cuando alguien empieza a navegar entre las imágenes. Como una entrada a la obra hemos producido tres audioguías, conducidas por el artista Fernando Bryce, la artista y curadora Gala Berger y el antropólogo Mijail Mitrovic. Los tres pudieron recorrer el atlas instalado en el espacio, que es la mejor manera de utilizarlo.
Por esto mismo, para que quien esté interesado pueda navegarlo, ofrecemos una sección del atlas para descargar, imprimir y montar según las instrucciones adjuntas.
En los enlaces abajo puede escuchar las audioguías.
2020 Artist Fellow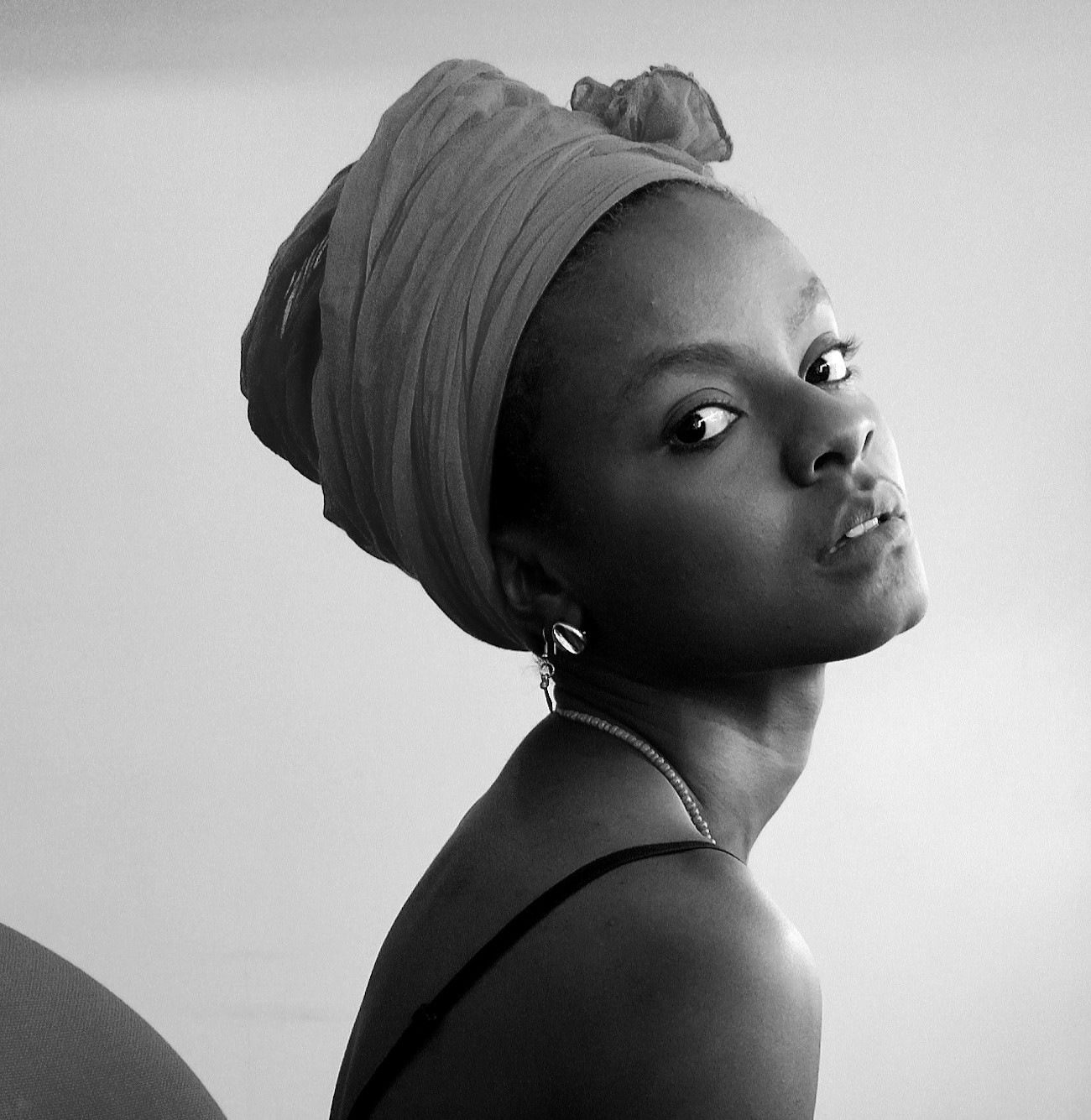 Ana Pi
The 2021 Artist Research Fellowship was awarded to choreographer and dancer Ana Pi. Pi is a researcher in urban dance and an educator. Her practice addresses ideas of transit, displacement, belonging, overlapping, and memory.
Pi proposed a visit to Haiti to study current manifestations of dance in urban contexts, a project inspired by filmmaker Maya Deren's travels to Haiti between 1947 and 1954.
Leer en español
En 2020 la Beca de Investigación para Artistas fue otorgada a la coreógrafa y bailarina Ana Pi. Pi es investigadora en danzas urbanas y pedagoga. Su práctica trabaja ideas de tránsito, desplazamiento, pertenencia, superposición y memoria.
Pi propuso viajar a Haití para estudiar manifestaciones de danza en contextos urbanos actuales, un proyecto inspirado en los viajes de la cineasta Maya Deren a Haití entre 1947 y 1954.
Another Anagram of Ideas
In the spring of 1936, choreographer, dancer, social activist, and anthropologist Katherine Dunham returned to Chicago in the United States after completing field research in Jamaica, Martinique, Trinidad, and Haiti. She then wrote the thesis "The Dances of Haiti: A Study of Their Material Aspect, Organization, Form, and Function" and was initiated as a mambo, a Voudoun priestess in Haiti.
Dunham is considered the matriarch of Black dances in the Americas. While working in Hollywood in the early 1940s, she introduced Haitian culture and the world of cinema to Maya Deren. Dunham hired Deren as her personal assistant at that time, when her avant-garde dance company appeared on the big screen and started touring all over the world.
Thanks to this introduction, Deren would be known later as an experimental filmmaker who produced magnificent images in 16mm film of Haitian Voudoun celebrations, making the earliest sound recordings of them ever, between 1947 and 1951. Like Dunham, Deren became a Voudoun mambo with the blessing of Erzulie Freda—the Goddess of Love—and she wrote the book Divine Horsemen—The Living Gods of Haiti about her encounter with that cosmovision.
My own introduction to the legacies of Dunham and Deren took place over fifteen years ago in Brazil, more precisely in Salvador, the capital city of the state of Bahia, where I studied contemporary dance at the university. In Bahia, the Terreiros de Candomblé—temples of Black culture and faith—vibrate, and the history of African-based spirituality and philosophy resembles that of a Haitian Hounfor—Voudoun temple. Life unfolds to the beat of the religious calendar and the perfume of sacred foods wafting in the air. The colors ascribed to the deities pulsate, the Carnaval Baiano is spectacular, and dance is the vital organism that counterbalances the historical tensions and sustains the healthy functioning of society.
The Divine Cypher, the first project I proposed for the Artist Research Fellowship at the Cisneros Institute, sought to investigate choreography from the streets of Port-au-Prince, the capital of Haiti, in a similar way to how I have learned choreography in the streets of Salvador throughout my life. Initially, I intended to visit Haiti three times to research the transit among sacred gestures and urban dances, their presence at public spaces and their transformations since the images realized by Deren. My first trip to Port-au-Prince started during the 2020 Haitian Carnival. Since then, the act of "traveling" has been redefined globally.
Over the last three years, time has transfigured, as Maya Deren would have said. Public spaces have been emptied. Festivities have been suspended. A president was assassinated. We are governed by new health laws planetarily. There was an earthquake. Perseverance arrived on Mars. Earth heated up. Dance and choreography for the camera went viral on the Web. And the bombing of Kyiv—where Deren was born and from where she had to flee—still continues.
O Haiti é aqui, o Haiti não é aqui . . .
(Haiti is here, Haiti is not here . . .)
Guided by the voice of Elza Soares in a song that links Port-au-Prince and Salvador, I delved into a multitude of archives documenting the presence of Dunham and Deren in Haiti. The 5,101 kilometers that separate the territories didn't act as a border but rather as an undersea passage between divine realities, Afro-Atlantic histories, and ancestrality. I decided to return to Brazil, my native land, to weave all of these memories together at the crossroads of futurity and the vestiges of the past.
Inside the Casa dos Olhos do Tempo Que Fala da Nação Angolão Paketan Malembá (Home of the Eyes of Tempo Divinity) a Terreiro de Candomblé Bantu dedicated to deities called Nkisis and Caboclos, where I am a Filha de Santo—an apprentice—I received the blessing from Taata Kwa Nkisi Mutá Imê—the priest—allowing me to work from there on this artistic essay, immediately after the long-awaited resumption of the celebrations cycle concluded by the Festa de Tempo in 2022.
Finally, two main works have emerged from this research. First, The Divine Cypher, which became my new show onstage, premiering during the pandemic wave and touring since then. The piece was conceived as a fictional space mission, in which I could travel in time, as the camera does, despite any restriction on mobility. In this choreography, I dance upon mirrors and many kilos of white sugar in order to re-signify what metaphors of reflection and plantation could be nowadays. Inspired by the revolutionary beauty of Haitian people throughout the world, The Divine Cypher reclaims the experience of real presence as a continuous openness to new imaginaries, like a spiral step in a timeline—mysterious, dense, and latent—of dance history.
The last work for the Fellowship, Another Anagram of Ideas, includes a video and this text, addressing dreams, recodification, and radical imagination. Wherein, I choreographed images and words while transiting between balance, tension, and subtlety. The action of carrying water on the head, very present in Haiti and at the Festa da Lavagem do Bonfim in Bahia, was the physical gesture that went along with all of my moves during this entire making. The investigation of transdisciplinarity and translation, perseverance and invisible histories, required a poetic conversation more precisely with the notions of rhythm, repetition, and the permanence of ancestral African gestures in the diaspora. I invite you to focus your attention, to see and experience the vitality of these radical heritages, where dance is the deepest way of thinking about humanity, fertility, and the future.
Leer en español
Otro anagrama de ideas
por Ana Pi
En la primavera de 1936, la coreógrafa, bailarina, activista y antropóloga Katherine Dunham regresó a Chicago (Estados Unidos) tras haber realizado un estudio de campo en Jamaica, Martinica, Trinidad y Haití. Luego escribió la tesis: "Dances of Haiti: A Study of Their Material Aspect, Organization, Form, and Function" y se inició como mambo, sacerdotisa Voudoun en Haití.
A Dunham se la considera la matriarca de las danzas negras en Estados Unidos. A principios de la década de 1940, cuando trabajaba en Hollywood, introdujo a Maya Deren en la cultura haitiana y en el mundo del cine. Dunham había contratado a Deren como asistente personal por aquel entonces, cuando su vanguardista compañía de danza había empezado a salir en la gran pantalla y a hacer giras alrededor del mundo.
Gracias a esa iniciación, Deren sería conocida más tarde como la cineasta experimental que realizó las maravillosas imágenes de las celebraciones Voudoun haitianas en película de 16 mm, y las primeras grabaciones sonoras de éstas entre 1947 y 1951. Al igual que Dunham, Deren se convirtió en mambo Voudoun con la bendición de Erzulie Freda —Diosa del Amor— y escribió el libro Divine Horsemen-The Living Gods of Haiti, en el que narra su encuentro con esa cosmovisión.
Mi primer contacto con los legados de Dunham y Deren sucedió hace más de quince años en Brasil, concretamente en Salvador, la capital del estado de Bahía, donde estudié danza contemporánea en la universidad. En Bahía, los Terreiros de Candomblé —templos de la cultura y la religión negras— vibran, y la historia de la espiritualidad y la filosofía de origen africano se parece mucho a la de los templos haitianos Hounfor, de Voudoun. La vida fluye al ritmo del calendario religioso y del perfume de los alimentos sagrados que impregnan el aire. Los colores atribuidos a las deidades palpitan, el Carnaval Baiano es espectacular, y el baile es el organismo vital que sirve de contrapeso a las tensiones históricas y mantiene el sano funcionamiento de la sociedad.
The Divine Cypher, el primer proyecto que propuse para la Beca de Investigación Artística del Instituto Cisneros, tenía como objetivo investigar la coreografía de las calles de Puerto Príncipe, la capital de Haití, del mismo modo en que yo había aprendido coreografía en las calles de Salvador a lo largo de mi vida. Al principio, tenía la intención de viajar tres veces a Haití para investigar el cruce entre los gestos sagrados y las danzas urbanas, su presencia en los espacios públicos y los cambios que habían sufrido desde las imágenes que había captado Deren. Mi primer viaje a Puerto Príncipe coincidió con el Carnaval haitiano de 2020. Desde entonces, el acto de "viajar" ha sido redefinido a nivel global.
En los últimos tres años, el tiempo se ha transfigurado, como habría dicho Maya Deren. Se han vaciado los espacios públicos. Se han suspendido las fiestas. Un presidente ha sido asesinado. A nivel global, nos regimos por nuevas leyes sanitarias. Hubo un terremoto. El Perseverance aterrizó en Marte. La Tierra se recalentó. Los bailes y coreografías frente a las cámaras se volvieron virales en la red. Y el bombardeo a Kiev —donde nació y de donde tuvo que huir Deren — aún continúa.
O Haiti é aqui, o Haiti não é aquí…
(Haití está aquí, Haití no está aquí…)
Guiada por la voz de Elza Soares en una canción que une Puerto Príncipe y Salvador, indagué en una gran cantidad de archivos que documentan la presencia de Dunham y Deren en Haití. Los 5.101 kilómetros que separan ambos territorios no funcionaron como una frontera, sino como un pasaje submarino entre dos realidades divinas, historias afroatlánticas y ancestralidad. Decidí regresar a Brasil, mi tierra natal, para hilvanar todos esos recuerdos en la encrucijada entre el futuro y los vestigios del pasado.
Dentro de la Casa dos Olhos do Tempo Que Fala da Nação Angolão Paketan Malembá (Casa de los Ojos de la Divinidad del Tempo), un Terreiro de Candomblé Bantu dedicado a las deidades llamadas Nkisis y Caboclos, donde soy Filha de Santo —aprendiz– recibí la bendición de Taata Kwa Nkisi Mutá Imê –el sacerdote–, lo que me permitió trabajar allí en este ensayo artístico, inmediatamente después de la tan esperada reanudación del ciclo de celebraciones, que concluyó con la Festa de Tempo en 2022.
Al final, dos obras fundamentales han surgido de esta investigación. La primera, The Divine Cypher, que se convirtió en mi nuevo espectáculo en escena, se estrenó durante la ola de la pandemia y sigue de gira desde entonces. Concebí la pieza como una misión espacial ficticia en la que puedo viajar en el tiempo a pesar de las restricciones de movilidad, como hace la cámara. En la coreografía, bailo encima de espejos y varios kilos de azúcar blanca para resignificar lo que podrían ser hoy las metáforas del reflejo y la siembra. Inspirada en la revolucionaria belleza del pueblo haitiano alrededor del mundo, The Divine Cypher recupera la experiencia de la presencia real como una constante apertura a nuevos imaginarios, como un escalón en espiral dentro del orden cronológico —misterioso, denso y oculto— de la historia de la danza.
La última obra para la Beca, Another Anagram of Ideas [Otro anagrama de ideas], comprende un vídeo y este texto, en los que abordo los sueños, la recodificación y la imaginación radical. En el video escenifiqué coreográficamente imágenes y palabras oscilando entre el equilibrio, la tensión y la sutileza. La acción de acarrear agua en la cabeza, algo muy presente en Haití y en la Festa da Lavagem do Bonfim en Bahía, fue el gesto físico que acompañó todos mis movimientos a lo largo de esta producción. La investigación sobre la transdisciplinariedad y la traducción, la perseverancia y las historias invisibles, exigía un diálogo poético sobre todo con las ideas de ritmo, repetición y permanencia de los gestos ancestrales africanos en la diáspora. Les invito a fijar su atención, a observar y experimentar la vitalidad de estas herencias radicales, en las que la danza se presenta como la forma más profunda de pensar la humanidad, la fertilidad y el futuro.
The Divine Cypher