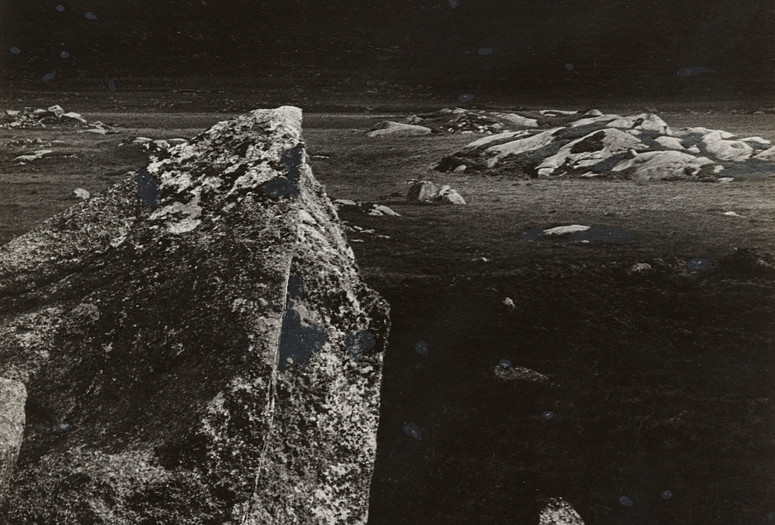 EPISODE 12: LITHOSPHERES
If the Earth were the size of a cue ball, its surface would feel just as smooth; that's how proportionally small the planet's mountains, canyons, and ocean beds are compared to its circumference. This relatively smooth but stoney crust we live on is constantly in flux, as volcanoes, earthquakes, and mountains change its form. It is also changed by humans, who cut into it and rearrange it piece by piece. Using uncooked earth and roughly hewn stone to create shelter and architecture is not only our past, but also our future. Raw materials, like a raw food diet, are essential ingredients of a future livable planet. Those who design with raw materials that require no industrial heat (the kind of energy used to melt steel or cook cement), and therefore emit less carbon, must learn from a pre-industrial past while also addressing the modern contexts of construction processes. This effort to incorporate raw materials challenges the way society has valued and processed the elements of earth, fire, and water for the last 100 years, incorporating design strategies from millennia past in order to find an architectural language and utility that addresses the issues of today, and will last for the next 100 years.
Panelists
Michael Murphy is an architect, artist, educator, and writer. Michael P. Murphy Studios focuses on spatial change and transformation in the public realm. Murphy partnered with Hank Willis Thomas on the sculpture The Embrace, and led the design of the 1965 Freedom March Plaza as executive director and founder of MASS Design Group, which he led until December 2022. Murphy's recent book The Architecture of Health traces the history of medical design and its attempt to align architecture with health outcomes. He is the current Thomas Ventulett Chair of Architecture at Georgia Tech, and serves on the board of MASS Design Group, where he was the lead designer of such projects as the Butaro District Hospital, the National Memorial for Peace and Justice, and the National Gun Violence Memorial. Murphy has a BA from University of Chicago and an M.Arch from Harvard Graduate School of Design. He lives in Boston with his wife and two children.
Martin Rauch is a recent laureate of the Global Award for Sustainable Architecture. He is not an architect—not by training, at least. He is a ceramicist and builder who, through his master craftsman's knowledge of clay, has experimented and innovated with earth as a building material for so long that his output has become an example to established architects in their transition to ecologically sensible design. Over the past 35 years, Rauch and his company Lehm Ton Erde have realized a plethora of projects across the world. Operating as builders, designers, educators, and researchers of unstabilized rammed-earth construction, they have positioned this primordial material as a modern, sustainable product in an industrialized European context. His innovation with prefabrication has won Rauch international acclaim, including the UNESCO Chair of Earthen Architecture and the EU's New European Bauhaus Prize. He has trained a new generation of earth builders and pushed the technical boundaries of what was once thought possible with the material.
Amin Taha is an architect at GROUPWORK, an employee ownership trust that has twice been shortlisted for RIBA's Stirling Prize and the EU Mies van der Rohe Prize, and has received RIBA awards for their completed works. He teaches at the Royal College of Art, is a trustee of the Sir John Soane Museum, and has served as chair and juror on RIBA's House of the Year, National and International Awards.
Moderator
Lindsey Wikstrom is the cofounding principal of Mattaforma, a design and research practice, and an adjunct assistant professor at Columbia University's Graduate School of Architecture, Planning, and Preservation. Her Core I architecture studio explores the generative potential of material sourcing, commons, and renewability, while her Advanced IV studio focuses on the architectural and urban implications of biodiverse mass timber. Her research has been supported by the SOM Foundation, published in Embodied Energy and Design: Making Architecture between Metrics and Narratives, and exhibited at the XXII Triennale di Milano, Broken Nature: Design Takes on Human Survival. Wikstrom has a forthcoming essay in Cite and a book project with Routledge.
Accessibility



Automated captioning is available for all online programs. American Sign Language (ASL) interpretation and live captioning is available for public programs upon request with two weeks' advance notice. MoMA will make every effort to provide accommodation for requests made with less than two weeks' notice. For accessibility questions or accommodation requests please email [email protected] or call (212) 708-9781
This session will be led virtually through Zoom, a free video-conferencing software. Participants are encouraged to use a computer, smart phone, or tablet with a camera and Internet access, if possible. Participants may also dial in using a phone line. Participants will receive a Zoom link upon registering.


This event was made possible through a generous gift from Emilio Ambasz. The Emilio Ambasz Institute for the Joint Study of the Built and the Natural Environment is a platform for fostering dialogue, promoting conversation, and facilitating research about the relationship between the built and natural environment, with the aim of making the interaction between architecture and ecology visible and accessible to the wider public while highlighting the urgent need for an ecological recalibration.