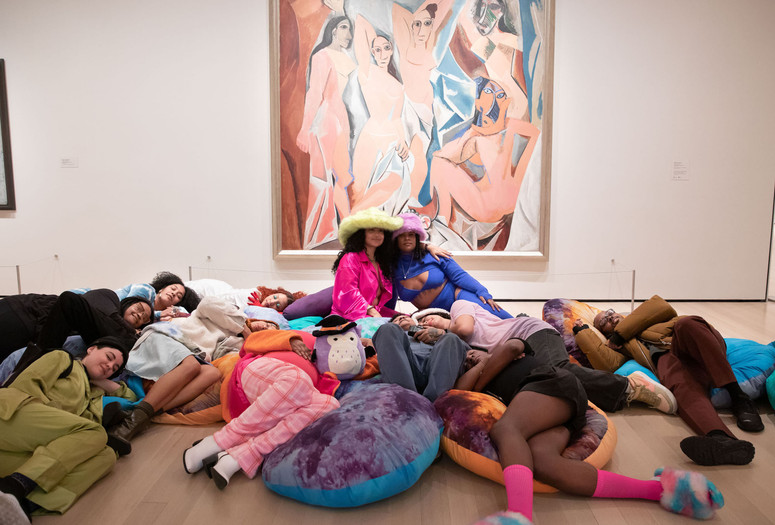 Join artists Navild Acosta and Sosa of Black Power Naps for a night of napping in the Museum. Visit their installation Black Power Naps: La Biblioteca Is Open, choose a cushion, and bring it along in a procession through the galleries to nap in front of works of art. Pajamas are encouraged.
This program is now at capacity. Email [email protected] to be added to the waitlist.
Black Power Naps is a project by artists Navild Acosta and Sosa. It is a sculptural installation, vibrational device, and curatorial initiative that reclaims laziness and idleness as power.
Accessibility


In order to serve visitors with hearing loss, the Crown Creativity Lab includes induction hearing loops for sound amplification. During scheduled programs, visitors can turn their hearing aid or cochlear implant to T-Coil mode to hear enhanced sound effortlessly. The loop system does not work with hearing aids without telecoil technology.

All-gender restrooms are located on Floors 1, 3W, 5, and T1.


American Sign Language (ASL) interpretation and live captioning is available for public programs upon request with two weeks' advance notice. MoMA will make every effort to provide accommodation for requests made with less than two weeks' notice. Please contact [email protected] to make a request for these accommodations.


The entrance to the Creativity Lab has a power-assist door.
Seating options include beds and chairs with backs.
For more information on accessibility at MoMA please visit moma.org/Access. For accessibility questions or accommodation requests please email [email protected] or call 212-708-9781.




Volkswagen of America is proud to be MoMA's lead partner of education.

Access and Community Programs are supported by the Stavros Niarchos Foundation (SNF).

The Museum gratefully acknowledges donors to the Annual Education Fund: the Trustee Committee on Learning and Engagement, the Lewis B. and Dorothy Cullman Education and Research Endowment, Sarah Arison, the Crown Family Education Fund, the Edward John Noble Foundation Fund for Education, Volkswagen of America, The Contemporary Arts Council of The Museum of Modern Art, the LOVE Fund for Education, the Sarah Arison Endowment Fund for Education, The International Council of The Museum of Modern Art, The Enoch Foundation, the General Education Program Endowment, the Lawrence B. and Elyse Benenson Education Fund, The Sundheim Family Foundation, Epstein Teicher Philanthropies, the Theodore N. Voss Fund, the Leo and Julia Forchheimer Fund, Elyse and Lawrence B. Benenson, Kathy and Richard S. Fuld, Jr., Paula and James Crown, Jill and Peter Kraus, Jerry I. Speyer and Katherine G. Farley, and the Tiger Baron Foundation, Inc.