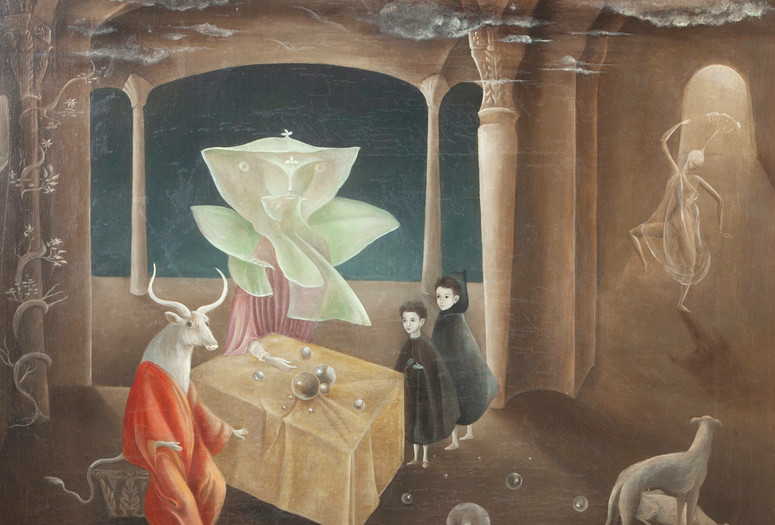 Please join us for Crip Art Chats, a chance to build community among people interested in disability perspectives and aesthetics. No specialized understanding of art, art history, or crip theory is required. Each online session is an opportunity for a small group of participants to view and discuss works from MoMA's collection. Together we will generate ideas and conversation about these works, centering disability as a conceptual and creative framework.
This session will explore themes of disguise, masking, and performing through the lens of disability experience.
This program is free and open to the public, but advance registration is required.
Each session is 90 minutes long. Participants are encouraged to stay for the duration of the program and are invited to be an active part of the discussion. To keep the conversations relatively intimate, space is limited. Registration is on a first-come, first-served basis. Once a session is full, a wait list will be offered.
Crip Art Chats takes place in a Zoom meeting and can be experienced using the Zoom app on a computer or mobile device, or by calling in via phone. All images will be described during the program and sent to participants in advance. This program will include live captioning. If you would like to request any additional accommodations, or let us know how we can best support your full participation in this program, please so indicate at the time of registration, or reach out to us at [email protected] or (212) 408-6447 at your earliest convenience.
Image description: A horizontally-oriented painting of a group of figures in a mysterious place with vine-wrapped columns and clouds floating amongst the arched ceiling. A white horned beast in a red robe sits at a table with two black-cloaked children and an iridescent ethereal being, all staring at silver gazing balls that sit on a golden tablecloth. A red rose rests on the ground below. To the right are two white dogs. One sprawls on the floor, and the other looks toward the back of the room where a ghostly figure dances in the light of an open doorway.
Volkswagen of America is proud to be MoMA's lead partner of learning and engagement.

Access and Community Programs are supported by the Stavros Niarchos Foundation (SNF).

Major funding is provided by The Taft Foundation and by the Werner and Elaine Dannheisser Fund for Older Adults at MoMA in honor of Agnes Gund.

Additional support is provided by the Sarah K. de Coizart Article 5th Charitable Trust, the Allene Reuss Memorial Trust, the J.E. and Z.B. Butler Foundation, The Max and Victoria Dreyfus Foundation, Inc., The Elroy and Terry Krumholz Foundation, and the Von Seebeck-Share B. Charitable Trust.