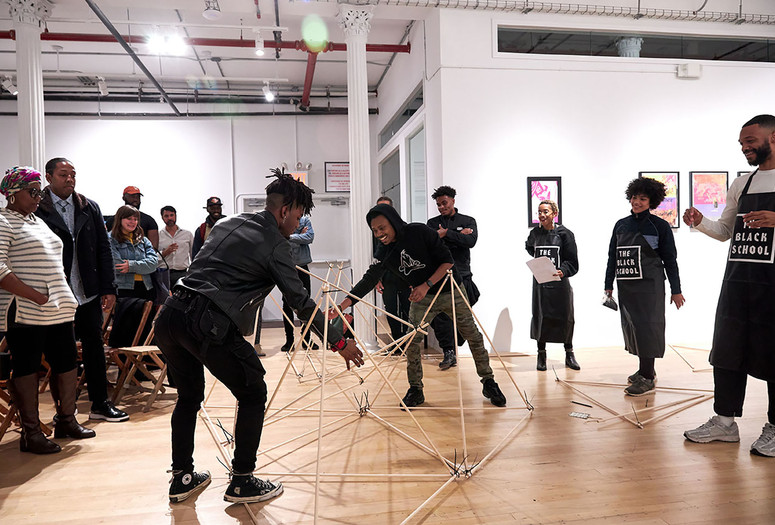 Join artists Shani Peters and Joseph Cuillier of the Black School for a construction and intention-setting workshop designed to create a tangible and beautiful structure for grounding and directing the creative teaching activities of BIPOC artists and educators.
Art and Practice workshops bring together artists and art workers at all stages of their careers to learn from each other. This season is organized in conjunction with Just Above Midtown: Changing Spaces, and is inspired by the Just Above Midtown (JAM) gallery's support of Black artists and artists of color, and its cultivation of a wide and diverse public for their work. In the spirit of JAM's The Business of Being an Artist professional-development programs, each session will offer opportunities to exchange ideas and knowledge.
This in-person program is for anyone who identifies as an artist or art worker. It will be followed by a casual reception. This program is free, but an application form is required. This workshop is now at capacity. Email [email protected] to be added to the waitlist.
The Black School (TBS) is an experimental art school teaching Black/PoC students and allies to become radical agents of change. Based on a commitment to community building and our core principles of Black love, wellness, and self-determination, TBS's mission is to extend the legacy of art in Black radical histories through innovative, multigenerational workshops and programs and our youth-staffed art and design studio, TBS: Design Studio.
Since 2016 TBS has served over 500 students, facilitated over 125 workshops and classes, produced four Black Love Fests with approximately 3,500 attendees, trained and employed 25 design apprentices, partnered with over 60 organizations, and collaborated with over 60 professional artists. With this foundation TBS is now moving from the initial mobile model it developed in NYC toward building a 21st-century schoolhouse that will serve as a community center in our cofounders' birthplace of New Orleans. The Black Schoolhouse will create a home base and allow TBS to expand our work and deepen roots through long-term community engagements.
Shani Peters, codirector and managing director of the Black School, is a multidisciplinary artist based in New Orleans. She holds a bachelor's degree from Michigan State University and a Master of Fine Arts from the City College of New York. Peters has presented work in the US and abroad at the New Museum, NY; The Schomburg Center for Research in Black Culture, NY; Seoul Art Space, Geumcheon, South Korea; the National Gallery of Zimbabwe; and Bauhaus-Building Dessau, Germany. Selected residencies include Lower Manhattan Cultural Council, NY; Museum of Contemporary Art Detroit, MI; the Laundromat Project, NY; and Project Row Houses, TX. Her work has been supported by Creative Capital, Foundation for Contemporary Arts, the Robert Rauschenberg Foundation, Rema Hort Mann Foundation, and the Joan Mitchell Foundation. Peters was a faculty member at the City College of NY, Pratt Institute, and Parsons School of Design before shifting her teaching focus to the Black School, which she codirects with Joseph Cuillier.
Joseph Cuillier, codirector and creative director of the Black School, is a multidisciplinary artist who examines language, space, abstraction, and Black radical pedagogies through social practice, installation, textile, and design. His practice at the intersections of education, visual art, and design centers on deconstructing histories to build counternarratives. Currently based in New Orleans, Cuillier received a master's degree from Pratt Institute and previously held faculty positions at Parsons School of Design and Pratt Institute in New York City. Cuillier's work has been exhibited, collected, and presented internationally at the New Museum, NY; The Museum of Modern Art Library, NY; Bauhaus-Building Dessau, Germany; the Bronx Museum of the Arts, NY; Wallach Art Gallery, Columbia University, NY; and the Rubelle and Norman Schafler Gallery, Pratt Institute, NY; among others. Cuillier has been an artist-in-residence/fellow at Sweet Water Foundation, IL, via the Chicago Architecture Biennial; IdeasCity New Orleans, LA; Spillways Antenna.Works, LA; the New Museum, NY; the Laundromat Project, NY; and A Blade of Grass, NY. Cuillier is the codirector of the Black School and Black Love Fest with Shani Peters.
Laila Stevens is a Queens-based documentary photographer and the social media and communications director for the Black School. She manages the school's Instagram, Twitter, and digital platforms, including the execution of newsletter correspondence for the Black School's network. Prior to obtaining this role in June 2020, Stevens apprenticed for the 2018 Social Justice Artists in Residence at the New Museum, volunteered at Black Love Fest 2018 at the Sugar Hill Museum, and apprenticed with the Black School: Studio at the Bronx Museum of Arts in 2019.
Accessibility



FM assistive-listening devices (headsets and neck loops) are available for sound amplification. Neck loops are available to use with these devices. Neck loops do not work with hearing aids without T-coil technology.
Chairs with backs will be used for seating.

All-gender restrooms are located nearby.


American Sign Language (ASL) interpretation and live captioning is available for public programs upon request with two weeks advance notice. MoMA will make every effort to provide accommodation for requests made with less than two weeks notice. Please contact [email protected] to make a request for these accommodations.
Art and Practice is a series of seminars and workshops that bring together artists at all stages of their careers. Together they explore the challenges and possibilities of sustaining a creative life.
Volkswagen of America is proud to be MoMA's lead partner of learning and engagement.

Access and Community Programs are supported by the Stavros Niarchos Foundation (SNF).

Leadership support for Adult and Academic Programs is provided by the Carroll and Milton Petrie Education Program Endowment, and Lewis B. and Dorothy Cullman Education and Research Endowment.

Major funding is provided by the Agnes Gund Education Endowment Fund for Public Programs, The Junior Associates of The Museum of Modern Art Endowment for Educational Programs, and the Jeanne Thayer Young Scholars Fund.

Additional support is provided by Gretchen Jordan.