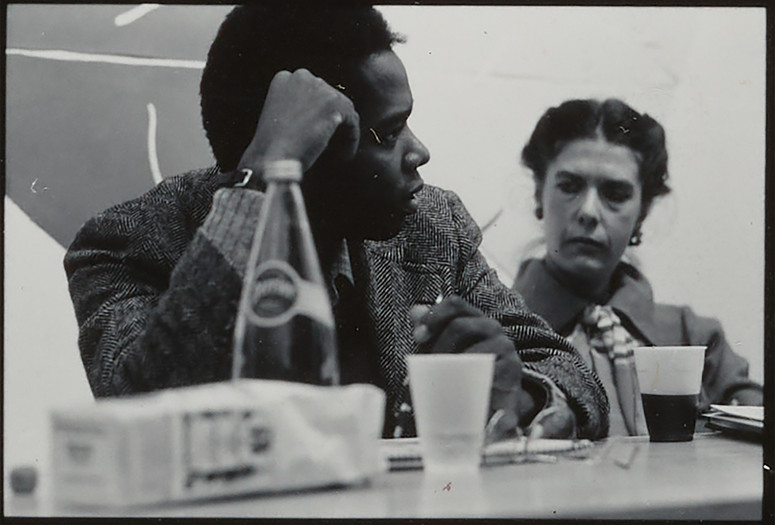 Join Urban Bush Women for a Hair Party. This session was planned in conjunction with the exhibition Just Above Midtown: Changing Spaces. Through this workshop, we hope to activate some of JAM's values, including risk-taking, representation, cross-fertilization, experimentation, accessibility, and relationship building.
Urban Bush Women (UBW), founded in 1984 by choreographer Jawole Willa Jo Zollar, is a Brooklyn-based performance ensemble and dance company under the artistic direction of Chanon Judson and Mame Diarra (Samantha) Speis. UBW seeks to bring untold and under-told histories and stories to light through dance. We do this from a woman-centered perspective and as members of the African Diaspora community in order to create a more equitable balance of power in the dance world and beyond. UBW galvanizes artists, activists, audiences, and communities through performances, artist development, education, and community engagement. With the groundbreaking performance ensemble at its core, and ongoing programs including the Summer Leadership Institute (SLI), BOLD (Builders, Organizers and Leaders through Dance) and the Choreographic Center Initiative. UBW affects the overall ecology of the arts by promoting artistic legacies, projecting the voices of the under-heard and people of color, bringing attention to and addressing themes of equity in the dance field and throughout the United States, and providing platforms and serving as a conduit for culturally and socially relevant experimental art makers.
Please contact [email protected] for more information.
Accessibility
American Sign Language (ASL) interpretation and live captioning is available for public programs upon request with two weeks advance notice. MoMA will make every effort to provide accommodation for requests made with less than two weeks notice. For more information on accessibility at MoMA please visit moma.org/Visit/Accessibility. Please contact [email protected] to make a request for these accommodations.




Volkswagen of America is proud to be MoMA's lead partner of learning and engagement.

Access and Community Programs are supported by the Stavros Niarchos Foundation (SNF).

Leadership support for Adult and Academic Programs is provided by the Carroll and Milton Petrie Education Program Endowment, and Lewis B. and Dorothy Cullman Education and Research Endowment.

Major funding is provided by the Agnes Gund Education Endowment Fund for Public Programs, The Junior Associates of The Museum of Modern Art Endowment for Educational Programs, and the Jeanne Thayer Young Scholars Fund.

Additional support is provided by Gretchen Jordan.