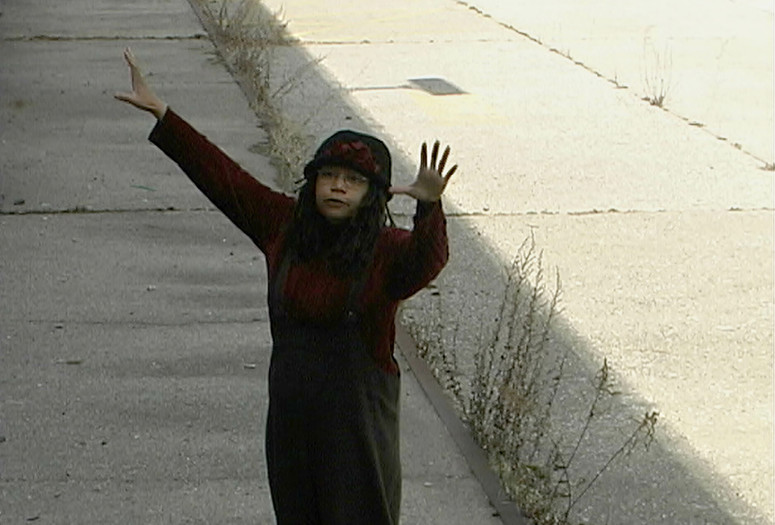 Linda Goode Bryant has used moving images to explore the conditions that create many of the tensions with which we live, from gentrification in her hometown of Columbus, Ohio, to the power of money in the global art world. This work exists as part of a decades-long career committed to supporting other artists' creativity, including the founding of Just Above Midtown gallery (JAM).
Goode Bryant joins us to present excerpts from her first production, The Business of Being an Artist (1983), directed by Dieter Froese. The film project emerged from the eponymous professional development program organized by JAM, which covered topics such as "Housing and Workspace" and "Artists Rights" and explored the burgeoning contemporary art market of the 1980s. Organized in conjunction with the exhibition Just Above Midtown: Changing Spaces, this Modern Mondays program reanimates the questions Goode Bryant posed in BBA about the influence of money on creativity: How did these ascendant arts infrastructures limit artists' practices? How do museums participate in the development of arts infrastructures? What does it mean that these same issues are as pressing today as they were in 1983?
Goode Bryant is joined by Sarah Workneh, codirector of the Skowhegan School of Painting & Sculpture since 2010, who has worked in alternative education spaces for artists for 20 years. True to the collaborative and experimental nature of JAM, this program encourages participation as a practice of disrupting the standard separation between speakers and audience members, to push beyond the limits of current frameworks.
Speakers
Linda Goode Bryant's decades of art-based activism began with her founding of Just Above Midtown gallery (JAM), a self-described laboratory that foregrounded the work of African American artists, including David Hammons, Maren Hassinger, Lawrence D. "Butch" Morris, Senga Nengudi, Lorraine O'Grady, Howardena Pindell, and many others. JAM's explicit purpose was to be "in, but not of, the art world," offering early—and often unique—opportunities to artists to experiment and create freely, away from art market pressures. After closing JAM, Goode Bryant dedicated herself to filmmaking, directing the Peabody Award–winning documentary Flag Wars (2003), an intimate portrait of a community in flux that explores the tensions between preservation and gentrification. Over her nearly 50-year career, Goode Bryant has and continues to advocate for a connection to "our innate ability to use what we have to create what we need." Most recently, Goode Bryant founded Project EATS, a "living installation" of neighborhood-based, small-plot, high-yield farms that use art, urban agriculture, partnerships, and social enterprise to sustainably grow and equitably distribute fresh, local, organically grown food in communities across New York City.
Sarah Workneh has worked in alternative education spaces for artists for over 20 years. She has served as codirector of the Skowhegan School of Painting & Sculpture since 2010. Primarily focused on the educational program and off-season programming with alumni, Workneh leads all efforts to support artists in the expansion of their practices. Understanding the holistic nature of the program, Workneh oversees the admissions process, facilities usage and expansion under Skowhegan's Master Plan, and the educational daily life on campus. Sarah has lectured widely as a visiting artist/critic at schools and programs around the US, and has served as an advisor to both academic and residency programs, particularly around issues of equity. Workneh has published a variety of texts on participatory and radical education, as well as on individual artists' practices. She serves on the boards of Colby College Museum of Art, RAIR in Philadelphia, ProjectEATS, and Buxton School in Williamstown, MA, and is a member of the Lake Wesserunsett Association Board and Conservation Committee in Maine and the Black Lunch Table's Advisory Board. During the pandemic, in 2020, she partnered with Linda Goode Bryant and Project Eats to convert one of the organization's farms to a food pantry in New York City's Brownsville neighborhood. Sarah has a BA in linguistics and Russian and pursued graduate work focused on social movement theory, political economy, and liberation theology.




Film at MoMA is made possible by CHANEL.

Additional support is provided by the Annual Film Fund. Leadership support for the Annual Film Fund is provided by Debra and Leon D. Black, with major contributions from The Contemporary Arts Council of The Museum of Modern Art, Jo Carole and Ronald S. Lauder, the Association of Independent Commercial Producers (AICP), The Junior Associates of The Museum of Modern Art, and Karen and Gary Winnick.