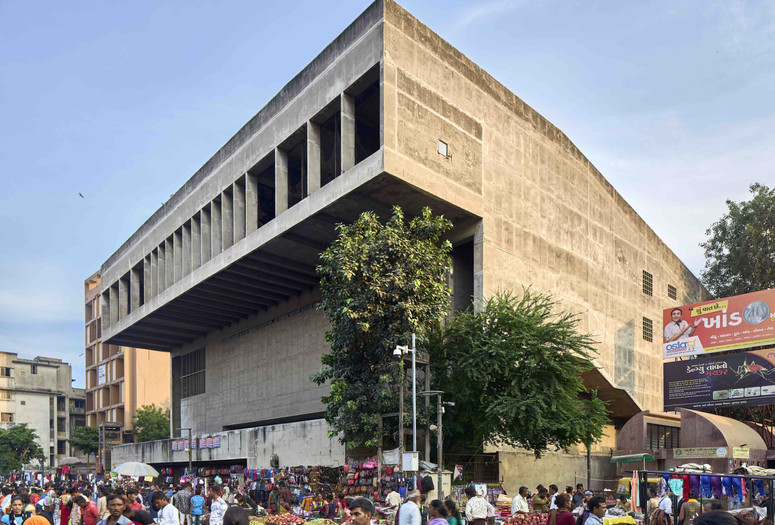 South Asia holds a unique place among the many regions of the world in which modern architecture has been understood as a tool for social progress. The traumatic and violent Partition of 1947, which divided British India into two dominions, also signaled the beginning of an ambitious process of nation-building across the subcontinent. In each of the newly independent countries of India, Pakistan, and Bangladesh, as well as Sri Lanka, modern architecture became an active agent in asserting participation in progressive global politics, forging a common regional identity, and breaking with the colonial past.
The Project of Independence: Architectures of Decolonization in South Asia, 1947–1985 showcases the remarkable contributions to a vision of decolonization and self-determination made by the first generation of post-Independence South Asian architects. Among them is Pritzker Prize-laureate Balkrishna V. Doshi, featured in the exhibition with four celebrated projects: the Centre for Environmental Planning and Technology (CEPT), the Indian Institute of Management (IIM) Bangalore, the Institute of Indology, and Kamala House. Join Martino Stierli, curator of The Project of Independence, and Doshi for an online conversation about his career oeuvre, the history of post-Independence architectural construction in India, and Ahmedabad as a hub of global modernism for the subcontinent.
Pritzker Prize-laureate and Padma Bhushan recipient Balkrishna Vithaldas Doshi, OAL, AAAL, was born in Pune, India, to an extended family of furniture makers. After initial architectural study at the J. J. School of Architecture, Bombay, he worked for four years with Le Corbusier as senior designer (1951–54) in France and four more years in India to supervise Le Corbusier's projects in Ahmedabad. Doshi also worked as Louis Kahn's associate for the Indian Institute of Management, Ahmedabad, after which they continued to collaborate for over a decade. Doshi founded his own practice in 1956. He is equally known as an educator and institution builder. He served as the campus architect of the Centre for Environmental Planning and Technology (CEPT) and the founding director (1962–72) of its School of Architecture. He also established the Vastu Shilpa Foundation for Studies and Research in Environmental Design to evolve indigenous design and planning standards for built environments appropriate to the socio-cultural and environmental milieu of India.
In recognition of his distinguished contribution as a professional and academician, Doshi was awarded the Royal Gold Medal in 2022 by RIBA and was made Foreign Honorary Member of the American Academy of Arts and Letter in 2021. He is the recipient of the Padma Bhushan, Government of India (2020); the Pritzker Architecture Prize (2018); the Officer of the Order of Arts and Letters of France (2011); the Global Award for Lifetime Achievement for Sustainable Architecture, Institut Français d'Architecture, Paris (2007); the Prime Minister's National Award for Excellence in Urban Planning and Design, India (2000); the Aga Khan Award for Architecture (1993–1995); and the Gold Medal, Academy of Architecture of France (1988), to name a few.