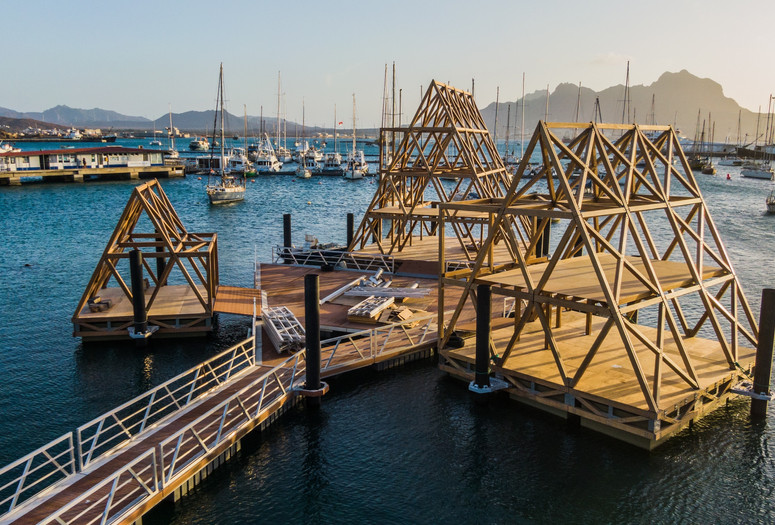 In recognition of Earth Day 2022, the Ambasz Institute will host the first annual Earth Day lecture, to address the increasing challenges of living on a damaged planet and the momentous cultural shifts required by the climate crisis. This year, we are honored to welcome Kunlé Adeyemi as our inaugural keynote speaker.
Introduction
Martino Stierli, Philip Johnson Chief Curator of Architecture and Design
Carson Chan, Director, Emilio Ambasz Institute for the Joint Study of the Built and Natural Environment
Keynote speaker
Kunlé Adeyemi, Founder and principal, NLÉ
Q&A
Moderated by Beatrice Galilee
Register today
After registering, you will receive a confirmation email containing information about joining the webinar.
Kunlé Adeyemi is an architect, professor, and development strategist whose works are internationally recognized for originality and innovation. He is the founder and principal of NLÉ, an architecture, design, and urbanism practice founded in 2010, which focuses on innovating cities and communities. Adeyemi's notable works include Makoko Floating System (MFSTM), a prefabricated building solution for developments on water that is currently deployed in five countries on three continents, the most recent of which is Mansa Floating Hub in Sao Vicente, Cape Verde. This acclaimed project is part of NLÉ's extensive body of work and the new venture Water Cities® Group and the African Water Cities Centre, which is focused on the intersections of rapid urbanization and climate change. Other projects include A Prelude to The Shed in New York, USA; the Black Rhino Academy in Karatu, Tanzania; and the Serpentine Summer House at the Royal Kensington Gardens in London, UK. Alongside his professional practice and multiple awards, Adeyemi is an international speaker and thought leader. He is one of UNDP's Africa in Development Supergroup members. Adeyemi is currently an adjunct visiting professor at the University of Lagos—following appointments in various institutions, including Harvard, Princeton, Cornell, and Columbia universities—where he leads academic research in architecture and urban solutions that address societal, environmental, and economic needs.
Beatrice Galilee is a London-born curator, writer, and cultural advisor who is internationally recognized for her expertise in global contemporary architecture and design. She is the author of Radical Architecture of the Future (2021) and between 2014 and 2019 she served as the first curator of contemporary architecture and design at the Metropolitan Museum of Art. Currently living in New York, Galilee is cofounder and executive director of the World Around, a new platform for contemporary design and architecture that is in residence at the Guggenheim Museum. Galilee is a visiting associate professor at Pratt Institute, where she lectures on curating. She served as chief curator of the 2013 Lisbon Architecture Triennale, co-curator of 2011 Gwangju Design Biennale, and co-curator of the 2009 Shenzhen Hong Kong Bi-City Biennale of Architecture and Urbanism. Between 2010 and 2012 she launched and codirected the Gopher Hole, an experimental exhibition and project space in London. Between 2006 and 2009 she served the award-winning architecture editor of Icon magazine, one of Europe's leading publications in architecture and design. A respected critic, her writing on contemporary design has been published in e-Flux, CNN Style, Vogue Italia, Art Review, Domus, Abitare, MARK, Tank, Pin-Up, Above, Building Design, Architectural Review, Architecture Today, RIBA Journal, Architect's Journal, DAMn, Frame, Wallpaper, Another Magazine, and more.
This event was made possible through a generous gift from Emilio Ambasz. The Emilio Ambasz Institute for the Joint Study of the Built and the Natural Environment is a platform for fostering dialogue, promoting conversation, and facilitating research about the relationship between the built and natural environment, with the aim of making the interaction between architecture and ecology visible and accessible to the wider public while highlighting the urgent need for an ecological recalibration.