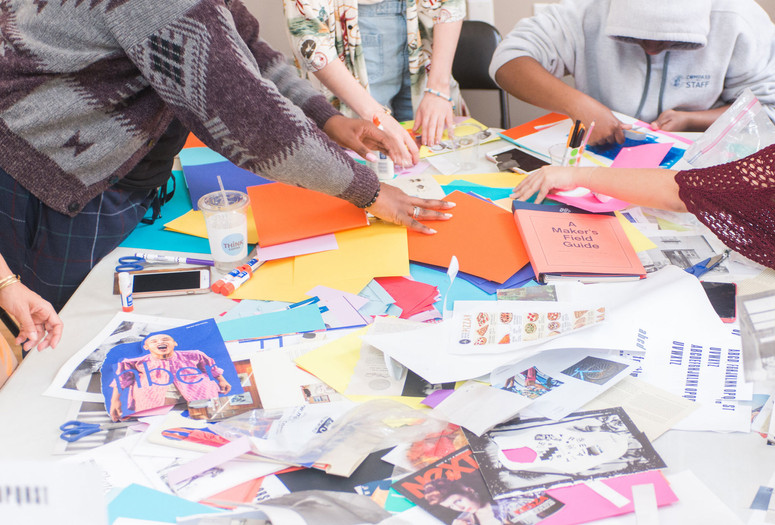 Join artist Lizania Cruz to experiment with collage as a strategy for storytelling within and around archival material. This workshop will expand on the artistic strategies highlighted in Gallery 214: Critical Fabulations, which look at history's omissions in response to the legacy of colonialism and its hold in the present.
This workshop will guide participants through art-making activities that speculate a migration route of el bamboula, a dance and music style, originally from Africa, that can be found in the Dominican Republic and forms part of the originating history of Congo Square in New Orleans. Using a selection of archival material gathered by Cruz, participants will draw their own conclusions about the route of el bamboula and create a collage that will become a page in a collective zine.
This workshop is free and open to all, with no experience necessary. Registration is required and capacity is limited.
COVID-19 vaccination and masks are no longer required, but strongly recommended for all visitors.
Lizania Cruz is a Dominican participatory artist and designer who is interested in how migration affects ways of being and belonging. Through research, oral history, and audience participation, she creates projects that highlight a pluralistic narrative of migration. Cruz has been an artist-in-residence and fellow at the Laundromat Project Create Change (2017–19), Agora Collective Berlin (2018), Design Trust for Public Space (2018), Recess Session (2019), IdeasCity:New Museum (2019), Stoneleaf Retreat (2019), Robert Blackburn Workshop Studio Immersion Project (SIP) (2019), A.I.R. Gallery (2020–21), BRIClab: Contemporary Art (2020–21), and Center for Books Arts (2020–21), and a Jerome Hill Artist Fellow, Visual Arts (2021–22). She is currently working on Investigation of the Dominican Racial Imaginary, a participatory research-based art project that looks at how the nation-state of the Dominican Republic has repressed and erased African heritage in the Dominican imagination.
The session on Saturday, May 21, 1:00-3:00 p.m. ET is now at capacity. Please email [email protected] to be added to the wait list.
Register for Thursday, May 26, 6:00–8:00 p.m. ET
Accessibility
For accessibility questions or accommodation requests please email [email protected] or call 212-708-9781.


In order to serve visitors with hearing loss, the Crown Creativity Lab includes induction hearing loops for sound amplification. During scheduled programs, visitors can turn their hearing aid or cochlear implant to T-Coil mode to hear enhanced sound effortlessly. The loop system does not work with hearing aids without telecoil technology.
All-gender restrooms are located on Floors 1, 3W, 5, and T1.


American Sign Language (ASL) interpretation and live captioning is available for public programs upon request with two weeks advance notice. MoMA will make every effort to provide accommodation for requests made with less than two weeks notice. Please contact [email protected] to make a request for these accommodations.


The entrance to the Creativity Lab has a power-assist door.
Seating options include chairs with backs.
For more information on accessibility at MoMA please visit moma.org/Visit/Accessibility.
Volkswagen of America is proud to be MoMA's lead partner of education.

Generous support for Adult and Academic Programs is provided by the Agnes Gund Education Endowment Fund for Public Programs, The Junior Associates of The Museum of Modern Art Endowment for Educational Programs, the Jeanne Thayer Young Scholars Fund, and Christina R. Davis. Additional support is provided by the Annual Education Fund.