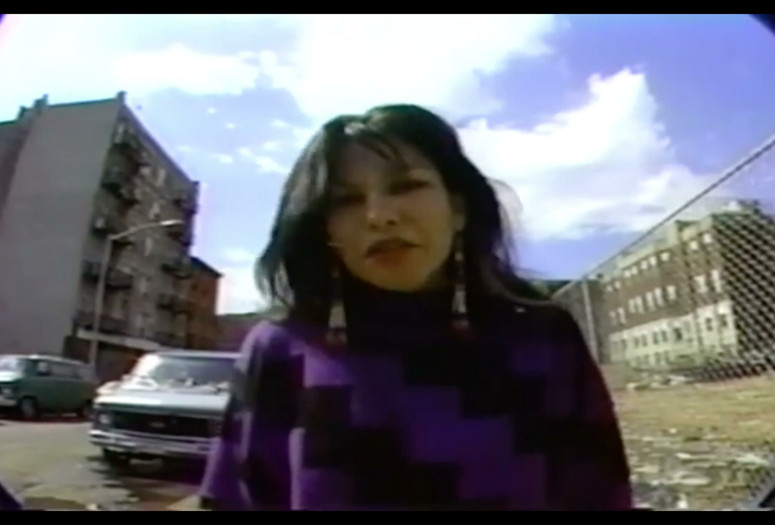 On the occasion of Diane Burns's inclusion in Greater New York, poet Nicole Wallace organizes a day of reflection on Burns's work and legacy. Burns wrote poetry and produced drawings, often critiquing stereotypes of Native Americans and addressing the complexities of urban life. The program brings together a group of Indigenous writers and artists to dig into Burns's creative practice and generate new considerations and interpretations. The afternoon will include a series of presentations of new textual material by Lou Cornum, Sky Hopinka, Maria Hupfield, and Justina Mejias followed by a conversation moderated by Wallace.
Hopinka's film, I'll Remember You as You Were, Not as What You'll Become from 2016, an elegy for Diane Burns, is currently on view at MoMA.
Diane Burns (1957–2006) was born in Lawrence, Kansas to a Chemehuevi father and an Anishinabe mother. She moved to New York in the 1970s to attend Barnard College, and after dropping out her senior year, she became active in the poetry scene of the Lower East Side, where she lived. She was a founding poet of the Nuyorican Poets Café, a frequent performer at the Bowery Poetry Club and the Poetry Project at St. Mark's Church, and published a book of poems entitled Riding the One-Eyed Ford (1981), illustrated with her pen and ink drawings.
Nicole Wallace's first chapbook, WAASAMOWIN, was published by IMP in 2019. Most recently, Nicole was the June/July 2020 poetry micro-resident at Running Dog and a 2019 Poets House Emerging Poets Fellow. Recent poetry can be read in print in Survivance: Indigenous Poesis Vol. IV Zine and online at Running Dog, A Perfect Vacuum, and LitHub. They have also contributed to programs and publications celebrating the work and life of the late poet, Diane Burns, author of Riding the One-Eyed Ford (Contact II, 1981).
Nicole received a BA from NYU's Gallatin School of Individualized Study and a Masters of Library Science in Archives and Preservation of Cultural Materials from Queens College, CUNY. In their ongoing work to reconnect with the Ojibwe language, they are dedicated to activating and carrying Anishinaabemowin forward as language learner, writer, poet, and relative. Nicole currently lives and makes work on occupied Canarsee and Lenape territory (NYC) where they are the Managing Director of The Poetry Project. Nicole is of mixed settler/European ancestry and is a patrilineal descendent of the Fond du Lac Band of Lake Superior Chippewa (Ojibwe).
Lou Cornum is currently the Andrew W. Mellon post-doctoral fellow in Native American Studies in the American Studies department at Wesleyan University, where they are at work on their first book manuscript, Skin Worlds: Speculative Geographies Across Indigenous and Black Literatures. Their essays and art criticism can be found in Art in America, Frieze, Canadian Art, The New Inquiry, and Pinko: A Magazine of Gay Communism. They are an enrolled member of the Navajo Nation, a two-spirit dyke, and an amateur mycologist.
Sky Hopinka (Ho-Chunk Nation/Pechanga Band of Luiseño Indians) was born and raised in Ferndale, Washington and spent a number of years in Palm Springs and Riverside, California; Portland, Oregon; and Milwaukee, Wisconsin. In Portland he studied and taught chinuk wawa, a language indigenous to the Lower Columbia River Basin. His video, photo, and text work centers around personal positions of Indigenous homeland and landscape, designs of language as containers of culture expressed through personal, documentary, and non fiction forms of media. He received his BA from Portland State University in Liberal Arts and his MFA in Film, Video, Animation, and New Genres from the University of Wisconsin-Milwaukee, and currently teaches at Bard College in Film and Electronic Arts.
His work has played at various festivals including Sundance, Toronto International Film Festival, Ann Arbor, Courtisane Festival, Punto de Vista, and the New York Film Festival. His work was a part of the 2017 Whitney Biennial, the 2018 FRONT Triennial and Prospect.5. He was a guest curator at the 2019 Whitney Biennial and participated in Cosmopolis #2 at the Centre Pompidou. He has had solo exhibitions at the Great Poor Farm Experiment in 2019 and at the Center for Curatorial Studies, Bard College, in 2020. He was awarded the Tom Berman Award for Most Promising Filmmaker at the 54th Ann Arbor Film Festival, the New Cinema Award at the Berwick Film and Media Arts Festival and the Mary L. Nohl Fund Fellowship for Individual Artists in the Emerging artist category for 2018. He was a fellow at the Radcliffe Institute for Advanced Study at Harvard University in 2018- 2019, a Sundance Art of Nonfiction Fellow for 2019, an Art Matters Fellow in 2019, a recipient of a 2020 Alpert Award for Film/Video, a 2020 Guggenheim Fellow, and is a 2021 Forge Project Fellow.
Maria Hupfield is a Toronto based transdisciplinary artist working in performance art. She is an inaugural Borderlands Fellow (2020-22) with the Vera List Center for Arts and Politics, The New School in New York, and the Center for the Imagination, Arizona State University, and was awarded the Hnatyshyn Foundation Award for Outstanding Achievement by a Canadian mid-career artist (2018). Her solo exhibition, Nine Years Towards The Sun at the Heard Museum, Phoenix, (2019-20) focused on display strategies for performance art as living culture and followed her first major touring institutional solo exhibition in Canada, The One Who Keeps on Giving, a production of The Power Plant Contemporary Art Gallery, Toronto. Her work has been shown in New York at the Museum of Arts and Design, BRIC, and the Smithsonian National Museum of the American Indian. She represented Canada at SITE Santa Fe (2016) and traveled nationally in Canada with Beat Nation: Art, Hip Hop and Aboriginal Culture (2012-14). Recent performances include the National Gallery of Canada. Hupfield is an off-rez citizen of Wasauksing First Nation, Ontario, Anishinaabe Nation, and the Canadian Research Chair in Transdisciplinary Indigenous Arts at the University of Toronto in Mississauga. Together with her husband Jason Lujan she co-owns Native Art Department International.
Justina Mejias is a Boston Conservatory trained vocalist, slam poetry champion, and arts educator native to New York City. Performance highlights include the Knitting Factory with reg e gaines and Savion Glover, the Nuyorican Poets Cafe with her twenty piece big band, and Lincoln Center as a stepsister in Cinderella where she was told by audience members that they wanted her to get the prince. Other honors include The Sidney Kahn Summer Institute at the Kitchen, numerous projects with non-profit arts organization A Gathering of the Tribes, and musical appearances with Bayrex Jiménez- son of Puerto Rican folk legend El Jíbaro - in San Juan, Puerto Rico. She was also part of the creation of the StoryCorps Project, with her pilot interview with Diane Burns appearing in the catalogue for Greater New York at MoMA PS1. A certified Kripalu yoga teacher, amateur mycologist, and chipmunk enthusiast, Justina has no concept of boredom.
For accessibility information click here.
With special thanks and gratitude to Britta Ruona/The Estate of Diane Burns for making this event possible.