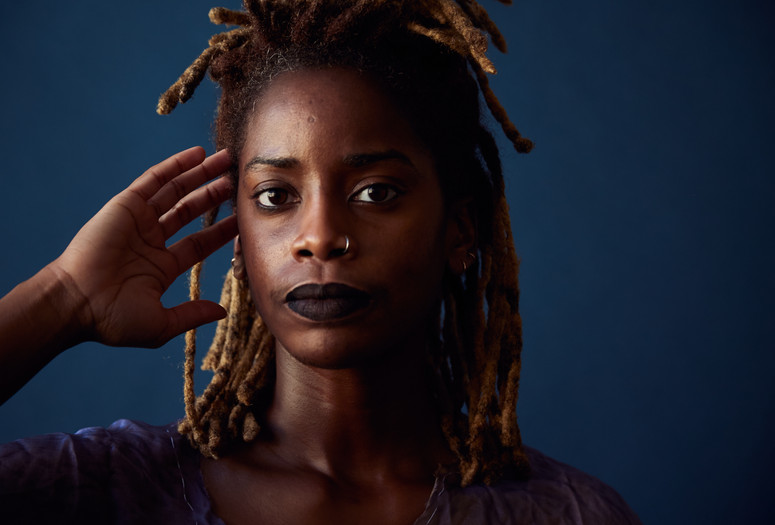 Join dance artist Angie Pittman to explore sensation and impulse through movement. This 60-minute workshop will consider how the body relates to memory and history, expanding on themes in the exhibition Basel Abbas and Ruanne Abou-Rahme: May amnesia never kiss us on the mouth. Inspired by Abbas and Abou-Rahme's archive of everyday people singing and dancing, we will practice movement as both individual and collective experiences.
This workshop is free and open to all, with no experience or ability required. Registration is required and capacity is limited. Please wear comfortable clothing and be prepared to join in bare feet or socks. Materials will be provided for writing exercises but you are also welcome to bring your own notebook. Seating will be available and you are encouraged to interpret all movement prompts in whatever way is best for your body.
COVID-19 vaccination and masks are strongly recommended for all visitors.
Angie Pittman is a New York–based dance artist, dance maker, and dance educator. Her work has been performed at the Kitchen, Gibney Dance, BAAD!, Movement Research at Judson Church, STooPS, the Domestic Performance Agency, the Chocolate Factory Theater, and Danspace Project. Her most recent work, I'll tell you, but please be still, was presented by Roulette Intermedium, and can be accessed via their archive. Angie's work resides in a space that investigates how the body moves through ballad, groove, sparkle, spirit, spirituals, ancestry, vulnerability, and power.
Register here:
Wednesday, April 27, 2022, 1:00pm
Wednesday, April 27, 2022, 3:00pm
Saturday, April 30, 2022, 1:00pm
Saturday, April 30, 2022, 3:00pm
Accessibility
For accessibility questions or accommodation requests please email [email protected] or call 212-708-9781.


In order to serve visitors with hearing loss, the Crown Creativity Lab includes induction hearing loops for sound amplification. During scheduled programs, visitors can turn their hearing aid or cochlear implant to T-Coil mode to hear enhanced sound effortlessly. The loop system does not work with hearing aids without telecoil technology.

All-gender restrooms are located on Floors 1, 3W, 5, and T1.


American Sign Language (ASL) interpretation and live captioning is available for public programs upon request with two weeks advance notice. MoMA will make every effort to provide accommodation for requests made with less than two weeks notice. Please contact [email protected] to make a request for these accommodations.


The entrance to the Creativity Lab has a power-assist door.
Seating options include chairs with backs.
For more information on accessibility at MoMA please visit moma.org/Visit/Accessibility.

Volkswagen of America is proud to be MoMA's lead partner of education.

Generous support for Adult and Academic Programs is provided by the Agnes Gund Education Endowment Fund for Public Programs, The Junior Associates of The Museum of Modern Art Endowment for Educational Programs, the Jeanne Thayer Young Scholars Fund, and Christina R. Davis. Additional support is provided by the Annual Education Fund.