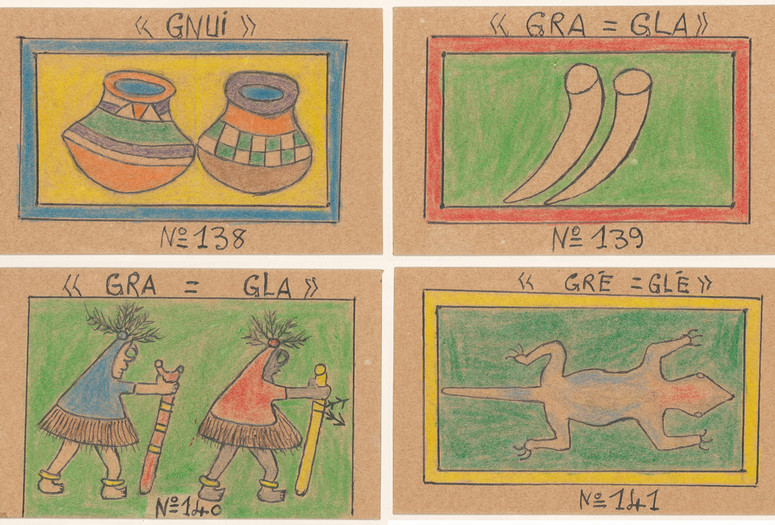 Join writers Edwige-Renée Dro and Wayétu Moore and artist Meleko Mokgosi as they discuss the intersections of image, language, and knowledge production in Africa and its diaspora. This conversation, moderated by Uzodinma Iweala, CEO of The Africa Center, will take as its starting point the work of Ivorian artist Frédéric Bruly Bouabré, who sought out and transmitted knowledge through his visual art and writings, drawing on sources from folklore to philosophy, popular culture, and daily life. The program will probe the role of the artist in traversing cultures and fields of learning, and ask how systems of language reinforce or resist forces of colonization.
This program is presented in partnership with The Africa Center and in conjunction with the exhibition Frédéric Bruly Bouabré: World Unbound. It will include an introduction from MoMA curator and exhibition organizer Ugochukwu-Smooth C. Nzewi.
This event is free, open to all, and takes place over Zoom. Registration is required. Live CART captions will be available in both English and French.
Edwige-Renée Dro is a writer, translator, and literary activist and the founder of 1949, the first library of women's writings from Africa and the black world in Côte d'Ivoire. She is one of the laureates of The Africa39 project and her writings have been published by Bloomsbury, Ankara Press, Myriad Editions, Popula and many others.
Wayétu Moore is the author of the novel She Would Be King (2018) and the memoir The Dragons, The Giant, The Women (2020). She is the founder of One Moore Book, a nonprofit organization that creates and distributes culturally relevant books for underrepresented readers. Her first bookstore opened in Monrovia, Liberia, in 2015.
Meleko Mokgosi is an artist and an associate professor at the Yale School of Art. His large-scale, figurative, and often text-based works engage history painting and cinematic tropes to uncover notions of colonialism, democracy, and liberation across African history. His most recent body of work, Democratic Intuition (2013–20), poses questions about ideas of the democratic in relation to the daily lived experiences of the subjects who occupy southern Africa.
Uzodinma Iweala is an award-winning writer, filmmaker, and medical doctor. As the CEO of The Africa Center, he is dedicated to promoting new narratives about Africa and its Diaspora. His books include Beasts of No Nation (2005); Our Kind of People, a nonfiction account of HIV/AIDS in Nigeria that was released in 2012; and Speak No Evil (2018), a novel about a queer first-generation Nigerian-American teen living in Washington, DC.
Accessibility



This program will have live CART captioning. American Sign Language (ASL) interpretation is available for public programs upon request with two weeks advance notice. MoMA will make every effort to provide accommodation for requests made with less than two weeks notice. For accessibility questions or accommodation requests please email [email protected] or call (212) 708-9781.
Au cours d'une table ronde ouverte au public, l'artiste Meleko Mokgosi et les autrices Wayétu Moore et Edwige-Renée Dro discuteront des intersections entre image, langage et production de savoirs en Afrique et dans la diaspora africaine.
Cette conversation, modérée par Uzodinma Iweala, directeur de The Africa Center à New York, prendra comme point de départ l'œuvre de l'artiste ivoirien Frédéric Bruly Bouabré. Tout au long de sa carrière, Frédéric Bruly Bouabré a rassemblé et transmis différents savoirs à travers ses œuvres d'art visuel et ses écrits, réunissant des sources allant du folklore à la philosophie, de la culture populaire à la vie quotidienne. Au cours de ce programme, les participants exploreront le rôle de l'artiste comme passeur entre différentes cultures et différents domaines de connaissance, et interrogeront la façon dont les systèmes de langage peuvent être employés par les forces colonisatrices ou au contraire permettre de leur résister.
Ce programme est présenté en partenariat avec The Africa Center en lien avec l'exposition Frédéric Bruly Bouabré: World Unbound. La conversation sera présentée par Ugochukwu-Smooth C. Nzewi, commissaire de l'exposition.
Cet événement est gratuit, ouvert à tous, et aura lieu sur Zoom. L'inscription est obligatoire. Un sous-titrage CART sera disponible en anglais et en français.
Edwige-Renée Dro est autrice, traductrice et activiste littéraire. Elle a fondé 1949, première bibliothèque des écritures féminines d'Afrique et du monde noir en Côte d'Ivoire. Elle est l'une des lauréates du projet Africa39 et ses textes ont notamment été publiés par Bloomsbury, Ankara Press, Myriad Editions et Popula.
Meleko Mokgosi est artiste et professeur associé à la Yale School of Art. Ses œuvres figuratives et de grand format, qui incorporent souvent des textes, se réfèrent à la peinture historique et aux lieux communs cinématographiques pour mettre au jour les notions de colonialisme, de démocratie et de libération au travers de l'histoire africaine. Son corpus d'œuvres le plus récent, Democratic Intuition (2012-2020), interroge l'idée de démocratie en lien avec les expériences vécues des sujets qui occupent le sud du continent africain.
Wayétu Moore est l'autrice du roman She Would Be King (2018) et du texte autobiographique The Dragons, The Giant, The Women (2020). Elle a fondé l'organisation à but non-lucratif One Moore Book, qui crée et distribue des livres destinés à des lecteurs et lectrices peu représentés dans le monde de l'édition.
Uzodinma Iweala est auteur, réalisateur et médecin. À la tête de The Africa Center, il consacre son travail à promouvoir un nouveau récit sur l'Afrique et sa diaspora. Il a notamment publié les ouvrages Beasts of No Nation (2005) ; Our Kind of People, un récit documentaire sur le VIH/sida au Nigeria publié en 2012 ; et Speak No Evil (2018), un roman sur un adolescent queer nigériano-américain à Washington.
Accessibilité



Ce programme sera sous-titré en direct, en français et anglais, grâce à la technologie CART. Une interprétation en langue des signes américaine (ASL) est disponible si la demande en est faite au plus tard deux semaines avant l'événement. Le MoMA mettra tout en œuvre pour accéder aux demandes reçues avec moins de deux semaines d'avance. Pour toute question liée à l'accessibilité, merci d'écrire à [email protected] ou de téléphoner au +1 (212) 708-9781.

Volkswagen of America is proud to be MoMA's lead partner of education.

Generous support for Adult and Academic Programs is provided by the Agnes Gund Education Endowment Fund for Public Programs, The Junior Associates of The Museum of Modern Art Endowment for Educational Programs, and the Jeanne Thayer Young Scholars Fund. Additional support is provided by the Annual Education Fund.