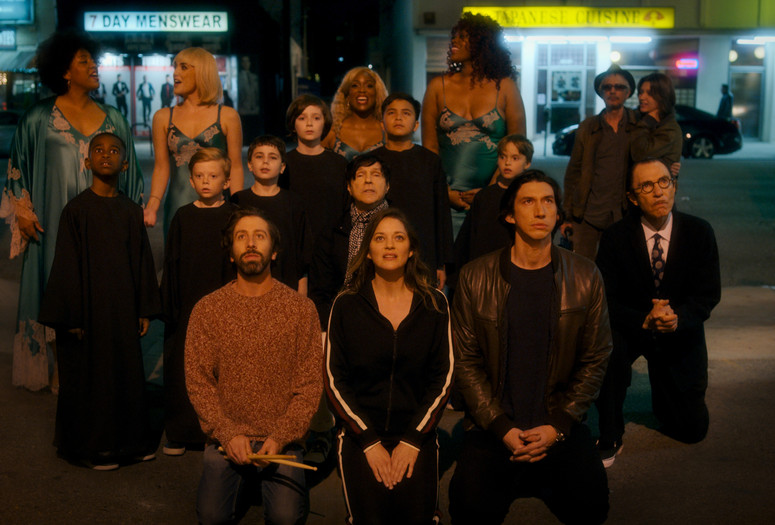 Virtual Cinema screenings are available exclusively to MoMA members. Not a member? Join today and start streaming.
Annette. 2021. France. Directed by Leos Carax. Directed by Leos Carax. Screenplay by Ron Mael, Russell Mael. With Adam Driver, Marion Cotillard, Simon Helberg. 141 min.
Tickets for in-person films are available to members at the Explore category and above beginning two weeks before each screening. Additional tickets will be released, to members as well as the general public, one week before each screening.
The first feature in nine years from the elusive French filmmaker Leos Carax, Annette is a close collaboration with the brothers Ron Mael and Russell Mael of the pop duo Sparks, who provided the original story and a suite of a dozen songs. A passionate love story between two intensely private but public-facing performers—an acerbic stand-up comedian (Adam Driver) and a spellbinding opera singer (Marion Cotillard)—takes place in a stylized, nocturnal netherworld, rendered in voluptuous blacks by cinematographer Caroline Champetier. But as always in Carax's work, love proves to be a fatal disease and the couple comes apart, leaving behind a living(?) embodiment of their pain and loss in the form of a little girl portrayed by a puppet. Annette remains emotionally vivid even as Carax pursues his vision to the outer limits of fantasy.
Virtual Cinema is not available to Annual Pass members. Virtual Cinema screenings are not available outside the US.