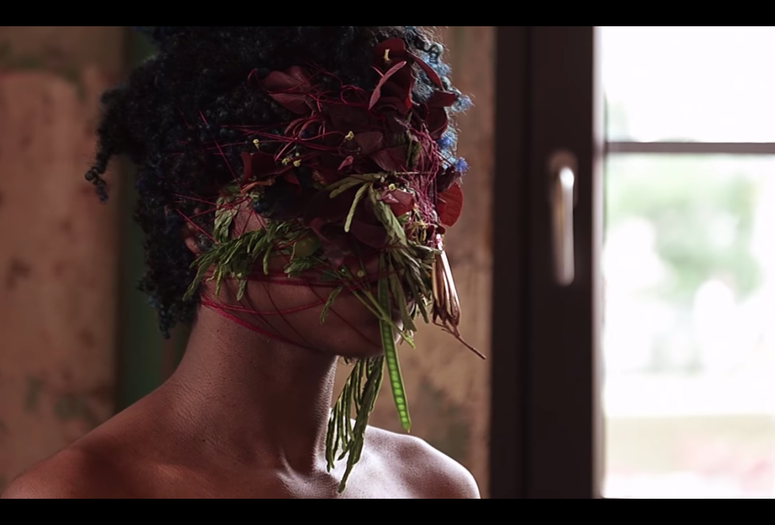 Attempts to write a history of art from inside the circle of Black life are proliferating. Emerging from the long history of Black and Indigenous cultural spaces—including communities in the periferias, or outskirts of sprawling cities; quilombos, settlements of enslaved people; as well as the religious meeting grounds known as terreiros—contemporary artists and curators are actively shaping the narrative of Black Brazilian art. In the past decade, their commitments to mutual aid have shifted the racial discourse of Brazil's most powerful museums and universities and offered a resource for self-organization that dovetails with the structural changes Black people have effected in US institutions. In both Brazil and the US, Black artistic and curatorial work are characterized by variability and the specificity of their local communities, even as the horizon of possibility is part of a shared global practice.
Against this backdrop, the Cisneros Institute presents Espaço preto (Black Space), a series of conversations between artists and culture bearers that asks: How do the radical cultural traditions that Black and Indigenous Brazilians have created in the wake of colonialism and racial capitalism offer a blueprint to imagine a future of our own design? How are our ways of knowing transmitted through the process of art making? How are resources redistributed via experimental forms of narration? At a time when our everyday lives are being revealed in their full fragility, these conversations offer cover to come together and build relationships beyond national boundaries.
Part one of the series, "How to Write a Feminist History of the Recent Past," asks:
Where is the history of recent exhibitions organized by Black and Indigenous people in Brazil within the canon of contemporary Latin American art? How might a feminist methodology account for other ways of recording art's histories and the residue of culture? This conversation looks to the collaborations of artist Rosana Paulino and curator Diane Lima as a point of departure, reflecting on the 2015–17 workshop and platform AfroTranscendence (or AfroT), as well as the series of conversations organized on the occasion of the exhibition Diálogos Ausentes (Absent Dialogues) at Itaú Cultural, São Paulo, in 2016–17. Together, these examples will prompt a discussion about other chapters within their respective work and Brazilian exhibition history that offer methods for "healing time."
The online session will be in English.
Speakers
Rosana Paulino is one of the most influential artists to have emerged from São Paulo in the 1990s. Her work in textiles, drawing, printmaking, sculpture, and installation explores the consequential role of Black women in Brazilian society. She holds a PhD from the University of São Paulo (USP) and was a 2014 Arts fellow at the Rockefeller Foundation Bellagio Center Residency Program.
Diane Lima is an independent curator and is a key Black feminist voice in Brazilian contemporary art. Based between São Paulo and Salvador, she holds a MA in communication and semiotics from Pontifícia Universidade Católica de São Paulo. She is currently co-curating the Third Frestas Triennial of Arts at SESC São Paulo (upcoming), and is also curating the digital exhibition The days before the crash at Pivô Satélite (ongoing). Her previous projects include conceptualizing the radical education program AfroTranscendence in 2015; curating the exhibition program Absent Dialogues at Itaú Cultural between 2016 and 2017; and organizing the Valongo International Image Festival in 2018 and 2019.
Thomas J. Lax is the organizer of Espaço preto (Black Space), which is a part of their research as the inaugural recipient of the Cisneros Research Grant for MoMA and MoMA PS1 Curators. They are a curator in MoMA's Department of Media and Performance in New York.
The Patricia Phelps de Cisneros Research Institute for the Study of Art from Latin America is a platform dedicated to stimulating, supporting, and disseminating new understandings of Latin American modern and contemporary art in relationship to broader cultural issues within a global context. The Institute will present a number of events that examine pressing situations facing Latin America today. We are interested in reflecting on Latin America as part of the larger world, and will create links with debates from further afield.
Espaço Preto (Espacio Negro), Primera parte: Cómo escribir una historia feminista del pasado reciente
28 de septiembre de 2020, 5-6 p.m.
Los intentos de escribir una historia del arte desde el interior de la vida de la comunidad Negra están proliferando. Artistas y curadores contemporáneos provenientes de la larga historia de espacios culturales Negros e Indígenas—incluidas las comunidades de las periferias; los quilombos, o asentamientos de personas antes esclavizadas; así como los espacios de encuentros religiosos conocidos como terreiros— están activamente transformando la narrativa del arte brasileño Negro. En la última década, su compromiso de ayuda mutua ha provocado un giro en el discurso racial de las universidades y museos más poderosos de Brasil y se ha convertido en un recurso de autoorganización que se conecta con los cambios estructurales que la comunidad Negra ha logrado en las instituciones de Estados Unidos. Tanto en Brasil como en Estados Unidos el trabajo artístico y curatorial de la comunidad Negra se caracteriza por su variabilidad y por especificidad de sus comunidades locales, incluso cuando su horizonte de posibilidades forme parte de una práctica global compartida.
En este contexto, el Instituto Cisneros presenta Espaço Preto (Espacio Negro), una serie de conversaciones entre artistas y agentes culturales que plantea las siguientes preguntas: ¿De qué modo las tradiciones culturales radicales que las comunidades Negras e Indígenas en Brasil han creado frente al colonialismo y el capitalismo racial pueden ofrecernos un plan de acción para imaginar un futuro diseñado por nosotros mismos? ¿De qué modo los procesos de creación artística transmiten nuestras formas de conocimiento? ¿Cómo se redistribuyen los recursos mediante la existencia de formas narrativas experimentales? En un momento en que nuestras vidas cotidianas se revelan en toda su fragilidad, estas conversaciones ofrecen un refugio para reunirse y construir relaciones más allá de las fronteras nacionales.
La primera parte de la serie, ¿Cómo escribir una historia feminista del pasado reciente?, plantea la pregunta: ¿Qué lugar ocupa la historia reciente de las exposiciones organizadas por personas de la comunidad Negra e Indígena en Brasil dentro del canon del arte contemporáneo latinoamericano? ¿De qué modo una metodología feminista podría dar cuenta de otras maneras de registrar las historias del arte y los residuos de la cultura? Esta conversación toma como punto de partida las colaboraciones entre la artista Rosana Paulino y la curadora Diane Lima, y reflexiona sobre AfroTrascendence (o AfroT), el taller y plataforma que tuvieron lugar entre 2015 y 2017, y sobre la serie de charlas organizadas para la exposición Diálogos Ausentes, que tuvo lugar en Itaú Cultural, São Paulo, en 2016-17. Conjuntamente, estos ejemplos darán lugar a una discusión sobre otras etapas, dentro de sus respectivas obras y dentro de la historia de las exposiciones en Brasil, que ofrecen métodos para un "tiempo de cura".
La conversación en línea será en inglés.
Ponentes
Rosana Paulino es una de las artistas más influyentes de la generación surgida en São Paulo en los noventa. Su obra, que incluye arte textil, dibujo, grabado, escultura e instalaciones, explora el rol significativo de las mujeres Negras en la sociedad brasileña. Es doctora por la Universidade de São Paulo (USP) y en 2014 fue artista becaria en el programa de residencias del Bellagio Center de la Rockefeller Foundation.
Diana Lima es una curadora independiente y una voz clave del feminismo Negro en el arte brasileño contemporáneo. Vive entre São Paulo y Salvador, y es magíster en Comunicación y Semiótica por la Pontifícia Universidade Católica de São Paulo. Actualmente es cocuradora de la tercera edición de Frestas Trienal de Artes en el Sesc São Paulo, y de la exposición digital Os dias antes da quebra (Los días antes del crac) en Pivô Satélite (al momento en exhibición). Sus proyectos anteriores incluyen la conceptualización del programa de educación radical "AfroTranscendence" en 2015; la curadoría del programa de la exposición Diálogos ausentes en Itaú Cultural entre 2016 y 2017, y la organización del Festival Internacional de la Imagen de Valongo en 2018 y 2019.
Thomas J. Lax es el organizador de Espaço Preto (Espacio Negro), un programa que forma parte de la investigación que está realizando como ganador de la Beca Cisneros de Investigación para Curadores de MoMA y MoMA PS1, en su edición inaugural. Lax es curador del Department of Media and Performance del MoMA en Nueva York.
El Instituto de Investigación Patricia Phelps de Cisneros para el estudio del arte de América Latina es una plataforma dedicada a estimular, apoyar y diseminar nuevos acercamientos al arte moderno y contemporáneo de América Latina, en diálogo con problemáticas culturales ampliadas en el contexto global.