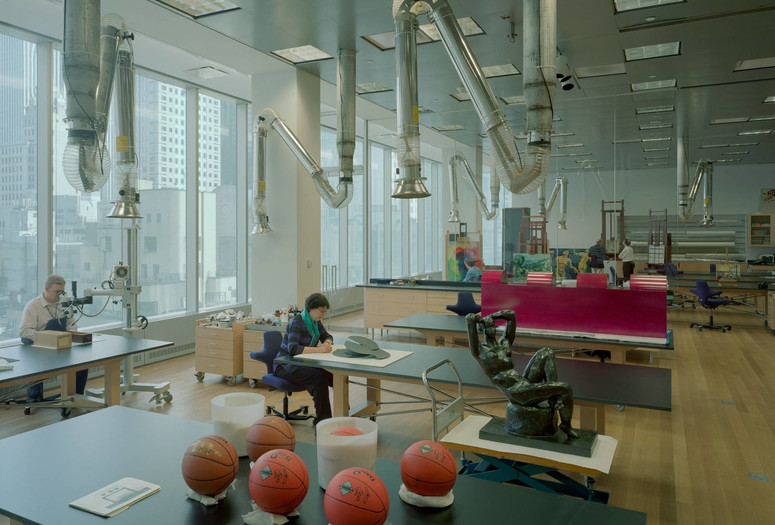 Join artist Salome Asega for a conversation about what's at stake when works of art are reproduced as images and copies. MoMA associate media conservator Peter Olesik and assistant projects conservator Megan Randall, and writer Rahel Aima will join Asega to discuss how reproductions of art both reflect and affect social and cultural values. How does producing and circulating reproductions create opportunities for audiences? What harm does it do?
This conversation is part of Salome Asega's project Little Wheel Souvenirs, organized in collaboration with the Department of Education as part of the Catalyst Program. Program length: 75 min.
Salome Asega is an artist and researcher based in Brooklyn. She is currently a Technology Fellow in the Ford Foundation's Creativity and Free Expression program, and is director of partnerships at POWRPLNT, a collaborative digital art lab in Brooklyn. Asega has participated in residencies and fellowships with Eyebeam, the New Museum, the Laundromat Project, and Recess. She has exhibited and given presentations at the Shanghai Biennale, Performa, EYEO, and the Brooklyn Museum. Asega received her MFA in design and technology from Parsons at the New School, where she also teaches.
Rahel Aima is a writer, editor, and critic from Dubai and currently based in Brooklyn. She is the special projects editor at the New Inquiry, and a contributing editor at Momus. She is currently working on a book about petromateriality and contemporary art in the Persian Gulf, and a collection of essays about Enya, and was a 2019 recipient of the Andy Warhol Arts Writers Grant.
Peter Oleksik is the associate media conservator at MoMA, where he has been working since 2011 to conserve the Museum's vast collection of time-based media. As part of his work at MoMA, Oleksik is a member of the Matters in Media Art (MMA) team, a collaboration between SFMOMA, Tate, and MoMA to provide resources on time-based media conservation. He lectures and publishes regularly on various topics related to time-based media conservation internationally. Additionally, Oleksik regularly works with independent artists, filmmakers, and musicians, such as Jem Cohen, Fugazi, and Sonic Youth, to preserve and provide access to their media collections. Oleksik received his BA in cinema studies from the University of Southern California and his MA from New York University's Moving Image Archiving and Preservation (MIAP) program, where he has served as an adjunct professor.
Megan Randall is an assistant projects conservator at The Museum of Modern Art, where she has worked since 2015. She completed her conservation training in objects conservation at the Conservation Center at the Institute of Fine Arts (NYU). Prior to entering the field of conservation, she worked as a finisher at Modern Art Foundry. She received an MA from Christie's Education and a BA from Carleton College.
Volkswagen of America is proud to be MoMA's lead partner of education.

Major support for Adult and Academic Programs is provided by the Estate of Susan Sabel.

Generous funding is provided by endowments established by Agnes Gund and Daniel Shapiro, The Junior Associates of The Museum of Modern Art, Walter and Jeanne Thayer, and by the gifts of Alan Kanzer. Additional support is provided by the Annual Education Fund.

MoMA Audio is supported by Bloomberg Philanthropies.