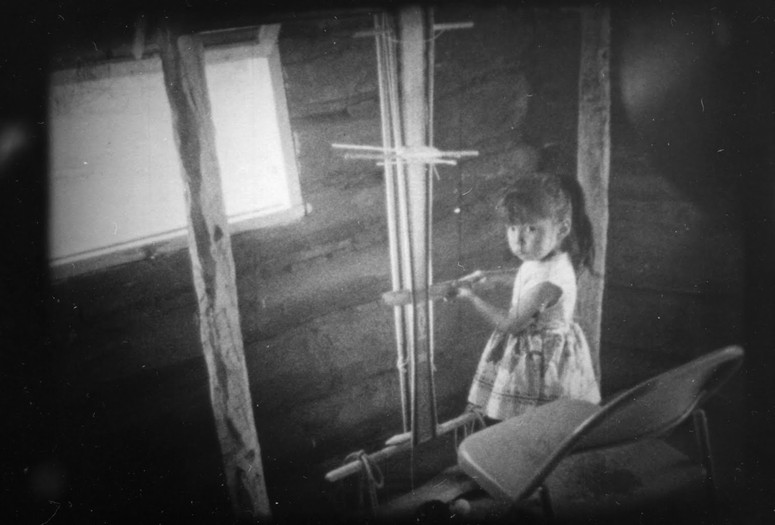 In 1966, six Diné (Navajo) students in Pine Springs, Arizona, learned 16mm filmmaking from communications professor Sol Worth and anthropologist John Adair. Instructed to film themselves and their culture "as they saw fit," the filmmakers show a medicine man performing a sing, or curing ceremony, traditional craft practices, the building of a well, and a lake and the life it sustains. One film takes a more subjective approach, as the filmmaker grapples with the pulls between Diné religion and Christianity. Cameras often move in a sunwise, or clockwise, direction and, as in Diné storytelling, walking is an event in and of itself. These early examples of indigenous media bring the people's labor and beliefs to the fore. All films are silent. Program 122 min.
Old Antelope Lake. USA. Directed by Mike Anderson. 11 min.
This film shows the source of the lake, then moves around the lake portraying the unity of natural things and human beings in the environment.
A Navajo Weaver. USA. Directed by Susie Benally. 22 min.
Susie Benally depicts her mother weaving at the loom and includes all of the necessary steps prior to the actual weaving.
Second Weaver. USA. Directed by Alta Kahn. 9 min.
This film is the result of Susie Benally teaching her mother to use the camera. Similar in theme to her daughter's film, it depicts Susie weaving a belt.
The Navajo Silversmith. USA. Directed by Johnny Nelson. 27 min.
This film traces the creation in silver of some small Yebitchai figures, from mining the silver to the finished figure.
The Shallow Well. USA. Directed by Johnny Nelson. 14 min.
Very different in style and approach from the craft films, Nelson's film illustrates the building of a shallow well to replace an open pond once used for water supply.
The Spirit of the Navajo. USA. Directed by Maxine Tsosie, Mary J. Tsosie. 21 min.
The film begins with an old medicine man looking for roots to use in a curing ceremony. He prepares for a sand painting, and part of the actual ceremony is featured.
Intrepid Shadows. USA. Directed by Al Clah. 18 min.
One of the most complex films, and among the least-understood by other Navajo, Intrepid Shadows was referred to by Margaret Mead as "one of the finest examples of animism shown on film…." In the film Al Clah attempts to reconcile the Western notion of God with his traditional Navajo notion of gods.