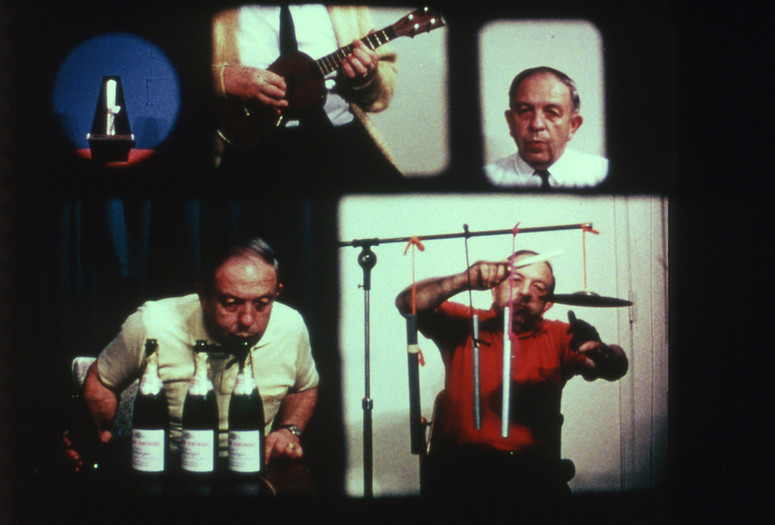 Each year, the Librarian of Congress names 25 new titles to the National Film Registry. These films are chosen to "showcase the range and diversity of American film heritage to increase awareness for its preservation." Currently, there are 17 home movies and amateur films on the Registry. In cooperation with the Center for Home Movies and as a compliment to Private Lives Public Spaces, these 17 films are presented over three programs. Program 95 min.
Cologne: From the Diary of Ray and Esther. 1939. USA. Directed by Esther and Raymond Dowidat. 14 min
This black-and-white silent documentary salutes the good-natured Germans or Hollanders of Cologne, Minnesota, as photographed by local amateur filmmakers the Dowidats. Presented with music composed by John Clement Wood.
H2O. 1929. USA. Directed by Ralph Steiner. 13 min.
A cinematic tone poem celebrating water in all its forms, using lovely images and editing techniques of movement, shading, and texture to produce striking visual effects. Presented with music composed by An Orchestrated Impulse (Matt Pond and Chris Hansen).
Fuentes Family Home Movies Collection. 1920s–30s. USA. Directed by the Antonio Rodríguez Fuentes family. Approx 10 min.
Among the earliest visual records of a Mexican American community in Texas in the 1920s and among the first recorded by Mexican American filmmakers. Presented with music composed by Goh Nakamura.
Topaz. 1943–45. Directed by Dave Tatsuno. USA. 48 min. Courtesy of The Academy Film Archive.
The Topaz Relocation Center, located 140 miles south of Salt Lake City, was one of 10 internment camps during World War II that housed thousands of Japanese Americans.
Multiple SIDosis. 1970. USA. Directed by Sid Laverents. 9 min.
Former vaudevillian and amateur filmmaker Sid Laverents wrote, directed, and starred in this short film that features a dozen split-screens of him simultaneously playing a variety of musical instruments.