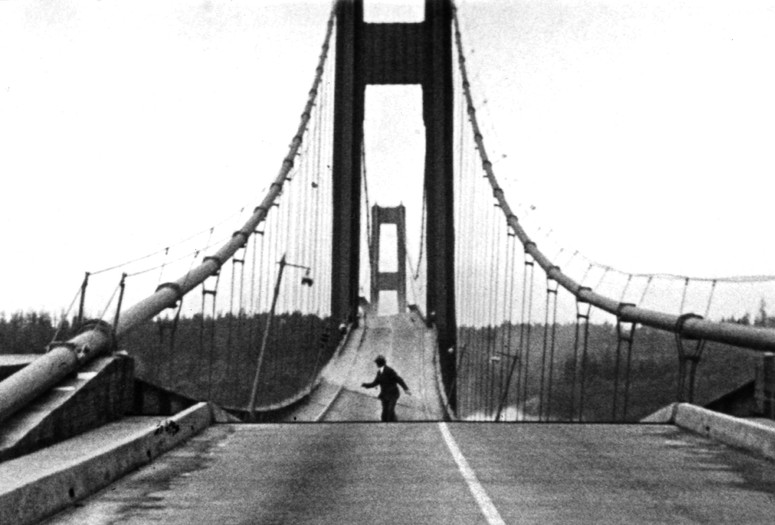 Each year, the Librarian of Congress names 25 new titles to the National Film Registry. These films are chosen to "showcase the range and diversity of American film heritage to increase awareness for its preservation." Currently, there are 17 home movies and amateur films on the Registry. In cooperation with the Center for Home Movies and as a compliment to Private Lives Public Spaces, these 17 films are presented over three programs. Program 99 min.
Zapruder Film of the Kennedy Assassination. 1963. USA. Directed by Abraham Zapruder. 1 min.
Tacoma Narrows Bridge Collapse. 1940. USA. Directed by Barney Elliott, Harbine Monroe. 11 min.
In November 1940, the Tacoma Narrows Bridge collapsed due to a combination of high winds and poor construction. Local camera store owner Barney Elliot captured the undulating bridge with his Bell & Howell 16mm movie camera. Presented with music composed by Goh Nakamura.
Nicholas Brothers' Family Home Movies. c. 1934–50. USA. Directed by the Nicholas family. Approx. 10 min. Courtesy of The Academy Film Archive.
The home movies of Fayard and Harold Nicholas, who were renowned for their innovative and exuberant dance routines, capture a golden age of show business—with extraordinary footage of Broadway, Harlem, and Hollywood.
From Stump to Ship. 1930. USA. Directed by Alfred K. Ames, Howard Kane. 30 min.
A document of workers in all facets of the lumber industry, from sawing down trees to running logs down rivers, in Washington County, Maine.
Our Day. 1938. USA. Directed by Wallace Kelly. 12 min.
A smart, entertaining day-in-the-life portrait of the Kelly household, shown in both idealized and comic ways. Presented with music composed by John Clement Wood.
Disneyland Dream. 1956. USA. Directed by Robbins Barstow. 35 min.
The Barstow family films a memorable home movie of their trip to Disneyland in 1956.
Though other amateur film of the assassination of John F. Kennedy exists, the Zapruder footage is considered the most authoritative record of the event.