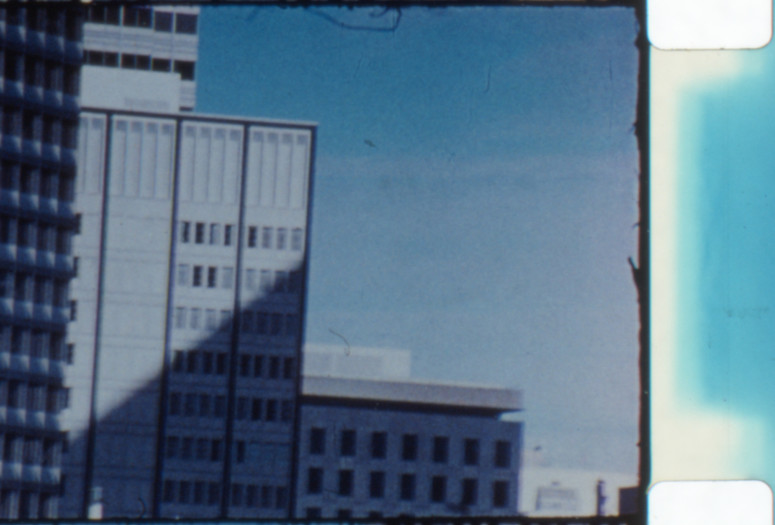 This lively array of films from San Francisco, made between 1964 and 1979, samples from the Bay Area's history as a mecca for avant-garde film and media. Formal manipulation of body and performance-based imagery runs strong in the work of Charles Levine, Will Hindle, and Bruce Conner, making for counterculture documents that are equal parts palpable and conceptual. Found footage and assemblage practices, an aesthetic mainstay of the region into the 2000s, are represented in Larry Jordan's uncanny animation (Conner's influential collage films appear elsewhere in the series). Scott Bartlett and Tom DeWitt bring in another pioneering approach that integrated performance, video, and light shows with optical printing at around the same time the first computer films came out of Bell Labs on the East Coast. The lived environment is the subject of Bruce Baillie and Abigail Child's graceful, experimental urban symphonies, while serene nature is the backdrop for James Broughton's playful Beat haiku. The program points to pillars of the city's enduring and diverse moving-image culture—from Broughton's participation in the formative Art in Cinema series at the San Francisco Museum of Art (now SFMOMA) in the 1940s, to Conner and Jordan's Camera Obscura Film Society in the 1950s, to Canyon Cinema, the cooperative distributor cofounded by Baillie in 1960 and active to this day. Program approx. 65 min
Breakaway. 1966. USA. Directed by Bruce Conner. With Toni Basil. Print courtesy Conner Family Trust. Restored by Michelle Silva of the Conner Family Trust and Kohn Gallery, Los Angeles. 35mm. 5 min.
Apropo of San Francisco. 1969. USA. Directed by Charles I. Levine. Print courtesy The Film-Makers' Cooperative. 16mm. 4:30 min.
Castro Street. 1966. USA. Directed by Bruce Baillie. 16mm. 10 min.
Duo concertantes. 1964. USA. Directed by Larry Jordan. 16mm. 9 min.
Off/On. 1968. USA. Directed by Scott Bartlett, Tom DeWitt. 16mm. 9 min.
Billabong. 1968. USA. Directed by Will Hindle. Print courtesy Canyon Cinema. 16mm. 9 min.
High Kukus. 1973. USA. Directed by James Broughton. 16mm. 3 min.
Pacific Far East Line. 1979. USA. Directed by Abigail Child. 16mm. 12 min.