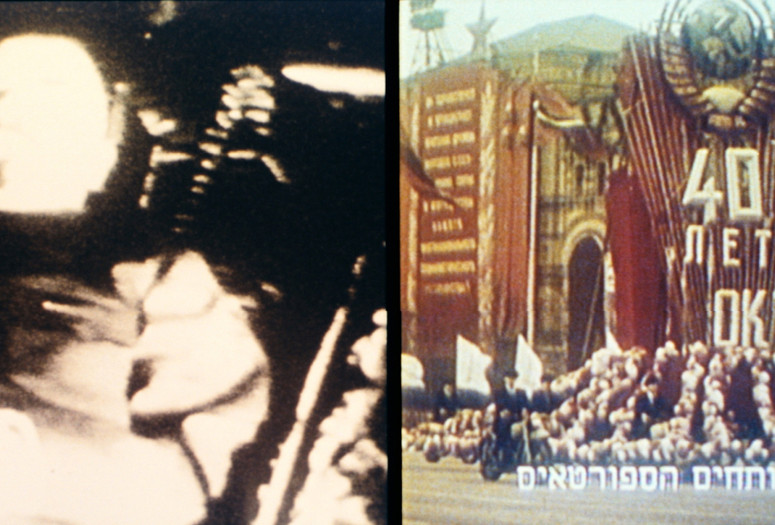 While Cineprobe was established as a forum for American filmmakers, it almost immediately engaged with artists outside the United States. This selection of short films traces experimental practices from Eastern and Central Europe as one of several international threads to be drawn from Cineprobe (along with Japanese experimental film, auteurs from West and Central Africa, or a dialogue with European film cooperatives). Early international guests are recalled in a duo of politically minded, minimal works by the Yugolsav Vlatko Gilic and a Structural piece Vienna Actionist Kurt Kren created by filming outside a single window with a variety of camera mats over the course of 21 days. Christoph Janetzko's elliptical Manhattan city portrait, made during the artist's 1988 DAAD fellowship in New York, evokes transatlantic networks. So, in its own way, does the work of Juliuz Ziz, who as a young Lithuanian filmmaker was described by Jonas Mekas as "definitely a film poet...an anarchist...a neo-Fluxus artist" in the notes for his 1995 Cineprobe program. Other Euro-American echoes are more incisive, as in the case of VALIE EXPORT's erotic study of consumer society, complete with bodybuilders, fast-food-inspired headgear, and a Klaus Nomi soundtrack. Reflecting 1990s energy and unease—sentiments of an impending "end of history"—the program's final film is a two-screen composition melding imagery of Moscow and Riga after the fall of the Iron Curtain with Soviet-era propaganda films and home movies.
Program approx. 70 min
Homo Sapiens. 1969. Yugoslavia. Directed by Vlatko Gilic. 35mm. 11 min.
Homo Homini. 1970. Yugoslavia. Directed by Vlatko Gilic. 35mm. 4 min.
31/75: Asyl (31/75: Asylum). 1975. Austria. Directed by Kurt Kren. 16mm. 8 min.
The Poets. 1995. USA. Directed by Juliuz Ziz. 16mm. 5 min.
M. 1986. USA. Directed by Christoph Janetzko. 16mm. Approx. 15 min.
Ein perfektes Paar oder die Unzucht wechselt ihre Haut (Lust). 1986. Austria. Directed by VALIE EXPORT. With Susanne Widl, Alfred Neugebauer, Peter Weibel. Courtesy Sixpack. In German; English subtitles. 14 min.
Work and Progress. 1999. France/Russia. Directed by Yann Beauvais, Vivian Ostrovsky. 35mm. 12 min.