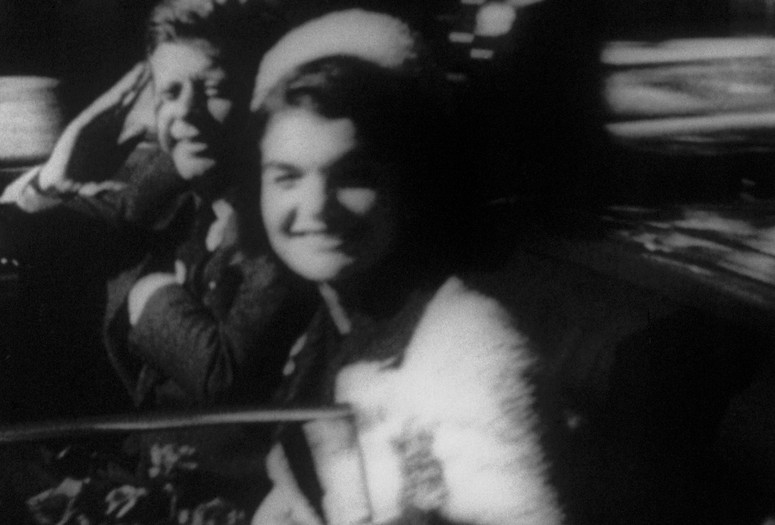 The remarkable diversity of films selected from MoMA's landmark 1970 Information exhibition opens up the notion of Conceptual art to encompass an illuminating range of filmic approaches. Serial treatments of imagery—such as looping, modular sequencing, and creating abstraction through duration—find expression in Robert Breer's geometric animation, a Fluxfilm by Yoko Ono, Bruce Conner's brilliant Kennedy-assassination newsreel collage, and the comedie humaine Standish Lawder crafts from a single shot of office workers in the Pan Am building. This group of films culminates in Paul Sharits's masterwork N:o:t:h:i:n:g., which brings questions of perception and representation (what Sharits called "narrativity" or alluded to in his quote, "I Was a Flawed Modernist") to Structural film. Viewing Ernie Gehr and Ken Jacobs in this context—through the luminous variable-exposure study Wait and the redolent depth-of-field piece Soft Rain, respectively—is a rewarding complement to their dedicated screenings in this series. This program recalls some of the most significant periods in MoMA's acquisition of avant-garde moving-image work, representing the efforts of Kynaston McShine (who, with counterpart Donald Richie, acquired more than 80 films from Information) and, later in the decade, Adrienne Mancia, Laurence Kardish, and Jon Gartenberg, who strategically brought in established and emerging experimental filmmakers who had featured in Cineprobe screenings. Program 90 min.
69. 1968. USA. Directed by Robert Breer. 16mm. 4:30 min.
Soft Rain. 1969. USA. Directed by Ken Jacobs. 16mm. 11:30 min.
Report. 1963–67. USA. Directed by Bruce Conner. Print courtesy Conner Family Trust. Restored by Michelle Silva of the Conner Family Trust and Kohn Gallery, Los Angeles. 35mm. 13 min.
One (Fluxfilm no. 14). 1966. USA. Directed by Yoko Ono. 16mm. 5 min.
Wait. 1968. USA. Directed by Ernie Gehr. With Sharon Smith, Gary Smith. Print courtesy the artist. 16mm. 6 min.
Necrology. 1970. USA. Directed by Standish Lawder. 16mm. 11:30 min.
N:o:t:h:i:n:g. 1968. USA. Directed by Paul Sharits. Print courtesy Anthology Film Archives. Preserved by Anthology Film Archives with support from the National Film Preservation Foundation. 16mm. 35 min.