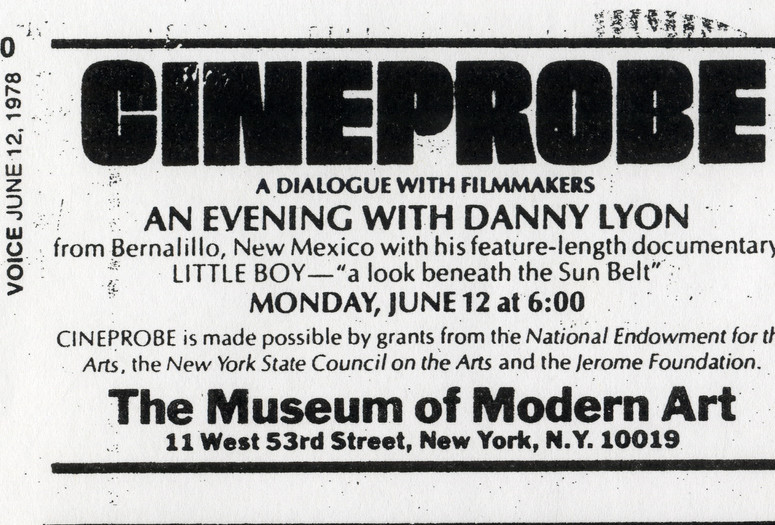 Cineprobe regularly considered social and political subjects—the first New York screening of The Murder of Fred Hampton notably launched its fourth season—a focus that was perhaps equal to the series' championing of avant-garde forms and personal cinema. Photographer and filmmaker Danny Lyon is the rare artist to unite each of these strains, in his expansive and empathetic realist films (a term he favors over "documentary"). Lyon participated in the program on three occasions, presenting, from 1974 to 1987, works from his New Mexico Trilogy. The featurette Little Boy takes its name from the atomic bomb built in New Mexico and dropped on Hiroshima—a momentous context that brings lyricism and pathos to a fractured collective portrait. Soc. Sci 127, Lyon's first film, depicting a hard-boiled tattoo artist in Houston, was filmed during a stint in Texas that culminated in the photobook Conversations with the Dead. With direct exchanges between Lyon and his subject, and semi-staged setups around race, sex, and class, the film gestures to late 1960s cultural shifts and the dominance of cinéma vérité.
Soc. Sci. 127. 1969. USA. Directed by Danny Lyon. With Bill Sanders. Print courtesy Danny Lyon and Anthology Film Archives. 16mm. 21 min.
Little Boy. 1977. USA. Directed by Danny Lyon. With Willie Jaramillo. Digital transfer from the original 16mm negative courtesy Black Beauty. 54 min.